Summer comes in two settings: Hotter and Hottest. That's why we love these amazing summer water activities for the backyard that we found on some of our favorite sites around the web.
I mean I know that for kids, a nice, cool pool is often the most hoped-for remedy; but for parents, we know it's not always the easiest. Or the most practical. Between pool membership costs, carpooling conflicts, and let's be honest, total lack of interest in fighting with some teenager who you catch trying to steal your lounge chair, hitting the local pool may not be in the cards every weekend.
So check out these backyard water activity ideas for a fun, quick fix to help beat the heat that's just as fun as a dip in the deep end. And hey! You won't have to spend $6 on a popsicle at the snack bar, either.
At top: Water balloons and trampoline jumping | A Subtle Revelry
Related: 10 of the most fun, most creative pool games for kids to play this summer beyond Marco Polo

The website How Does She has super easy instructions for making DIY splash ball sponges and you probably already have all the necessary ingredients right at home. After soaking in a bucket of water for a hot minute, these soft projectiles just might be better ammunition for water balloon fights than…well, you know. Water balloons.

Speaking of water balloons, it's hard to find a summer heat situation in which they are not a perfect answer. To make things more fun, check out the official rules and regulations (okay, more like helpful suggestions) for water balloon baseball at iCandy Handmade! Imagine the spray potential when water-filled balloons double as baseballs, all without fear of stray hits breaking any windows.
Related: When you DO go to the pool this summer, these creative games go way beyond Marco Polo.

One of our newest absolute favorite ideas for backyard parties are water blobs, which  combine a little of everything kids love about the pool into neat little packages of floaty, bouncy, spritzy delight. No idea what I'm talking about? Visit this tutorial for DIY mini water blobs thanks to Hello, Wonderful, especially when you're planning to invite a bunch of your kids' friends over.
Want to amp things up? The big mega DIY water blobs I spotted over at Homemade Toast look like a blast too. Wow. Adults get to participate in all these backyard water activities too, right?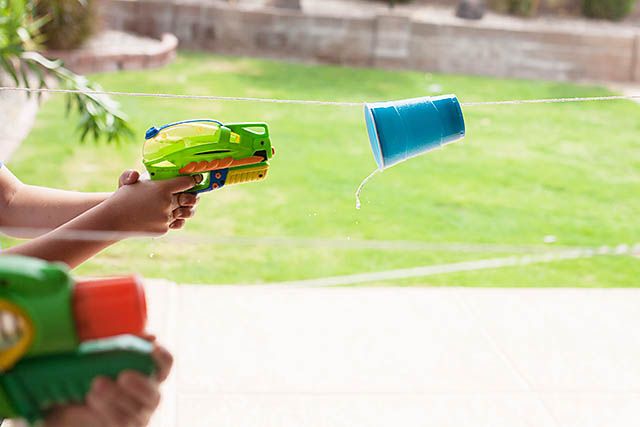 Allison at All for the Boys — though obviously this is idea is not all for the boys — shares a fantastic summer water activity for the backyard to cool itchy trigger fingers: water cup races. Your backyard will require a few well-spaced trees, posts, or fences so the contestants' have space for their cups to fly down the line, but the bit of effort set-up requires looks like it'd be totally worth it for our kids. Check out her site to see how it all comes together.

In one of the most brilliant hybrid games known to kidkind, A Subtle Revelry married two favorite activities: water balloons and trampoline jumping. Honestly, what could be better?
Of course, a critical element to this bouncy, bursty activity is trampoline access. Be sure to check her post for smart ideas regarding safety. (I'm thinking grippy water shoes could be helpful too.)
Related: 5 ways to help keep kids hydrated in the heat of summer

Depending on how handy you are with a drill, you could totally pull off this cute DIY backyard sprinkler idea by Lindsay & Drew. It looks like a mini car wash…for kids!
The site Come Together Kids also has a fairly comprehensive tutorial on putting together a similar type of fun DIY standing sprinkler for kids if, like me, you need more detailed directions.

Ever since we featured this clever summer backyard activity in our post about the best ideas for throwing a winning neighborhood block party, we've loved this ginormous DIY bubble wand idea by One Charming Party. Can you blame us? Just look at the size of that thing!
There's no way for a kid not to love being encased in a huge bubble, and pssst… there's no way for them not to get wet either so get out the swimsuits. Find all the tips for making this backyard water activity a huge success over at her blog.
Related: 20+ backyard party ideas for hosting the best summer party on your block.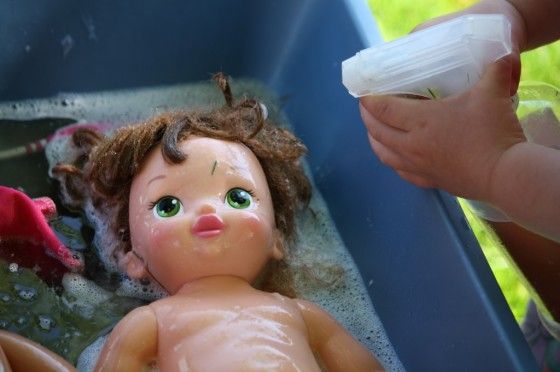 Jackie at Happy Hooligans has tons of creative and engaging water game ideas for toddlers and how cute is this one for the littlest ones? She put together an outdoor baby bath station idea that's just adorable; definitely click over to see her whole set up. I also love that she made a "bubble patch" for her kids to stomp in. Because sometimes the simplest water activities for the backyard are the very best.