Warmer weather means moving the inside activities outside, which is an all-around good thing — especially when it comes to those long summer day get-togethers. Parties are somehow just more fun when they're in the backyard (and we admit, the easier-to-clean-up aspect is pretty appealing too).
Since every outdoor event can only get better with a few awesome backyard party ideas, we searched around the web to find our very favorites.
At top: Mini Water Blobs | Hello, Wonderful
CMP is an rstyle affiliate
Related: Budget-friendly tricks for hosting a fabulous outdoor party.
Backyard party ideas for invitations

One of the best things about backyard parties is that you can be as caszh as you want to be — you can even use the word "caszh" instead of "casual" on the invitations. Love it! We've always been fans of free printable invitations for block parties because spendy stationery ruins the vibe, anyway, right?
We found some easy, breezy fill-in-the-blank free printable backyard party invitations by Echo Park Paper, or you can customize these cute backyard BBQ printable invitations by My 3 Monsters (above).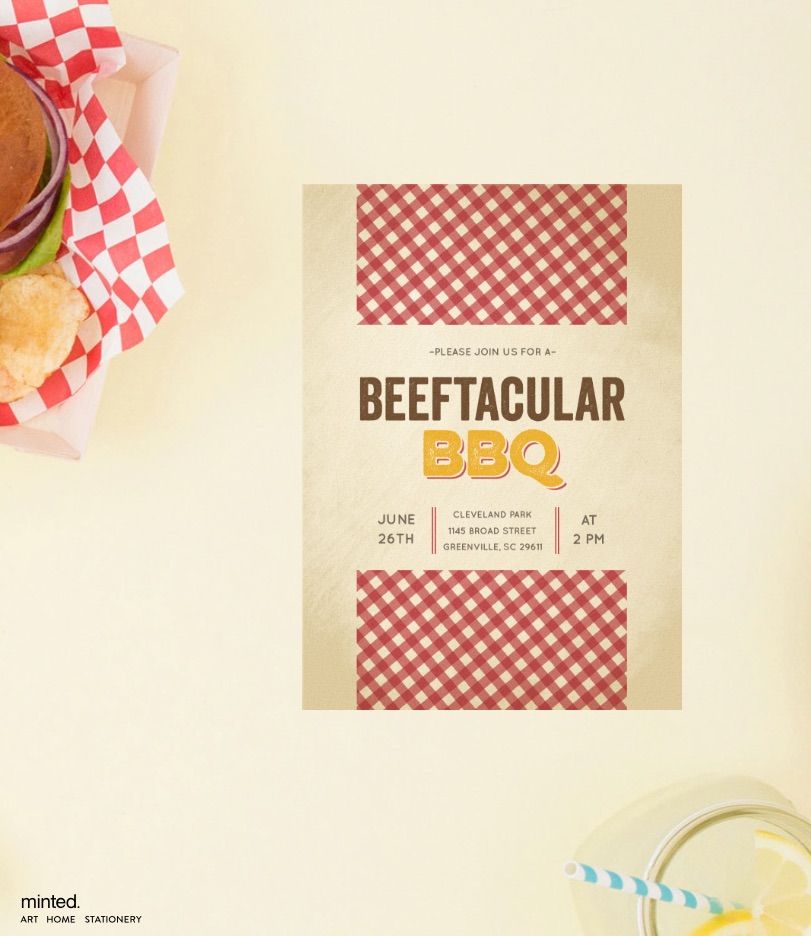 Another option is sending out digital invites, which are cooler than ever, and let you track RSVPs easily. Minted has a fantastic selection of online summer party invitations (like the one shown here), and we've also had great luck with Paperless Post's customizable online party invitations.
Related: Awesome summer birthday party themes for kids (and tons of inspiration to pull them off). 
Backyard party ideas for food and drinks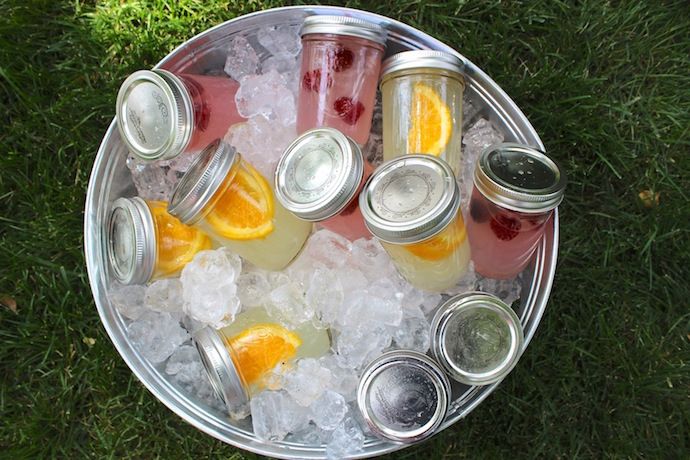 Naturally, we believe food and drink should play prominent roles in any party, and a backyard party is no exception. For the grownups, we swear by our favorite rosé wine cocktail recipes, which are really the official-unofficial drinks of summer. But we're also fans of other cocktail recipes that are perfect for warm-weather sipping — even though these are "skinny," they don't taste like it! Also, we think The Chic's ready-made cocktails (above) are a host's dream hack for summer backyard parties. Click over for all the delicious details.
For the kids? Try any one of these delicious fruit lemonade recipes over at Cool Mom Eats. Refreshingly perfect!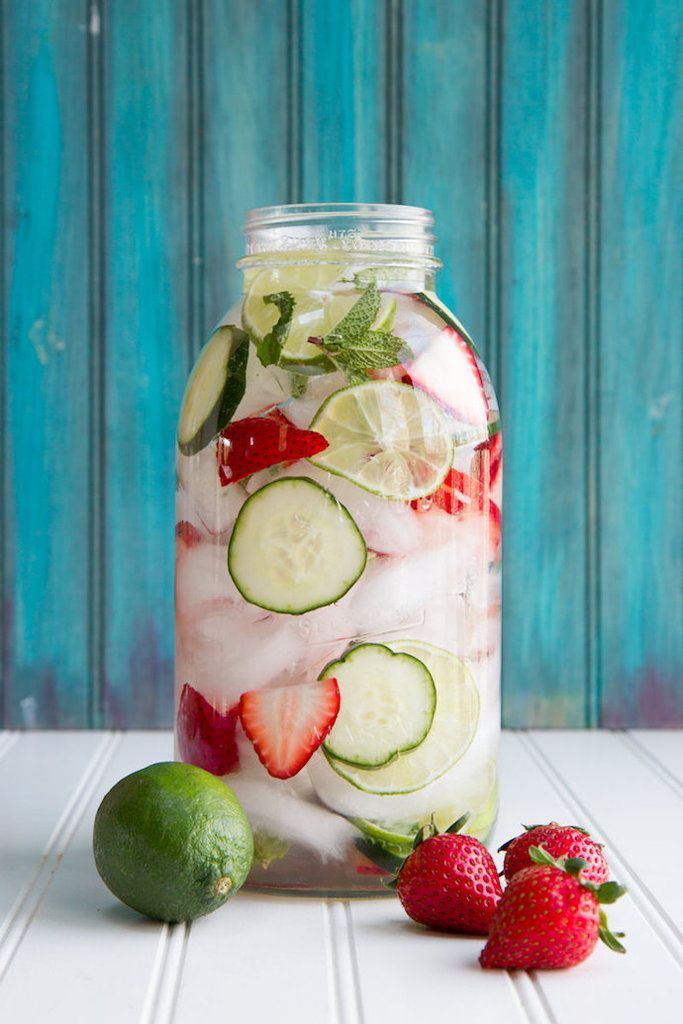 Of course, you can't have too many non-boozy drinks. One of our favorite ways to keep kids (and adults!) hydrated during backyard parties is to always have jugs of fruit-infused water at the ready — they're easy to make and even easier to drink. This strawberry, lime, cucumber and mint water by Wholefully does the job just fine. Be sure to click over to her site for some pro tips.
Related: 13 watermelon hacks to try out this summer.

If you're grilling, we promise you can't go wrong with expert tips for the world's juiciest burgers — especially because they're unbelievably easy to pull off. Click over to Cool Mom Eats for amazing recipe ideas, like a cheese-filled burger with BBQ ranch dressing (drool).
And since we all know the challenges of keeping hungry partygoers' orders straight, A Subtle Revelry's smart burger labeling idea (above) ensures everyone gets what they wanted — trust us, it's a must-have summer party food and drink hack. And be sure to check out A Subtle Revelry's website for 12 more can't-miss summer party hacks for kids and grownups.

The grill doesn't stop with burgers, so get your hot dog game on point with these killer hot dog recipe ideas (we're big fans of having a fully-stocked hot dog bar) and an ingenious way to grill perfectly caramelized chicken. You can even grill vegetarian pizza.
Also over at Cool Mom Eats, you can get tips for cooking juicy steaks — including one of our favorite recipes by What's Gaby Cooking, above: skirt steak with tomato salad. Seriously, you don't want miss this one.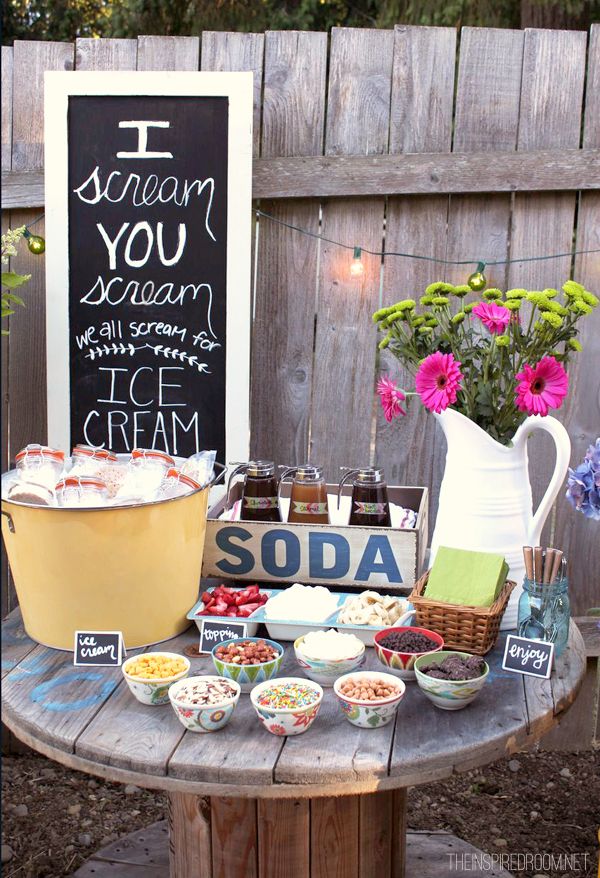 The ice cream sundae bar (above) by The Inspired Room has all the ingredients for an interactive outdoor dessert that kids and grownups will totally love. Click over for all her cool pro tips; though, we might swap out the mason jars for pre-scooped ice cream balls, which cuts down on time and mess.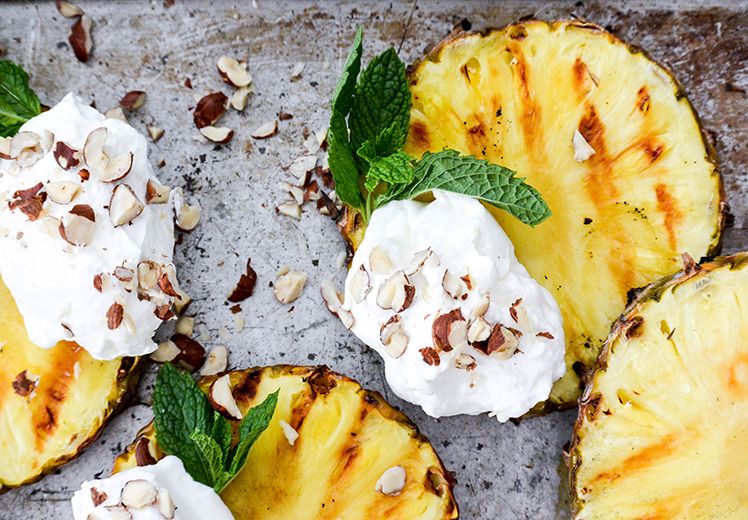 Another inventive backyard party idea: You can cut watermelons into popsicles or grill fresh bananas, peaches, and pineapple and drizzle them with sweet and easy-to-make sauces for something that's a bit lighter, but still so good.
Doesn't Floating Kitchen's pineapple with coconut whipped cream (above) look perfectly divine? Check out the website for how-to details.
Related: More than 50 recipe ideas and party tricks for the best summer soirees.
Backyard party ideas for decorations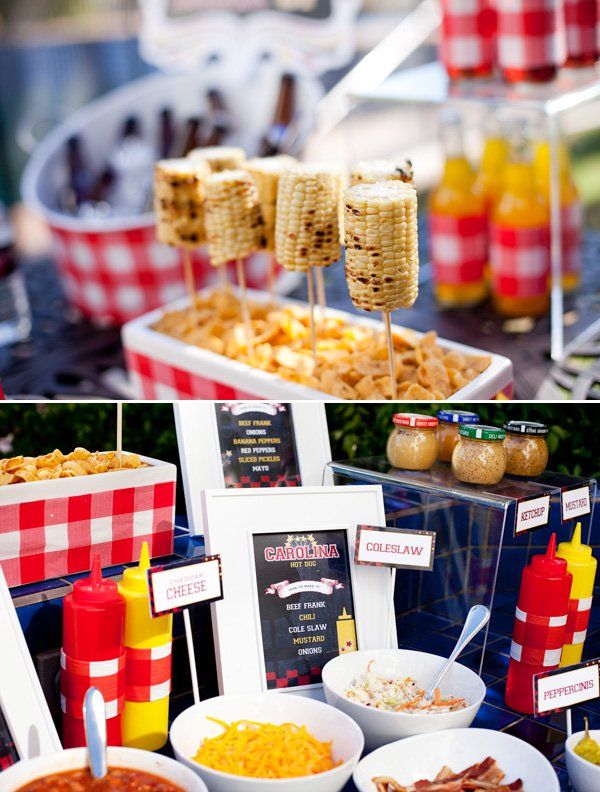 We did mention how much we appreciate the caszh nature of backyard parties, right? Pretty sure we did, but hey — any excuse to use the word "caszh" again! The easy-going feel makes decor fun instead of a chore.
Hostess with the Mostess made the cute (and free!) BBQ party printables (above), which include water labels too, and we're totally smitten with the way those corn-on-the-cob skewers are presented in a tub of corn chips. Genius!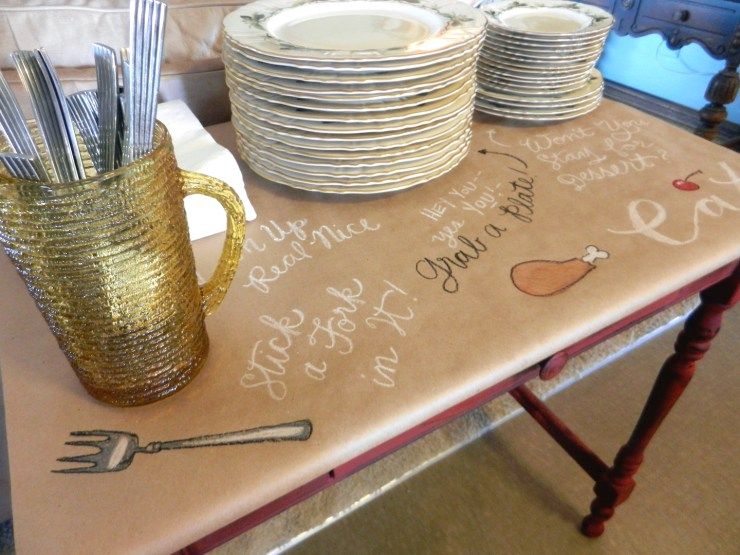 Fabric tablecloths can be a nuisance if the wind kicks up, which is one of the reasons why we love The Postman's Knock's idea of using brown butcher paper tablecloths instead. Check out her site to see how it all came together. Essentially, you can label things at the serving table as Lindsey has (above), and if you put out canisters of crayons at each papered table, kids would totally have a blast covering the tablecloths with their own doodles and artwork.
Today's Creative Life set up a sunscreen and bug spray station with everything guests may need to discourage sunburns and bug bites. So smart! I imagine this backyard party idea would be a welcome relief for anyone who forgot their own supply, and it looks cute too.
Click over to the site where you can get all her tips and also download the fun free printable to help you get started on making your own station.
If the party is going to hit the evening hours, glow sticks are a must. Instead of waiting for nightfall to break them out, you can pop them into an easy DIY glowing centerpiece, like this one by The Cards We Drew. Then just pluck them out to play with them once the time is right. Click over for the easy tutorial and to see how cool it looks at nightfall.
Related: Olympics-inspired backyard party games for your little athletes. 
Backyard party ideas for activities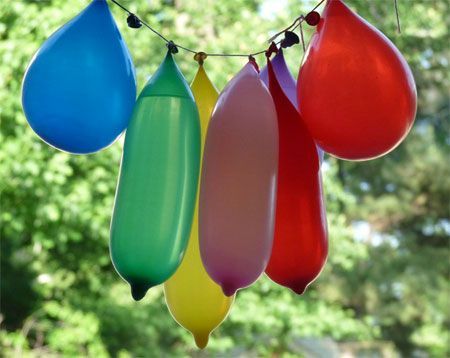 Being outside gives you the advantage of adding kids' activities that are messier, louder, wilder, and — like the DIY water balloon piñata by Ziggity Zoom above — wetter. Click over for the how-to on this one — and how to DIY a pinata stick too.
Or, you can get super creative with things you already have in your backyard, like baby pools and swings to make fun backyard obstacle courses for kids to master.
We also love creative, artsy ideas like a rainbow yarn trail activity, which is easy to set up and silly enough to keep even the littlest kids' busy.

Right now, we're a little obsessed with DIY water blobs and I love how Hello, Wonderful came up with the idea to make miniature water blobs (also shown at top) that the kids could even take home with them after the party is over. Click over for her step-by-step instructions and pro tips. We are, because we so need these in our lives right now.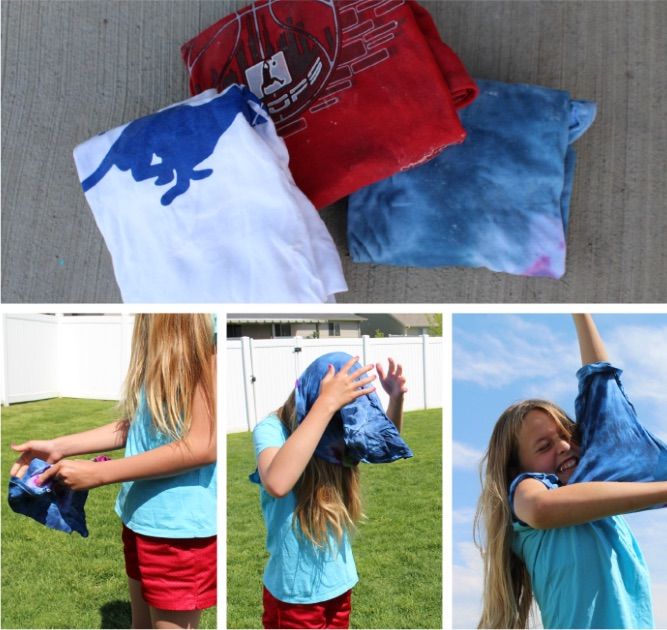 A Girl and a Glue Gun's creative backyard party activity ideas are all guaranteed hits — seriously, how do you pick between a water-passing game and a grassy game of yard Twister? The answer, of course, is that you don't! Which is why you should click over to her site ASAP, where you'll also find instructions on pulling off a fantastically funny frozen T-shirt race (above). Hilarious!
Related: 5 fun and easy last-minute birthday party ideas your kids will love. (Not that we think you forgot or anything.)

We've collected a bunch of outdoor party activities for kids in our post about how to throw a fantastic block party, which includes things like having a bike parade, water balloon races, and DIY cardboard cars, so be sure to check out the roundup for some really fantastic ideas.
But the giant bubble wand by One Charming Party has proved to be a party favorite (for both kids and grownups) and so we couldn't resist including it here too. The hardest part is getting the bubble solution to be just right, but she has great how-to tips!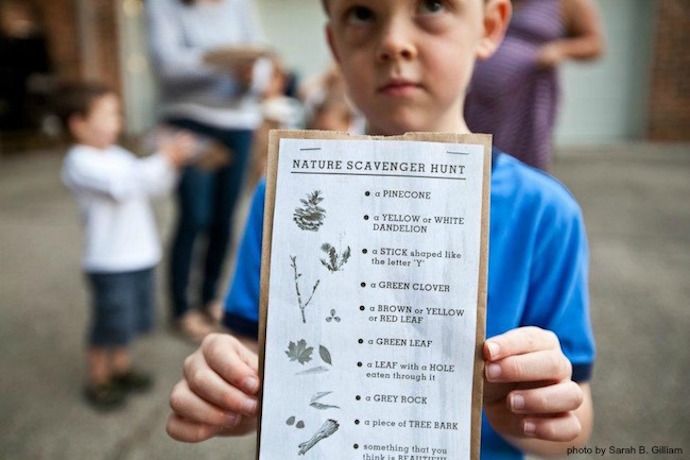 There are endless backyard party ideas for keeping kids busy and having fun together. And everyone loves a good treasure hint or scavenger game, especially if there are worthwhile prizes at the end. This is something you could totally DIY, too, which is why we included the idea in our birthdays on a budget post.
And, of course, relay races add a little bit of competition but when they're as silly as the tag-team beach ball race party, there's enough fun and laughter to zero out any possibilities of Sore Loser Syndrome. Also on the silly backyard party game list: popcorn shoe relay races, Vaseline nose races, and cheese puff head (trust us — just click that one). Inspiration overload.