Sometimes it's the little things that make your vacation really special … and sometimes it's the huge splurges you'll remember forever. If that's what you're looking for on your next vacation, check out these five luxury resorts and hotels with some incredibly outrageous kids' packages and amenities.
Like, we're-a-whole-lot-jealous amenities.
Yes, they're all over-the-top. But if you're celebrating a special birthday, a huge accomplishment, or a massive tax refund (ha), these family-friendly resort packages could end up making for the family experience of a lifetime.
Just be sure to check with the hotel or resort concierge before planning, to guarantee you meet all your expectations. For these prices, you deserve no less.
Related: Planning family resort vacations: 6 essential questions to ask yourself before you book.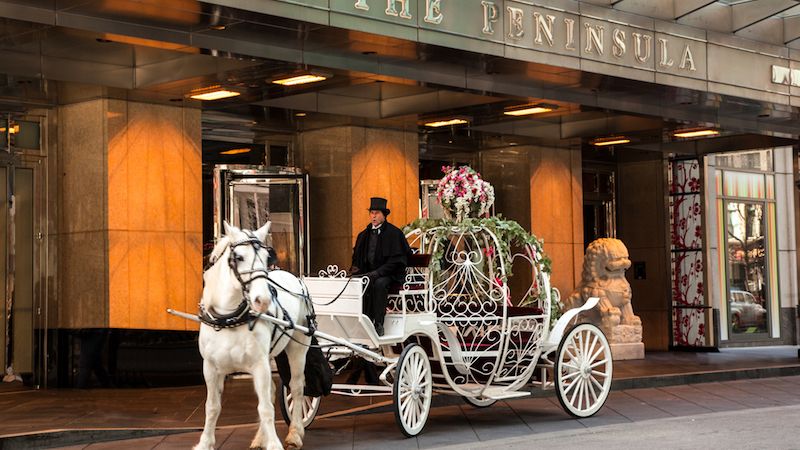 Totally Pampered Princess-for-a-Day Experience
We've shared our tips for visiting Chicago's amazing, must-see museums with kids, but to blend the leaning with some serious pampering, you have to check out Chicago Peninsula Hotel princess-for-a-day package. Your child will be doted on by a team of experts in hair, nails, makeup and gown fitting, while your princess learns proper royal etiquette, followed by a shopping spree…in a pumpkin-shaped carriage. For real. And yes, the price tag is every bit what you'd think it would be, making it one special extravagance. Next birthday, perhaps?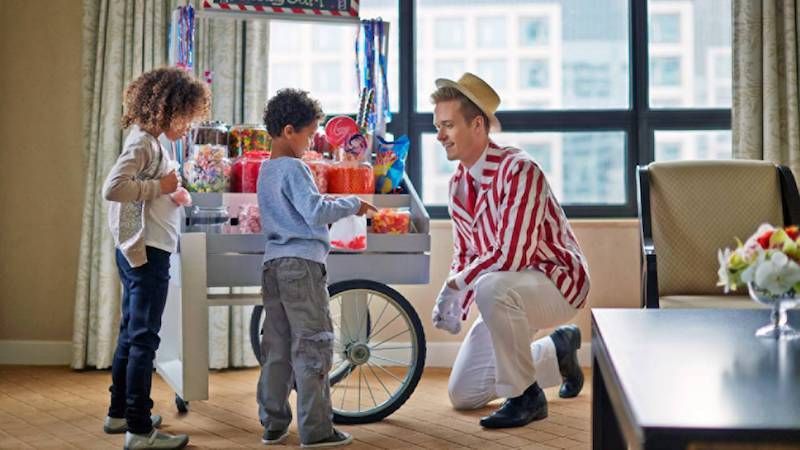 Visits From The Candy Man
I admit I get a lot of wanderlust scrolling the Four Seasons Hotels Extraordinary Experiences list for adults, but if you look carefully, there's a huge range of amenities and packages made with kids in mind, too at both the Four Seasons and Ritz hotels which have the same ownership.
One of the ideas I think kids would love best happens to be a smaller perk: A Candy Man at The Four Seasons Hotel NYC and The Ritz-Carlton Chicago will visit your hotel room with a cart full of sweets. Maybe schedule that one sometime before 8PM, eh?
There's also an ice cream man; pretty great that he comes to you instead of having to run down the street, screaming after him.
Swim-up Ice Pop Pool Bar
Liz checked out the Atlantis Resort in the Bahamas when their outrageous kids' club first opened, and she has some great tips for the kinds of families the resort is best suited for, and what you can expect. It's actually been on my own family travel wish list for years, since they really cater to multi-generational families there. Especially now that they've introduced the brand new luxury Coral Towers resort. In addition to the signature water-park style rides are all over Atlantis (shown at top), Coral Towers will wow kids with a swim-up ice pop bar in the pool. Considering kids never want to come out of the pool as it is, this should give them one more excuse.
Discovery Shark Week, Animal Planet, and Mythbusters at Sea
If you like your vacations cruise-style, here's one that kids will adore if you're looking for options beyond Disney Cruises. Liz recently attended a press junket to check out the brand new Discovery Channel collab with Princess Cruise ships and, wow.
One of the coolest programs they offer is Shark Week at Sea on select cruises, which includes screenings, craft projects, educational excursions all themed around one of kids' favorite programming traditions. If your kids aren't so big on scary sea creatures, they offer other Discovery-themed educational activities for kids and teens, likeAnimal Planet themed excursions, or Mythbusters themed challenges at some ports, featuring Tori Belleci from the show. Awesome!
Then there's the brand new Camp Discovery kids clubs on Princess Cruise Ships, which are gorgeously designed and feature kid-favorite activities from skee ball (Liz couldn't tear her 9 year old away) and foosball to a karaoke machine, family activities like scavenger hunts, and even nightly movie screenings and dance parties to give parents an evening off.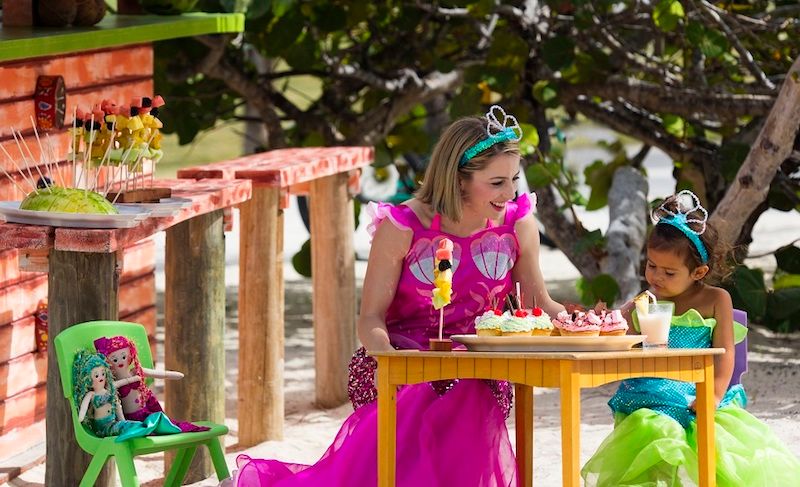 Mermaid Tea Party on the Beach
When your kids land at the Rosewood Hotels resort in Jumby Bay, Antigua, they're invited to come decorate their own rental bike for the week, then relax at a mermaid tea party on the beach. If they need more pampering, kids as young as 4 can spend time in the new open-air junior spa at SENSE, for a mini mani-pedi, mini facial, hair braiding, or mini aromatherapy chillax treatment. Because oh, how stressful travel can be for children!
Truth be told, I think what's even cooler is that kids can participate the release of sea turtle hatchlings into the sea through the hotel's much-lauded conservation program if you visit between June and November. Whoa. Talk about an experience you'd remember.
photo: The Breakers Palm Beach
The Playground to End All Playgrounds
If you thought a stay at The Breakers Palm Beach luxury hotel was just for fancy adult excursions, think again. They recently added a 6,100 square feet of indoor and outdoor space, solely devoted to kids' and family activities. While surely the playroom, arcade and high-tech video game lounge, and science labs will be a hit, if you want kids getting outside more, we think the outrageously designed 4500 square foot playground will be what they really get excited about. No mere swingset here — they'll find slides, tunnels, rope bridges, climbing walls, puzzles…oh, and it's all under shaded canopies too complete with benches for parents to chill if you want to hang nearby. All that's missing is a ferris wheel.
Related: Here's why your state may now require a passport to fly domestically.
Live like Eloise for a Day
If you want to totally delight the Eloise fan in your life with the quintessential NYC storybook experience, book the pricey Plaza Hotel Eloise Suite on the 18th floor overlooking Central Park. It offers the real-deal experience with a room that looks like it comes straight from Kay Thompson and Hillary Knight's iconic pages — decorated by Betsey Johnson, no less. The package includes tea for two, some Eloise swag, and $100 to spend at the dedicated Eloise gift shop. Not included: the adjoining Nanny Suite, which is outfitted with champagne and truffles. For the quintessential NYC storybook nanny, I guess.