One of the fun things about getting old — ahem, I mean being a parent — is seeing the trends we loved as kids reemerge on our own kids. Case in point: DIY customized denim jackets. Not only are they on trend this fall for back-to-school wear, they're a great way for kids  — or you — to get creative and express your personalities.
And, really, custom jeans jackets are just a blast to make.
Of course depending on the age, skill and project, kids who want to customize their denim jackets will probably need some parental guidance. But we imagine some of it will come right back to you in one beautiful acid-washed flash.
And you might even find some inspirational to amp up your own tired denim jacket, too.
CMP is an Amazon and rstyle affiliate
Related: Easy DIY tutorials for hair clips, shirts, shoes, and more

Distressing and Dyeing Denim Jackets

Before you go nuts with the scissors, glue, and glitter, check out ideas from the Urban Outfitters' blog, because it has some spot-on tips for nailing the basics. Specifically, the three Ds of denim jacket customization: Distressing, dyeing, and decorating.
The basics include colorful acrylic paints or fabric spray paint with letter stencils (we like the ones from Martha Stewart); RIT dye, rubber bands, sandpaper — nothing major but a trip to Michael's, Amazon, or your local craft store is definitely in order.
Pay special attention to the tips for using sandpaper to distress a jacket without destroying it. People are paying good money to have that done for them, and you can do it so easily!

Cover a Denim Jacket with Pins

The easiest way to embellish a jean jacket: Pins. Lots and lots of pins. It's a great way to reflect your kids' loves and interests, and considering how fast those interests change, they can easily swap out new ones from year to year — or month to month.
Take a look at how Skinny Dip embellished her denim jacket with enamel pins, with explanations on how each of them map to her wonderfully diverse interests ("From 90's hip hop and tacos to politics and feminism," in her words so yeah, we love her) plus links to find those pins you might love too.
Just a few favorite enamel pins of our own to check out:

-Love the everyday bravery pins by Emily McDowell (not all for kids, but that's okay)
– Shop Art Theft features clever enamel pins that have been ripped off by big retailers. Instead, support the original artists who you can find right here.
-Space and STEM-themed pins including our reader's top pick: Neil Degrasse Tyson by Take a Penny Co.
–Bowie and Prince riding a unicorn because, of course!
Splattered Paint Denim Jacket

Splattered paint on a denim jacket is as '80s as it gets, and this version by Nelle Creations makes it more modern when she throws (literally) some gold paint into the mix. Click over to see Nelle's video tutorial, and be sure to properly prepare for the work of paint-happy kids with smocks, plenty of outdoor space, goggles, and a bathtub.
Related: Customizable shoes for your budding fashion designer
In fact, splatter paint is so popular on denim now, Liz recently attended a Levi's press event with all kinds of denim jacket customizing ideas from different artists. One of the most impressive: The incredible Sasha of The Sasha Project, a talented young girl who sells her own paint-splattered denim jackets and jeans to support Children's Hospital Los Angeles.
So if you want to buy one (like this women's Levi's paint-splattered trucker denim jacket) instead of DIY-ing this is a wonderful way to do it.
Oh, and her acrylic paint of choice: Blick.

Patches on Denim Jackets

Photo: Albert Martinez for Wild Amor
Holy 1970's redux: Patches on denim is back! We adore this DIY patched denim jacket tutorial (also at top) from Kirsten Nunez at Wild Amor. She shares the types of patches you should pick, placement ideas and loads of layering inspiration.
As for the patches and supplies, we found everything you need in one fell swoop for this kind of denim jacket customization at Target's "Art Class" DIY shop which has all kinds of enamel pins and iron-on stencil sets that boys and girls will love, like these 4 Jacob adhesive patches. Hey, why not mix and match?
Related: 11 creative painting projects for kids! Get out the brushes…or the bubble wrap.
Stencil Denim Jacket Designs
Grab your favorite stencil and go to town with a big skull on the back, a small row of colorful surfboards over a chest pocket, or a little flower in a hidden spot like off-center on the bottom hem. You can even use multiple colors in a single stencil to create a multicolor design or a cool ombre effect, like in the Stencil 1 designs shown here.
The stencils from Stencil 1 themselves are just terrific — way better than freehanding it for most of us! And the Stencil 1 Instagram feed is loaded with inspiration. Also check out their stencil how-to videos which wildly helpful for newbies like us.
As for me, I'm digging this custom Star Wars Rebels stencil jacket from Geek with Curves. Amy shows where to get your hands on a  stencil to make the iconic symbol, really thorough instructions to take you through it (including a great tip for getting the paint to set), and the exact color combo she used to get this gorgeous purple.
Button and Fabric Denim Designs

If you're handy with a needle and thread, Crafterhours has a wonderful tutorial for using colorful scraps of fabric and buttons to make something like this sweet customized denim jacket she created for her daughter's friend, Eve. It requires a steady hand and patience, and of course the right supplies, but the instructions aren't nearly as intimidating as you might think.
We love that she included Eve's name as part of the design, but any word will do. "Crafty," perhaps?
Denim Collar Brad Designs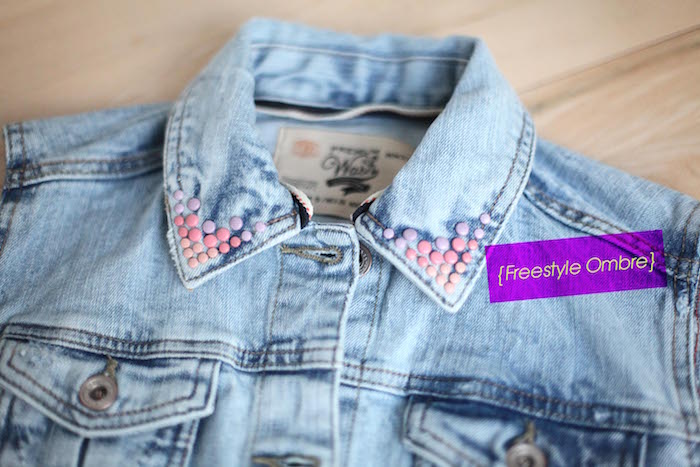 Parents, your job is commanding the sharp poky tool required to snap colored brads into this ombre denim brad denim jacket design tutorial by Miss Renaissance (because ouch). She requires getting detailed with the brads but I'll bet you could also riff on her cool idea with different dots of fabric paint, too. Similar effect, and the idea of decorating just the collar tip for a subtle customization idea is wonderful.
Glitter Denim Jacket
Fear not the glitter! The way we see it, denim jackets are really just coloring books in clothing form — all the shapes are already blocked off for you. I adore how Maya in the Moment used those shapes as a guide to make this colorful, custom glitter denim jacket, which is so fantastically sparkly.
She recommends her favorite shimmer fabric paints to help get this effect, and great tips for making sure it doesn't get too tough or sticky. I'd say "or too '80s…" but forget that. 80's is where it's at right now! Pass the Bedazzler.