If you're wondering just what to put in a guest room to make your guests feel more welcome, I can help! Whether you're lucky enough to have an entire room dedicated to guests, or you're just trying to figure out how to turn your kids' bedroom into a welcoming guest room for the weekend while they slum it on the air mattresses.
Recently, a friend of mine asked for guest-room decorating ideas on Facebook, which generated so many inspiring ideas for what to put in a guest room, that I thought it would be great to share my favorites.
(Clearly these are people who have a lot more time to think about guest rooms than I do, and I'm so grateful for their awesome ideas!!)
Obviously, you don't need to use all of these ideas just for a guest room. You're not running an AirBnB, after all so don't go crazy.
But adding a few of these touches in any room where your guests are staying will make them feel extra welcome and hopefully, at home. Just not for too long, right?
CMP is an rstyle affiliate
Top photo: Guest room basket ideas from Maggie Butterflied. More info below.
Related: Cool printable WiFi password signs for your guest room or office 
Make space to unpack
A beautifully decorated guest room is lovely for a magazine spread, but in reality your guests want to be able to set out their stuff without having to un-decorate your space. So think minimalist with your decor, leaving ample room for a guest's laptop, dopp kit, handbag, and all the other stuff they brought with them.
A luggage stand so their suitcase can get off the floor is a nice touch too, if you have room to stash it in the closet when not in use.
Think about a guest's tech needs

It's a tech tech tech tech world and while unplugging may be a nice goal on vacation, it's not always viable. So be sure you consider tech amenities for your guest room!
Start with an easy way to know the WiFi password. A sticky note on a mirror works fine, or check out our assortment of  cool printable WiFi password signs for your guest room or office.
(I especially love this printable wifi password display from Bliss Paper, above.)
If you're thinking old school, alarm clocks really aren't necessary any more, but a nightlight is always a good start.(You can go really basic with the nightlight, but I actually really like this Munchkin night light that also has white noise functionality.)
A power strip under each side of the bed lets guests charge their devices without stretching a cord across the room. In fact, a lightning or Micro USB charging cord would be a big help, too, and if you want to be the hostess with the mostest, supply an item like the multi-port Anker Power Port (above), which charges 5 USB items at once. Just think how grateful you are at hotels when there are USB ports available!
If you have guests from out of the country, a pack of international power adapters is helpful and not expensive at all.
Provide samples of all that bathroom stuff they can't take through security
Tell guests ahead of time to leave all their toiletries at home, and they will be grateful to avoid the TSA line hassles, and the fears of shampoo bottle explosions. Just lay out a basket or small vanity tray with basics beyond what you already keep in the shower.
Ideas include: some nice hand and body cream (love Bliss Lemon Sage Body Butter with a delicious, gender-neutral scent), toothpaste fresh toothbrushes (wrapped, in case they don't get used), nail files or clippers, contact lens solution, Q-tips, and even some of the OTC medicines that are a little embarrassing to ask a hostess for, like Immodium, Tums or Pepto Bismol.
A box of tissues is a must!
I also really like the guest room welcome basket ideas that Maddie Butterfield shared on her site (photo at very top) where you'll get lots of inspiration. She was also kind to offer up a free printable for that clever do not disturb sign which is another nice touch.
And if you're extra extra nice, and you have friends visiting with a baby, it would be magical for them to come "home" to a changing station with extra wipes, diapers, and maybe even some activity books and stickers for the little ones.
And don't forget the air freshener.
Provide stuff to keep kids happy
If you have kids (chances are, you do if you're here!) and still have some old kid gear in good shape, put it to use for guests! It's so nice to be able to tell your guests to leave their pack & play at home, and instead have yours ready for them in the guest room.
I've also pulled out our old baby swings and wooden blocks for friends with younger kids — or a bucket of LEGOs for the older kids.
When my daughter came with me to visit Kristen & Liz in New York City, she was enchanted by the kid-sized robe and basket full of cool DIY kits they put together for her to keep her entertained while we were at our hotel. So thoughtful!
Related: The best group card games to play with lots of players: Game night, bring it.
Snacks! Waters!
A few bottles of water and even some protein bars, granola bars, or trail mix can go a long way. Don't get too Pinterest-crazy! Whatever snacks you generously put in the room will surely be appreciated.
Resources to help guests experience your city like a local
Stash some local magazines, maps of your city, brochures for local tourist attractions, and even some local snacks and drinks in a pretty basket on the bedside table in your guest room to give your guests a chance to come up with their own activities while they're visiting.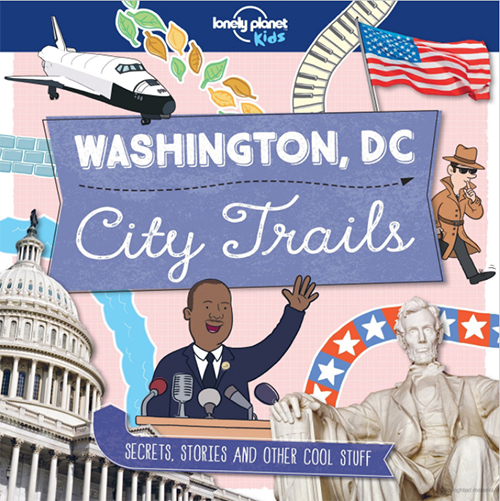 Or, go simple and make a list of your own "Top 10 Things to Do" and leave it on a nightstand. If you live in a major walking city, add some blister pads. Ha.
Extra nice bonus: A city transportation card to help them get around for the weekend.
Related: Budget family travel tips: 5 smart do's and don'ts that save you a ton of money
Overall, just make your guest room a relaxing environment
Depending on how long you really want your guests to stay (ummmm), consider adding a few thoughtful touches that let them know like you're delighted they're there. Even something as simple as a good reading light next to the bed and a few magazines or the latest hot biography for the night table.
Guest room items like an extra blanket or quilt and pillows, a scented oil diffuser and some essential oils, a fan in summer or space heater in winter are can make a big difference.
I also really like one friend's suggestion to include a laundry basket with a note that you're welcome to use our washing machine any time. Parents with small children and lots of clothing changes will be grateful for his one!
I've seen some suggest a small coffee pot or electric tea kettle so guests can take their time getting ready in their room in the morning — though you may find that a little impersonal. The truth is, lots of us look forward to sitting with our friends and family in the kitchen in the morning, messy hair and sweatpants and all, to bond over early morning coffee.
Again — it's not a bed & breakfast; but you may not always be hosting guests who are really tight with your family, so do what feels right.
Bonus tips for making a kids' room into a nice temporary guest room
If you're like me and you don't actually have a dedicated guest room, you might end up housing your guests in a kids' room while the kids bunk up together in another room.
I've found that my kids think this is fantastic fun, and it's a smart use of space if you don't want to dedicate a whole room to something that's going to be used only occasionally.
Obviously, your first step is a deep clean of that kid's room. While you're doing that, have the child who's room is being taken over go through their toys (or personal items, if they're older) and put anything they don't want played with or snooped through into a storage tub you can put away out of sight. This will help your kids feel more comfortable with the room being shared.
Then, bring in some flowers and a cheap full-length mirror if you don't already own one;  take the Dora the Explorer sheets off the bed and replace them with neutral adult-friendly ones; and add a few adult touches from the list above.
Pro tip:Mmake the bunking-up experience fun for the kids. Find them a cool sleeping bag or an awesome air mattress — Liz swears by the Aerobed air mattress which come in lots of sizes.
Because when everyone in your home is happy about hosting guests — especially your kids! — that's worth 1,000 fancy guest-room details.