With the strong, courageous teens of Parkland Florida's Majory Stoneman Douglas High inspiring so many of us over the past two weeks (jeez, has it only been two weeks?) Kristen and I been thinking so much about kids and activism. In part, because we're already seeing the impact their outspoken advocacy and strong leadership has been having on our own kids, in positive ways.
There are so many ways to get your kids to become more active in the causes they care about to bring about meaningful change  — whether it's animals, the environment, sports injuries, global education, health and exercise, and yes, common sense gun protections.
So we wanted to provide a bunch of idea starters here for you. Because the passion and energy of our kids knows no bounds. Sometimes, they just need to know what to do with it all! (And we need to know how to help guide them.)
For more, be sure to take a listen to our fantastic, positive chat about kids and activism on this week's episode of Spawned with Kristen + Liz. We discuss what makes a campaign successful, how to support our kids in their passions, what kinds of causes kids can get involved with, what to say when someone tells you you're "indoctrinating" your kids, and a lot more.
(Psst…we've also got our cool picks of the week below, and they're good ones! Don't miss them.)
10 ways kids can become activists:
The word "activism" may trigger images of Vietnam-era die-ins, or people chaining themselves to trees — but there's so much more to it than that. If your kids want to get more involved with the issues they care about, here are some things they can do:
1. Get involved with organizations that already exist and see how you can help. Maybe your children play sports and are worried about kids and head injuries. Maybe they want to support girls and education around the world. Maybe they've been moved by the crisis in Puerto Rico and want to help our fellow Americans there. Or maybe there's a health-related cause they're particularly concerned with.
Find the organizations that are already out there, sign up for their newsletters to get more info, and they'll help guide you with action items and support ideas. It takes the pressure off of kids having to "lead" or organize something on their own right off the bat, and may give them lots of ideas (and motivation!) for when they're ready to do just that.
Sites like Volunteer Match (above) are a great place to start to find existing volunteer opportunities in your community.
2. Plan a charity birthday. In Kate's post about 21 ways your family can volunteer for your own community, I loved the suggestions for using a birthday party as an opportunity to raise money for a beloved cause, and raise awareness amongst friends.
3. Host a bake sale, lemonade stand, craft sale or other small fundraiser. What kid doesn't love making cookies and Rice Krispy bars? These bake sale recipe ideas should get your kids excited to set up a table in your front yard or even at your school or house of worship as a way to raise money for a cause they care about.
The Spruce also offers some pro tips for having the most successful bake sale. Or skip the treats and sell friendship bracelets, handmade pins, hand-decorated school t-shirts, gently used books and toys…you name it.
Related: 5 wonderful ways to give back as a family all year long.
4. Start a club at school. It doesn't have to be an activism club per se — a newspaper club can give  kids the chance to write about issues they care about. A gardening club or recycling club is great for kids who care about the environment, which is a huge topic of concern for kids today. Have them talk to the school guidance counselor or the teacher who runs the after-school program and see what options are available. They'll be so excited when they discover that there turns out to be a teacher who cares about the same issue and wants to help lead the club!
5. Start a blog or a social media account dedicated to a cause. We're seeing kids as young  as 10 or 11 starting blogs about the issues they care about. While she definitely gets some help from her mom, Little Miss Flint (Mary Copeny) has been tireless on Twitter in her advocacy for clean water efforts in Flint, Michigan; and Emma Gonzales has gained 1mm Twitter followers since February 14.
Just use common sense precautions when it comes to kids and social media, especially if your child is identifiable, and their pet cause is more polarizing than, say, animal rescue. These tips for raising kids to be good digital citizens is a smart place to start.
A thought on 17 yo's: It strikes me how unique their generation is: Born & raised in the 9/11 era, into a nation at war their entire lives, and already witnessed 19 of 33 deadliest shootings in America since WWII. Must shape/be shaping worldviews in ways we don't fully grasp yet.

— Susan Davis (@DaviSusan) February 20, 2018
6. Host an afternoon of postcard writing. While kids aren't old enough to vote, they're certainly old enough to have their voices heard, and elected officials tend to love hearing from concerned children in their districts. Invite a group of friends who care about the policy changes you do, and spend a few hours writing postcards to your local, state, and federal politicians. You can even write the president. (Didn't we all do that at some point growing up? I know I did!)
7. Put creativity to good use. If your kid is an artist, a photographer, an illustrator, a writer, a musician…there are endless ways to turn those talents into civic activism. Record an original song and put it on YouTube. Publish a poem. Create your own photo gallery. Make street art out of sidewalk chalk. CreativeVisions.org is filled with inspiring ideas.
Kids can also write a letter to the editor of a local paper or magazine, which is a great way to have to get all your talking points down, and establish your expertise.
8. Start a non-profit. Here are some good tips for starting a non-profit from Non-Profit Hub. There are so many success stories, from Hannah Taylor's Ladybug Foundation to fight homelessness, to Alexandra Scott's Alex's Lemonade Stand for childhood cancer research and support, and Teagan Stedman's Shred Kids Cancer.
Also check out The Pick Project, a clever, kid-run project started by tween sisters in Kristen's community to fund local music and arts programs.
And now, of course, there's The March for Our Lives movement, all coordinated and conceived by the teens of Parkland, Florida.
9. March…as a family. Nothing has inspired my kids to learn more about the causes they care about that impact women, quite like their attendance at the Women's March on Washington. When you attend a march, rally, or peaceful protest together, it's a great way for kids to surround themselves with like-minded people and families, and encourage them to see what kinds of things other activists are saying and doing.
(It's also a good way to let your kids know that as a parent, you support their activism, and that is invaluable.)
10. Run for office! No, I'm not kidding. I mean, your fifth grader can't do it, but older teens certainly can. In 2014, West Virginia college student and conservative Saira Blair was elected to the state's House of Delegates, becoming the youngest elected politician in the US. She was 18!
Even if your kids aren't quite old enough to vote right now, they can run for a position on the student council, or for president of their school's journalism club or recycling club. Great leaders often start young.
—————
Take a listen to the entire episode of Spawned right here. Also be sure to check out these helpful links mentioned in the podcast:
–Excellent advice from 8 young activists, in Teen Vogue.
–A terrific list of children's books about activists
–How the survivors of Parkland started the #NeverAgain movement
–Parkland student Delaney Tarr on why now.
–NPR's Susan Davis on what's different about kids under 18 today.
–March for our Lives and #NeverAgain
Cool Picks of the Week
KRISTEN: The New Queer Eye series on Netflix is the series we need right now. (PS Liz started watching based on the reco and Kristen is right..it's WONDERFUL!) Photo: © Netflix
Also…The Pick Project is a kid-run non-profit, upcycling hotel room keys into guitar picks, jewelry and other crafts to raise money for kids' music and art programs for underserved kids.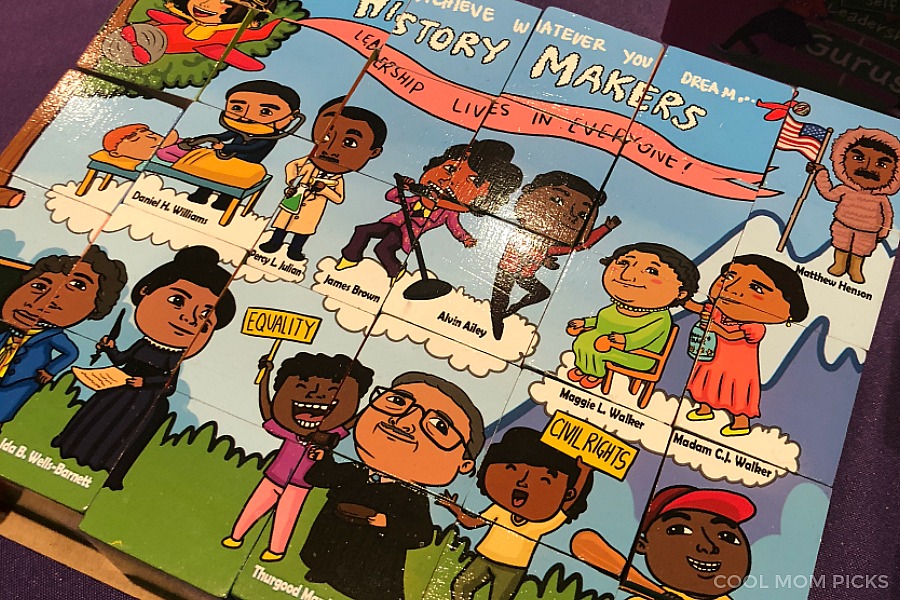 LIZ: History makers wooden block puzzle set by Bevy & Dave aren't just for building towers, but building future leaders. What a fantastic small company!
Have questions or comments? Drop us a line at spawned@coolmompicks.com, follow us on facebook and twitter and instagram with hashtag #spawned show and don't forget to subscribe to our podcast now so you never miss an episode!