If your news feed has been dragging you down lately, take heart. Volunteerism is a great way to put that energy to positive use, and spring is the perfect time for you and your family to discover ways to volunteer for your own local community, Leslie Knope style.
To help, I've put together tons of easy do-gooding activities that are high on fun and family bonding, big on impact, but low on long-term commitment.
Fortunately, you don't have to repurpose your living room to shelter stray cats or hand-craft a community swing set to make a difference (although if you're up for it, we're impressed!) — if you have just an hour a week, a few minutes a day, or just one rare soccer-game-free weekend to devote, you can find the perfect volunteering idea to put that time to good use.
And who knows? Maybe a kid who's little kinder and a little more community-minded can change the world. Happy helping, everybody.
Top photo via: Plant the Seed 
Related: 10 outstanding children's books about activism in honor of Dr. Martin Luther King, Jr. Day
Check in with your local humane society, like my Nashville Humane Association, to see if kids can register for donations to a cause in place of birthday gifts.
1. Plan a charity birthday
Kids can ask guests to bring an item earmarked for a children's hospital, animal shelter, or classroom in need instead of presents to their party.  Check to see if your local humane society publishes a wish list of supplies, or if your local public school teacher has an Amazon wish list. Also check this post for 5 birthday party ideas that give back.
2. Befriend an older adult in your neighborhood
It's easy to reach out to neighbors with kids in the same age range as yours, but older adults in communities may love your children's company too! Find a senior on your block to check in on and see whether you can all pitch in with yard work, setting up a new computer, or just have younger kids make cards or artwork for your family's new friend.
An older friend of mine said a teenage neighbor volunteered to haul her trash to the curb and back every week while she was going through chemo, and it meant the world to her.
3. Host a food drive for a local non-profit
Many grocery stores have a drop-off point for food pantry items, so have your kids pick out five or ten of their favorite non-perishables (easy on the HFCS-laden fruit gummies) to gift to your local food pantry. If your supermarket doesn't have collection bin, check out foodpantry.org to see where you can donate in your town.
4. Have a spring cleaning day at home and donate the spoils to a local charity
This one may seem a little daunting, but we've got plenty of helpful posts to assist you if you're not exactly into organization. (Not that I know anyone like that, *cough*.) Check out our review of the Konmari method for families to get you started, as well as a list of orgs that take donations of toys. Gather up the booty, and donate to your local Goodwill or thrift shop, community library, neighborhood preschool, religious institution, or other organization that collects and distributes items.
Just be sure what you donate is in good shape; no one wants that ripped t-shirt from the 2012 turkey trot…and no, no one will discover it and use it for "an art project."
5. Brighten up your local children's hospital or nursing home
A splash of watercolor or the words "feel better soon" penned in crayon can go a long way to cheer up a clinical environment. Plus, what kid doesn't love an art project?  See if a facility in your community will let your kids hand deliver their offerings to make an even bigger impact.
Related: 6 great place to donate new and gently used toys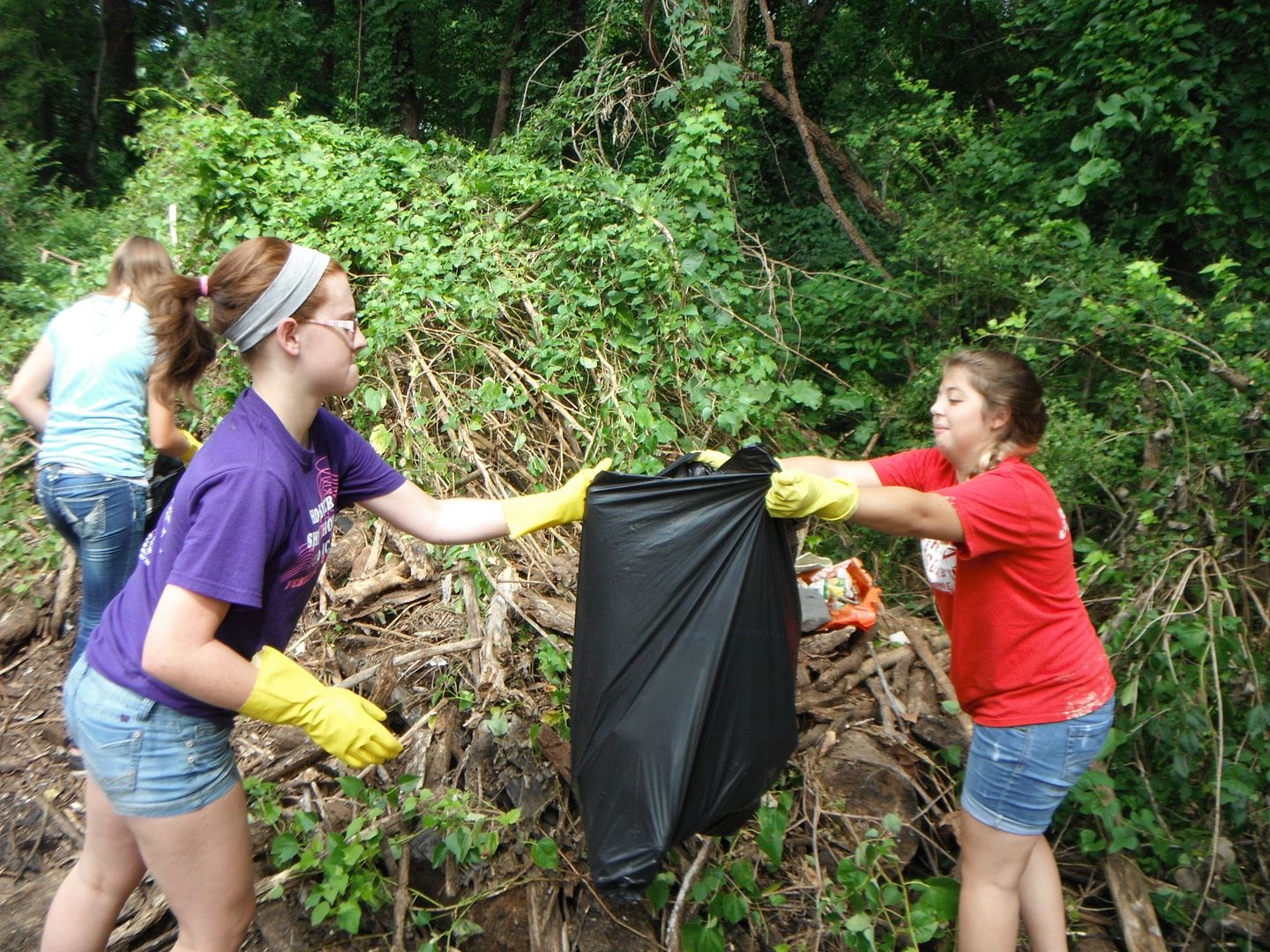 The Harpeth River Watershed Association protects the river in TN and offers opportunities for families to help ensure clean water for the community
 6. Participate in a local river or park clean-up day
Few projects deliver such tangible results and instant satisfaction as seeing a creek, river, or local rec area that was dirty made clean. Keep an eye on your local paper to see upcoming clean-up days or search online for a body of water near you to see if it has its own dedicated protection society. I love this idea for local volunteering since it requires little nudging on a nice day to gets kids outdoors and exercising.
7. Start a kids' book club, and rotate hosting duties
We've all heard of co-op childcare groups set up by a group of families in a neighborhood, but you can take that one step further, especially with older kids. Starting a children's book club that works the same way — instead of a free-for-all playdate, parents can take turns hosting a book group to discuss an exciting middle grade chapter book, a fun autobiography, or a popular YA novel. Not only does it promotes reading, but you're giving parents a much needed night off — and that's definitely a community service!
Related: 6 charitable organizations that support children and education
8. Sponsor a classroom at your local public school
We all know that many schools lack the supplies they need to educate well, teachers are forced to dip into their own pockets for the basics. Until that's addressed at a higher level, I love that you can sponsor a classroom to make one near you gets the chalk, pencils, or maybe even technology they need.
To get kids involved, help them select the items from any teacher's Amazon wishlist or check out Donors Choose and search by zip code or state to find one project that your family sparks to.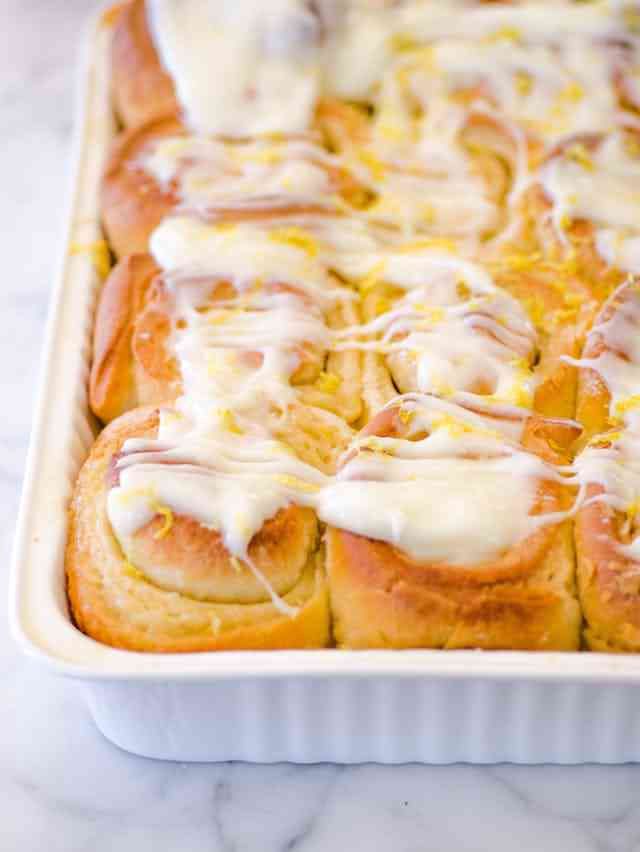 Sticky Lemon Rolls with Lemon Cream Cheese Glaze | The Kitchn
9. Bake treats for your local fire department
This is another simple, fast way for kids to show their appreciation for the folks who provide one of the most essential services to any community. Head on over to Cool Mom Eats to see a selection awesome cookie recipes or hey, go for a tray of gooey, wonderful sticky buns. No guarantees, but your kindness might even result in a fire truck tour for the kids.
10. Volunteer as a family at your local senior center
There are so many ways to put your kids' talents to use: Are their cookie skills worthy of The Great British Baking Show? Get baking! Or maybe they are tech aficionados who can lead a tutorial on setting up a social media account or using Skype so seniors can chat with family. Or maybe they have great voices and can join a chorus of volunteers who come in on weekends and holidays.
11. Adopt a plot in your community garden — or start your own.
This is not as a big commitment as you might think, considering community gardens are designed expressly to help you start small. Usually assignments last for a single growing season and you will cover only a small plot within the larger area. Plus, community gardens are great way to teach kids (and maybe parents) about gardening, sustainability and hard work with your hands.
12. Choose a spot of land to beautify
If your town doesn't have a community garden (or if you're stuck on the wait list this year) consider choosing a small, neglected plot of land that could use some love. Our editor Liz's stepfather has "adopted" a strip of grass by their town's highway off-ramp and plants random daffodil bulbs there each year simply to brighten the area for passing motorists. Or find a fenced-in area surrounding a tree along the sidewalk and plant your brightest flowers. Just consider a "curb your dog" sign to help protect your handiwork!
13. Donate your gently loved books
If your house is like mine, you're constantly searching for more horizontal surfaces to store books. Let's just say there comes a point when it's time to share the love.When you have books in good condition that you don't plan on reading again or that your kids may not enjoy, gather them up and donate to your local library, your school library, a preschool or daycare center, or try a local non-profit like Housing Works Bookstore in New York (above) which sells donated books and other items to raise money to help support those in the community battling AIDS and homelessness.
14. Set up a voter registration table
This is a great idea for high schoolers, or civic-minded younger kids who want to get involved with the political process before they're old enough to vote. Coordinate with your local voter registration office, county clerk or county election officer — they can provide you with registration forms and maybe even buttons and posters — then set up a table outside your school or at a local festival or block party.
Related: How to talk to your kids about politics: Ken Burns has a book for that
15. Host a bake sale or lemonade stand for your favorite local charity
This one's an oldie but goodie — and a great way to introduce even the youngest kids to the concept of volunteering in your community. We love Alex's Lemonade Stand (above) which started as — you guessed it — a child-run lemonade stand and is now a national non-profit raising millions to fight childhood cancer. You can also pick a more localized cause. Consider raising money for scholarships for field trips for your district's public school students, supporting a local animal shelter, raising money for kids' sports leagues, or donating to your botanical garden or zoo's conservation efforts.
16. Paint recycling bins to make them more noticeable
We love this paint war idea from DoSomething.org which can help kids get excited about decorating recycling bins, and drawing more attention to them in the ecommunity. It may even inspire your family to be more aware of how easy and important it is to wash out that soup can or egg carton and put it in the recycling bin, not the trash can.
17. Volunteer at your local humane society.
If you're not ready for the commitment of frequent vet visits and even more frequent poop-scooping, but still want to help rescued animals in your area, think about volunteering at your local humane society. Our contributor Delilah and her kids visit their local facility to walk, bathe, and generally shower attention on deserving dogs. Just be prepared to say no when your kids fall in love.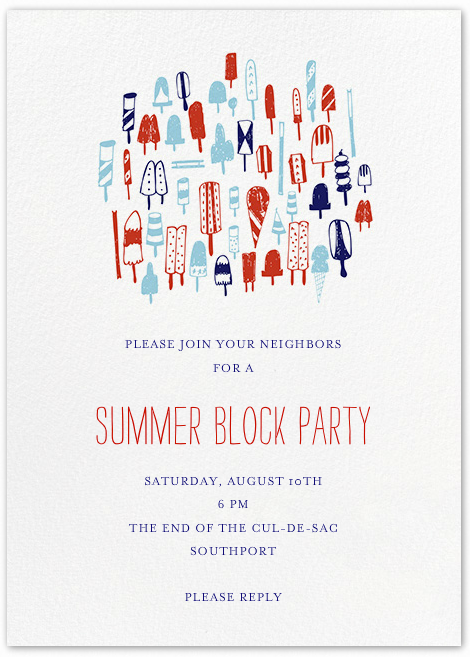 Summer block party e-invitation from Paperless Post
18. Throw a block party to raise money for a local cause
Our associate editor Kate laid down a master plan for throwing the most successful neighborhood block party, and I think it's the perfect place to add a fundraising component — while building community and eating hotdogs, obviously. You can ask for a donation when people enter, organize a raffle, or charge a nominal amount for an exciting activity like a dunk booth.You can also have families bring a non-perishable food donation as "admission."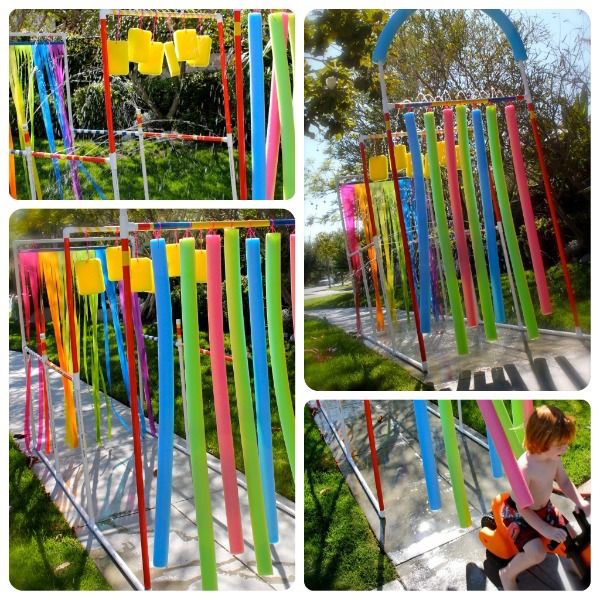 19. Have a neighborhood car or bike wash for charity
On the same block party tips post, we found this genius idea for a drive-through bike wash via Momfluential. What a cool way to get your kids raising money for a community cause. And of course you can have a traditional car wash for the grown-up vehicles as well; which is probably where the bigger money will be.
20. Help your kid start an Etsy shop to raise money for a community organization or cause
If your kid boasts a special talent for crafting rainbow loom bracelets, friendship bracelets, or safe, homemade slime, we've got plenty of tutorials to help them up their game! From there, consider teaching them some entrepreneurial skills, too, by opening a family shop on Etsy and donate the net proceeds to support their own favorite local charity or cause.
You'll be amazed at how excited they become to see the connection between their own handiwork and the money they raise.
21. Get creative!
In addition to all the ideas listed here, your ideas can be as diverse as establishing an inclusive kickball team where neighbors with physical challenges are welcome; or having your teens lobby against unfair suspension policies in schools. Both of these ideas, courtesy DoSomething.org where you'll find myriad ideas to get your family volunteering for your community in meaningful — and fun! — ways.