So let's talk about no-dye Easter eggs. I mean, I love a good hand-dyed Easter egg as much as the next mom, but the dyed fingers and clothes? Not so much. So this Easter I've rounded up 8 of the coolest, prettiest no-dye Easter eggs that still let kids — and you! — get crafty and creative.
Whether your kids still believe wholeheartedly in the Easter bunny or are just in it for the cool Instagram pics, we've hopefully got you covered with these Easter eggs, all entirely dye-free.
Related: 9 creative ways young kids can decorate Easter eggs without dyeing them.
Amidst all the busy Easter patterns out there, the minimalism of these no-dye Easter bunny eggs is appealing to me in a big way. Although I'm pretty sure they'd still look cute if kids decided to draw eyes and whiskers. Be sure to check out the tutorial at A Bubbly Life. It's wonderful!
The tattooed Easter egg trend has been around for a while, but I'm still finding it pretty game-changing. Especially if the tattoos are as charming as the ones on these temporary tattoo Easter eggs at Nur Noch (link no longer active). She shares everything from tips to materials to where to find the art she used for her tattoos.
The DIY no-dye cotton candy Easter eggs from Posh Little Designs is topping the list of my fave no-dye Easter egg ideas for 2018. C'mon…they've got cotton candy! In cones! On Easter eggs!  Doesn't get any better or simpler than this awesome tutorial.
We definitely lost our chill when Marimekko came out with a Target line a while back and I'm excited to discover an homage to their cool prints on this Marimekko style no-dye Easter egg. Check out the clever — and surprisingly easy– hack at Pillar Box Blue.
Related: 19 of the coolest, no-mess Sharpie Easter egg designs you'll love!
These crackled no-dye Easter egg designs at Lily Ardor are bringing classy back. Seriously, they'd look amazing on any Easter spread, and I think older kids, tweens and teens would have a blast making them. And if the paint required to make the black eggs seems too messy, stick with the gold. Lily Ardor shares a no-mess trick to give them their metallic sheen, so be sure to check out her tutorial.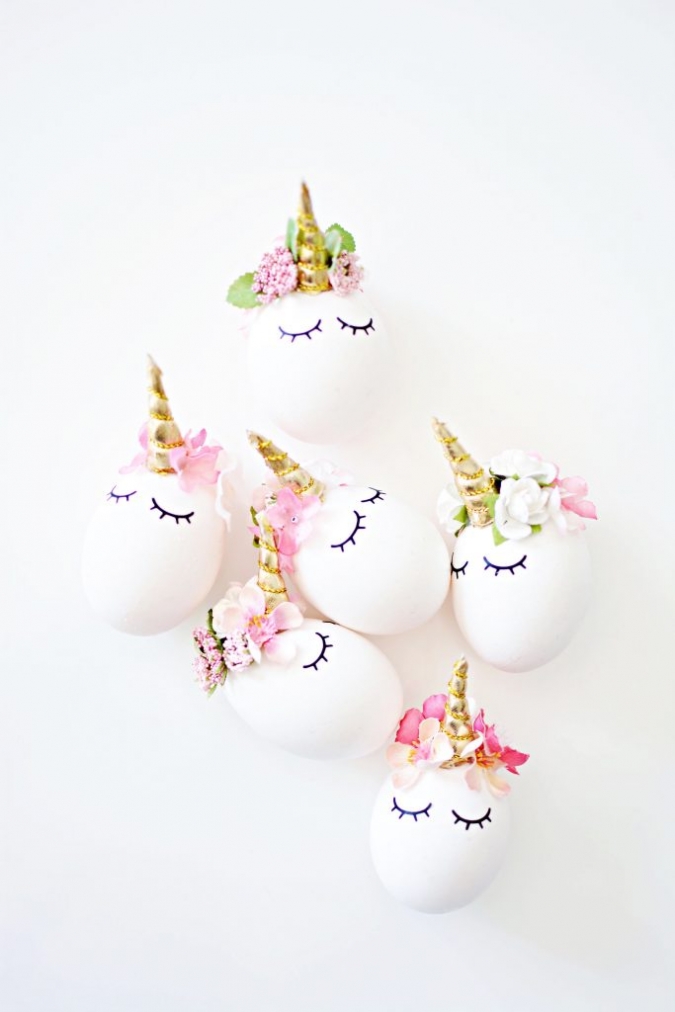 We featured these DIY unicorn Easter egg here last year, and damn if these no-dye Easter eggs aren't still as adorable and fresh as ever. Thanks to Little Inspiration for this timeless — okay, at least by internet standards — tutorial. We're still obsessed. (And if you're having trouble getting to their site, try this cached link we found.)
It may still be freezing out in most parts of the country, but we're channeling warmer weather vibes with these tropical leaf Easter eggs at J. Sorelle. I'm thinking they'll look beautiful in a kitchen windowsill — even if they're against a snowy backdrop.
Related: How to dye Easter eggs and get the perfect shade? This chart has all the answers
And finally, just because you're staying away from Easter egg dye doesn't mean you have to stay away from color! If you've got any leftover spray paint bottles from your last DIY project (looking at you, IKEA furniture makeover), Kara at A Kailo Chic Life has a great tutorial for DIY gradient color no-dye Easter eggs. What's really cool: she makes use of those plastic eggs so you can hunt them again next year.