We've always said that Mother's Day gifts don't have to be expensive — but they do have to be thoughtful. (Well, at least they should be, right?)
One of my favorite gifts from my kids of all time, aside from the hand-written cards and artwork of course, is an awesome ring I never take off. It looks like a nail wrapped around my finger, with just a bit of shimmer on the head and at the point. It wasn't expensive, but they gave it to me with a card that said, "because you're as tough as nails," and in a stroke of irony…well, I cried.
A lot.
With the idea of special Mother's Day gifts in mind, we are so happy to be partnering again with JCPenney, which has become one of my new favorite go-to shopping destinations. (The Manhattan Mall JCPenney staff is starting to recognize me and my kids!)
In fact, I popped in with my daughter this week to explore their huge selection of cool, affordable Mother's Day gift ideas, from jewelry and fashion, to housewares and a whole lot of handbags.
I picked out nearly 3 dozen favorites, with some ideas on how to think of them and present them so that they become extra-special and meaningful.
It all comes down to who she is, what she loves, and what she means to you…and then tying that into her gift, complete with a thoughtful card. (And we've got those for you, too!)
1. For the Mom Who's Made You Who You Are: Floral Gifts
Flowers are always lovely on Mother's Day, but I especially love these takes on Mother's Day flowers that last a whole lot longer. Plus, bold, fun, floral prints are so in right now!
To make it more special: A floral gift can be tied together with a message about how she's helped nurture you and helped you grow. (Like a flower, get it?) A card with that very sentiment makes the gift extra personal. Print out ours, or write your own — you can't go wrong.
CLICK HERE TO DOWNLOAD
print on 5×7″ cardstock | for personal use only
Affordable Floral Mother's Day Gift Ideas
Liz Claiborne Phoebe Crossbody in Straw | TKO Orlogi Floral Print Bracelet Watch
Floral Lacey Vase | Liz Claiborne Floral Jess Tote in Lilies Dream
Florals are everywhere: Accessories (straw bags are so hot right now), jewelry, tech accessories, housewares, you name it. I'd love any one of these!
Cynthia Rowley Floral Laptop Case
Floral doesn't have to mean fussy. If she's trendy and even a little edgy, this is one of the coolest ways to protect her 13″ laptop. Great find!
Floral Microfiber Glasses Case
Marc Jacobs Mj350S Black Sunglasses with Gradient Lenses
Ooh, love this idea so much — a hot pair of designer sunglasses, hidden in a cool floral sunglass case. Perfect for a Mother's Day
Custom 6-Birthstone Family Tree Pendant
You can customize all six of the stones for a really special keepsake for a mom or grandma and it doesn't have to cost you a month's rent, either. If you can get a signature from each of the kids/grandkids whose stones are represented that would be so sweet — even if you just get them digitally, print and cut, then paste them down into a card.
Because I Said So Floral Pouch
Pretty much made for moms, right? Fill it with her favorite treats for a fun surprise, or even a JCPenney gift card.
2. For the Mom Who Always Sparkles: Chic metallics
Is she all glitter and glam? Or maybe she just brightens the world with her attitude every day?
Consider one of these amazingly chic Mother's Day gifts, whether she's the type who can use a little something to dress up an outfit for a girls' night out, an update to her wardrobe, or just a special something she'd never buy herself, even though she's earned it.
To make it more special: Connect your gift to a card with a message about how she sparkles, how she lights up a room, or how she lights up your life. Get creative!
CLICK HERE TO DOWNLOAD
print on 5×7″ cardstock and fold | for personal use only
Affordable Metallic Mother's Day Gift Ideas
Mama All Day/Every Day Pouch | Nicole by Nicole Miller Laurel Square Crossbody in Rose Gold
Elegance Gold 6-piece Coffee Set | Monet Women's Clear Y Necklace (also above)
These gifts are awesome for new moms, for seasoned moms, even for grandmas. That's the cool thing about gold. It's for everyone.
Worthington Rose Tone Hinged Pavé Bangle Bracelet
I own a similar one from a fancypants designer and it cost a LOT more…and this one is every bit as nice. Great value! To amp it up, consider a coupon for a night on the town to show it off, babysitter included.
Sparkly Mom Pendant Necklace | Nicole by Nicole Miller Quilted Satchel in Silver
Liz Claiborne Claudia Shopper Tote | Natasha Crystal Stretch Bracelet
Is she more of a silver gal? We've got her covered too! And if that mom necklace isn't 100% right for her (though I think it's great), check out the affordable silver bar necklaces with sayings like Fierce, Unstoppable, or Mama Bear.
(Here's that silver shopper tote in action. My daughter spotted it…and I love it.)
3. For the Mom Who Does it All. Maybe Too Much.
For the mom who does it all — but still never thinks it's enough, what she really needs is a break! Hopefully she can give herself one. Or you can give her one. But either way, an acknowledgement of her hard work will go along way.
Well, that and free time. And coffee. And a pedicure. And…well, you get the gist.
To make it more special: Just recognizing all she does — for you, for the family, for her job, or for the world — already makes this a special kind of gift. But a personal note that helps tie the gift to a more meaningful, personal sentiment really goes beyond. See lots of ideas below.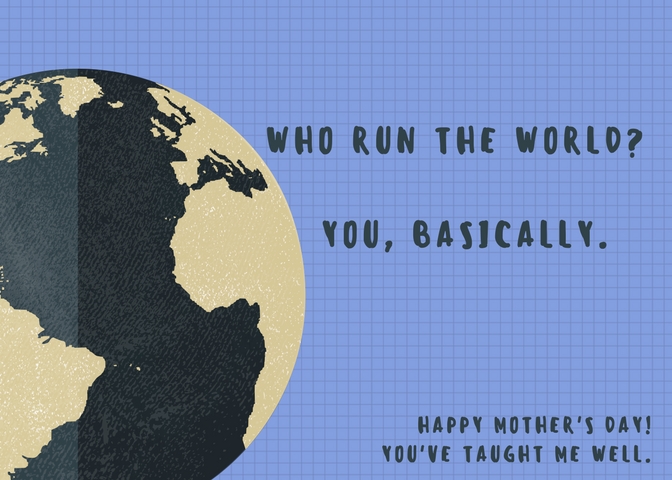 CLICK HERE TO DOWNLOAD
print on 5×7″ cardstock and fold | for personal use only

Affordable Working Mom Mother's Day Gift Ideas (That includes SAHMs!)
Wake Up, Drink Coffee, Be Amazing Travel Mug
Is there ever enough caffeine in the world? For moms…that'd be a hard no. Include some of her favorite coffee beans — or a gift card to her favorite local coffee spot with a note about letting someone else make the coffee for a week.
Liz Claiborne Charging Wristlet in 17 colors
Work-out-of-home moms can have it tough when there's travel or late nights at work on her calendar. There's nothing I love more on a business trip than a surprise FaceTime from my kids. So consider a tech gift, like a charging cable, spare charging battery, or this cool charging wristlet bag — along with a note about always having a full charge for all those calls, texts, and video chats
Mixit Celebrity Metallic Flip Flops | Cynthia Rowley Gold Earbuds | JCP Salon Gift Card
A me-time pedicure gift set is always welcome for any busy mom, and so easy to put together! Include some fancy, polish-friendly shoes, a new pair of earbuds for some chilling, her favorite magazine, maybe a custom Pedicure and Chill playlist of some great tunes — and of course, a gift card for a pedicure or salon service. Maybe make it a mother-daughter day? My own daughter would love that!
Liz Claiborne Solid Fringe Pashmina Wrap in 8 colors
This pampering gift is perfect for travel or tossing in a bag for over-air conditioned office meetings. Or you know, just draping around her (me) while she works (I work) on the crossword and the kids do all the cleaning. Can you tell this one is pretty personal for me?
Because she is. As you know. To make it more special, consider surprising her with some handmade Mother's Day coupons inside towards chores that will get done by anyone but her. Because she's the boss; which means she has you for that stuff!
Ohhh…you definitely get her.  Shopping for a new mom? You really really really get her. To amp this gift up: serve her breakfast in bed, of course. Better yet, surprise her with breakfast in bed when it's not even Mother's Day sometimes. (Hint hint, to my own kids.)
4. For the Mom Who's the Rainbow in Your Day: Color Galore
Can you ever be too old for rainbows? No way.  I love that this trend feels like it's here to stay, and it's so perfect for spring — and for moms.
To make it more special: Be sure to write a note to your mom reminder er how much she brightens your day. Maybe even a top ten list of some times she's done that very thing. With something like that, she'll hardly even need a gift. (But get her a gift! You can afford to, with ideas like these.)
CLICK HERE TO DOWNLOAD
print on 5×7″ cardstock and fold | for personal use only
Affordable Rainbow Mother's Day Gift Ideas:
Liz Claiborne Monica Crossbody Rainbow Bag
Love everything about this — the size, the colors, the shape. She'll mostly love that it came from you.
Deluxe 119-Piece Art Set
If she's an artist or crafter, doodler or dreamer, she'll be delighted with this rainbow of colored pencils, pastels, watercolors and more. Give her a little quiet time to use them too.
Set of four Konitz rainbow mugs and a 8-cup Cafetiere Coffee Carafe
So, this kind of a Mother's Day gift is a little more splurgey tha some of the others . But still…don't you want her to wake up happy every day? Exactly.
JCPenney Gift Card

Hey, maybe she's the mom who knows exactly what she wants — or would love to make a day of shopping with her kids or grandkids for her gifts (complete with that Sephora Inside JCPenney visit). In that case, there are so many pretty gift cards you could have fun wrapping. And while there are specific "mom" gift cards, you can't go wrong with a joyous, multicolor celebration…of her.
Extra thanks to my daughter, who made me a mom. And who is really fun to shop with, because she'll never say no to taking silly sunglass selfies. 
And of course, huge thanks to our sponsor JCPenney where you'll find tons of thoughtful, affordable Mother's Day gifts and sales galore, from jewelry, to fashion, to home goods, to fun tech accessories.