Hanukkah comes early this year — December 2! — so it's time to start gathering up ideas for cool Hanukkah gifts for kids. While of course every toy, game, accessory or gift can be wrapped up for Hanukkah, I love that we've been able to track down so many gifts that really let you proclaim your love for the festival of lights. And latkes. And chocolate gelt.
Always the chocolate gelt.
CMP is an rstyle affiliate
Be sure to check our most recent guide: 25 of the best Hanukkah gift ideas for kids and teens in 2022
Personalized Hanukkah Storybook ($29.99, I See Me)
Love this custom storybook you can customize to look like your child too. It's all about baking Hanukkah cookies together  — and even includes room for your own family cookie recipe.
Hanukkah t-shirt ($16.95 and up, Free to Be Kids)
I love this message so much, and the idea that the shamash can give light to other without taking away its own power — well, that's a perfect metaphor for life.
Hanukkah SugarWish Gift Card ($28, SugarWish)
1/4 lb of treats of their choice — bring it! Smaller and suuuuper big sizes avail, too.
Handmade Wooden Menorah Puzzle Toy ($36, Margaret's Menorahs)
Love everything about this handmade wooden menorah toy.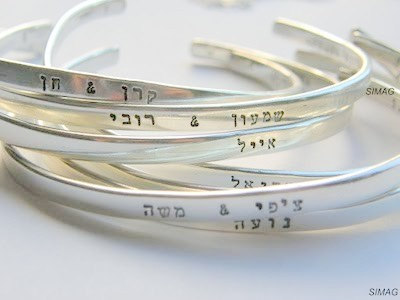 Personalized Hebrew Letter Bangle ($60, Sima G)
We love her work — and you can include up to 20 Hebrew characters.
Texting Dreidels ($10, Modern Tribe)
IKR LOL
My First Jewish Baby Book ($9.94, Amazon)
From Afikomen to Zayde
Hanukkah Treats Paint Can ($18, Dylan's Candy Bar)
Dark chocolate pretzels, kisses and gelt, oh my.
Related: 8 Hanukkah cookie recipes you'll want to eat all 8 days…and nights
Menociraptor (The Vanilla Studio)
A purple velociraptor menorah. Like they have one already.
Update: The shop is sadly on an extended break, though there are similar ones from Little Bohemia Farms on Etsy
Related: 12 of the coolest menorahs for kids, from rainbows to dinosaurs to emoji.
Tree of Life Locket ($48, Emily Rosenfeld)
For a tween or teen, this is a beautiful keepsake. She's got others too, if this one isn't available.
Ugly Hanukkah Sweater Cookie Decorating Kit
(Updated Shop: similar set available for $38 fromLaura's Handmade Delights)
Please note that none of the actual sweaters appear anywhere in this guide.
Keep checking back — we'll be sharing amazing holiday gifts for everyone on your list!