It's amazing how few companies are making sports equipment targeted to girls — unless it's pink or purple or covered in glitter. So I loved discovering KAOS Soccer, a company that blends serious soccer credit with edgy modern design.
Not that there's anything wrong with a traditional black and white soccer ball, of course. But I love that these days, more girls in sports feel like they don't have to do exactly as the boys do to be taken seriously as athletes (deep, low bow in your direction, Serena), and that they can both kick butt on the field and express style through their uniforms and gear.
KAOS balls are a super cool gift for girls — and boys too, of course — who would love a practice soccer ball that feels like it reflects them in some way.
CMP is an rstyle affiliate
Related: The strong athletic girls t-shirts that honor her passion for sports.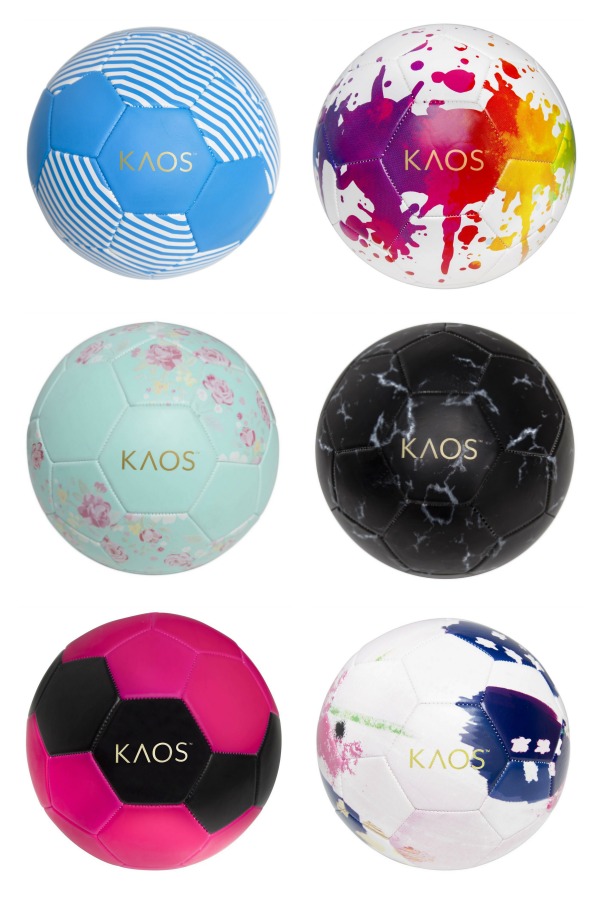 Their existing training soccer balls (above) include some great styles from a Rorshak rainbow splatter to black-and-white marble, to bold graphic takes on the classic 1970 FIFA World Cup black and white.
New designs launching that I saw at Toy Fair 19 are coming soon and literally stopped me in my tracks in the aisle.
Coming soon, you'll find a hot metallic gold, a Liberty style floral against black, a bold watercolor called Galaktic Ice, an 8-bit inspired graphic, and a seriously cool graffiti inspired black and white ball called Old Skool.
Oh, and solid gold.
Related: Have youth sports gotten out of control? | Spawned Episode 107
KAOS soccer ball sizes start at 3 for kids under 8, and go up to a full-size 5. Find them now at Amazon.com and all kinds of small boutiques and sporting good stores for around $25 each. Check out all the styles at at KaosSoccer.com.