If your older kids are totally over PAAS kits for Easter egg decorating, I've got you covered! I've tracked down 8 cool Easter egg ideas for tweens and teens to suit all kinds of tastes. From pop art and comic inspiration, to Star Wars and retro 80's style, these are a great way to keep even the most cynical 12 year old excited about egg decorating.
But this adult's favorite? Might just be the Easter egg fake cacti garden. FTW.
Top: Comic Easter Eggs by Mottes Blog | Pop Art Easter Eggs by Craft Paper Scissorrs
Related: 8 simply gorgeous no-dye ways to decorate your Easter eggs this year. 
As someone who recently watched Into the Spiderverse and hasn't stopped thinking about it since, these comic book Easter eggs at Mottes Blog instantly caught my eye! Especially because you can use absolutely any comic heroes you want, whether it's Wonder Woman or Miles Morales. Hey, you can even mix DC and Marvel, you rebel, you. Check out her helpful instructions for this découpage-style Easter egg decorating idea that tweens and teens of all kinds are sure to love.
Older kids are so into succulents and cactii right now, so I love this idea for an entire garden full of cactus Easter eggs created by Bliss Makes. It makes for a really modern centerpiece when it's all done, unless your kid swipes it for their bedroom first.
I'm so into this entire collection of pop art inspired Easter eggs from Abby at Craft Paper Scissors. She's taken her inspiration from icons Jackson Pollack, Keith Haring, Andy Warhol, Yayoi Kusama, Peter Max, and Roy Lichtenstein, and (thankfully!) provides really detailed instructions for how she achieved each and what materials you'll need. She even describes how to make the pedestals by upcycling old cereal boxes!
Nothing says Easter like a basket of egg-shaped droids, aliens, and space princesses. (Ha.) Any Star Wars fan will have a great time trying their hand at these Star Wars Easter eggs, and you can find full instructions for each at Frugal Fun For Boys and Girls. Tip: The Luke, Han, and C3PO look pretty simple, and I love that she took her inspiration for the Leia Easter egg from a LEGO Minifig! It's a perfect Easter egg idea for tweens and teens who think they're too cool for the traditional stuff.
Related: 24 pop culture Easter eggs featuring your kids' favorite characters. Parenting win!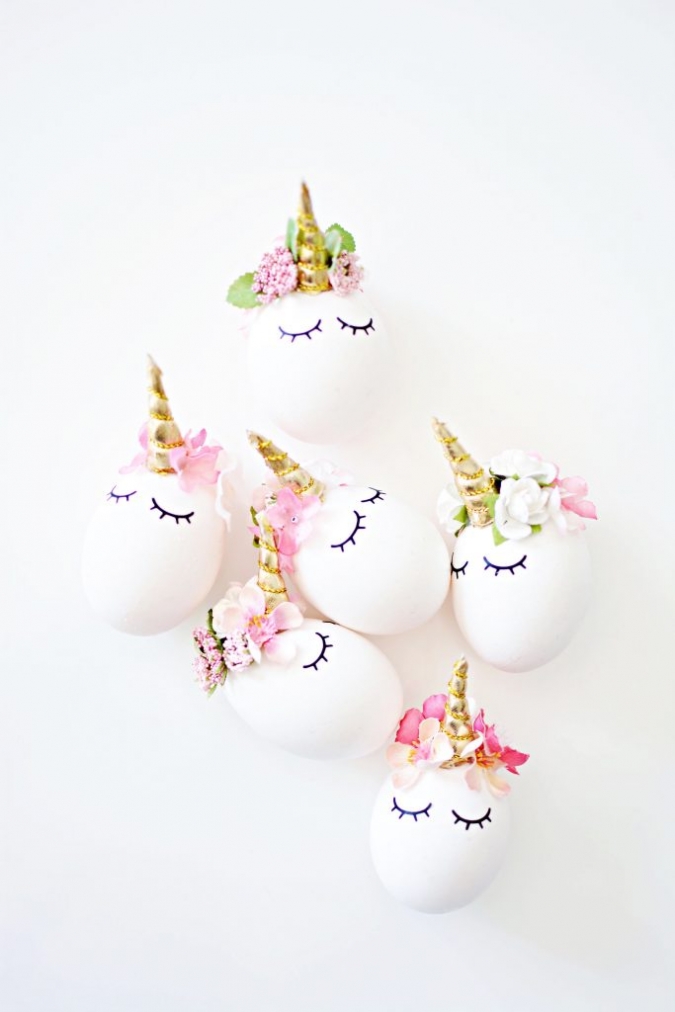 Are your kids still unicorn-obsessed? Several years ago, we featured these unicorn Easter eggs from Angie at Little Inspiration and they remain a favorite. If you happened to catch them then, but your kids weren't quite old enough to take on this project, maybe this is the year? Yes, you'll need a few supplies from the craft store, but you may find they're easier than you think!
I really love the retro vibe of these 80s inspired pastel Easter eggs at A Kailo Chic Life. And considering fashion is right back to the 80s these days, your kids may love them too. (Very 90210!) I think they look impressively artsy without requiring any advanced crafting skills. So, pull your hair into a side pony tail and get to it.
Related: Sharpie Easter eggs: 19 no-mess ideas for easy decorating fun
These Harry Potter Easter eggs from Bugaboo City are so adorable, they'll make guests yell egg-spelliarmus! to try to steal Harry, Ron, and the gang for themselves. (Yes, I did have to work that pun in there, and I REGRET NOTHING). But seriously, if you have a young Harry Potter fan with some painting skills, this is one cool Easter egg idea.
A cool Easter egg idea for tweens and teens that's totally new to me: These geode Easter eggs found at Posh Little Designs. Wow! They look sophisticated, but after watching her video tutorial, I'm convinced they're in reach for even novice DIYers. Just note that Brandi uses a hot glue gun and a splash of vodka (for dying the sugar crystals), so you might need to stick around to supervise this one.
If you've got space-loving kids, this Easter egg idea for tweens and teens for galaxy Easter eggs may be calling their names. They're attractive enough to display, but a little more updated than your classic pastel solids. Plus, they're incredibly easy — so mjuch so, that younger siblings can help out too. Find the detailed instructions for this DIY at A Crafted Passion. And hey, maybe even mix them in with the Star Wars eggs, above!