It's been a while since we put together some of our favorite free printable summer coloring pages for our kids. With the weather fairly unbearable around the country right now, seemed like a good time to find some new printable coloring pages with summer themes — but we are only sharing the amazing ones. (No offense, clip art stealers.)
I know I've been finding them especially handy when thunderstorms threaten our pool plans lately, so I rounded up some favorites to share. They're also smart to print out for summer travel, or those days it's just too hot to get outside.
You'll find these free summer coloring page printables for kids of all ages — from toddlers to picky teens — run the gamut of summer activities, from camping to road trips, succulent-cultivating to those summer creatures we love spotting.  Oh, and ice cream. Of course.
Sharpen those pencils!
Top image: Welcoome to Nana's
Related: 8 cool summer coloring pages just for tweens and teens…or you!
Free summer I Spy printable coloring page | Kleinworth Co.
Love how this one becomes a fun road trip activity too, with the checkboxes at bottom.
Related: 20 free things to do with your kids this summer when you're all out of ideas
Free "Hello Summer" printable coloring page | Crayola
The way things have been going we might change it to "hell summer," ha.
Free mermaid coloring pages for teens or adults | Red Ted art
Give your mermaid red hair —  or brown skin and long black ringlets. It's your coloring page! There are two here, but the one on the left will have a lot of kid-appeal.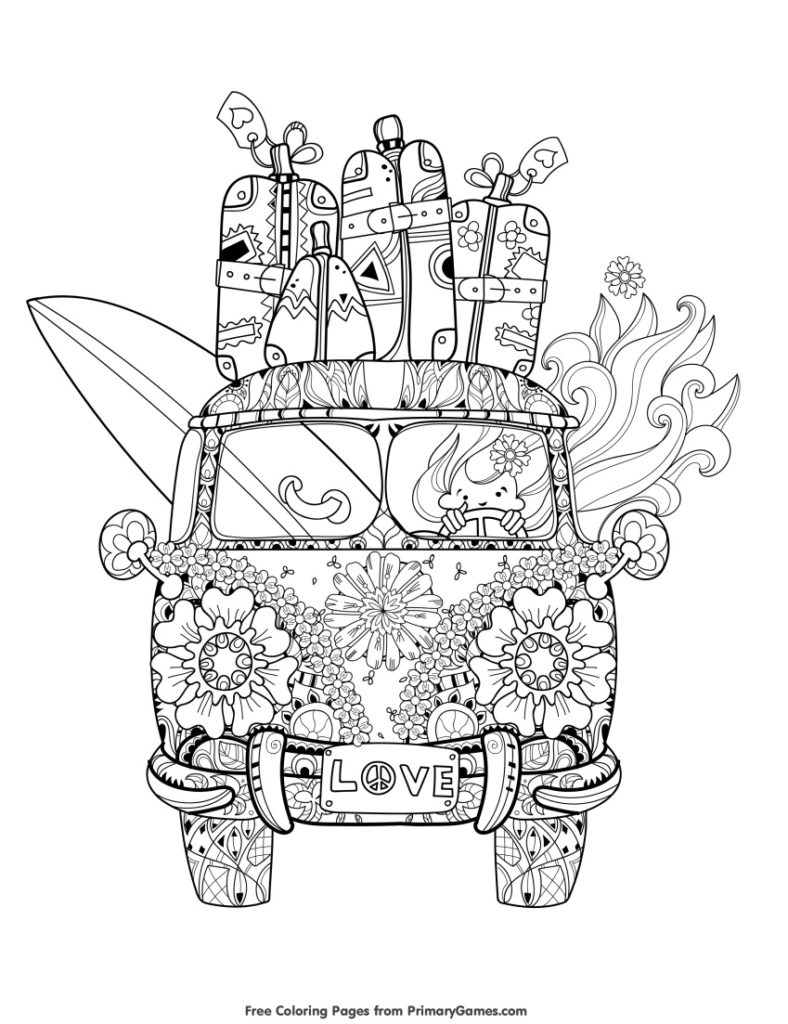 Road trip printable coloring page | Primary Games
This is so intricate and fun for older kids — but we bet our younger kids could make it work too
Free printable underwater creatures coloring page (PDF) | Made by Joel
For younger kids, these simple but artful underwater creatures make for a perfect coloring page. Check out all of Joel's wonderful free coloring sheets for kids — so many great ones.
Free succulent printable coloring page for summer | Pop Shop America
It's filed under "adult coloring pages" but this one seems perfect for our grade-schoolers.
Related: 50 screen-free activities for kids to do over summer break, indoors and out
Free printable August Ice Cream printable coloring page | Welcome to Nana's
How adorable is this original illustration, with scoops of ice cream to color? This is one cool Nana!
3 free printable Moana coloring pages | Disney Family
Our kids love Moana and the ocean themes are so perfect for summer.
Free printable summer tire swing coloring page | Doodle Alley
Maybe to inspire the kids to get outside when they're done coloring?
Related: 18 more fun, free printable coloring pages for summer that will keep kids busy day or night. 
Dolphin printable coloring page | Andrea Vucajnk for Red Ted Art
Another on for kids who love detail — but you can easily direct younger kids to color it section by section, too.
Related: 9 fun, easy crafts using shells to remind the kids of your summer vacation
Free printable summer camping coloring page | Doodle Art Alley
Add your own s'mores.
3 free printable kawaii cookout coloring pages | Live Laugh Rowe
Sweet is right.  Too adorable!
4 free printable coloring pages with summer picnic themes | One Colorful Day
Find variations with lemonade, watermelon, cherries, ice cream … or all of the above
Free printable summer pattern play coloring page | by Rad & Happy via Studio DIY
For kids who prefer more of a doodle style, this free printable coloring page is a summer win.
4 free printable color-your-own mermaid bookmarks | What Do We Do All Day
For an extra treat, laminate these mermaid bookmarks by children's book illustrator Melanie Hope Greenberg when your kids are done with them and they can use them all summer long. Because another great summer activity to stave off boredom: Reading!