While many of us will wake up on Mother's Day to breakfast in bed, a few handmade cards and crafts, or hopefully at minimum some well wishes and a day of semi-relaxation, we are also thinking about all the grandmas on Mother's Day. There are so many we are fortunate to have in our lives — and in our kids' lives — but we can't see them this year because of social distancing precautions. Or maybe even just distance.
Normally,  I would visit my mom for a cup of coffee on Mother's Day and just talk. Others may be used to treating Grandma to brunch, or having her over for dinner or just spending a day with the grandkids. And while there are plenty of meaningful Mother's Day gifts I can send her, what I'll miss most are those big, strong, in-person hugs.
Whatever separates you and a treasured grandma this year, there are still easy ways to make her feel special on Mother's Day with loads of virtual hugs. So, along with a heartfelt e-card, I've put together some simple, thoughtful, and hopefully helpful ideas to help bridge the distance between us and make all grandmas feel special on Mother's Day.
Or of course…on any day. I'm sure she'd appreciate some love on any random Tuesday, too.
Related: Cool Mom Picks Mother's Day Gift Guide 2020 : Our favorite gifts for all kinds of moms
Create a video message from her kids and grandkids
It doesn't take long to collect short video messages from family members and assemble them into a special Mother's Day video message for Grandma using Animoto's free video creation service. Their ready-made templates make it so easy to intersperse your video clips with photos of the family. And the finished product can be emailed to her to be saved and enjoyed long after Mother's Day.
Host a surprise Zoom party
Photo: © Liz Gumbinner via Instagram @Mom101
Casually set up a time to for a Zoom call with Grandma, but secretly invite other family members to enter the call at different intervals as a surprise!  It's an easy way to turn a video chat into a party, when people start popping up on the screen unannounced.
Make things even more festive by scheduling it over dinner or brunch so you can "share" a meal together, or invite attendees to arrive decked out in their fanciest hats and jewelry. Kids can share special drawings or read cards they've made for Grandma too and really make her feel loved.
Related: Fun ways tech can bring us together during social distancing
Treat her to brunch (or lunch, dinner, or dessert)
Help support the many local restaurants that need our patronage by sending her brunch or dinner from a favorite local spot, like this well-stocked Doorstep Kit put together by California's Klatch Coffee.
Liz put together a huge post about all kinds of creative ways to support restaurants for Mother's Day, including calling around to learn your local eateries' promotions — turns out Red Hook Lobster Pound, a favorite Mother's Day spot for her family in Brooklyn, is offering a full menu for delivery or takeout. Or, check your local Facebook pages — I learned that our town's country club, which normally hosts a fancy Mother's Day brunch, is now offering pre-packaged picnic lunches complete with an insulated picnic basket and alcohol beverage of choice.
Grabbing one of these makes such a special treat for your mom and also helps support a business that is otherwise closed to the public.
Related: 5 beautiful and easy Mother's Day cakes the kids can make themselves
Send her flowers or a bottle of bubbly (or both!)
Contact a local florist or liquor store and arrange to have a beautiful bouquet, flowering plant, bottle of Prosecco, or maybe 12-pack of beer delivered. (Hey, you know Grandma best!) So many local spots now offer no-contact delivery options. Just be sure to check and see if they will deliver on Sunday, or whether you need to send it a day early.
Also check out some long-time CMP favorites likeThe Bouqs whose flower subscription gifts will bring beauty to her home for months; One Hope Wines and Winc.com (a recent sponsor) will also send regular wine deliveries so that she can toast you all year long.
If she's not an alcohol drinker, perhaps a coffee subscription would perk her up?
If you're local, stop by her house and do something nice
Does Grandma live nearby somewhere can safely access without getting too close to others? If so, grab your masks, some supplies, and get ready to do something nice for her on Mother's Day outside of her home. Kids can write "We love you, Grandma" in chalk on her driveway or walkway. Or pick up some annuals at a flower stand or nursery and plant some new flowers in her garden.
Feeling more ambitious? Grab the rakes and get her lawn ready for spring without her having to lift a finger. Just make sure you do it all cheerfully and with lots of waves at the window for Grandma who will surely be watching the excitement from at least 6 feet away.

Photo: Annie Spratt on Unsplash
Leave a gift on her doorstep
We know many grandmas would love to receive a handmade gift from their grandchildren like one of these easy recycled Mother's Day gifts your kids can make from stuff you have right at home. (It doesn't have to be fancy — just from the heart.)
If you can safely drive it to her residence and leave it on her doorstep, something like this adorable flower pot of grandchildren photos from The Happy Scraps would be a nice surprise to see on Sunday. Or, package up your kids' creations and pop them in the mail for her to get in a few days. We guarantee she won't mind if they arrive after Sunday.
Related: 19 of the best subscription boxes for moms this Mother's Day, so they can feel the love even longer
Play games together over Zoom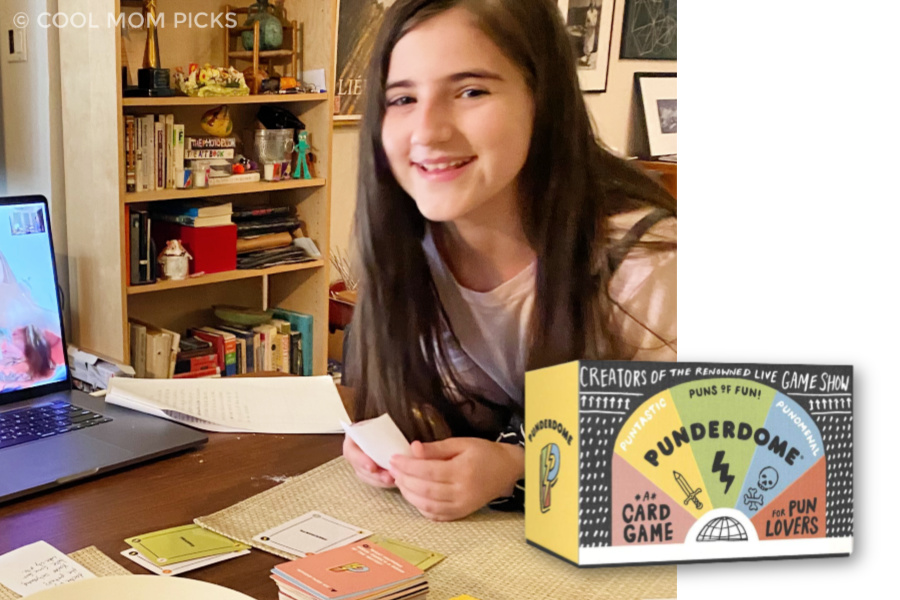 Photo: © Liz Gumbinner for Cool Mom Picks
If Grandma loves playing games with her grandkids, schedule some virtual play time for you all. We love the idea of playing an all-ages game over Zoom or FaceTime, like Cards Against Humanity-Family Edition. It's  easy to do if you each print out a free set of cards.
Or, pull out the board games and invite Grandma to a play one of our suggestions for 8 board games you can play over FaceTime or Zoom for remote fun with friends. The tips outlined in our post make it easy, the kids make it fun, and she'll appreciate the effort and time you devote her on Sunday.
Top photo by Karolina Bobek via Unsplash