I have not been so eager for a Disney DVD release since…well, ever, as I have been with the Princess and the Frog DVD which is just out today. After seeing the film a few months ago with my kids in theaters (my full gushy raving review here), I knew right away that this is one DVD we'd be needing at home.
Let's face it, if you've got to live with any kids' movie on a constant loop in the background, pick the one with the cool jazz, big band, and zydeco soundtrack.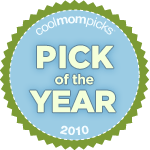 Of course Disney does that annoying thing where they release a DVD for a limited time to make you RUN, RUN AND BUY IT, and then its gone. Not sure if that will be the case with this one, but either way, yes: Run, run and buy it. The story is terrific, the music delightful, and the DVD extras are fun, from deleted scenes to fun behind-the-scenes segments for animation geeks like me. Especially the "Making of a Princess" feature with insight from the animation master (and Princess and Frog exec producer) John Lasseter himself.
If you do have the option to get The Princess and the Frog on Blu-Ray, it looks pretty darn awesome. Just be warned: You'll want a tray of warm beignets when it's through. Don't watch on an empty stomach. -Liz
Find The Princess and the Frog on DVD, on Blu-Ray, or the special 3-Disc Collector's Edition from our affiliate Amazon.