What are the best gifts for an 8-year-old boy? I'm looking for a big gift, in the $50-$100 range. —CMP reader, via Twitter
Oh, you mean the kind of gift that makes a child pause while unwrapping, shout out with glee, and rush over to give you a big hug? Well, small gifts can do that too, but on the splurgier side, here are some of our favorites according to our own sons — and by the way, according to our daughters, all these cool kids' gifts would be great for girls, too. Just note we stayed away from video games and accessories, though you can find plenty of ideas for those on Cool Mom Tech.
SKATEBOARDS AND ATHLETIC GEAR

If I were a cool little 8-year-old, I would be psyched to find a rad, colorful Penny Skateboard  like this under the tree. You may want to add some pads and a helmet too.  ($100, Penny Skateboards)
If skateboarding isn't his thing, consider roller blades, an upgrade to a top-quality youth baseball glove (this one at Sports Authority, on sale for $69.99), game-quality soccer ball, or any other gift that plays into his athletic interests.
OUTDOOR TOYS

If you have a backyard, eight is the age where he's probably outgrown the swingset he may have loved a few years ago. This Round-and-Round Nylon Rope Outdoor Tree Swing looks like so much fun, I'm pretty sure my kids would collapse out of it, one by one, in a dizzy heap after spinning and spinning. But I also love that this could be a comfy place to hang out on a warm summer day. ($99, Hearthsong)
Great for balance but, more importantly, for fun outdoor play, Slackers Slackline Classic Series Kit makes it so easy to set up a slackline in your backyard. With the "teaching line" above, even the wobbliest person will make it across and, with practice, kids can learn to do some cool moves.  ($79.99)
If they'd rather be zipping, check out Slackers 40′ Zipline kit which comes with a removable seat for easier use by younger kids.  And with a weight limit of 250 pounds, even us grownups can get in on the fun. ($79.99)
SCIENCE KITS
We have a few Snap Circuits kits here that my son adores, and their latest release, Snap Circuits Light, would make him light up too. I love how many projects they can build with this kit (175 projects!) and how sturdy it is, even with enthusiastic kids manhandling it. ($79.99 at Elenco shop)
Just about the best things coming in small packages are from littleBits, which will get your son working with circuits with just a few magnetic clicks. Super easy to use, but with lots of room for creativity (littleBits base kit $74 from our Amazon affiliate). We also always find plenty of fun options for kits that develop science, engineering, and building interests at the wonderful shop, Fat Brain Toys.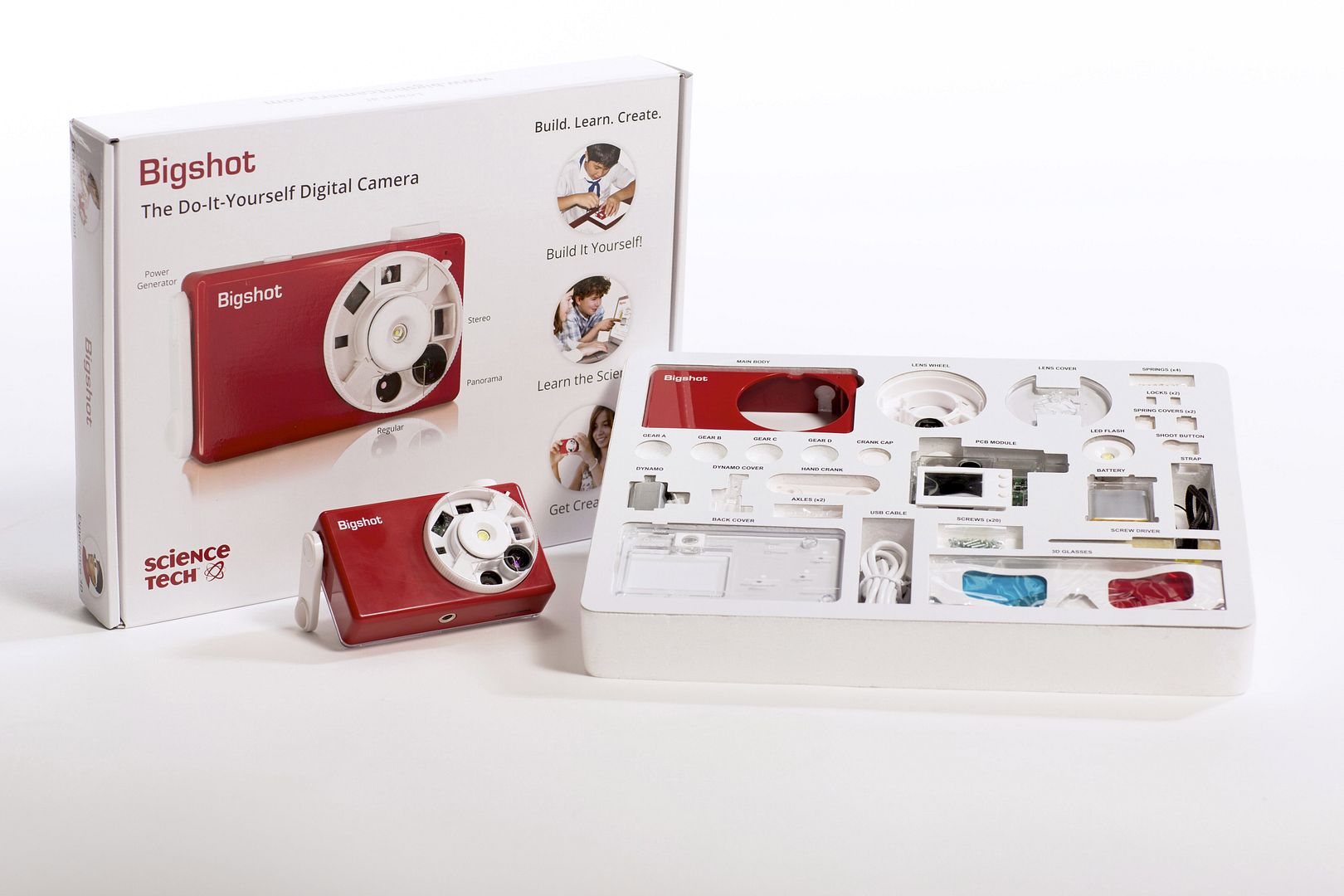 One very cool toy with real functionality is this DIY Bigshot Camera which not only teaches kids about the parts of a camera, it leaves them with a totally usable digital camera when they are finished putting it together. We also love how this company has pledged to help underserved communities around the world by donating camera kits to kids. ($99)
BUILDING SETS
My son will happily accept any LEGO set that comes his way, but this Hobbit LEGO building kit, Dol Guldur Battle, is especially timely with the second movie just released. With almost 800 pieces and including six minifigs, this would keep at least one of my kids quietly occupied for a long time on Christmas Day. Probably longer, considering his sisters will jump in too. Just be aware that LEGO retires hot franchise sets like this, and then they cost a fortune on eBay or through Amazon resellers. So grab it now while you can. ($69.99, LEGO store)
A fun LEGO alternative are Citiblocs, little rectangular pieces of wood that can be made into some cool things, and I especially like their newer "cool colors" building set of blue, turquoise, dark green, and lime green. ($50.99)
BIG KID ART SETS

We love indulging our boys' creative spirits, and for the future artists of the world, this 166-piece art set will have his eyes opening extra wide when he unwraps it ($74.95, Met Museum Store). With acrylic paints, oil pastels, watercolors, colored pencils, sketch sheets, brushes, and more, this is one that he will really have to take care of like a "big kid."
You might also add in a gift membership to a favorite local museum — and a first visit with you. The gift of time is always a great one.
COOL TOYS AND GAMES
Chess is such a cool strategy game for kids to learn, and when you combine it with Star Wars, as in this Star Wars Chess Set, you are bound to get a BIG reaction from movie fans. Thank goodness C3PO is paired with R2D2 since we all know that no chess piece spins around in circles.  ($64.11)
It doesn't have to be played on a screen to be absolutely captivating, but this next-generation radio-controlled car is actually an iPod or iPhone controlled Ferrari Enzo, so he may have to borrow your iOS device.  If he loves cars, this is a pretty wow-invoking gift. Download the free app — which looks like an actually Ferrari dash — and he can just tilt the device to control the car. ($73 on sale at Amazon via Wayfair)
GREAT STORIES
There are so many fantastic book series for 8-year-old boys that choosing great books depends on his interests, of course. But we'd start with the series that still has kids staying up all night reading under their covers: The Complete Boxed Set of Harry Potter, in easy-to-carry paperback, will have him dreaming of Quidditch, Boggarts, and all the wonderful things from the world of Hogwarts ($49.59, Amazon). You can of course splurge on the hardcover set too, which will about double the price. But it's a keeper he'll probably save for his own kids one day.
My 8-year-old nephew gets starry-eyed when he starts to talk about the Percy Jackson series, and I know he'd adore getting the entire series in hardcover for his bookshelf.
Another cool option: a monthly book subscription from Zoobean around the topics and themes that interest him. ($60/6 months of paperbacks, $98 for hardcover- get 50% off the first month with code COOLZOOBEAN)
Want it in time for Christmas? Read all delivery schedules carefully; some products may require expedited shipping charges.
Check out our archives of toys and other playthings for more cool gifts for 8-year-old boys and girls, and for gifts for all ages, visit our 2013 Holiday Gift Guide!