If you're having a big Halloween party this weekend, it's always so much fun, but it can be crazy trying to get all that appropriately fun, spooky food pulled together in time. So I'm happy to share some of my favorite semi-homemade Halloween snacks that you can take from the grocery bag to the table in just a few minutes. Hey, it's not cheating! I like to think of it as a big step up from bowls of pretzels and M&Ms…even if you're not making some outrageous Frankenstein cake from scratch.
Mummy Cookies
Since Halloween is all about layering sugar on sugar, I fully endorse these yummy Mummy Cookies (at top) spotted over at Pillsbury. Semi-homemade version: bakery-bought cookies with you applying some colored icing at home–they're even faster to make than the mummy cookie pops we've recommended but just as cute. (And psst, we found the Wilton candy eyeballs at our affiliate Amazon or check out a local shop that carries fun baking supplies.)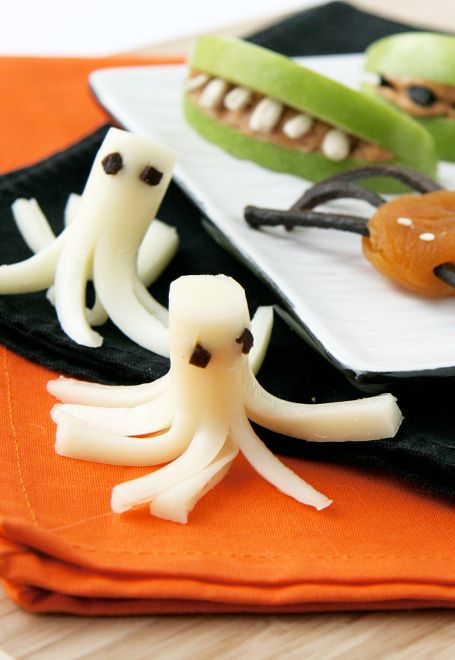 String Cheese Ghosts and Dried Apricot Creatures
You really can't get easier in the healthy Halloween treat department than these string cheese ghosts, or the cute dried apricot spiders by Natural Noshing. They are seriously low effort but still make a big impression–my kind of recipe, if you can call "cutting string cheese" a recipe.
Spooky Ghost Pizza
Buy some pre-made pizza dough from a local pizzeria and let kids decorate it themselves, saving you time but also creating a fun activity. I know this spooky ghost pizza from Chef Mom will be a favorite with my own kids. It's all about those ghost shapes. You can even use pepperoni slices for the spiders instead of green olives if you have veggie-averse kids.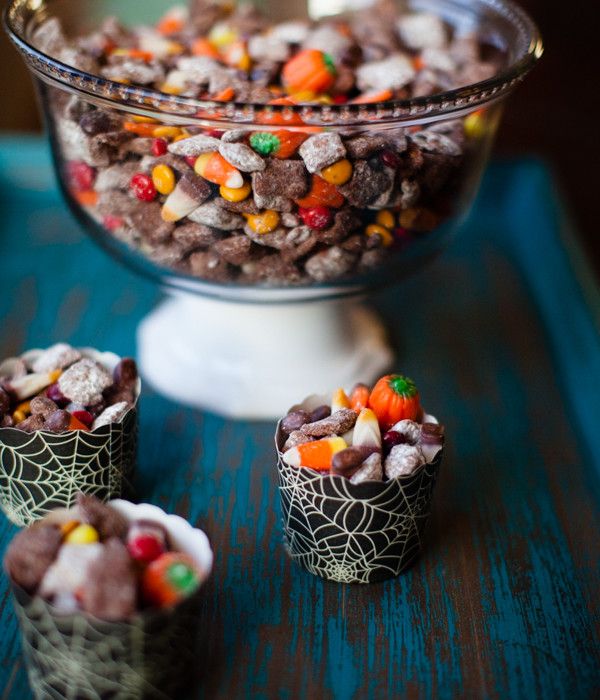 Nutella Halloween Puppy Chow
This Halloween puppy chow recipe at a Southern Fairy Tale was a favorite of ours (and yours!) last year, and I know we'll be whipping it up again. It's basically as easy as opening up a bag of candy and adding nutella instead of the classic peanut butter…plus one super special ingredient from Rachel that makes it all come together deliciously. Get the toothbrushes ready!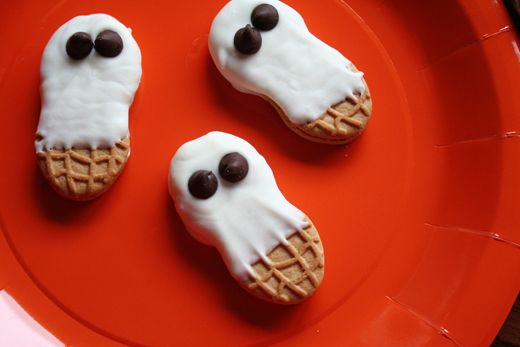 Nutter Butter Ghosts
Another big past favorite of ours these Nutter Butter Ghost cookies from Sandy Toes and Popsicles are as easy to make as dipping them in white chocolate and adding mini chocolate chip eyes. Done!
Oreo Spider Cookies
Another fun way to doctor up a store-bought cookie: The classic Oreo gets more fun when it becomes an Oreo Spider, with  spindly pretzel spider legs and little candied eyes.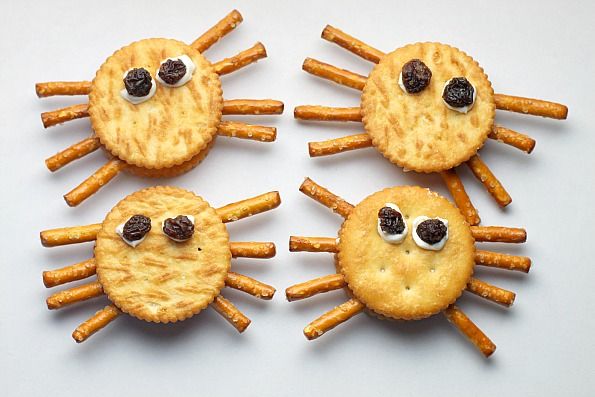 Halloween Spider Crackers
Or for a similar idea that's more savory than sweet, I guarantee the tray of spider cracker snacks by La Jolla Mom will be gone before we head out the door to get our candy. Great idea to use raisins for the eyes—you could substitute these for the chocolate chips in other recipes to cut down on sugar.
Spiderweb Florentines
I'm craving the sweet, crispy homemade spiderweb florentines by Martha Stewart, but I think I'll just pick up some florentines at my local bakery and pipe chocolate onto those. Still so yummy and done in seconds. After all, I still have costumes to finish!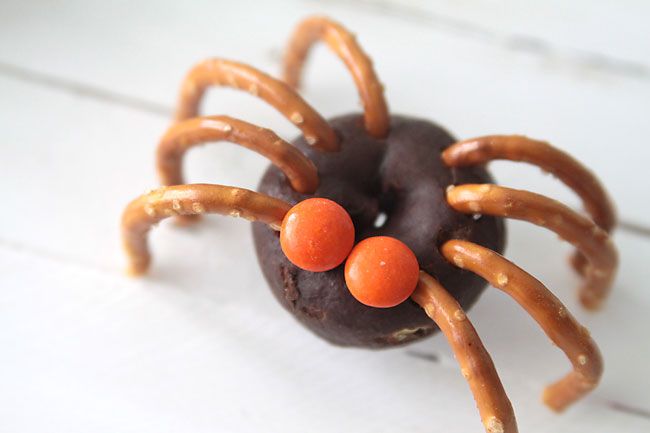 Mini Donut Spiders
Okay so yes, spiders seems to be an easy Halloween treat theme with tons of variations, even if I've seen way too many spiders around our house this fall to find them cut. But I must admit that these Mini Donut Spiders over at It's Always Autumn are pretty tempting. And, brilliant idea from our writer Stacie: set up a kids' table and let your guests make their own for a fun activity.
Spider Web Mexican Layer Dip
No party is complete without dip, and this Spider Web Mexican Layer Dip found at Your Home Based Mom is a fun twist on a classic crowd-pleaser. whether your kids are big on beans or stick with ranch, I'm thinking store-bought dip will work just as nicely once it gets this cute spider-web upgrade with a little piped sour cream and a fun fake spider at the center.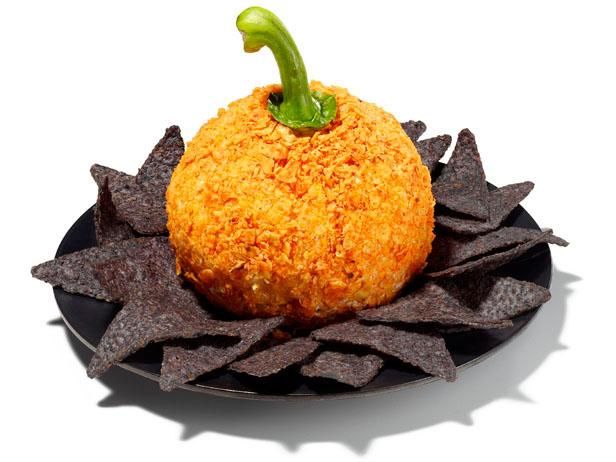 Pumpkin Cheese Ball
Cheese balls are kind of, well, cheesy. But we're all for getting ridiculous with our food on Halloween. Instead of following the Pumpkin Cheese Ball recipe by Michelle Buffardi at Food Network to the letter, buy a ready-made cheese ball from your deli, roll it in crushed Doritos, and stick a pepper's stem on top. Five minutes, tops. Eh, there's always time for healthy organic veggies the next day.
Find more Halloween inspiration at our Halloween Coolness Pinterest board.