There are great gifts for dads, and then there are the great gifts they'll always remember. This next batch of our 2013 Father's Day Gift Guide series offers up incredibly thoughtful Father's Day gift ideas with heart and homemade charm. We always love handmade gifts, because there's no price you can put on thoughtfulness. And these shouldn't take you all day either.
DIY Father's Day art
We totally love this Daddy art which is backed up by your kids' own watercolors, for something extra special. There are two templates you can download that read DADDY and GRANPA but you could probably make your own if you spell it differently. (At Lovely Design)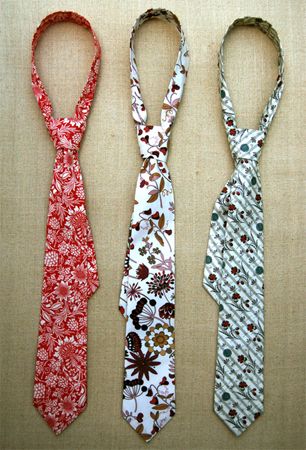 Sew-Your-Own-Tie
A tie might be cliche, but not if you've taken the time to make one yourself. And these are gorgeous! While they're definitely not for crafting beginners, if you're handy with a pair of shears and a sewing machine, this tutorial is pretty awesome. (At Purl Bee)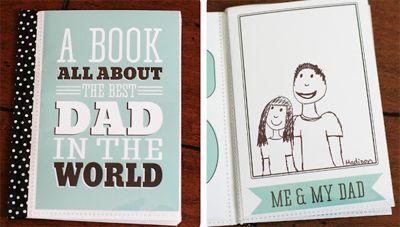 Handmade Best Dad Book
We love this DIY version of a classic keepsake journal for a parent. Instead of buying one, use these free printables and put together your own book, complete with thoughts, quips, and drawings about Dad from the kids. (At Eighteen25)
Homemade Dad Frame
We love this simple tutorial that combines his favorite things–the kids and gifts from the kids. (At Martha Stewart)
Homemade Nutella
If Dad is a foodie, or just has a thing for Nutella like the rest of us, a handmade jar of this should go over big, if quickly. Also click over for some great Nutella recipes you can make for dad from our favorite food bloggers, like Nutella Fudge Brownies and Nutella-Stuffed French Toast. (Recipe at Healthy Green Kitchen)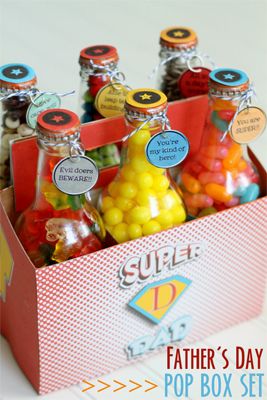 Super Pop Set
Of course this gift does work better if you call him Pop, but still adorable if you don't. Just use the free printables and go to town. If you don't want to load up with candies, try nuts, sunflower seeds, or granola. (At Lil' Luna)
Father's Day Handprint Tree
Just download this free printable and let the kids go to town with handprints to create sweet "family tree." Great project for the littest kids and toddlers. (At The Crafting Chicks)
DIY photo canvas
We've often recommended ways to turn your photos into canvas art, and we like this tutorial that takes you through creating a design like this one, then using the affordable Canvas People to bring it all to life. (At Somewhat Simple)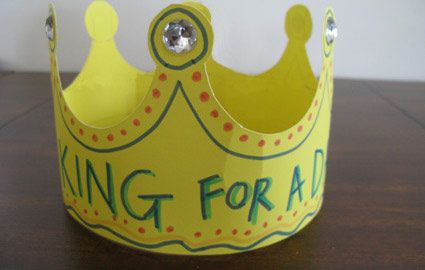 King For a Day Crown
Easy, adorable, and of course, he will be forced to wear it all day. Get out the camera. (At Parent Dish)
Photobooth Bookmark
If you don't have a photobooth pic lying around, use one of the many Photobooth apps for iOS or Android. (At Make and Takes)
Superhero Coasters
Okay, super crafters: These DIY coasters look amazing if you've got all the supplies, but if need be, looks like you could adapt this DIY using just the basics–wood blanks, old comic books and Mod Podge–and ease up on some of the fancier details. We bet they'd still look cool. (At Mod Podge Rocks Blog)
——————
Congrats to the winners of our Father's Day Gift Pack valued at more than $550!
1. Jack Spade Canvas Messenger Bag 2. MOUTH World's Greatest Dad Gourmet Basket 3. Complete Game of Thrones Season 1 Blu-Ray Collection 4. Daddy Keychain by Lisa Leonard 5. Dove Men+Care Gift Pack for skin, face, body and hair  6.Dad's Book of Awesome Projects  7. Native Union Switch Bluetooth Speaker
More gift ideas for dad:
The coolest personalized Father's Day gifts
Father's Day gifts for new dads