After learning about HelloFlo.com earlier this year, I'm happy to say that I'm no longer caught off guard on a monthly basis. In fact, you may have have seen the hilarious HelloFlo Camp Gyno video that's circulating this week–but behind the (racy) humor there's actually a super smart subscription service to help your daughter prep for her first monthly scramble for supplies. And we've got the full scoop.
(Don't worry, mamas of really little ones; it's not quite as scary as it sounds to you now. Kind of.)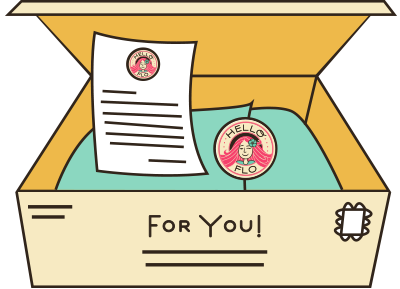 Coming this September, HelloFlo.com will introduce their HelloFlo Period Starter Kit. Packaged with an assortment of the same recognizable product names offered in the monthly Flo plans, the kit also includes a canvas pouch–to tuck supplies discreetly into a backpack or purse–and tween/parent guides to help answer questions.
One unique item in the kit is a Feby bracelet, which I really love. With one bead for each day in her cycle, the different colored beads correspond to what's happening in her body: red for the days of her period, pink for ovulation, black if she's got PMS symptoms (poor kid). Plus, she can track her cycle by moving the knot in the bracelet between beads, which beats marking up wall calendars like I used to.
You can pre-order the kit now and for a few bucks more, get it with all organic, unbleached supplies. Small price to pay for being prepared on a day that none of us mamas can predict. -Julie
Pre-order the Period Starter Kit at HelloFlo.com starting at $34.95