We are always on the lookout for great toy storage options that will help tidy the mess in the most stylish way possible. And these frigid, colorless days — combined with the dozens of new toys strewn everywhere — have me eyeing some colorful, modern storage options that give me renewed hope that this is the year I finally win the battle of the clutter.

LEGO Storage Bricks
Within about four seconds of entering my abode, you'd know you've stepped into a serious LEGO house. I'd prefer you discover this by seeing these clever LEGO Storage Bricks and not because of what you just stepped on. Ow. Available in four sizes, these LEGO Storage Bricks even stack neatly in a corner. Yay!
Way Basics Box Storage
Whether you need just one little box next to a bed or an entire wall of colorful cubes, Way Basics Box Storage Systems (at top) make a big impact with their bright shapes. Love that the front doors keep everything tucked out of sight, since my kids' arts-and-crafts chaos is way better shown off as part of a finished product.
If you'd rather your boxes reveal what's stored inside, Way Basics Storage Cubes are useful for storing books, and special toys you'd rather not toss into a toy chest, you can choose any color combination you like, and stack them into some pretty cool shapes too.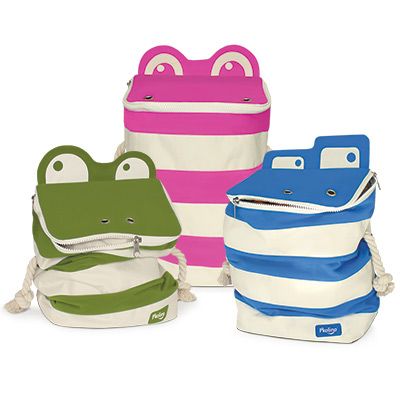 P'Kolino Monster Storage Bin
There's a monster in the room, but no worries: It's just P'Kolino's Monster Storage Bin standing at the ready to gobble up as many toys as you can stuff into his belly. Love the rope "arms" that make it easy to drag this monster straight to the toys that need picking up.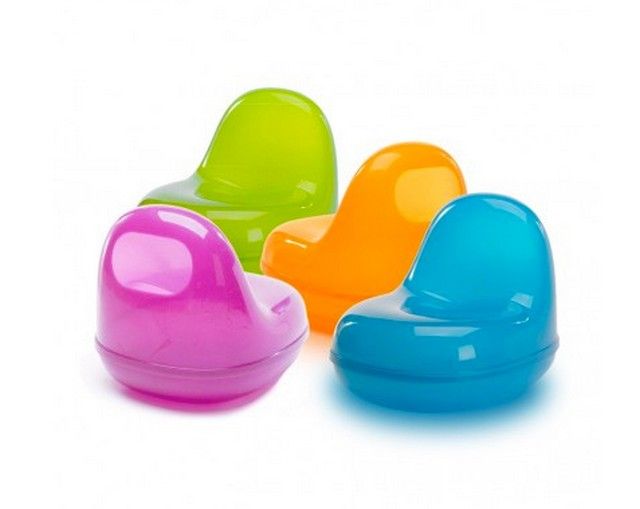 OFFI Kapsule Storage Chair
Just the right size for a toddler and a favorite book, the clever OFFI Kapsule Chair can be filled up with stuffed animals and small toys. Made of translucent plastic, I love that once it's stuffed, no two chairs will look the same. And if your child tries to store his lunch there, no worries: This chair is easy to wipe clean.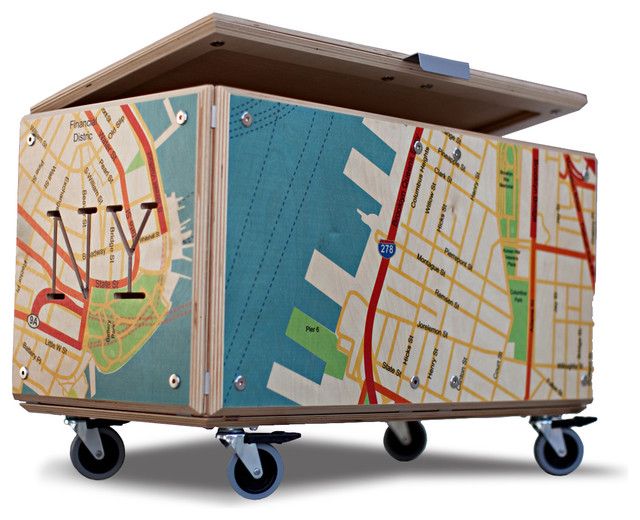 Drift Studio Rolling Toy Chest
Drift Studio's gorgeous and splurgy toy chests come in so many patterns, it'll take me a while to pick a favorite. Their L.I.F.E Line has such cool colorful animals on the front, they remind me of the tangram toys my kids love. Their Kayla print from their Little Things Studio line would go with any color my kids chose for their room over the years. But I'm smitten by their Maps chests, which would look awesome in a living room. The studio is currently in the middle of a move, so orders are on hold, but that'll give me more time to figure out which one I like best (and save up my pennies).
Japanese Storage Solutions from My Sweet Muffin
Colorful and super cute, the line of Japanese storage boxes at My Sweet Muffin that we recently discovered would fit right into a kids' room or playroom. The sturdy canvas construction is easy on little fingers and the little notecard on the front lets older kids read what's inside each box before they dump out the contents of the "truck" box to find a block.
IKEA STUVA Storage Bench
With their bright blue, lime green, or pink drawer fronts, IKEA's affordable STUVA Storage Benches give kids a space to sit on as well as a place to tuck in some toys. Comes with coordinating chests and drawers if you're filling up an entire room.
Search our archives for loads more toy storage ideas.