What do you get when you combine an influx of holiday toys with a New Years resolution to declutter? A great reason to explore new toy storage solutions, that's what. Whether you're into DIY, Etsy shopping, or heirloom-quality furniture, here are a dozen of our favorite toy storage solutions that keep kids' toys of all shapes and sizes where they belong–which is anywhere but under your tender feet.
DIY Toy Storage
We're still excited over these easy DIY craft storage jars that's doable even for moms who didn't inherit the crafty gene. Buy a dozen Mason jars for $10, and with an hour's work and some old animal figurines and paint, you've got adorable homes for crayons, markers, scissors, Polly Pockets, Squinkies, LEGO minifigs, you name it.
If you're really crafty, you can whip up a set of these bright and colorful Peekaboo toy storage sacks using the tutorial from Make It Perfect. I love the clear windows which take away that old question of what's in the bag. How cute would this be as part of a birthday gift– and the wrapping? (Photo here and at very top from Little Free Radical)
If you've ever stepped on a little toy car in the dark, you'll appreciate the ease of this clever Matchbox car toy storage idea using a magnetic knife holder, easily purchased at IKEA or any home store.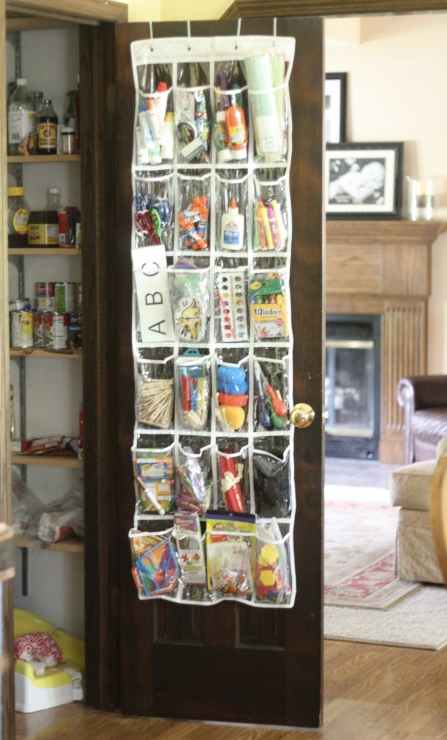 Got crafty kids? Those crayons and paint palettes can really pile up. For a super easy, super cheap DIY craft storage solution, simply buy an over-the-door shoe organizer and tuck your craft supplies into the pockets. You can even label them, if you're the labeling sort.
Storage For the Little Stuff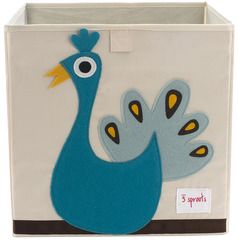 For fabric storage bins that are real works of art, you can't go wrong with 3 Sprouts. We adore this peacock, but they also have a unicorn, a dragon, a kangaroo, and a dog. These bins are 13″ square to fit on most shelves, but they have an even wider range of fun animals in their 17″ tall cylindrical bins. The camel is hilarious.
It's so easy, but so brilliant: the Swoop bag was made for collecting tons of tiny things, especially LEGOs. One single bag can hold an entire collection while also allowing for all the pieces to be visible when not in storage. No more overturned buckets of train pieces, hooray!
And speaking of LEGO, if you need a storage solution that's 100% designed to sort and store those pesky little pieces, let us introduce you to the BOX4BLOX LEGO Organizer. Simply dump in your LEGOs and shake until all the pieces fall into their appropriate sections. Kids will love the shaking part, you'll love the "get out of my couch cushions" part.
Storage For the Bigger Stuff
If you're one of those kids who got locked in your toy chest as a kid and now has claustrophobia, you might dig the work of Wooli on Etsy, including this adorable Snow Mountain Wool Felt Toy Box. It's hand-stitched of wool, soft and sturdy yet flexible. And your kids can pretend it's a snowy mountain and force the LEGO Boba Fett to go sledding.
Mod Mom is one of our long-time favorite indie kids' furniture designers, thanks to Kiersten's unique, adorable designs and high-quality furniture crafted of birch plywood in the USA using traditional Amish techniques. We even discovered her before Shark Tank did! Her distinctive designs include big toy boxes on legs, like this Maude handmade wooden toy box, not to mention smaller bins on casters, dressers, benches, and table and chair sets. We especially love that everything ships for free and comes fully assembled.
If you're looking for something fun with lasting power, you can't go wrong with these gorgeous modular storage cubes for toys from Via Box. Whether you buy a set or individual pieces, you can select from four base wood colors and eight bright front colors. The doors include magnets and doorknobs, and the shapes will make clean-up time a little more bright for everyone.
These bright, sturdy toy storage boxes from Fiona Kate come with stick-on letters and perfectly ride the line between cheap paperboard something heavy and sturdy. Mix and match them, use them as tables by adding matching tops, and hide all those Barbies.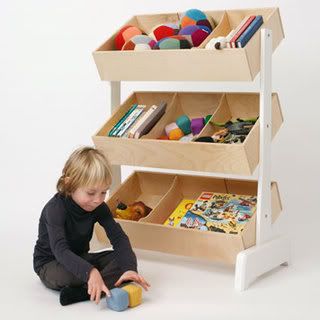 Love the natural wood look and don't mind paying for quality? Let us introduce you to Oeuf and their gorgeous Toy Store system, which includes three levels of deep open bins with removable dividers. All materials are kid-safe, and it's available in two finishes.  It's gorgeous and versatile, but it is a splurge and requires assembly. Then again, once the kids outgrow them, you can use them for sewing or crafts or vegetables…or, you tell us.
Have another great toy storage idea, pin, or link? Let us know! We need all the help we can get. (She says, rubbing the sore place where she stepped on a Skylander.) –Delilah