As organized as I may be in other aspects of my life, I consider myself a bit organizationally challenged when it comes to my handbags. No matter how big or small it is, I always manage to lose things I need in the black hole of my tote or purse, or pull out the wrong thing at the wrong time. Have you ever tried opening the door with a crayon? Or a tampon? Yeah.
So in an effort to reorganize my stuff and make my life slightly easier, I put together a few handbag organizing tips, then scoured the web for some of my favorite cool handbag organizing accessories, bags and tools to help keep cosmetics, kid stuff, and yes, lady things, in their places. As they should be. Mostly.
Handbag Organization Tip: Invest in a cool cosmetics bag that's not a disposable baggie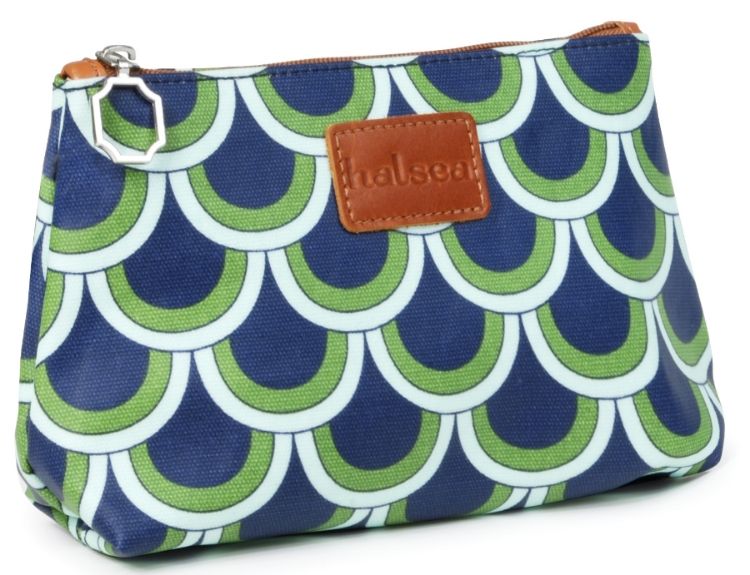 I always want my lip balm, dental floss and hand sanitizer handy, so I keep them separate from the rest of my stuff. Otherwise they always drift to the bottom of my purse, never to be found. Since this is the kind of stuff you pull out, it should be in a bag that makes you as proud to show off as your actual handbag. I happen to love the make-up bags from Halsea ($48). The canvas prints are gorgeous and the interior is smartly lined with a wipeable plastic coating to make cleaning up any spills super easy.
If floral prints are more your bag, then the very pretty Hudson + Bleecker cosmetics bag we discovered earlier this year is also a fabulous choice for keeping your makeup in its place. It even comes with a removable, detachable carrying case so you get two in one. But of course pretty much any boutique that carries cosmetics or travel items will have a great selection so you can find one just right for you.
Handbag Organization Tip: A great zip bag keeps private products private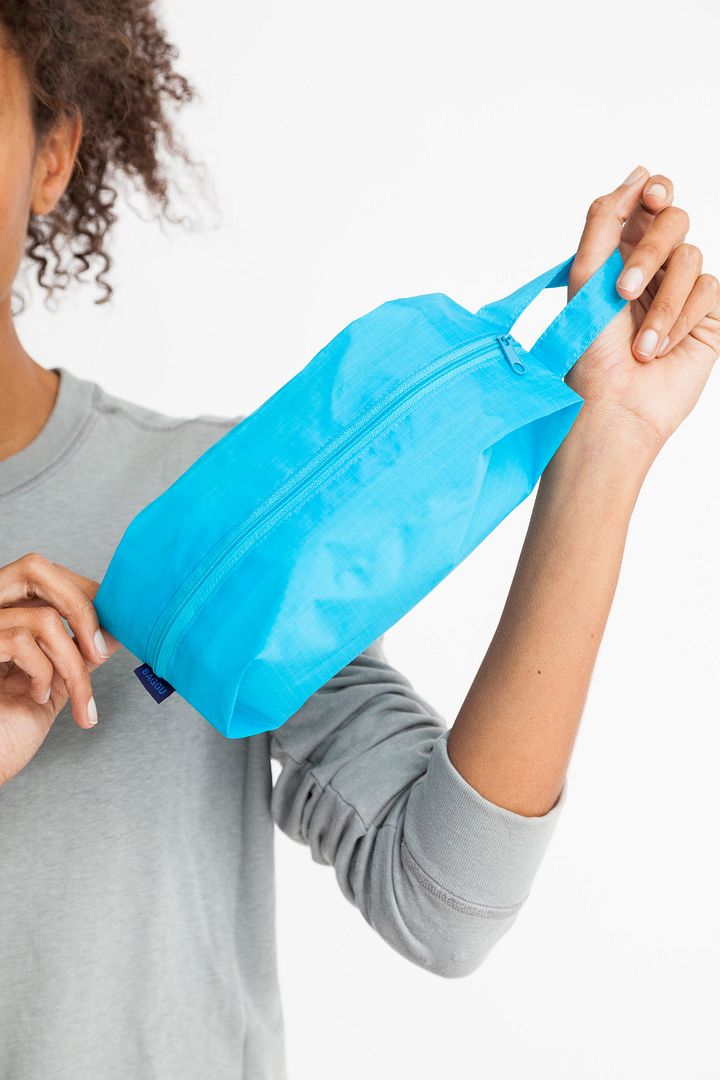 There might be no handbag faux pas worse than opening up your bag only to expose your tampons at, say, a business meeting. Or a baseball game. Or parent-teacher night. And yet, I imagine plenty of us have been there. I keep my stuff hidden courtesy of the small 3D zip bags from Baggu. We have loved Baggu since the day they launched, and their products just hold up beautifully. While they make other small cosmetics bags, I happen to love the handle on this bag which makes it easier to smuggle into the bathroom. 
Handbag Organization Tip: Slim pouches are great for loose change, business cards, train tickets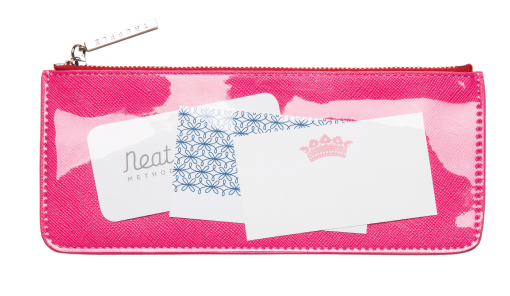 I need quarters for meter parking all the time since moving to the 'burbs last year, plus a handy place to store my commuter train ticket. The new Truffle Skinny Privacy Pouch makes me so happy. These chic little pouches hold loose change and my car key, while the external clear pocket is the perfect spot for easy access to my train ticket. Plus it's extra thin which I really like, so I'm not taking up more space in my bag than I need to. It's also a great place for popping in business cards, which I tend to just drop into a bag, at which point I may never see them again.
By the way, Truffle makes other transparent cases that tackle the task of organizing cosmetics, documents and other things that you wouldn't be mortified about other people seeing–like hair ties, pens and gum.
Handbag Organization Tip: Reusable snack bags are invaluable for more than snacks
I love the Itzy Ritzy Snack and Everything bags ($39.95 for five bags) to hold way more than snacks. Think: crayons, toy animals, bouncy balls, a small pad and colored pencil, stickers, you name it. The inside lining is made from PVC-free, waterproof fabric that can stand up to snack spillage and these reusable bags can be thrown in the wash. Lifesaver!
If you want something a little less kid-like for more versatility, and more eating on the go, we also love Built NY. They seem to have a new line of their reusable neoprene snack bags exclusively at Target.com. They come in pretty solids and funky patterns and can also be thrown in the washing machine for easy cleanup. Not having to manually wash off peanut butter and jelly stains makes me happy. Very happy.

Handbag Organization Tip: Keep diapers and wipes together in their own bag
We're personally of the diaper stage, but I still carry around a package of wipes for use on hands, faces and feet after play time–and before walk-int0-the-house-and-get-my-new-couch-dirty time. We've covered lots of fun wipes cases over the years, and plenty of diaper bags come with detachable ones you can use long after you're done with the bag. Lately, I'm liking this adorable diaper pouch from fave brand Rikshaw Designs which is perfect for chicly covering diapers and wipes in any grownup purse.
Handbag Organization Tip:  Keep your tech gear together
I hate it when my earbuds get caught in a tango with my keys. There are plenty of cool ways to organize tech gear, like the Cocoon Grid-It, which is designed just to wrangle these very things. The smart elastic strap design means you can make it work for you, whether you're toting a ton of stuff or just a few key items.
I also love the idea of using a pretty pouch like the Calvi Clutch from Halle Grey or even a larger toiletry bag if you have bigger items like spare portable batteries and laptop cords. Both of these are beautifully hand-block printed on 100% cotton canvas, and available at the Cool Mom Picks IndieShop. And no one  has to know what's hiding inside.
Handbag Organization Tip:  Keep cameras and gear in your regular handbag with an insert
For those of us who still prefer to take pictures with a real camera and not our phones, you don't have to carry a separate camera bag any more. While there are of course gorgeous camera bags that look like regular handbags (we love the ones from Epiphanie!) check this out: the awesome Any Bag Camera Insert from Ona. Pop it into any handbag, and the four walls of padding safely protect your camera gear. It's probably not for serious photographers carrying 300mm lenses and speedlights, but it sure can save your shoulders on a vacation. All while making everything easier to find in your handbag, too.