As much as we love margaritas, mojitos and skinny cocktail recipes, sometimes summer calls for a glass of wine. Not just any glass of wine, but a refreshing, chilled, fruit-filled glass of wine, better known as sangria. Check out these 9 unexpected, creative sangria recipes to find a version for every taste, mood and summer occasion, from laid back BBQs to elegant alfresco dinner parties, or even just a treat for a night in after a long, hot day. I can't say that you'd actually find any of them on the menus of Madrid or Barcelona, but hey, you purists can always stick to the classics.
I can think of a drink no more fitting for summer than this Iced Tea Sangria from Kirbie's Cravings (above). This is the picnic drink of the summer (which is a lot like the song of the summer, but tastier). Brew your own tea or, if you need to go quick, combine your favorite ready-made iced tea with white wine and fruit. If you use a sweetened tea, just be sure to taste before you sweeten it some more.
This Rainbow Sangria at Gimme Some Oven is a showstopper and the perfect way to treat friends or family at your next cookout. One important tip: since the fruit to wine ratio is much higher than with traditional sangria, keep a chilled bottle of white ready and waiting for refills. Because there will be refills. And hey–maybe you can serve it at a rainbow themed birthday party for the adults at drop-off.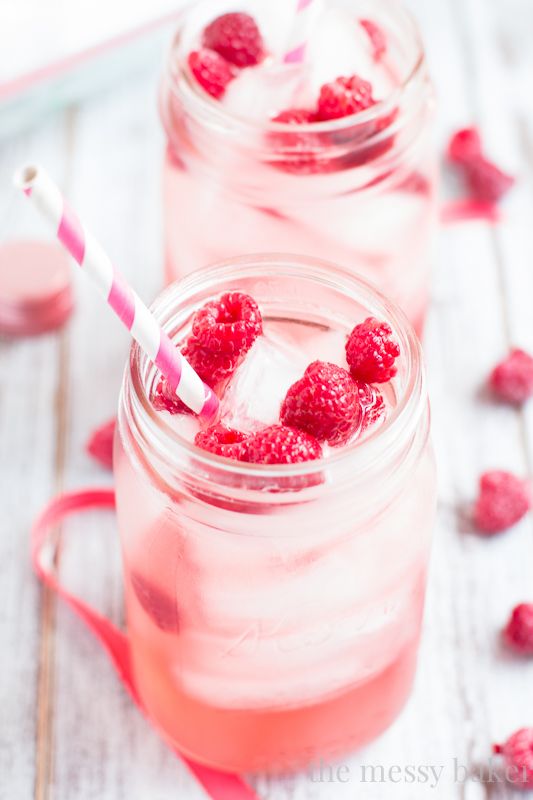 This delightfully pink Raspberry Moscato Sangria from The Messy Baker Blog looks ladylike, but packs a punch thanks to a combination of moscato and vodka. Pretty and strong are an awesome combination and the perfect way to toast the ladies in your life at a brunch or on ladies night out.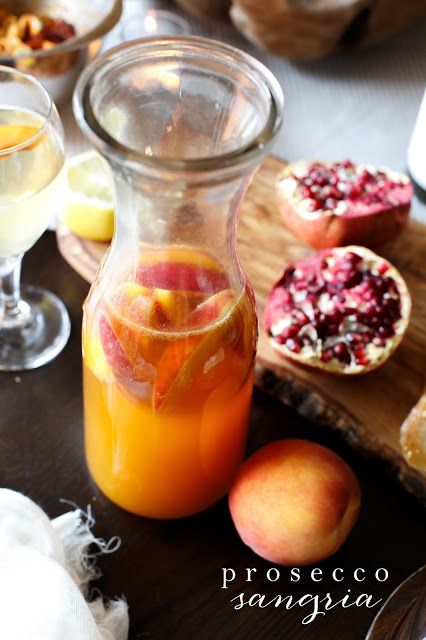 Made with fresh peaches and apricot nectar, this simple Prosecco Sangria from Julie Blanner strikes me as a perfectly laid-back summer sip. Full of seasonal flavor, its light touch is a great way to start a BBQ or summer dinner party.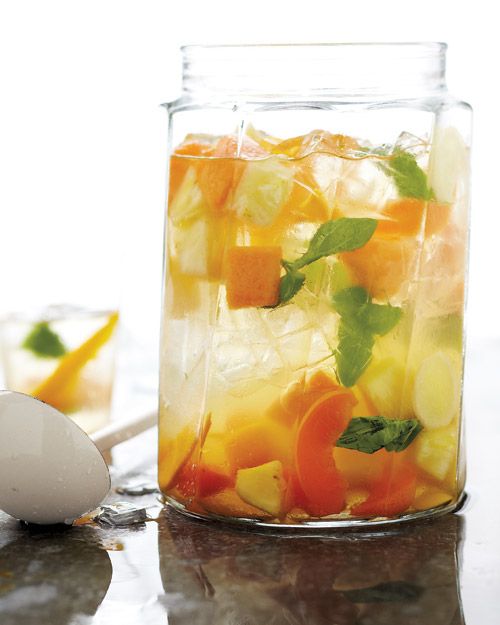 This Sumer Fruit Sangria from Everything Fabulous is another perfect warm-weather option. Instead of the pared down approach of the Prosecco Sangria above, this sangria recipe is packed with summer fruit, ginger, and even mint or basil. I might try it with both the next time I have have a grownup playdate (or, uh, kids playdate with grownup attendance).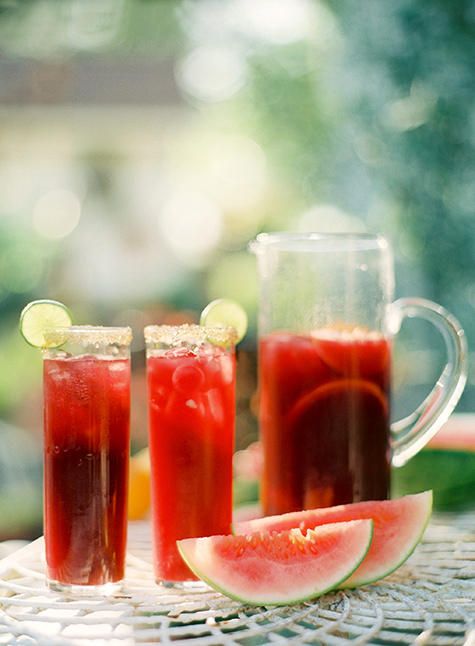 We can always count on Design*Sponge for pretty things, but did you know that we can also count on them for tasty sips? "Behind the Bar" is one of my favorite D*S columns thanks to vivacious drinks like this Mexican Sangria recipe. I'm placing bets that red wine and tequila are going to be a hit with my crowd. In fact, I plan on bringing this to the next backyard party that I attend. (Cue the invitations!)
Remember when rosé was considered tacky? Those days are long gone, and not just because rosé is my favorite summer wine. There are tons of wonderful rose wines, from sweet to dry, full-bodied to crisp. Choose your favorite to make this lovely Rosé Sangria from the gorgeous cookbook Vibrant Food. You can find the recipe on A Cup of Jo and, if you love it as much as I do, pick up the book, as well, to find simple seasonal recipes that you can pair with the sangria at your next gathering.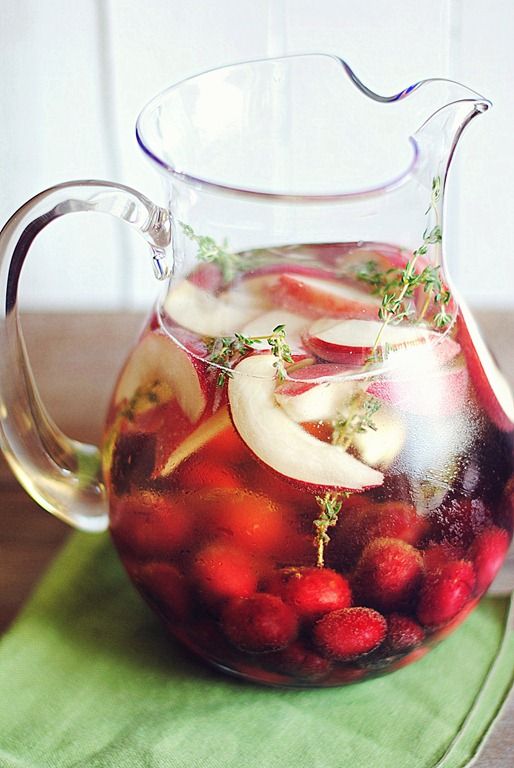 I mentioned skinny cocktails above because I'm a sucker for them, and not just because they are lower in calories. I also appreciate the lower sugar content in drinks like this Skinny Sangria that we recently spied on Eat Yourself Skinny, especially when you can pack your drink with fresh peaches and cherries.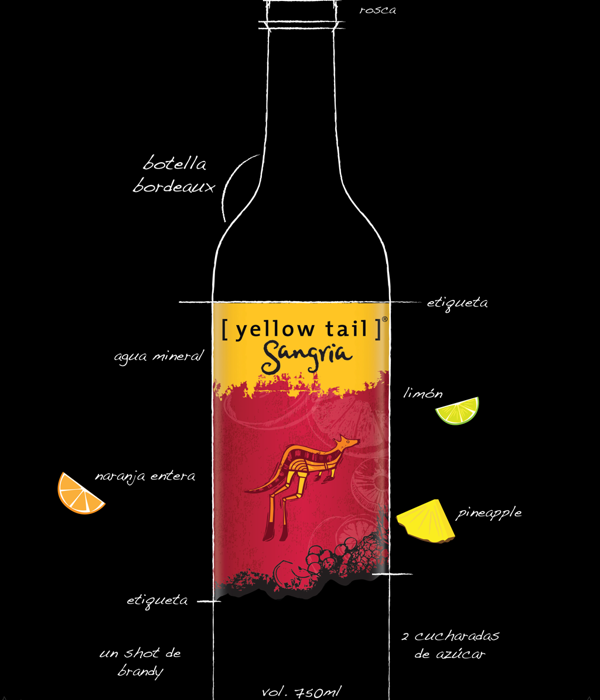 I promised sangria for every mood and occasion that might strike this summer, so I've got to include this Yellow Tail Sangria. Like our editor Liz says, it's not the same as making your own (and some of the recipes here are truly a cinch), but even the easiest recipes are too much on some days. When that's the case, pour yourself a glass of sangria straight from the bottle and sip on stoop or in your backyard with a no-cook dinner like hummus, pita chips and cheese. You can even add in a little sliced citrus if you're up for it. It doesn't get more summery than that.
Can't get enough of chilled, fruit-filled drinks, or maybe you prefer yours with hard booze only, thank you very much. Either way, check out our favorite fruity cocktails recipes for summer.