This time last year, our kids were all about foxes, probably because The Song That Will Not Be Mentioned was playing on repeat in our homes. While woodland animals are still a favorite with my kids, I'm noticing one animal obsession rising above the rest—snow leopards. My kids see them as cuddly cats with cool fur, so I don't blame them for ooh-ing at some of the fun snow leopard fashion we're seeing around our local boutiques.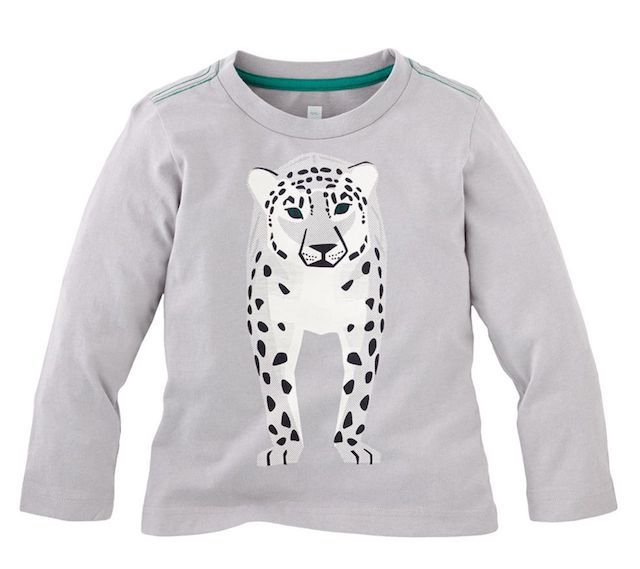 You'll find the Schneelepoard Graphic Tee from Tea Collection in their boys department, but that's not going to stop our girls from pairing it with black leggings and some boots this winter.
Ooh, this J. Crew Girls' Furry Leopard Coat is a gorgeous splurge to keep your kids warm when the mercury drops.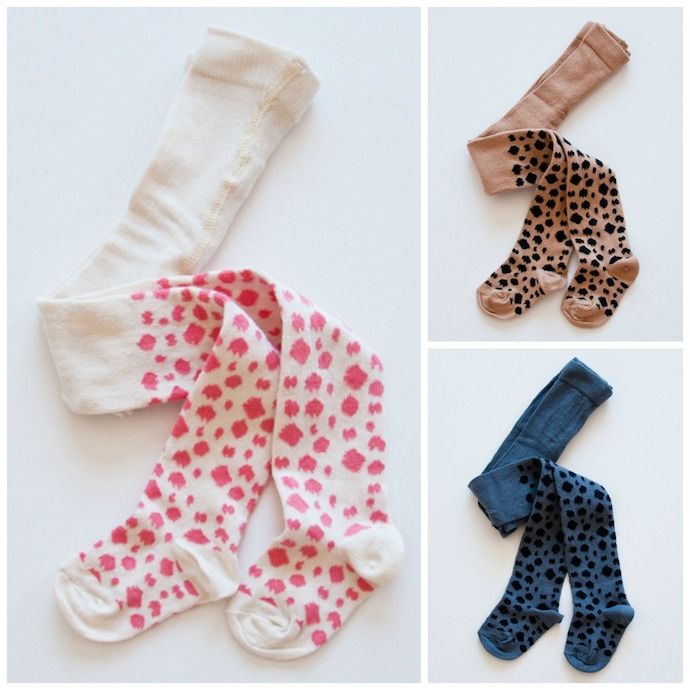 We're loving the Leopard Stockings from Pop Up Shop to keep our girls' legs warm–or just stylish–this winter. Aren't they so fun? Pair them with stripey or otherwise contrasting patterned socks peeking out of boots and she's right on trend.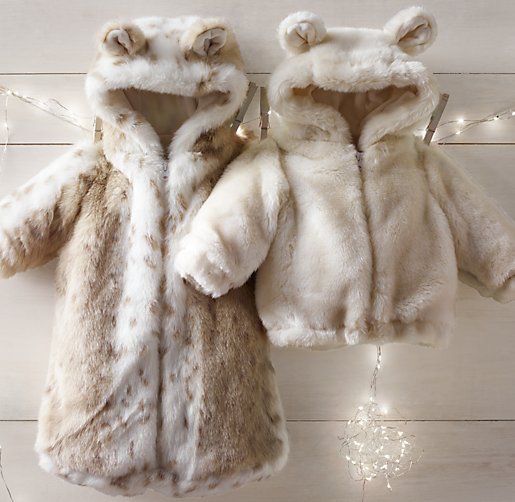 The snow leopard Luxe Faux Fur Bunting (far left) at RH Baby and Child is for the infant with a serious eye for fashion. But my guess is you'll be shocked by the price on this one, in a good way.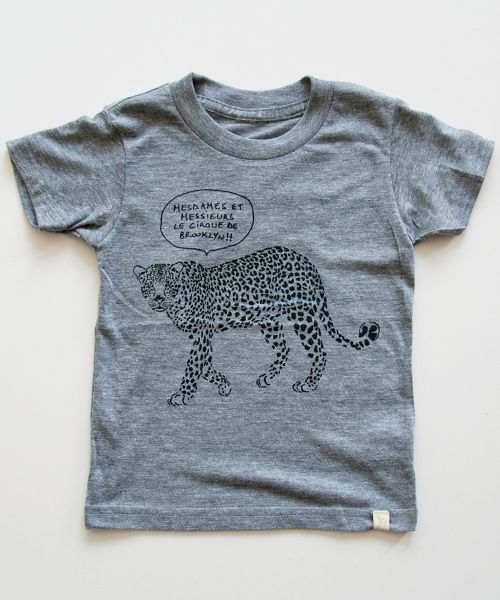 Go full on hipster with the Black Foil Leopard T-shirt by Atsuyo et Akiko. The black foil is reflective, making this even more appealing to kids who like a little zing to their tees.
Your toddlers can relax in style with these modern Swedish slipper socks we recently found from Ace&Me in a modern snow leopard print. Comfy and cool.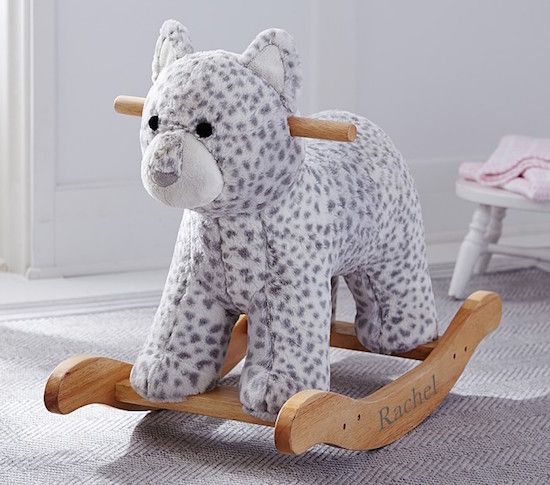 We're pretty sure our youngest kids would be rocking on this cuddly Snow Leopard Rocker from Pottery Barn Kids all day long.
This simple girls' Leopard Corduroy Dress at Janie and Jack could be turned into sophisticated holiday wear with dress shoes and a red headband; or you could g0 edgy with black moto boots and a jean jacket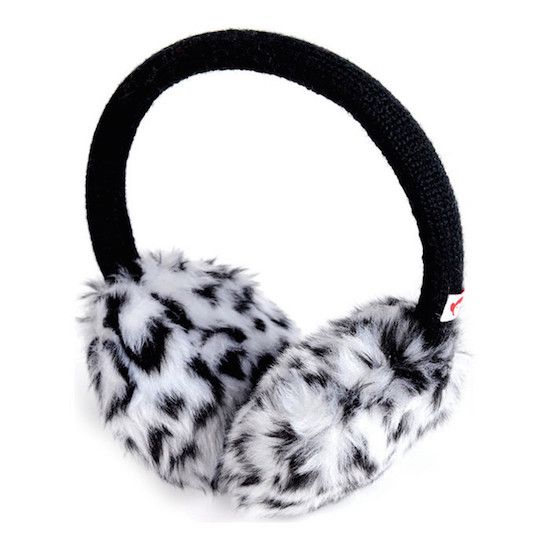 If your kid isn't interested in head-to-toe snow leopard print, you can add a touch of the pattern as an accessory. Like pairing these cool faux snow leopard fur earmuffs from Appaman with a cool jacket and biker boots, or feminine dress. It's really versatile.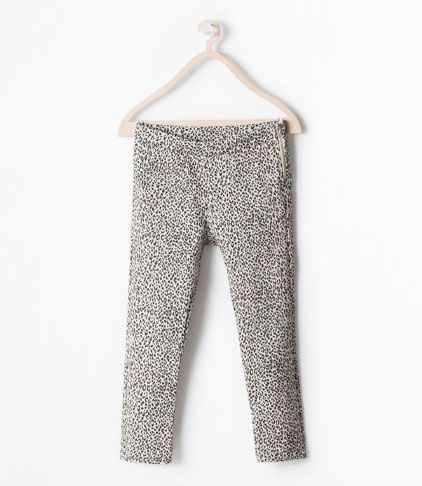 We're dying over the Fleece-lined Printed Short Coat (at very top) and these skinny Printed Trousers with Zips, both spotted at Zara. They're so chic, we we wish they came in adult sizes too.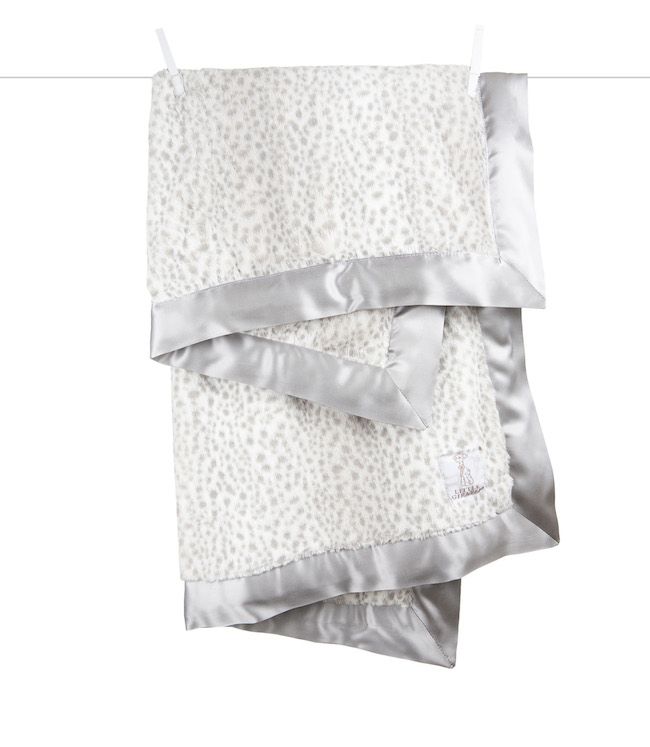 As a sweet but stylish baby gift, get your little one cozier in the stroller with the thick Luxe Snow Leopard Baby Blanket from Little Giraffe. It's so soft, they'll be asleep in seconds. (We hope.)
For the kid who travels a lot, or just likes to sleep over at friends' houses, the Fur Snow Leopard Backpack (also in gray) at PB Teen make a great just-because gift, and a great alternative to the workhorse backpack used for school books every day.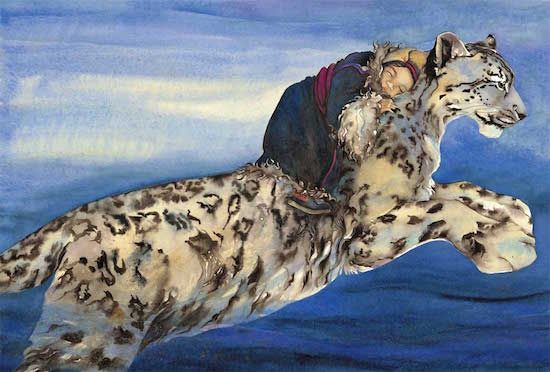 The book Snow Leopard by Jackie Morris is a beautifully illustrated story about a snow leopard living high in the Himalayas, and a favorite of mine. If your kids can't get enough of snow leopards, this will give them lovely insight into their habitat.
If you want to let your kids known that snow leopards are more than just a fashion trend, read up on this amazing species, and consider sponsoring an actual snow leopard with World Wildlife Fund in your children's names. Your gift with sponsorship includes a stuffed animal (a very cute one by the way), an adoption certificate, a snow leopard photo, and other gifts depending on your donation amount. But most of all, you'll be supporting a wonderful organization that works hard to support habitat conservation projects that protect these gorgeous cats throughout Central Asia.
Cool Mom Picks is a reward style affiliate.