St. Patrick's Day falls on a weekday this year which means it's time to get festive with your kid's bento box. (How's that for a super specific column for you? St. Patrick's Day Bento Lunches.) Don't worry: You don't need a PhD in crafts—or even the luck of the Irish—to take on these school lunch ideas for St. Patrick's Day. Each is simple to make, even after a couple of pints of Guinness. Kidding. Kind of.
Related: 5 copycat Shamrock Shake recipes. You can even pack them in a Thermos. 
Don't fret if you don't have a set of St. Patrick's Day cookie cutters around because, wait, you don't, right? This shamrock bento box at Creative Food makes a clover sandwich using heart shapes. I just assume that heart-shaped cookie cutters are more common, however if you don't have one of those either, hearts are easy to cut out with kitchen scissors — which are just regular scissors that you use in the kitchen. Or there's always a knife. Presuming you have that, at least.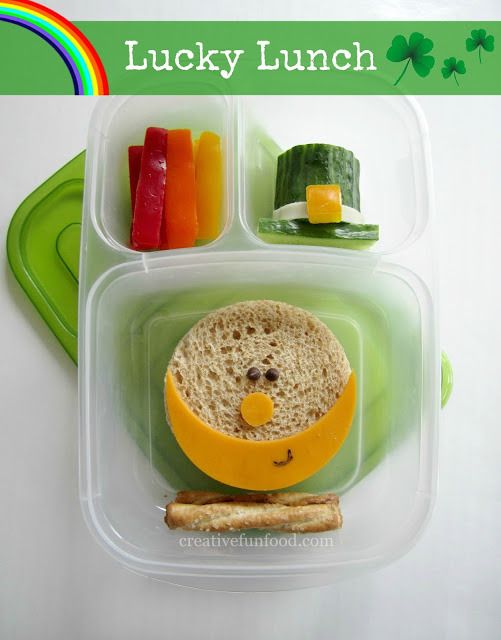 While at Creative Food, you'll find lots of other simple St. Patrick's Day bento boxes, including this Lucky the Leprechaun bento. This cracks me up, but it's actually pretty practical for any time you want to have fun with a kid's school lunch, because cutting a circle of bread and crescent-shaped piece of cheese is something we can all totally manage.  Just leave off the cucumber leprechaun hat which looks tasty, but seems like it would probably fall apart before lunch, realistically.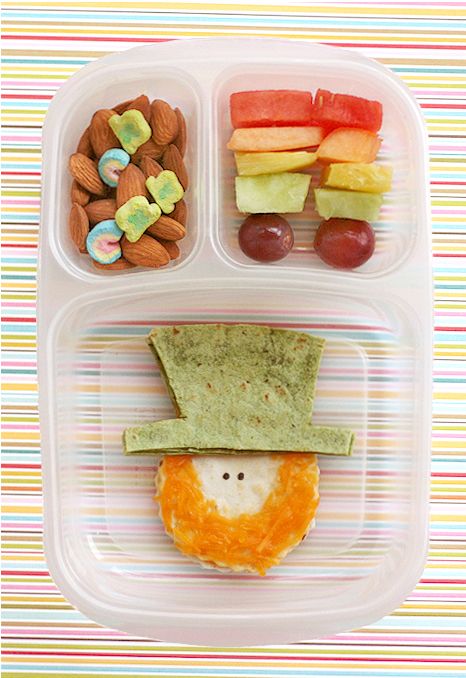 While we're talking leprechauns (a phrase I'd never thought I'd say), check out this festive St. Patrick's Day bento at Lisa Storms. She offers easy-to-follow instructions on how to make this leprechaun quesadilla which is as tasty as it is cute. I think the little Lucky Charms marshmallows mixed with some almonds is a fun touch–just be sure your kids eat that part last.
I clearly have thing for leprechauns this year (another thing I'd never thought I'd say!) but can you blame me when you look at this Leprechaun bento box? This idea from Meet the Dubiens using a Lunchbots bento is so ridiculously  cute and funny. I also love that this one incorporates a rainbow fruit salad, which is also perfect for St. Patrick's Day. In fact, the fruit salad alone will make a festive lunchbox surprise with a regular old sandwich.
Related: 6 exciting, creative ways to pack fruit for school lunch
I spied another rainbow inspired lunch in Jill Dubien's photo feed that's perfect for toddlers or preschoolers. And, see! Rainbow fruit salad can totally stand alone as a St. Patrick's Day treat. This looks like a good breakfast for us adults, too.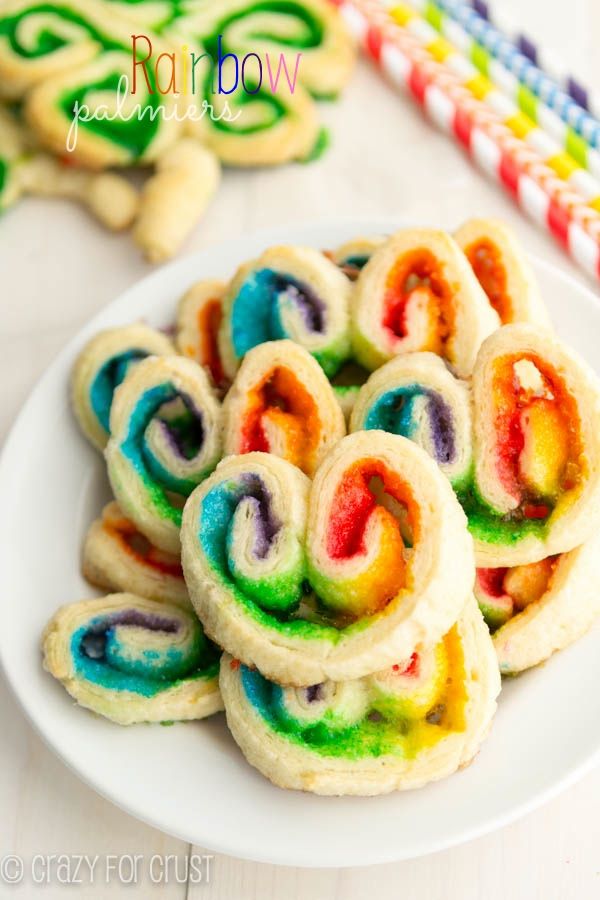 This isn't a complete lunchbox idea but, if you're up to making a special lunchbox treat ahead of time, I really wanted to share these super fun, easy Rainbow Palmiers at Crazy for Crust. All you need to make these is ready-made crescent roll dough — we love the crescent rolls from Immaculate Baking Company which contain no preservatives, hydrogenated oils or GMOs. And then you need some rainbow colored sugar; for that one try India Tree all-natural baking sugars.
Related: Impressive rainbow recipes for a lucky St. Patrick's Day.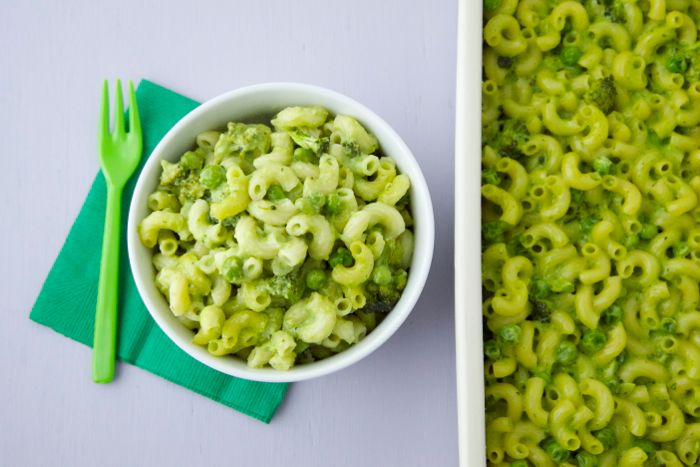 If you're packing lunch for older kids who might not appreciate cutesy leprechauns (bah humbug) and need more than a rainbow fruit cup and yogurt to fill them up, pack up one of these ideas for green dye-free foods for St. Patrick's Day at Weelicious. I'm thinking Green Mac and Cheese (pictured) or Cheesy Green Hummus and pita for my kids. Lucky kids.
Also, lucky parents; no cutting anything into tiny little leprechaun hat shapes involved.