If Spring Break or Easter has you heading out by plane, train, or automobile, you may be wondering how to keep your kids happily occupied beyond the iPad, as you travel from Point A to Point B. And since we all know how hard it is to hear "are we there yet?" for the 200th time, I've pulled together 11 of the most portable, fun, and quiet travel toys for kids that we can all vouch help make the miles whiz by.
CMP is an rstyle affiliate
Related: Road trip help for families: Tons of sanity savers, tips and our favorite essential products 
Magnetic Toys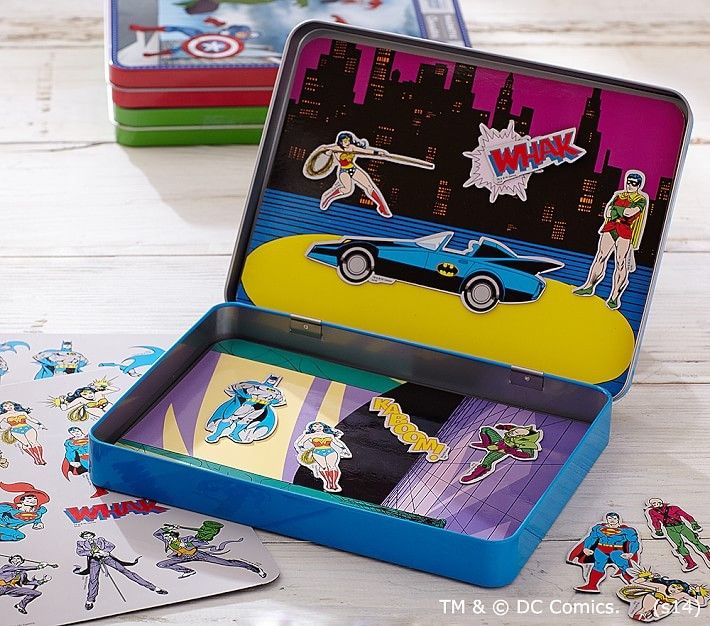 I really appreciate magnetic toys when we're driving down the highway or fastened into our seat on a plane since the pieces are a lot less likely to drop to the floor at the worst possible moment. If you have a superhero fan, check out DC Comics Magnetic Scenes with its portable tin carrying case and magnetic pieces. This "super" toy has a background scene in the lid and base to give your kids two spots on which to set up their heroes and bad guys. ($26.50 at Pottery Barn Kids)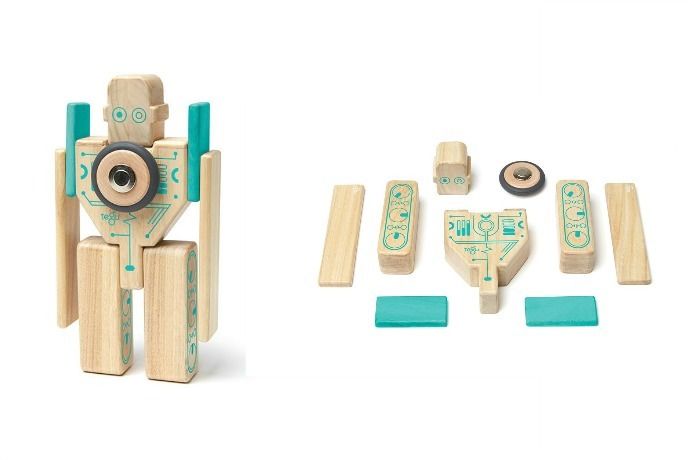 Tegu's Magbot keeps it together with hidden magnets inside the sustainably sourced wooden blocks, making this a great small plaything to take along on your trip. Since each block is repositionable, kids can spend their time coming up with new and creative robots instead of, say, kicking the chair in front of them. In fact, we named it one of our favorite gifts for kids four and up — even our tweens love this one. ($24.99 at Amazon)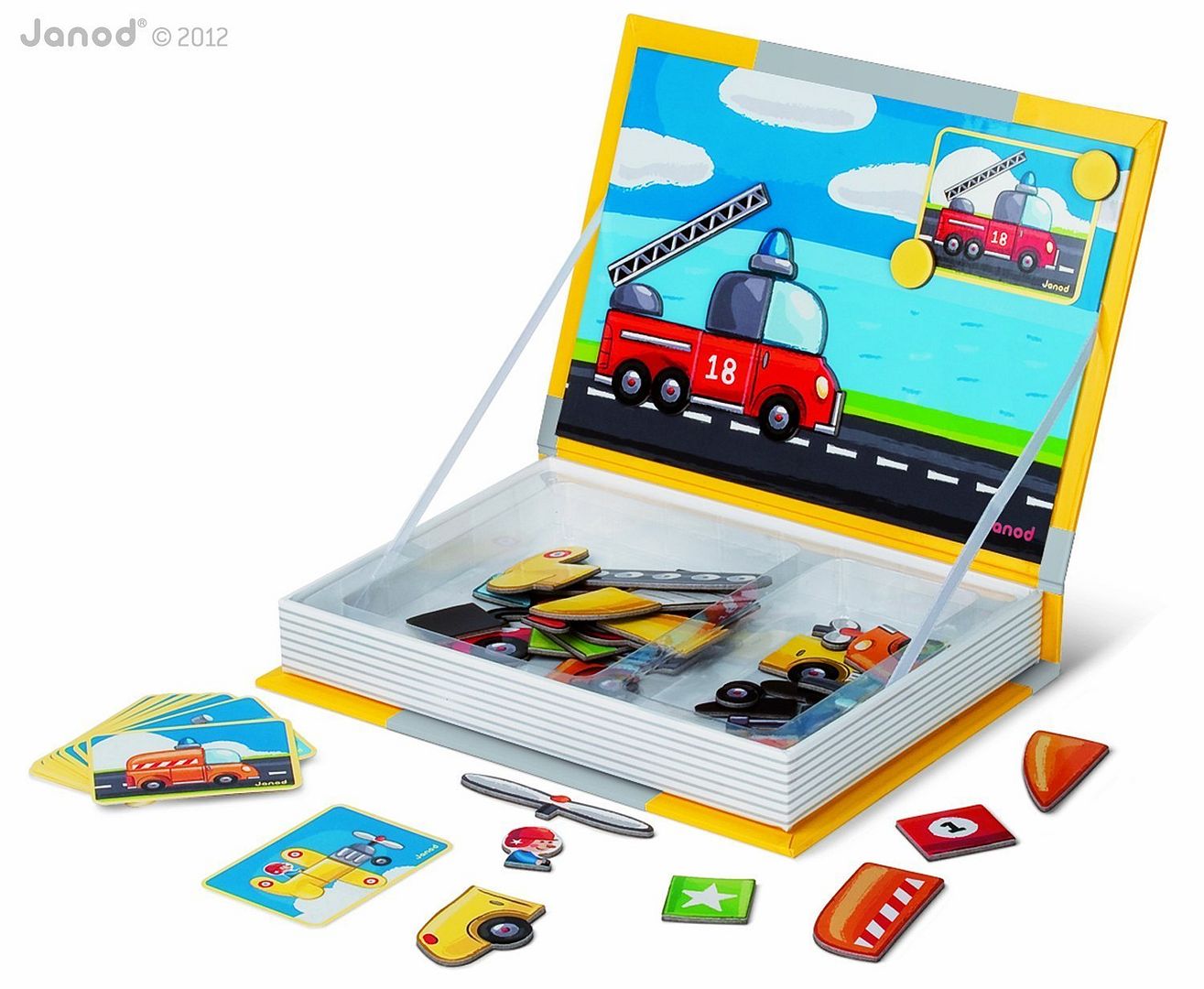 As long as your kids are on the road, Janod's Magnetibook Vehicles lets them put together little vehicles of their own that they might see along the way. The 18 laminated cards give kids a picture to try to recreate using some of the 50 magnetic pieces enclosed in the cardboard case. Or, just let them use the pieces to design their own unique wheeled vehicle. The carrying case helps keep everything parked when it's time to stop for lunch. ($17.10 at Amazon)
Related: 9 awesome travel snack recipes to keep you healther and saving money on the road
Activity Books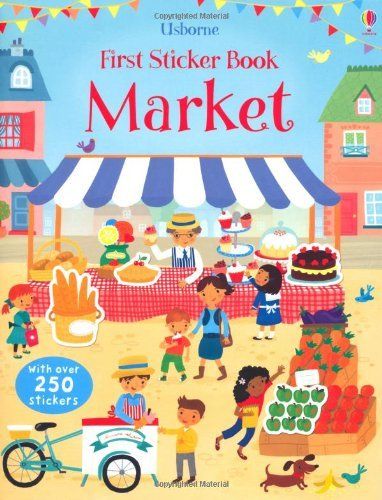 There are so many fantastic activity books out there for kids, and we find Usborne makes so many that our kids love. Usborne's First Sticker Book: Market is ideal for small fingers to peel and stick, then re-peel and re-stick, to the glossy pages. I like the colorful scenes depicted which include a German Christmas market, or a farmer's, fish, and flower market. Along with the many cheerful scenes is a good diversity in the characters too, just like in real life. ($6.99 at Usborne Books; or find them at lots of local independent toy stores)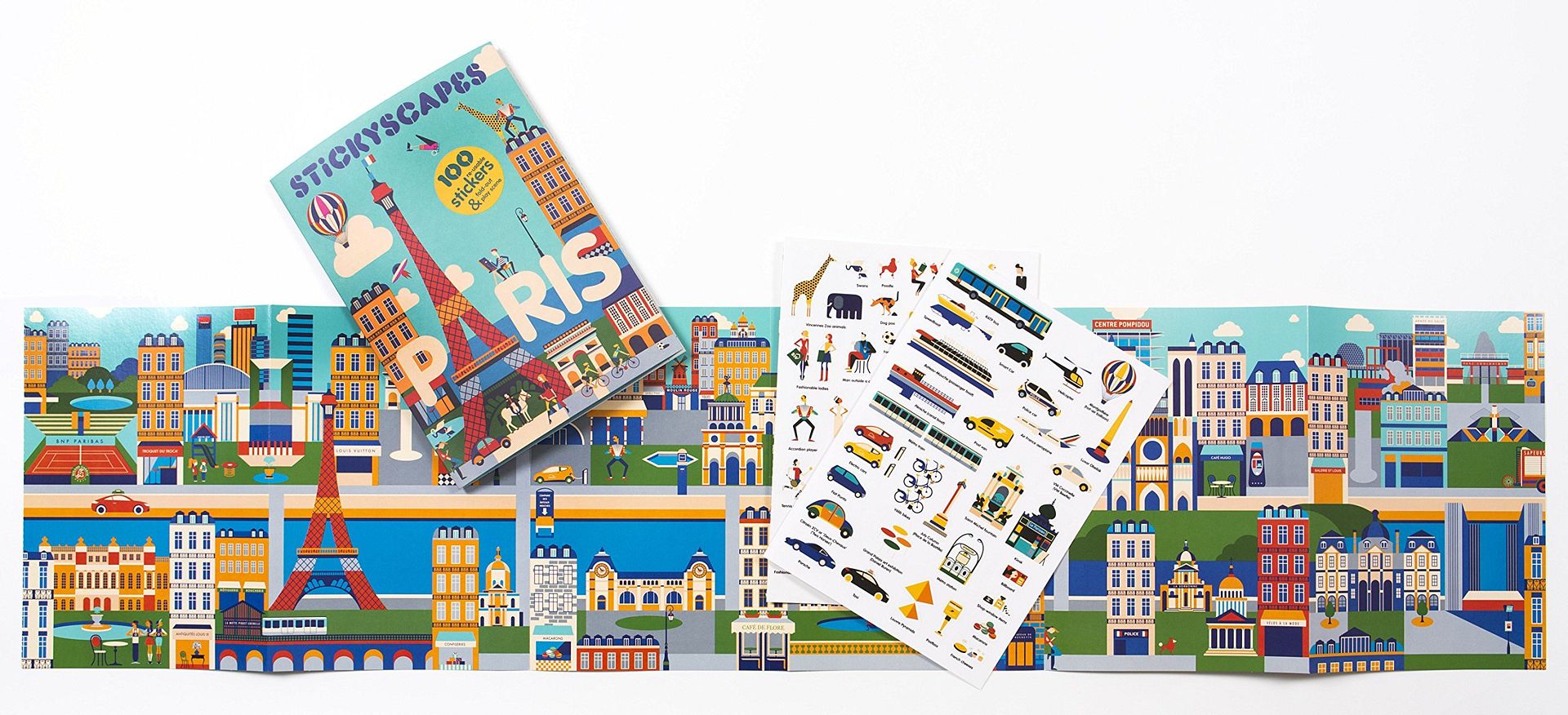 My grade-school kids have always loved stickers, so I can't wait for them to check out the new Stickyscapes series of sticker books which I think beat any of the licensed Princess themed sticker books in the airport gift shops. Beginning with London and Paris, kids can add more than 100 repositionable stickers to fold-out scenes of the city, illustrated in present-day on one side or how it looked historically and fictionally on the other side.
And, oh, how clever and wry these stickers are: London's stickers include a smiling William and Kate positioned near a couple of sneering punk rockers; as well as poor headless Anne Boleyn next to her executioner. The Paris book mixes both historical, fictional, and present day characters in a way that captures the joie de vivre of the city, while  illustrations and text explain each sticker — a neat way to sneak in a little learning while away from the school books. ($13.18 each at Amazon)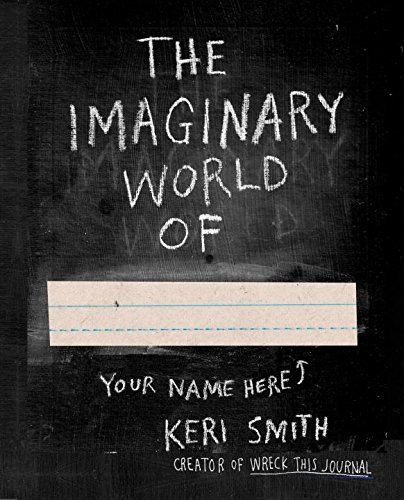 If your older kids would prefer to escape the monotony of travel, hand them Keri Smith's new activity book, The Imaginary World of . . .  which includes loads of open-ended pages on which they can write, draw, scribble, or daydream the time away. For tweens who have already burned through their copy of her super-popular Wreck this Journal, this is a great new title from Smith with a totally new twist. ($11.36 at Amazon)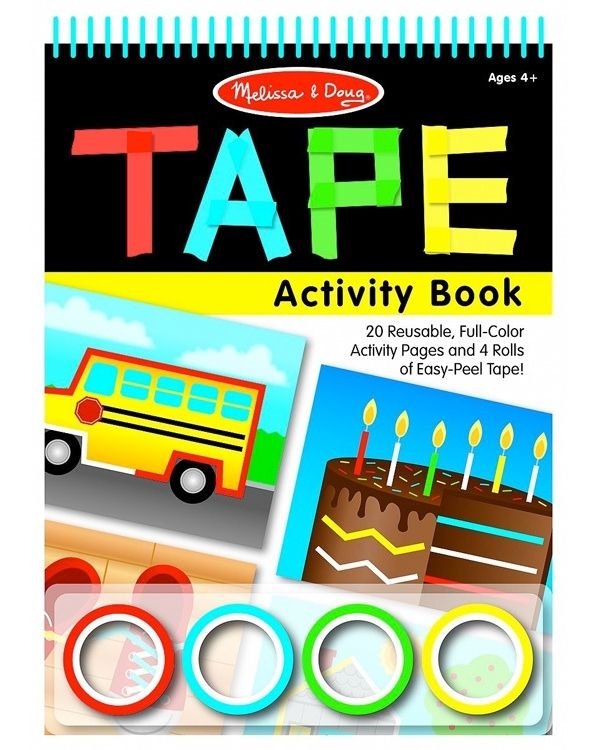 I really like Melissa and Doug's colorful Tape Activity Book which will have small fingers tearing off bits of tape to complete one of 20 scenes. And, since they can peel the tape off when they are done, this is one book that can be used over and over again. I'd recommend you have your child do this one when you're seated near them and can help hold the rolls, like on a plane or train, rather than when driving a car since nothing will stop them in their tracks faster than if the tape rolls under the seat in front of them. ($4.95 at Fat Brain Toys, avail 3/25; or $9.99 from Amazon)
 Related: The most helpful travel tips for parents, from parents who know — Us! 
Portable Art
A pad of paper and P'kolino's adorable Portable Art Set for kids is all my children would need to keep them engrossed in creating for a good long while. With both markers and crayons snugly attached inside the carrying pouch, there's no worry about an entire box of crayons going tumbling down the aisle. I also like that the crayons are triangular shaped so they won't roll off a tray table. ($18.13 at Fat Brain Toys)
If your little artist prefers to work on an easel, check out Faber and Castell's Do-Art Travel Easel which can be used propped up or lying flat. It also comes with more than 30 high-quality art supplies packed inside, including chalk for the chalkboard that is featured on one side of the easel. This is probably not the best car toy, but it's fantastic for keeping kids entertained in a hotel room or even when you're visiting family friends who may not have toys that are fun for your own kids' ages. ($28.23 at Amazon)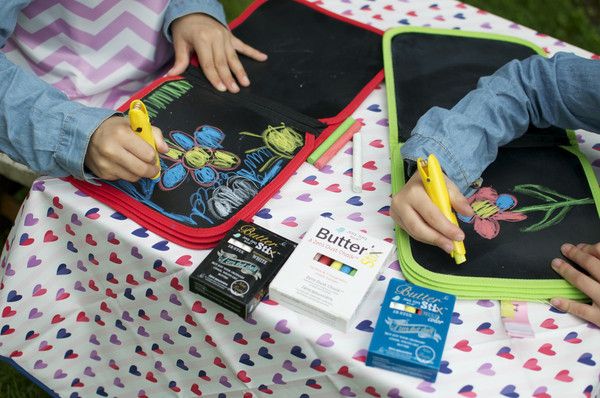 If chalk is the medium of choice for your creative kid, check out the cute and colorful eight-page Chalk-a-Doodle Book by Jaq Jaq Bird. Each one of the eco-friendly e booklets comes with four of their soft and bright, zero-dust chalk "ButterStix" so that your kids can start drawing those masterpiece right away. Even if they won't get to keep them forever. ($24 at Jaq Jaq Bird)
Of course the magic of technology allows kids now to create art with no mess, no marker caps to lose, no paper scraps at all. At least if you have one of our favorite toys, the Boogie Board writing tablet. At 8.5 inches, you can can pop this slim tablet in any handbag or the kids' own backpacks making it perfect for travel. And while it's not as high-tech as an actual tablet, don't be surprised if it holds your kids' attention nearly as long.  In fact we've all been known to borrow it too. ($23.13 and up in multiple colors and sizes, Amazon)
Help make your travels go as smoothly as possible by checking out our many Travel Essentials posts in our archives.