When we I first met Susan Petersen four years ago and discovered her start-up Freshly Picked Moccasins — well, wow. We knew her totally handmade in the US moccasins were truly special. What we didn't know is that her brand would grow into a major empire with oh, like a hundred zillion Instagram fans and a whole catalog of styles and accessories, thanks in part to a successful appearance on Shark Tank.
We also didn't know that we would end up with so many pitches from brands completely knocking off Susan's designs so closely, they get an instant delete from me. (You know who you are, ahem.)
Checking back in at Freshly Picked, I love that they've gone beyond the beautiful solid leathers for spring to add lots of fun patterns to the collection. I think they're perfect for breaking out of a winter rut and getting a little more fun on your kids' feet.
Related: The perfect slippers for around the house. Or the chalet.
I really like the whimsical House That Lars Built Signature moccasin in suede that feels like a fun modern art print. If you like the style of Tokidoki or even Kenny Scharf, you have to check this collaborative design with the design blog powerhouse.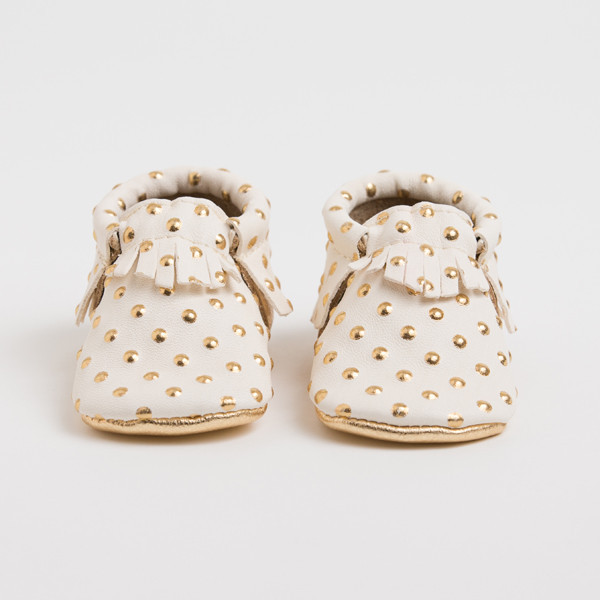 If you like a little bling with those cute kid toes, go with the studded moccasins that we featured a few years back, which are still right on trend — not that you'd pair them with a metallic onesie and metallic baby bow. (You wouldn't, right?) Similarly, we love the limited edition metallic faux lizard pattern mocs that I would totally wear myself and feel all Palm Beach.
But my favorite has to be the new limited edition tropical inspired collections featuring Warhol-esque bananas (Velvet Underground, anyone?) and a Hawaiian palm tree pattern in her A Trip to the Tropics moccasin. I just smile every time I see them. And if you want to really go B-A-N-A-N-A-S, check out the coordinating backpacks and clothing that are beyond cute.
Look around the shop for more footware fabulousness, that we still have to complain are made only in kid sizes. Susan, get on that!
Visit Freshly Picked Moccasins for the world's cutest handmade-in-the-US kids slippers in so many fun new patterns. Be sure to check the sizing chart before you order!