The very first thing my son does when we sit down to eat at a restaurant (well, after ordering both ice water and milk) is ask for my iPhone. I'll admit that I'm often tempted to hand it over because it's such an easy way to keep him entertained while we're waiting for our food in restaurants. I mean, I always have it on me, and he can play any number of kids' apps, watch a movie, or find kid-friendly clips on YouTube.
But, he's four. I know doesn't need all that extra screen time. (Do any of us, really?) Plus, electronics can be super annoying to other diners in the restaurant. I think it's important for him to learn that when we're out in public, we have to be considerate of the people around us too.
Plus, I want him to learn that there are other ways to beat boredom besides electronic devices. Like good old fashioned conversation, for example. But when that fails, or you really just need some grownup time at the table before the food comes (I feel you!), I've put together some of my favorite small, portable toys, games and books that can help entertain kids at the table.
Bonus points if they don't require any batteries and totally annoy everyone else in the restaurant.
CMP is an Amazon and rstyle affiliate.
Related: The best gifts for a 4 year old: Tons of fantastic ideas.
COLORING BOOKS AND COLOR YOUR OWN PLACEMATS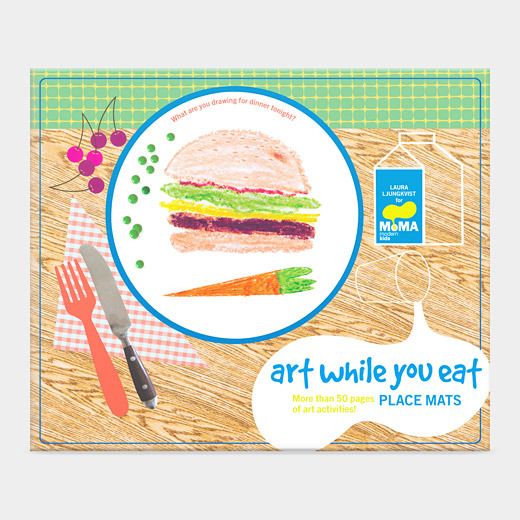 Some restaurants are smart enough to hand out paper kids' menus with a handful of crayons, but maybe they're too mature (or young) for your kids, like the one I recently saw with math problems on it. Or maybe you're eating out somewhere without (gasp) a kids' menu and crayons. You can always pack a small pad and crayons in a baggie or a crayon roll, or grab a small stack of printable coloring pages.
Or, check out these Art While You Eat placemats from the MoMA store (above) which are filled with open-ended activities to inspire artists of all ages. You probably don't want to carry around the 104-page book, so tear off a couple of sheets to store in your purse for art-mergencies.
For other ideas, take a look at the color-your-own placemats from Modern Twist (also at very top) that wipe clean and are reusable, and roll up easily in your bag.
STICKERS THAT DON'T STICK FOREVER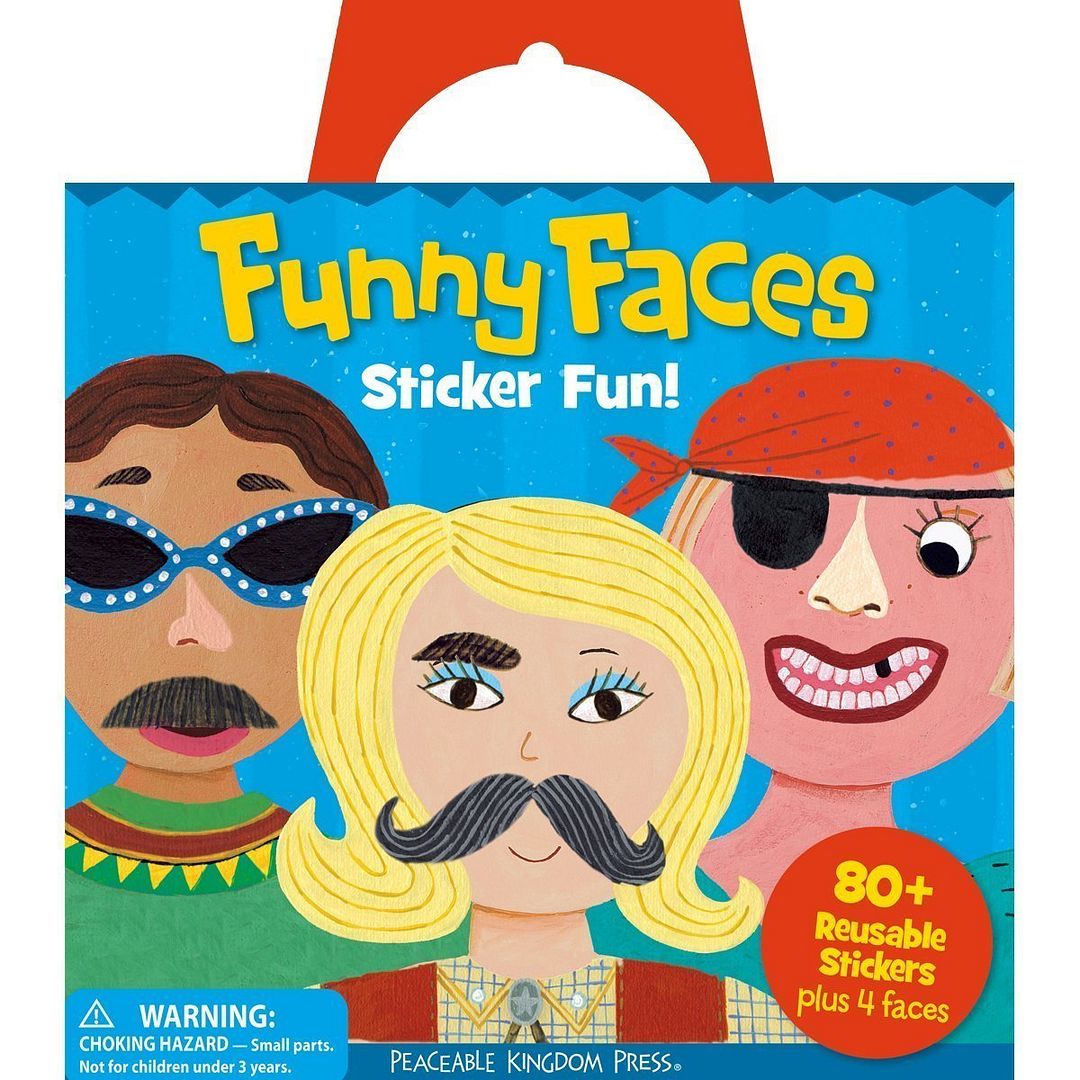 Over the years, I've learned that stickers are always a good thing for young kids but we don't want to leave any waiters having to scrape our handiwork off the furniture after we've left. That's why reusable stickers, are even better. This sticker activity kit from Peaceable Kingdom Press looks like the perfect travel companion. Handled carrying tote? Check. Backgrounds and stickers to mix and match? Check. The only thing missing is your kid's wacky sense of humor. They have other themes too like zoo animals and mermaids.
You can find tons of options at Amazon, or your local indie toy shop tends to carry this kind of stuff. Also keep an eye out for options from Melissa and Doug, and the originators of it all, Colorforms.
SMALL CONSTRUCTION TOYS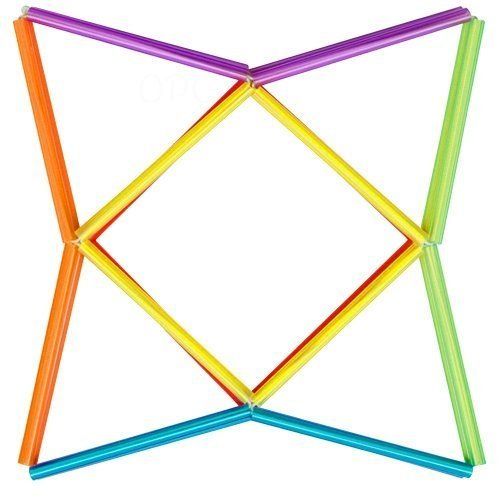 A little bagful of LEGOs can be a huge help for kids past the choking hazard stage, but there are so many cool new construction toys out there that can keep kids entertained in restaurants. My mother-in-law recently gave my son one of these colorful Geo Twisters, and he was instantly amazed by the different shapes the simple toy can make. I was amazed that, when folded flat, it fits easily into my overstuffed bag. And it's educational, too: Challenge your kid to twist the cube into specific shapes or even letters. Plus they're only about 5 bucks!
I also love this mini tree construction kit by Lupe Toys I saw at Uncommon Goods. It looks like a fun way to continue our "how trees grow" talk at the table. Plus I love that the branch-like pieces all fit inside a tiny drawstring bag, perfect for long waits for food in a cafe. According to the description, this travel toy teaches kids through biometrics, which I just learned means using designs found in nature to solve problems. So there's that too.
SMALL BLOCKS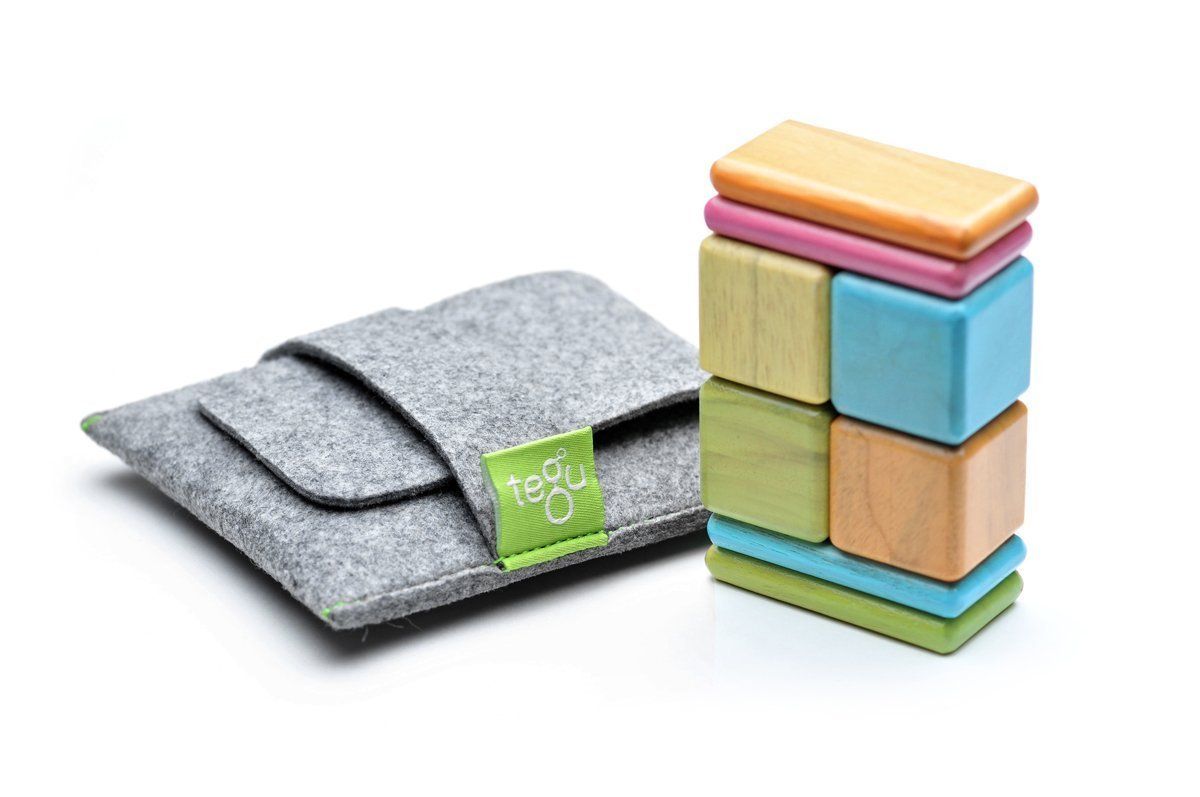 Tegu blocks have been on my wish list since my four-year-old son was a baby after seeing a friend's daughter entertain herself at a restaurant with them. They're such a simple concept — naturally safe wooden blocks with magnets inside — yet can inspire so much creativity. These blocks aren't cheap, but they're built with heirloom quality, and this 8-piece set with its travel-friendly pocket pouch would be worth it to keep my kids quietly busy at the table. Quietly. Because the magnets mean no knocking them down to the ground, which is key.
Related: 11 of our favorite travel toys and books for kids to help those miles pass quickly
SMALL TRAVEL GAMES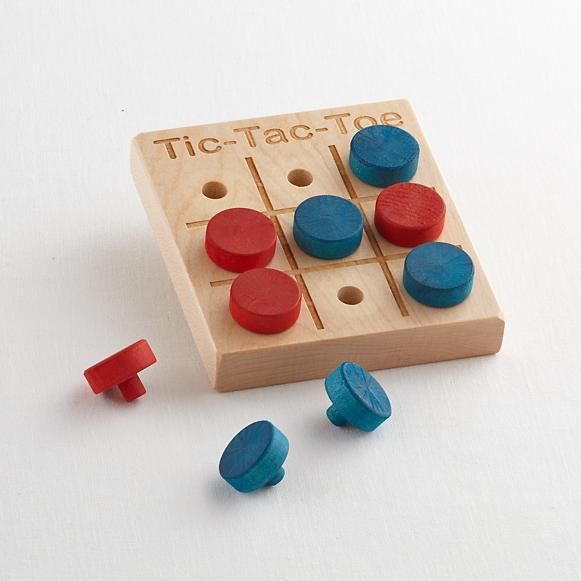 There's no shortage of cool travel game out there for kids, from Mad Libs to those tiny tins of checkers and backgammon for older kids. My four-year-old has officially entered the puzzle and maze phase, which means he is probably old enough to understand the concept behind the classic Tic-Tac-Toe. Sure, you can play with paper and a pencil, but this palm-size maple wood version from The Land of Nod is so beautiful and makes it feel more special. I'm all about the understated, vintage-inspired design. And if you've got two kids, it's so great that they can entertain themselves together with it.
CREATIVE TRAVEL TOYS
Speaking of vintage, my son recently picked up a full-size Etch-A-Sketch at a friend's house and it basically blew his mind. Some thing never change. You can find the smaller travel sized Etch-a-Sketch which is so perfect for stashing in your bag. However my kids want to play this at a restaurant table, they'll have to wait until mom and dad each take a turn.