We have no shortage of movie nights in the summer, but I would love to get my kids to crack open their books more often when school isn't in session. And I think I've found a way to encourage them to read more while still keeping movie night on the calendar: I'm going to offer them great action and adventure filled tween books that were made into movies, with the caveat that we can only watch the movie afterwards.
Whether you chose to read the titles aloud to your kids as a family story, or if your reader would rather finish the book on his or her own, this is a great way to compare how the movie compares to the book.
Ask questions like:
-Do you agree with the casting, or did you have different images in your head while reading the book?
-What scenes were cut out of the movie? What information was added, and why?
-Is there information you learned from the book that you wouldn't have known just from watching the movie?
-Did the director capture the mood of the book?
-Did you feel more or less emotional watching the movie than reading the book?
-Which was better, the movie or the book, in your opinion?
To get you started, I've got eight fantastic, recent tween and teen titles, and their popular big-screen adaptations, most of which you can watch in the comfort of your home through your streaming media service of choice. For easier reference, I've included the Common Sense Media age recommendations for each selection — though it's just a guidelines.
As with any media your kids consume, you know what they can handle better than anyone.
CMP is an rstyle/amazon affiliate, or find the books in your local indie bookseller
Related: Common Sense Media: How to know what to watch with your kids, and when
(books ages 8-12+, movies 7-12+)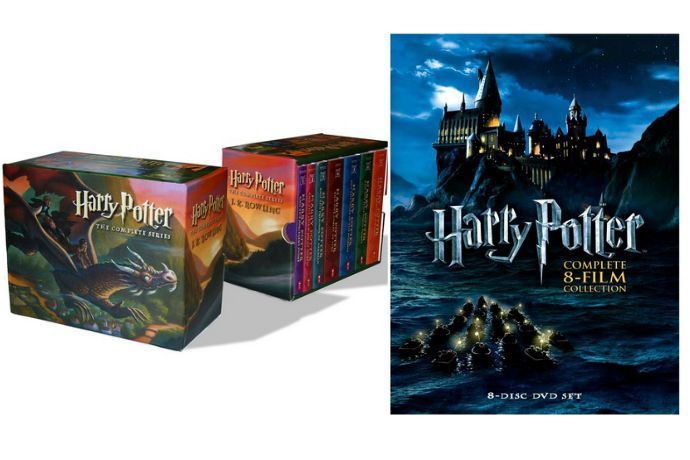 My sister has found a way to insure her kids do lots of reading this summer: She's agreed to let them watch every movie in the Harry Potter series, but only after they finish reading each book. For those of us who think the books are essential to truly understanding and appreciating the films, her "hook" is a smart one. We did the entire series as a read-aloud at bedtime which took a l-o-n-g time, but it was one time that all three of my kids would sit quietly together so they wouldn't miss a word.
If you weren't aware (ha), JK Rowling's beloved books are quite successful as Harry Potter movies too, with excellent casting of everyone from Harry Potter to Severus Snape to Professor McGonagall. Just keep in mind that, like the books, the movies get darker and more intense the later they are in the series; younger or more sensitive kids may prefer to wait a little bit before watching past the first three or four films.
(book & movie ages 8+)
My own 10 year old will shy away from books that look too thick, but Brian Selznick's The Invention of Hugo Cabret skillfully lured him in with evocative charcoal drawings interspersed between the 500+ pages of the story. Not merely illustrations of the action, the drawings add depth to this story of Hugo Cabret, an orphan who lives in the train station, stealing what he can to get by. The mystery that Hugo begins to unravel makes the pages fly by, with my son slowing down only long enough to pour over those magnificent illustrations.
Hugo, Martin Scorsese's award-winning movie based on the book, is on our wish list for an upcoming movie night, and for good reason: It beautifully captures the magic found in the pages and translates it to the big screen very successfully, even if that "big" screen is only in our family room. And though there are some intense scenes, there's nothing here that will be too much for our younger tweens. Plus Sasha Baron Cohen is hilarious as always, and Ben Kingsley is just wonderful as…well, I don't want to spoil it.
(books ages 9-10+, movies 10+)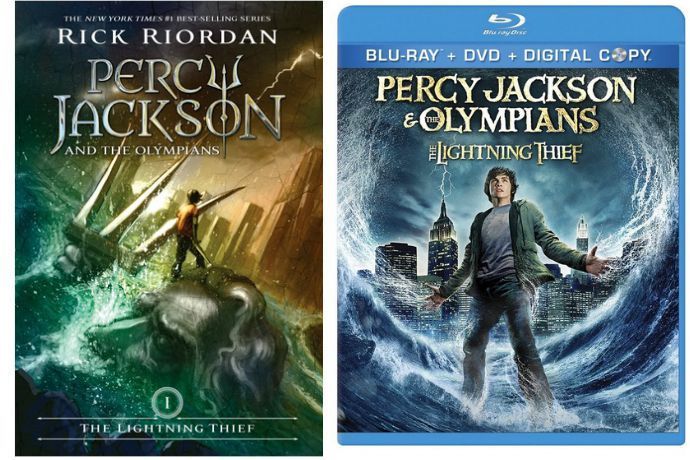 Our editor, Liz, has a special fondness for the Percy Jackson series which got her fourth-grader hooked on reading books in a big way. If your kids aren't familiar with Rick Riordan's series about Percy Jackson and the Olympians, it is similar to Harry Potter and other popular series that appeal to tweens and teens, focusing on a regular kid turned reluctant hero when he realizes he has special powers. Just know that it has lots of excitement and plenty of action scenes as Percy Jackson adjusts to life as a young demigod. But, even with plenty of mayhem, monsters, and mythological mischief, the violence is not anything a fourth or fifth grader can't handle reading or hearing at story time. An added bonus? Kids who finish all five books in the series will learn an awful lot about Greek Mythology.
So far, only the first two books in the Percy Jackson series have been made into movies: The Lightning Thief and Sea of Monsters. In both, the intensity of so many battle scenes and the gory monsters "coming to life" mean that the movies skew a bit older than the books themselves. There are other differences, like Percy's age, which is older in the movies than in the books, which you can discuss the possible reasons for with your kids after the credits roll. However Liz tells me that her daughter at nine appreciated both the books and the movie equally.
The Giver
(book and movie ages 11+)
Lois Lowry's Newbery Medal winning, thought-provoking novel, The Giver (shown above), may be more than 20 years old, but the story of Jonas who lives in a presumed utopian society has captivated my son's imagination this summer. He cannot wait for me to finish reading this one at bedtime so he will know how Jonas's life will change after he learns that his seemingly perfect world has a dark underside. This is one book that we can talk about for a long time afterward too, as the ending leaves a lot up in the air. For kids who need to know stories all plays out, The Giver is actually the first in a series of other lesser-known titles which include Gathering Blue, Messenger, and Son, though don't expect to find out what happens to Jonas until the third book.
When it's time to watch the movie, you'll find that the 2014 big-screen adaptation, also titled The Giver, includes such heavyweights as Meryl Streep and Jeff Bridges — names that won't mean too much to my kids, but definitely make this a movie I can't wait to watch with them. Reviews of the movie are not nearly as positive as the book itself with critics complaining that the subtleties that make the book so riveting are overshadowed by the intense movie action. I'm going to enjoy hearing my 10 year old's review to see how he thinks the movie compares to the book and whether the critics are right.
(book ages 12+, movie 14+)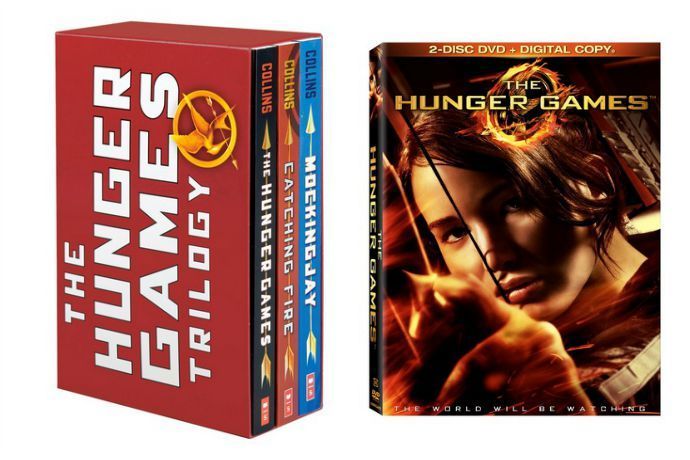 One of my older kids' favorites, and an exciting read for me too, The Hunger Games trilogy by Suzanne Collins follows Katniss Everdeen through The Hunger Games, Catching Fire, and Mockingjay, as she struggles first for survival in the violent teen-against-teen annual "games", and later as she helps lead a resistance against a cruel government, chillingly lead by the aptly named President Snow. Here's one series that I think parents should read before they hand off to their kids so they can determine if it's appropriate for their child. When my then-twelve-year-old begged to read the first book, The Hunger Games, I warned her about one scene late in the book that I found hard to stomach.
The popularity of the Hunger Game movie trilogy, starring Jennifer Lawrence–who makes an excellent Katniss–has drawn even younger kids into the series, but again–you know your own kids best. I actually found the movies less violent than the books–clever camera work helps–but understand that seeing the fighting, death, and destruction in full color can hit some kids harder than others. This is definitely one that requires knowing your own child best.
Related: Spawned podcast: A fun discussion on kids, media, and age-appropriateness
(book ages 13+, movie 14+)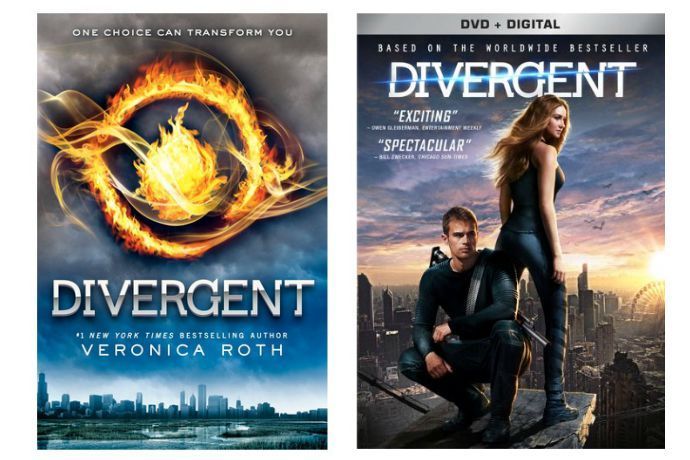 There was a lot for my oldest daughter to love about Divergent, the exciting first book in a dystopian series by Veronica Roth: A strong, capable female lead character, lots of action and dark adventure, and a budding romance that–thankfully–doesn't go too much further than lots of long, meaningful glances and a few kisses, as well as some talk about "taking things slow" which is music to my ears.
As a parent, I also enjoyed this story though, I must admit, after trying to read more than a few dystopian novels to keep up with my kids, they are starting to all run together in my head. However, there is one thing I do know for sure: The last book in this trilogy, Allegiant, is no where near the quality of Divergent or its sequel Insurgent, and you may have a distraught teen on your hands after they finish reading the entire series. Have Kleenex and chocolates on hand.
The Divergent movie is also a fun couple of film-watching hours to spend together, though my teen was distressed to find that both she and I share a special affinity for the character of Four, played by Theo James. We have not yet watched the follow-up Insurgent, but plan to so that we can see how the writers and producers decide to handle Allegiant whose first part premieres next year.
(book and movie ages 13+)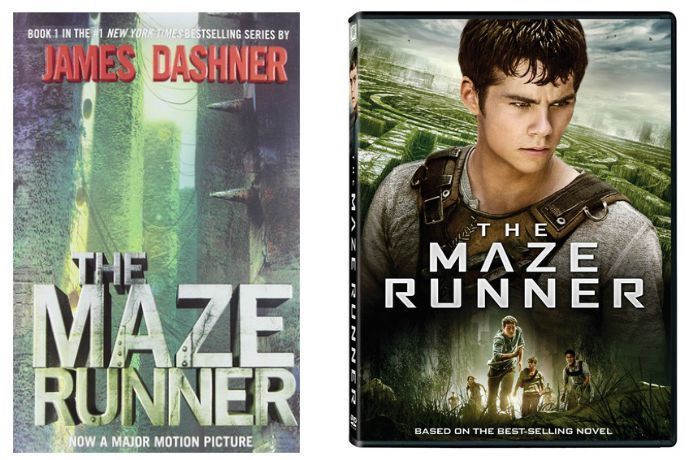 If your older kids love–and can handle–intense action, this first book in The Maze Runner trilogy is full of tension and violence as a group of teens try to understand the new dystopian world in which they have been curiously placed. My older tween will love the premise which has the teens bonding together to fight back against evil adults, as she herself likes to battle against this "evil" adult. Common Sense Media rates this book at 13+, though I know my nephew read it at 9 and suffered no obvious ill-effects. So, as always, use your own judgement on when to introduce this book to your home library.
With more swearing in the movie than in the book, The Maze Runner movie gives tweens and teens a whole lot of edge-of-their seats, PG-13 action. Though we haven't yet read the book or watched the movie, I'm pleased to learn that the movie stays pretty faithful to the book, and I appreciate that producers didn't try to add a "love interest" when there wasn't one in the original story, since romance is about the last thing that should be on a teen's mind in such a situation. I do think this movie does look pretty intense, with the "griefers" creating a lot of tension; and I admit I fear I'll end up watching a lot of this movie from behind my fingers. However Liz has watched the film with her girls with a lot of pausing between scenes and discussions, and her eight-year-old now calls it her favorite movie.
If your teens are extra-fast, motivated readers, they may even be able to read the second book, The Scorch Trials, in time for September's movie release
(book ages 14+, movie, to be released)
Clever, very spooky, and really weird, Miss Peregrine's Home for Peculiar Children follows the journeys of 16 year old Jacob as he tries to find out who, or what, followed and killed his beloved grandfather. Traveling not just in distance but also in time, he discovers a world that truly is peculiar. Author Ransom Riggs' addition of real vintage photos throughout the book lends an aura of eerie authenticity to the story that had me flipping back and forth from the photos to the text. I'd recommend this one for older teens instead of trying to make this work as a bedtime story for tweens, unless you have a kid who's really into dark, creepy storylines, which I know plenty are. (Mine would probably be sleeping with their lights on.)
As far as the movie itself, you'll have to wait a little while for this one to come out as it's not due to be released until March 2016 — a perfect excuse to make time to read the book first. But with Tim Burton directing, and a cast that includes Samuel L. Jackson, Judy Dench, Rupert Everett and Allison Janey,  I'm feeling confident that it'll be worth the wait.