We love finding new ways to teach our kids about the big, diverse world that extends far beyond the boundaries of their neighborhood and town. And while nothing can replace actually going to the countries themselves, playsets like this one from Whole Wide World Toys may help even our littlest jet setter hopefuls learn all about different countries in a way that is fun and educational. And their first stop? The huge country of China.
What makes Whole Wide World Toys' World Village China Playset so neat is how it incorporates a ton of age-appropriate information along with the toys themselves. Each playset comes with a large, colorful fabric mat on which is printed a traditional Chinese scene with roads, buildings, and parks. In addition, kids can take the 13 pieces from the chunky wood puzzle (which, great for little hands) and set them up on the playmat, moving them around the scene as they play. Included in the puzzle are two "visitors", Emma and Joe, along with Chinese residents and other items someone may see if they went to a Chinese village.
Related: Little Passports gift subscription lets younger kids get in on the world adventures too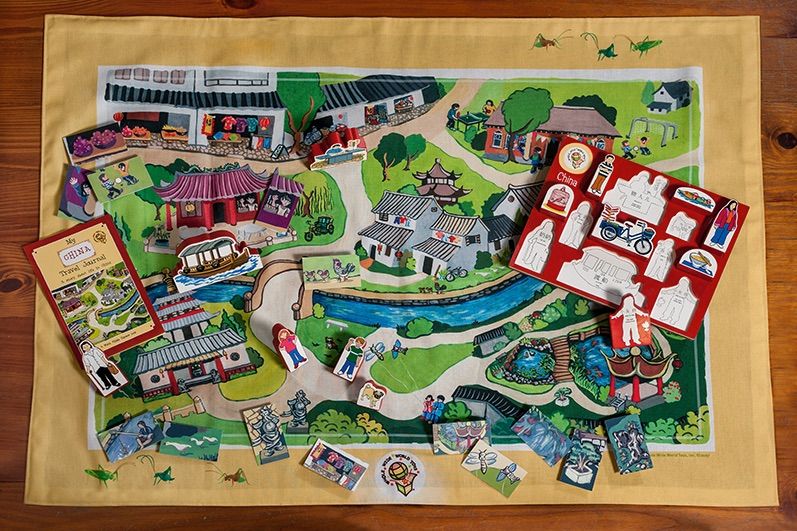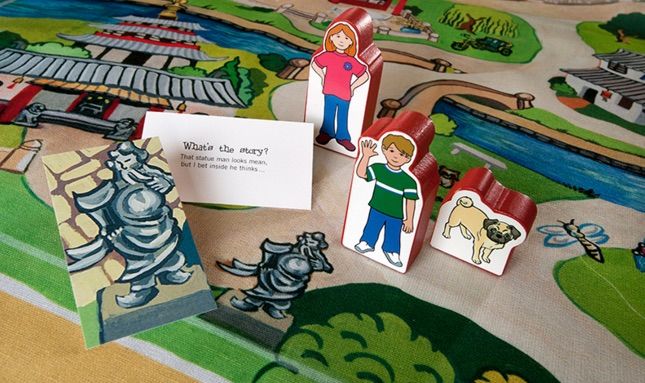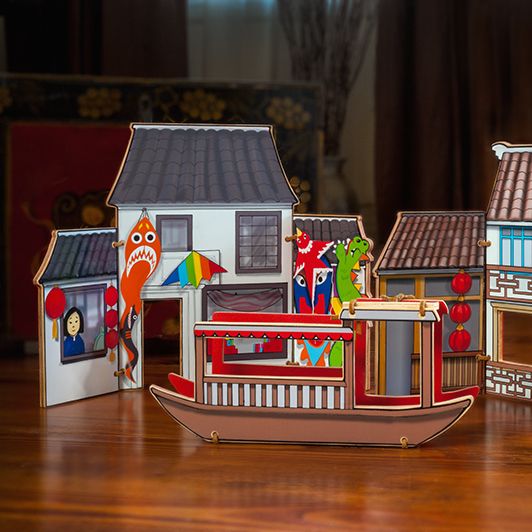 3-piece China World Village shop, boat, and house set, sold separately
One of my favorite items in the playset is the 32-page color story and activity book that takes kids through a region of China, seeing the country through the wide eyes of Emma and Joe who are amazed at all they see, taste, and hear. And the additional 14 story cards are great to prompt kids to talk more about what they think of China and also give them ways to bring the set to life through their play.
If you want a more extensive play experience, pick up the additional China World Village wooden set which includes a shop, boat and house (shown above) and gives your kids even more pieces to set up and use in their play.
Related: The best travel toys for kids of all ages
And while this set does a really good job of pointing out all the ways parts of China may look, feel, and sound different from our lives in the U.S., the items featured in this set do feel like the types of things a tourist might point out. But, while a bit stereotypical, it's not unkind or offensive. We'd suggest talking to kids about the ways we are all similar; China is a large, diverse country and this "snapshot" is but one glimpse of a diverse mosaic of people, geography, and cultures.
For young kids to whom China is more of a mystery than a real place, this is a great way to get them started thinking about the people and how they live. We look forward to seeing where Whole Wide World Toys decides to venture next.
You'll find Whole Wide World Toys' World Village China Playset and additional items for sale on their website.