Update: Most of these Olympic crafts work just perfectly for the 2020 Tokyo Summer Olympics. Yes, the one in 2021.
I have to admit, it's been a little difficult to get as excited about the summer Olympics as usual with all the trouble surrounding it this year, even though the Olympics are one of my very favorite sporting events to watch with the kids — I mean, when else do we get to sit back and dive into water polo or competitive trampoline on TV? (Let alone watching allll the Simone Biles we can get our eyes on!)
So, to get us feeling more in the Olympic spirit, I've been looking for some fun and easy Olympics crafts, printables, and snacks.
I'll be picking a few of these to make while we watch the opening ceremonies tomorrow. It'll keep my kids' interest while they're waiting through Cameroon and Leichtenstein for Team USA (U-S-A! U-S-A!) to make their appearance in the parade of nations.
While you're at it, don't miss the ideas here too:
– 9 Fun Olympics crafts to get kids excited about the winter games.
– Fun backyard Olympic games your kids can play
– 7 excellent Olympics party treats, printables and activities for kids
 Top image: Heart Olympics Rings Print via Hands Occupied
CMP is an rstyle affiliate
My kids will love to make their own Olympic Torches, following these easy steps from an elementary art teacher at the blog Art with Mr. Giannetto. Although my kids are more likely to use theirs to do their own torch relay, instead of mounting them on these backgrounds.
Part of what makes the Olympics so great is that we get to peek into the cultures of countries all over the world, and if you're talking about Rio you can't leave out Carnival. Have your own house party, with everyone wearing these fun, vibrant DIY Carnival Masks we found at Happy Brown House.
I looked through a lot of Rio printables, and these Olympics coloring pages at The Imagination Box are my favorite. This deconstructed Olympic flame looks so cool, and I love the idea of creating our own pastel fireworks alongside the Christ the Redeemer statue that's so symbolic to Rio.
After a particularly difficult summer news cycle, I absolutely love the heart Olympics Rings print tutorial at Hands Occupied (also at very top). I think it really captures the spirit of friendly competition that the Olympics are supposed to be about.
Related: 7 excellent Olympics party treats, printables and activities for kids
Of course, you'll need snacks while you watch the show too, right? Make these Olympic Rings cookies from scratch with this recipe at Love to Be In the Kitchen, or keep it simple by picking up sugar cookies (or cupcakes) and a bag of M&Ms at the grocery.
This Olympic Rings canvas at East Coast Creative wins for easiest craft that still looks really great when the Olympics are way over. I'm betting you probably already have everything you need to make this (except maybe the canvas, which could easily be traded out for plain white paper instead). If you're doing this one with older kids, quiz them on the significance of the rings' colors while you paint.
We're big fans of Laura Palmer's cute doodle activity books, and she's just released a new Olympics Activity Book in honor of the Rio Games. There's a small fee for the download, but I think it is worth it since your kids will learn a little about Brazilian culture, Olympic history, and have endless coloring pages to keep them busy.
Vinicius is the mascot for the Rio Olympics, and I think he's pretty adorable. So I love this idea from Kids Activities Blog of letting your kids get creative and design their own Olympic mascots with LEGOs. For inspiration, show them Vinicius and these other past mascots.
Go outside and create some clever Olympics sidewalk chalk art like these at Burgh Baby. These are such a fun way to cheer on your favorite athletes or your favorite sports at the Olympics. Just be sure to stock up on your sidewalk chalk so you don't run out.
Rio is famous for their spectacular parades, so give them a nod by starting a samba line through your house. Stock up on colorful supplies to get your kids moving with these DIY maracas we found at Scribble Blog. Because in our experience, anything that lets them make lots of noise is going to be popular with them.
Related: Throwing an Olympics Party? Some of the coolest printables, snacks, and party ideas
If you're serious about your Olympic spirit, you should totally make these DIY Olympics ring sunglasses at Hands Occupied. She uses polymer clay that you bake in the oven, so you can wear these again and again. Or, your kids could play around with PlayDoh to make their own — but be ready to console if they don't survive the evening.
If your nail polish collection looks anything like my daughter's, you'll be able to do a Olympic Rings manicure, like this one at She Knows. It's your own subtle contribution to the fashion of the evening.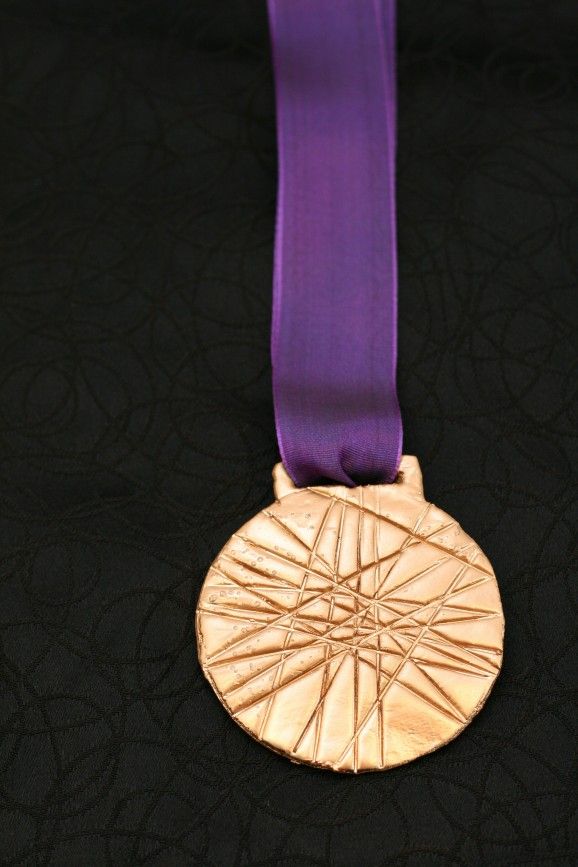 My kids and I made our own Olympics medals with this tutorial at Paging Super Mom during the London Olympics, and it was so much fun I'm planning to do it again this year. It's easier than you'd think — especially if you use air-dry clay — and your kids will have a blast coming up with their own medal designs. Just be sure to have plenty of metallic paint on hand, because everyone wants a gold medal.