My absolute favorite feature on my iPhone isn't the smart to-do list that keeps my life sane or the ability to look up random facts on Google whenever I want — it is, of course, the camera. I take thousands of pictures each year, and as a result, I kind of believe myself to be a pretty decent photographer (thanks, Instagram filters). But the truth is, I have a lot to learn about getting the best angle or action shot. And the Real Life Family Photography book by professional photographer Amy Drucker has tons of these kinds of really smart family photography tips to help novices — and those even a bit more experienced with light and shadows and color saturation — capture the most amazing family photos.
Related: Custom portraits of your kid with their imaginary friend. How cool is that?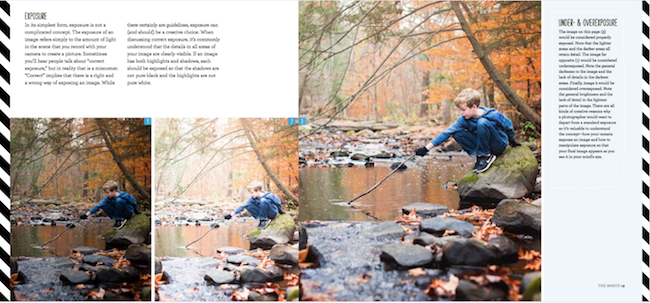 The first part of this book is like a quick Photography 101 class. For those of you, like me, who received a DSLR camera as a gift somewhere along the line, but you've been using it on auto-mode all these years, this is the place to start. She covers topics like exposure, aperture, and shutter speed as well as how to use negative space, the rule of thirds, and perspective. And, yes: if none of this means anything to you, you're exactly the right person for this book.
It's chock full of tips and ideas for capturing memorable pictures — from specifics on settings to where to position yourself to get a great picture of your kids without them having to pose for you. (Whoo!)
But I think what makes this book really special is her creative ideas for capturing those seemingly mundane moments you'll really want to remember down the road. Your child brushing their teeth for the zillionth time… yep, tearjerker. If, you know, you got the light right.
You can find Real Life Family Photography by Amy Drucker at our affiliate Amazon, or check your local bookstore or library.