The holidays are fast approaching, which means it's party season! I'm thinking all about Halloween this week, but before you know it we'll be planning New Year's parties. Not to mention the, oh… 1,285 family birthdays that my family seems to celebrate in November and December alone. I could use a little fresh inspiration to make each of these parties really special, and I'm finding lots of it in the wonderful new party idea book, Celebrate Everything, by Martha Stewart Weddings editor and party planner extraordinaire, Darcy Miller.
Whether you're looking for something as simple as a fun cocktail recipe, a jolt of inspiration for a central party decor idea, a list of her own insider resources for party shopping (ooh!), or a detailed roadmap for a jaw-dropping Winter Wonderland themed birthday party, you'll find inspiration from Darcy in abundance and plenty of how-to's to bring it all to life.
Related: 10 fabulous birthday party craft ideas that can double as party favors
The first half of this seriously gorgeous party planning book (would you expect anything less from her?) gives us that push some of us need to go out and plan. She offers up creative balloon ideas for your table decor, crafty tips (like the one I like for turning a plain party hat into something fun like a shark fin or bunny), favor ideas and delicious recipes — like the outrageous ice cream sundae bar complete with donuts, croissants, and waffles that will be making an appearance at my daughter's next birthday.
The second half of the book is a total blueprint for a dozen different party themes from baby showers to retirement parties. As in everything (as the book title suggests) you need to think about, and many you wouldn't have thought about, which is where the value comes in.
In other words, this is way more fun and useful than just browsing Pinterest boards for hours and hitting dead ends.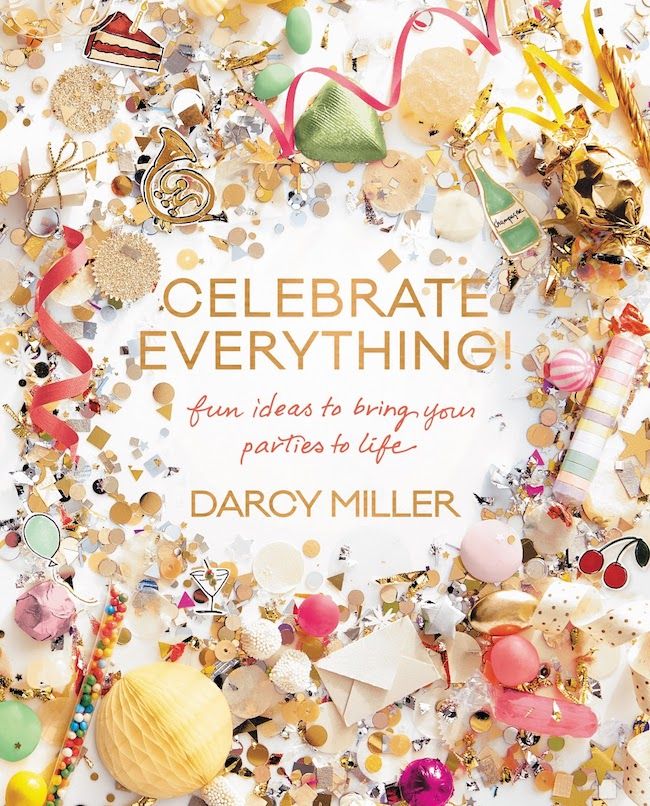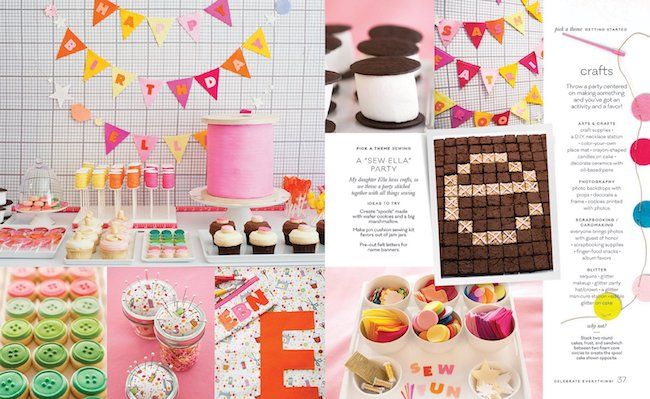 Related: The party store with everything you need for the perfect party. Except the cake.
If you can't already tell, the book is absolutely bursting with color, fabulous photography, and my favorite part, images of her own kids that really make it personal.
Now, as in most party inspiration books, some of the ideas here are more picture-perfect than I'm probably able to deliver myself; but that's not to say I can't use them as a jumping off point.
For example, her piping personalized names or single thematic words on a homemade ice cream cookie sandwich is so simple and doable. Or hanging a string of tassels instead of buntings, for party decor that transcends what you tend to see everywhere else. These are the kinds of small detail from Darcy that help turn a good party into one that will be remembered.
And yes, okay, Instagrammed.
If you're a party-throwing fan, you'll find zillions of excuses to plan one here, or amp up whatever is next on the calendar for you. And if you're all for throwing minimalism out the door and celebrating big when it comes to those truly special occasions in life, this is definitely a book you'll never want to remove from your coffee table.
You can find Celebrate Everything by Darcy Miller at our affiliate Amazon or check your local bookstore or library. Happy celebrating!