When my kids were small I somehow had the time to make their costumes by hand — things like princess dresses, a lion, and one amazing Nacho Libre costume. However, last year I literally pulled together a costume for my oldest in about 5 minutes before our friends came over to trick-or-treat with us. And his Halloween was just as awesome as ever.
So, whether you're the DIY master who's gotten too busy this month to make something from scratch, or you have a kid who can't make up his mind about his costume and now you need something stat, we've rounded up some of our favorite, super easy last-minute Halloween costumes for kids that you can make in 10 minutes or less.
Because sometimes that's all the time you have.
At top: Emoji costume at Hello, Wonderful | R2D2 at Under the Sycamore
CMP is an rstyle affiliate
Related: 12 awesome kids' Halloween costumes made with pajamas. Comfy, easy and cool.
Easy Doctor Who costume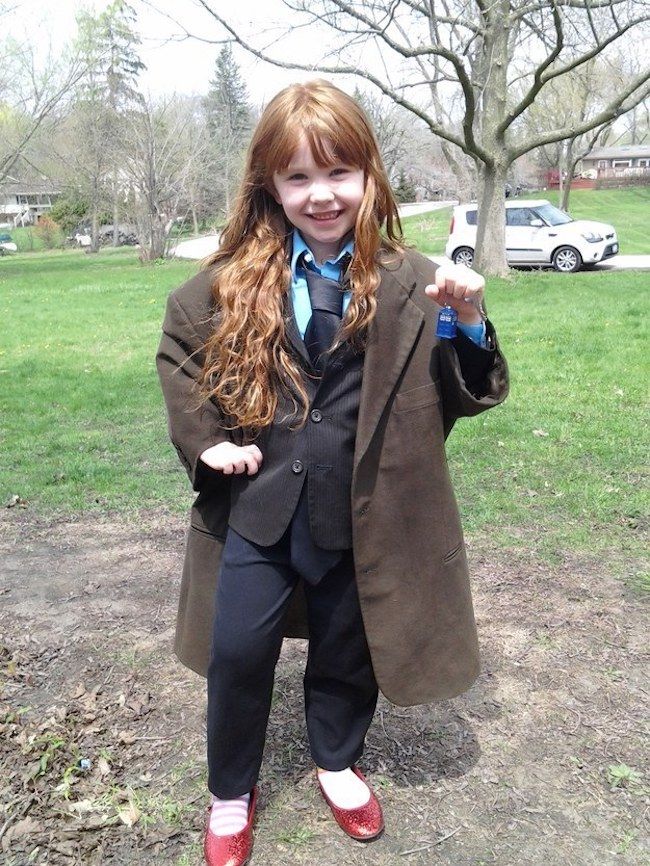 I love this easy Doctor Who costume by Keelhaulrose2 we found at Buzzfeed last year. It could easily be pulled off last minute by raiding mom and dad's closets, and if you're a big fan of the show, you probably have a toy sonic screwdriver or mini Tardis laying around the house somewhere. If not, you could draw one (or print one out) and tape it on your child's candy collection bag with the hope that, just like the Tardis, it's bigger on the inside than it is on the outside.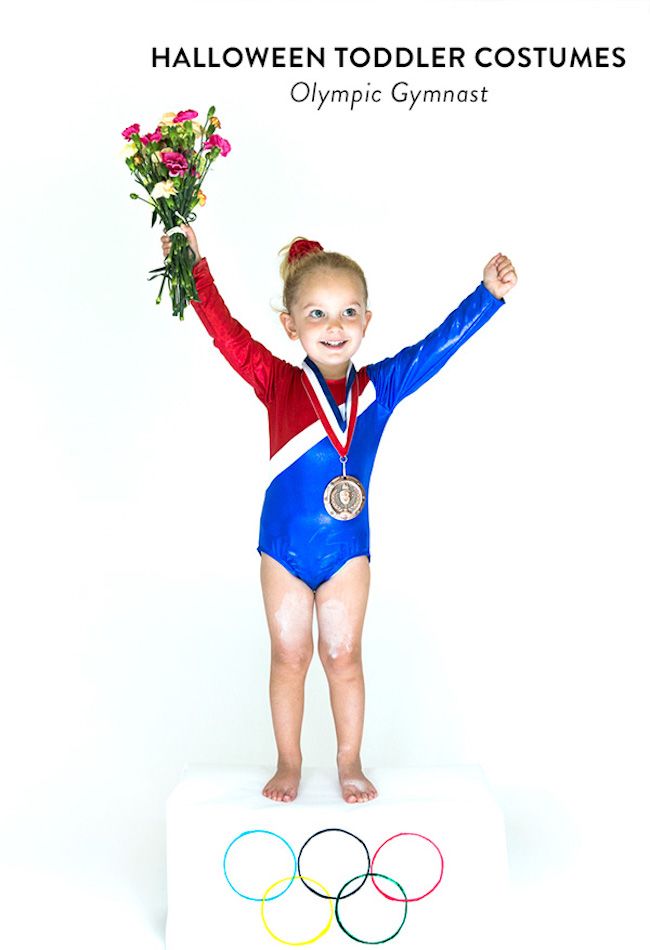 Easy Olympic Gold Medalist Halloween costume| Say Yes
If your child is already taking gymnastics classes, this Olympic gold medalist we found at Say Yes will be so easy. Dig their leotard out of the laundry and grab one of your kids' participation medals from the toy box. I especially love the baby powder on her knees to really make this gymnast have that competition look.
Easy Jane Goodall costume
I'm a huge fan of this Jane Goodall costume I found at The Mod Chik, because Jane Goodall is so cool. Also, it's incredibly easy, as long as you have a stuffed monkey and brown shirt somewhere in the house. Your child might even be able to make the toilet-paper-roll binoculars herself, which makes this one even easier.
Related: 6 adorably easy Halloween costumes for babies all from items they can wear again. Yay for that!
Easy Disney tourist family costume
If you want a last-minute costume the whole family can do together, check out this funny Disney Tourists idea we found at Say Yes. Of course, if Disney isn't your thing, you could go as Star Wars fans, Minecraft fans, Lakers fans, or pretty much anything else your family loves.
Easy R2D2 costume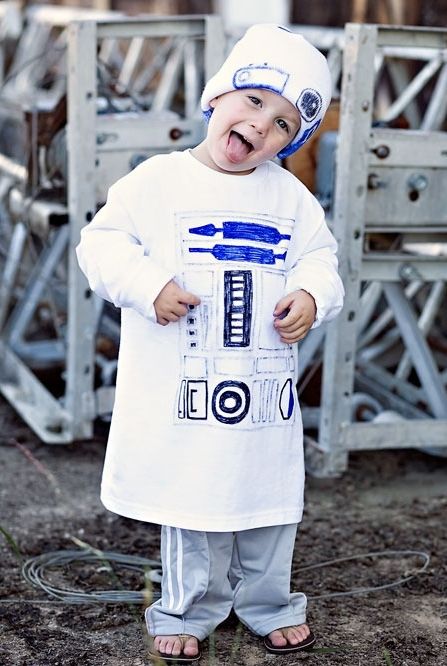 Grab one of your old white t-shirts and a blue marker, and you can pull off a quick R2D2 costume like this one from Under the Sycamore in almost no time at all. Hint: The bigger the tee, the better; it gives it that boxy R2D2 shape.
Easy Jedi costume
As long as we're thinking Star Wars, f you happen to have a brown bathrobe and a lightsaber laying around, then you can almost instantly get a young Jedi ready to trick-or-treat. We loved this easy Jedi robe Halloween costume sewing pattern at Etsy shop Bayberry Creek too, if you're the crafty type who has fabric stashed for last-minute projects. Brown felt like this wouldn't even need to be hemmed, making this one a really quick DIY.
Easy emoji costume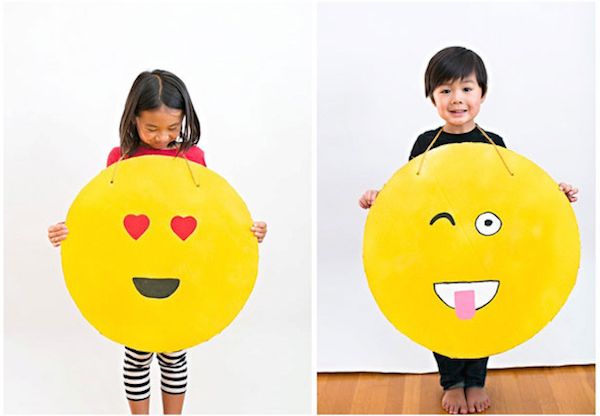 All you need is some poster board and yellow paint to make these fun emoji costumes from Hello, Wonderful (also at top). If the sandwich board style costume seems like it would get a bit annoying for your child while they're trying to run from house to house collecting candy, you could also make this one by decorating a yellow t-shirt instead. So simple — an fun to wear after Halloween is over too!
Easy Paper Bag Princess and Dragon costumes
We love, love, love the book Paper Bag Princess by Robert Munsch, and this Paper Bag Princess costume we found at Seeker of Happiness could not be any easier. Even the little crown is made from the paper bag! Other than that, all you need is some warm trick-or-treat weather.
Related: 9 really creative but still easy last-minute Halloween costumes for kids. Hey, we're busy too.
Easy NBA Star costumes (with a few friends)
© Kate Etue for Cool Mom Picks
If your child loves sports, have him or her go as their favorite athlete (like my oldest seen here on the right) for a super easy last-minute Halloween costume. Or, you don't even have to be that specific with the costume; last year, he was just an unnamed "NBA player" with his track suit and a basketball.
Of course, you could wear football pads, hockey gear, a softball uniform, goggles and a swim cap — whatever sport they're into most. And if you're amazing at DIY, you could probably figure out how to turn an old football or basketball into a basket for collecting candy. We'd be seriously impressed.
(Note: my "space guy" son is wearing dress-up accessories from Props in a Box with an amazing silver velour track suit he just happened to have in his closet. Yes, for real.)