I, like Buddy from Elf, loooove Christmas. Christmas is my favorite. So once November gets here, I start planning my holiday decorations, meals, and festivities. And one of my favorite ways to kick-off the season is with advent calendars. For my family, nothing creates more excitement than counting down the days until the Big Day. Getting a treat each day makes it even sweeter.
Every year, Cool Mom Picks searches high and low for all kinds of advent calendar options for our homes so that our families — and yours! — can count down to Christmas in fun, festive style. From clever (and not too difficult) DIYs, to fun kid-like designs, to gorgeous pieces you can reuse each year and treasure, here are 14 of our favorite advent calendars this year. The hardest part may be picking just one!
CMP is an rstyle affiliate
Related: Wonderful vintage Christmas ornaments and decor on Etsy: And a very merry, mid-century Christmas to you too.
DIY Christmas Bulb Advent Calendar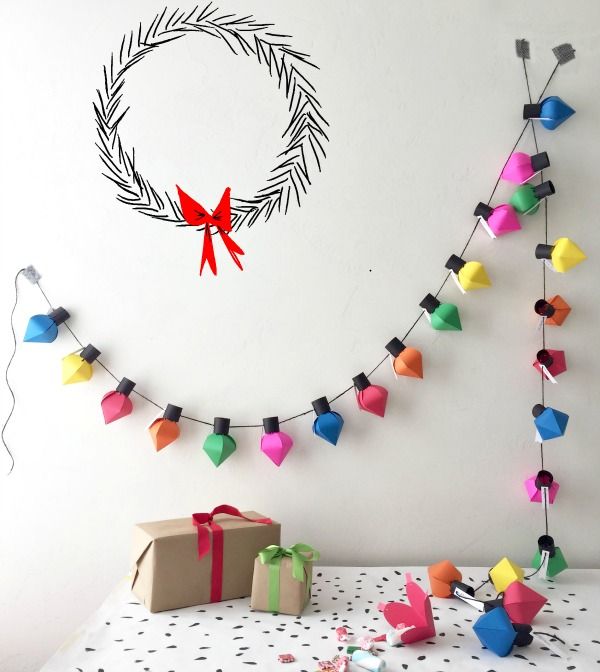 This DIY Christmas Bulb advent calendar project from The House That Lars Built inspires me to be crafty. With the downloadable templates, this project seems super easy to make. All you need is craft paper, glue, twine and 25 little treats to fill each "bulb." All will be bright with this Christmas countdown!
Christmas 2016 Chocolate Advent Calendar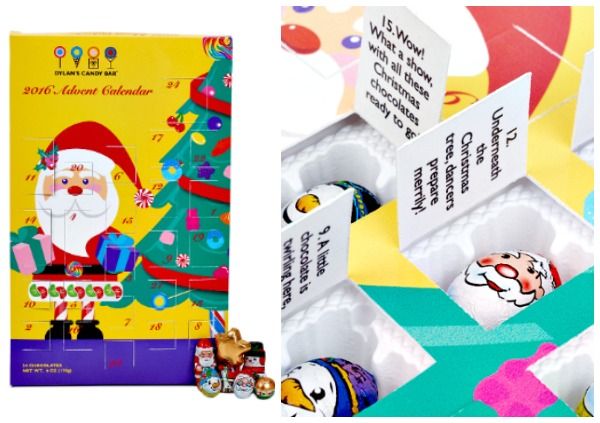 Advent Calendars traditionally mean chocolate and the Christmas 2016 Advent Calendar from Dylan's Candy Bar delivers, but in a modern and fun way. And Liz and her daughters just might be the "World's Greatest Fans of Dylan's Candy Bar." Just lift a flap each day and enjoy a cute wrapped chocolate plus a fun little festive poem. Great for little ones to help bring Christmas on it's way! Looking for allergen-free chocolate advent calendars? Check out four options here.
Linen Drawstring Advent Calendar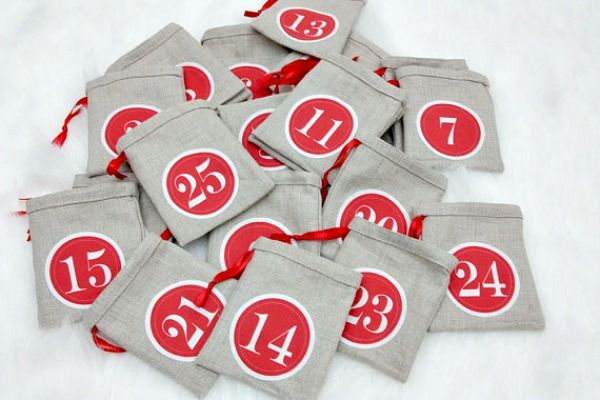 Countdown Christmas in style with this beautiful Linen Drawstring Advent Calendar from Milch & Honig on Etsy. Just fill each of the 25 linen numbered drawstring bags with special treats, small toys, or candy and hang them all on along the fireplace, or play scavenger hunt with the kids each morning. Fun!
Star Wars R2-D2 Advent Calendar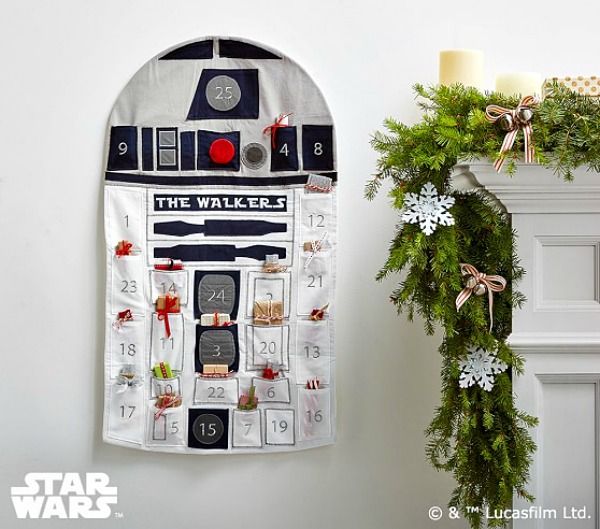 This Star Wars R2-D2 advent calendar from Pottery Barn Kids will add so much excitement to the Christmas countdown for Star Wars fan families. The reusable cotton wall hanging of everyone's favorite astromech droid has 25 pouches in which to hide notes or small gifts. You can even have it personalized with your family name. Bleep!
DYI Magnet Advent Calendar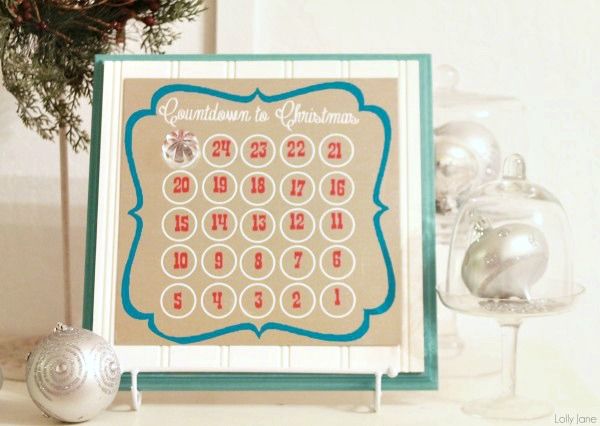 With just a few craft supplies, you can make this gorgeous DIY Magnet Advent Calendar to display on your mantle or on a table in your home. Created by Lolly Jane Blog, you can personalize it to your liking with different colors, fonts, and ornament magnet. There aren't spaces for treats, but you could keep a jar filled with small goodies or trinkets next to the display and offer one each day.
Quin Candy Holiday Countdown Advent Calendar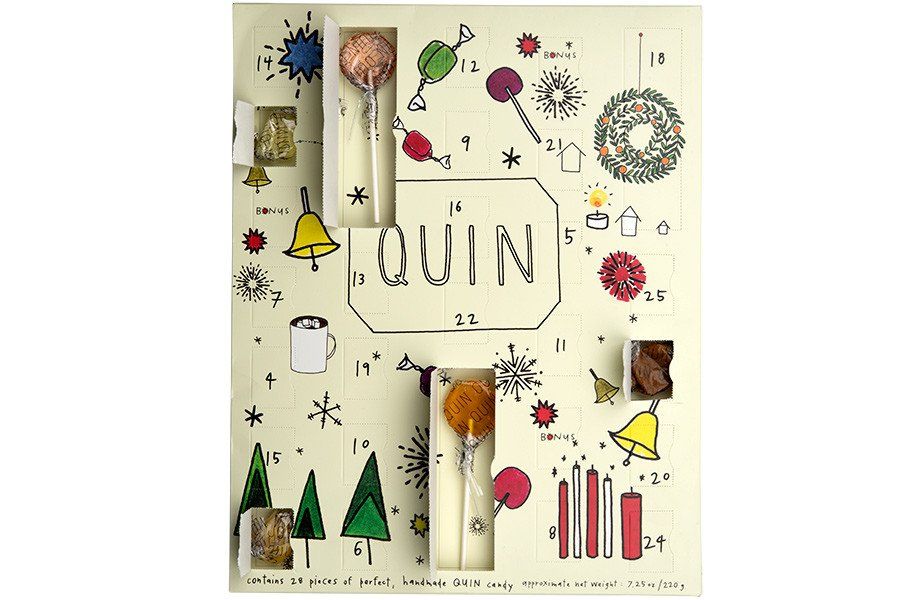 Quin Candy Holiday Countdown Advent Calendar offers a super cool, non-denominational take on the classic advent calendar. Countdown all month long with 28 doors — 25 of which are filled with vanilla bean caramels, juicy fruit chews, and real fruit lollipops, and 3 bonus doors offer a special surprise! Quin's candy is handmade in Portland, Oregon with all-natural, gourmet ingredients and uses fruit juice instead of refined sugar. Parent-approved.
Balloon Advent Calendar and Activity Kit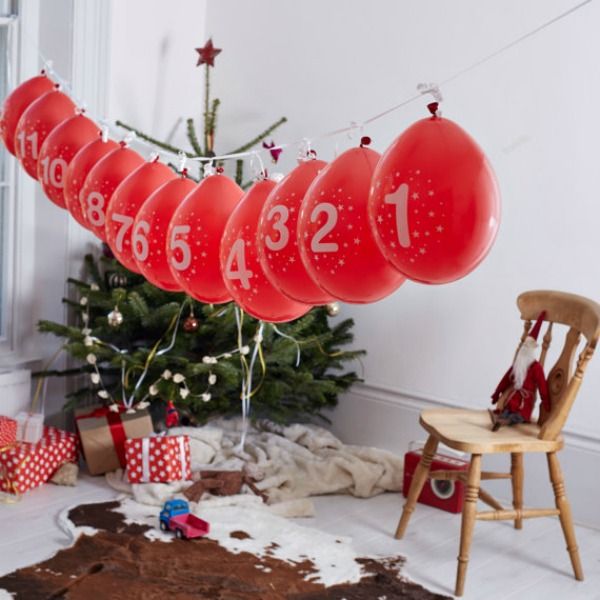 This Balloon Advent Calendar Kit from Luna Studi Designs (also shown at top) on Etsy is popping! You get 24 red, numbered balloons, a chocolate for each day, plus activity and joke sheets for you to cut up and roll into each balloon. Blow them up and string them in a festive garland, then each day, let the kids pop a balloon and discover what's inside. Festive in more ways than one!
Related: A great big list of 20 of the best free printable gift tags and gift wrap for the holidays
Advent Calendar Felt Pillow
Throw this festive and colorful Advent Calendar Felt Pillow from Garnet Hill on your favorite chair or sofa and your kids will cozy up to it every day until Christmas. Just fill each pocket with a mini toy (Garnet Hill also sells a container of cute options) or a little treat and make it a fun way to count down to the Big Day. Take note that it's just a pillow cover, so you'll need a 20 x 20 pillow insert, and it's a bit pricey, but since you can use it year after year, think of it as a special holiday heirloom.
Pillow Boxes Advent Calendar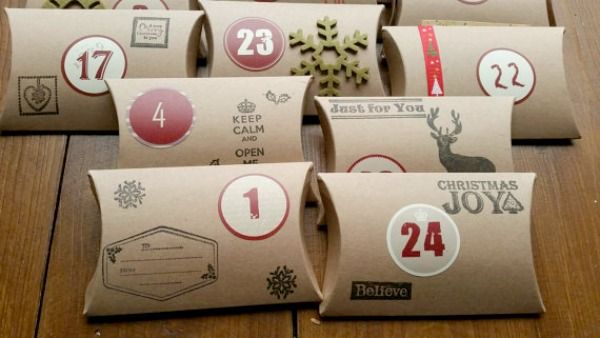 There's something sweet and old-fashioned about the Pillow Boxes Advent Calendar form Nutty Crafts Corner shop on Etsy. You get 24 small Kraft cardboard pillow boxes, each decorated with a number and holiday design, and all you have to do is pop them open, fill them with treats, and seal the edges. Every day the kids will get a special delivery to count down to Christmas.
Book A Day Advent Calendar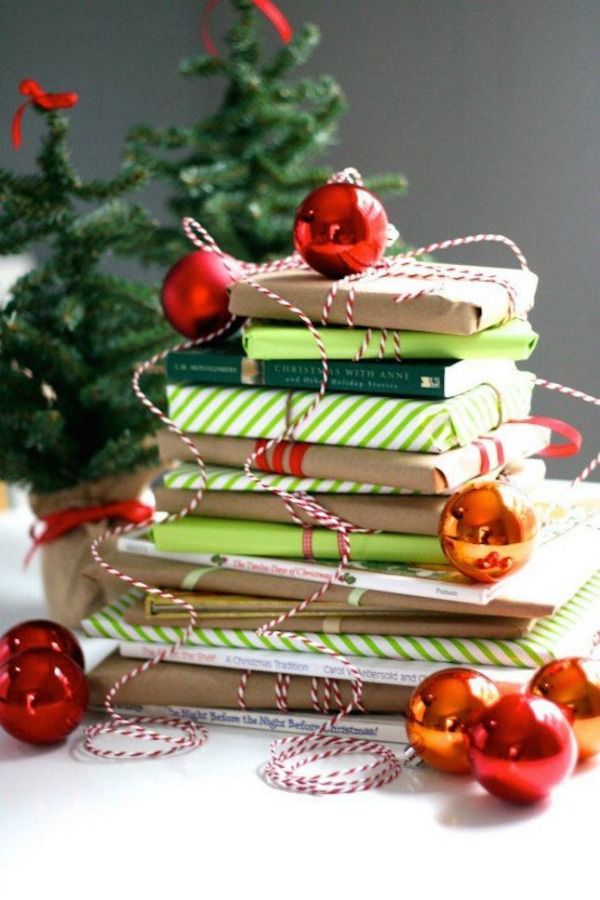 This idea I found on Modern Mrs. Darcy makes me so happy. Put a literary spin on your holiday countdown by individually wrapping 25 books and numbering them to be opened each morning. I love how this idea can be individualized to the age of each child. And there are so many great ways to display this fun twist on the traditional advent calendar: stack them up; display them on your mantle; hang them on your wall; or put them in a decorative bin under your tree. Any which way, 25 days of books makes for a very Merry Christmas!
Reusable Chalkboard Fridge Magnet Advent Calendar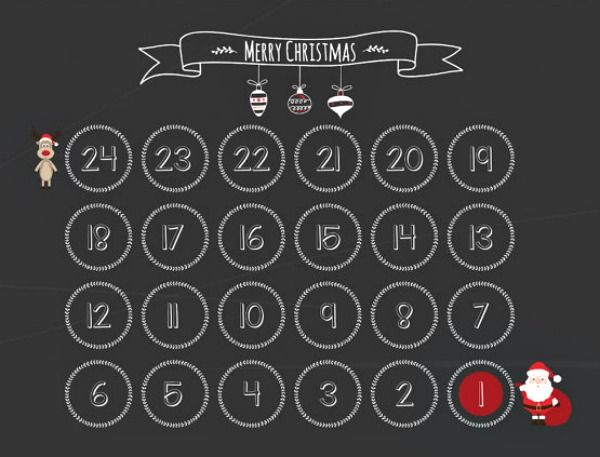 This reusable magnetic chalkboard advent calendar for your fridge from ATP Creative Design's Etsy shop is perfect for those lacking space or who love the idea of displaying an advent calendar in the kitchen, aka the family hub. It's cute, reusable, and doesn't require filling boxes or bags with 24 treats. Just a festive and easy way to count down to Christmas.
DIY Bonbon Advent Wreath Calendar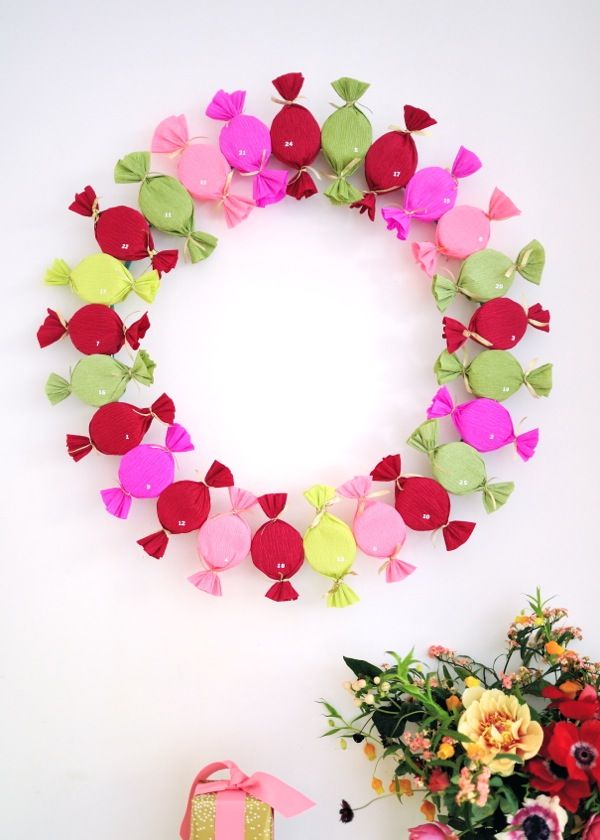 This DIY Bonbon Advent Wreath Calendar from Oh Happy Day is so darling and easy too! With some crepe paper, ribbon, and little plastic containers, you'll have all you need to create 25 bright, colorful little bonbons. You could even use striped red-and-white crepe paper and make them look like little peppermints. Fill each little "candy" with candy, a toy, or other treat and let the countdown begin!
Christmas Beard Oil Advent Calendar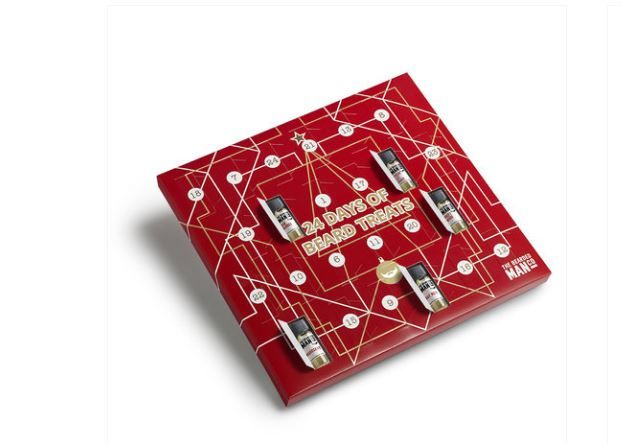 Have a hipster in the family? This Christmas Beard Oil Advent Calendar from The Bearded Man Co. is the perfect gift to keep his beard looking neat and smelling amazing every single day in December. Behind each window is a small bottle of naturally scented oil, like Bay Rum and Irish Moss. We think Santa would approve.
Good Cheer Advent Calendar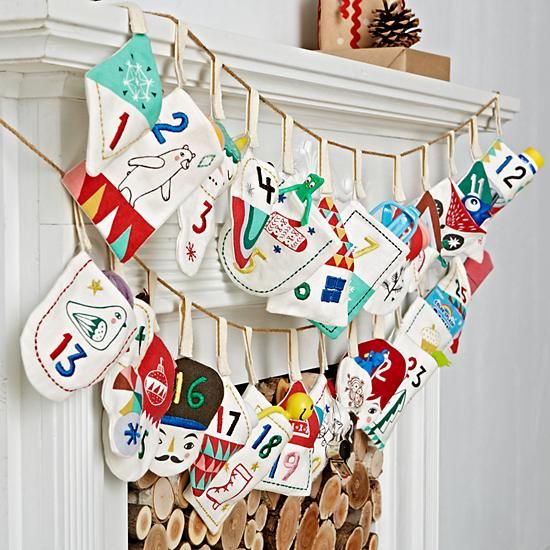 The various fabric pouches on the Good Cheer Advent Calendar from Land of Nod will bring plenty of cheer into your home this holiday season. Each one features a different festive design that's perfectly sized to hold a small treat. You just string them with the jute string that's included and hang them on your mantle or wall. This one is a keepsake you'll use year after year.
Want even more options? Check out our previous years' picks for the coolest advent calendars: