There's nothing quite like a handmade Mother's Day gift from the kids to melt a mom's (or grandma's or stepmom's) heart. But take it from this mom of four kids, while all Mother's Day gifts are perfect (really), I've tracked down a dozen very cool ideas that are truly special. Let's just say, I'd love to wake up to any of these on Mother's Day morning, and save them as keepsakes forever.
Not that there's anything wrong with a macaroni necklace, but we think these handmade Mother's Day gifts step things up just a bit.
At top: Hand-shaped clay ring dish | Mama Papa Bubba
Please visit our updated 2019 and 2020 Mother's Day Gift Guides
including
13 truly creative DIY Mother's Day gifts that kids can make and give
15 easy recycled Mother's Day gifts your kids can make from stuff you have right at home 
6 special Mother's Day gifts from the kids this year: Gifts to make, gifts to buy, gifts to mail

Recycled heart necklace (tutorial at Kimberly Stoney)
This craft made the cut (hee hee) because it's super easy and a piece of jewelry I'd definitely wear even after Mother's Day is over. If there are multiple kids involved, allowing each one to cut (and even personalize) their own heart makes this a really sweet keepsake.
Hand-shaped clay ring dish (tutorial at Mama Papa Bubba)
This may be the most heart-melting of all the handmade Mother's Day gifts here — a tiny ring dish keepsake made from your child's handprint in clay. It's like the perfect update from the handprint clay ashtrays of yore! Click over for the easy tutorial and supply list.
Handprint flower wreath (tutorial at Hello Wonderful)
The best of handprint art + Mother's day flowers, this adorable flower wreath made from cutouts of your kids' mitts looks just incredible with all those gorgeous fresh flowers. Of course for a slightly easier version that can actually become a keepsake you could always follow her directions, swapping in fake flowers from a craft store.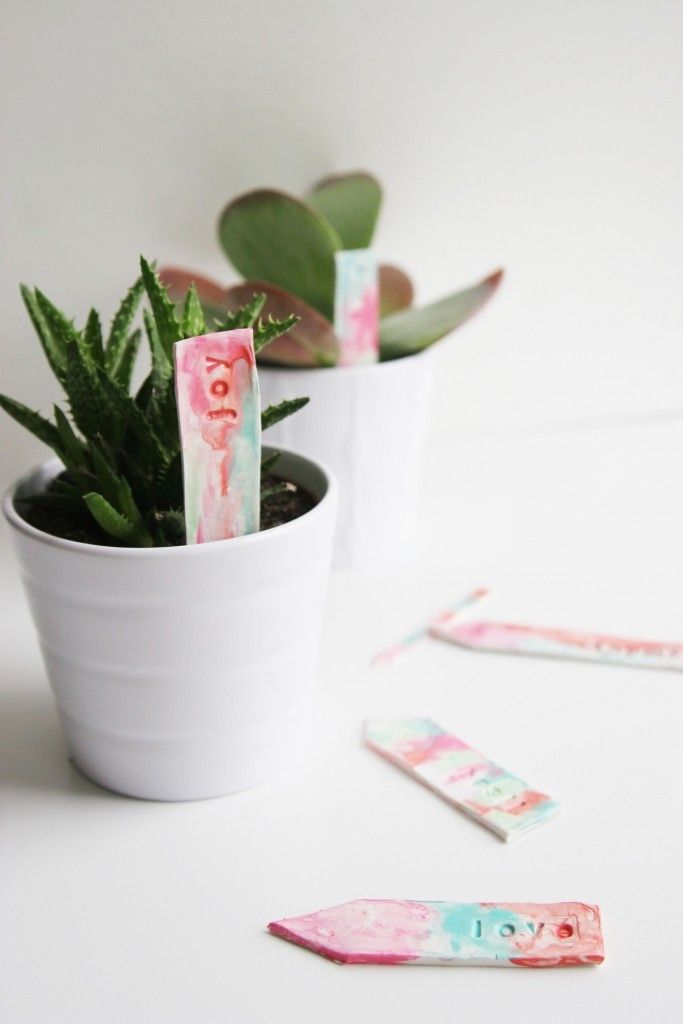 DIY watercolor plant markers (tutorial at Homemade Ginger)
We fell in love with these plant markers from Homemade Ginger last year, and they're still one of my very favorite ideas. Whether you use them for actual plant names or just sweet sentiments, these are a gift she'll use year after year, and her instructions make it so incredibly easy — just three items required!
Related: Handmade craft gifts kids can make themselves (mostly)
Hand painted Mother's Day jewelry from the kids (tutorial at We Are Scout)
I have a closet shelf full of my kids' paintings since there are just too many to hang on the walls! Which is why I adore the idea of a hand-painted bangle bracelet or chunky beaded as a handmade Mother's Day gift from kids. I'd wear proudly all the time, but I could even hang it on the wall with the art and able to admire it even when it's not in use.
Related: 13 amazing Mother's Day gifts under $20 that don't feel cheap at all
No-sew DIY felt flowers for mom (tutorial at Mommy Moment)
This craft is ideal for older kids who are more confident with tools like scissors and the glue gun. But, you can easily have an adult supervise a younger child, or get a bunch of siblings or grandchildren to work together on these to create a bouquet full of beautiful blooms for Mom or Grandma.
Related: 13 more creative Mother's Day gifts that kids can make and give.
I Love You To Pieces handmade suncatcher card (tutorial at Learning and Exploring Through Play)
This craft does require a laminating pouch (easily found at any big craft store) but you could definitely adapt this clever idea for an incredibly sweet handmade Mother's Day gift from kids, that's both a card and a keepsake. Plus, her trick for getting those squares so perfect is so smart!
Related: 15 easy recycled Mother's Day gifts your kids can make from stuff you have right at home
Handmade marbled flower pots (tutorial at Artsy Fartsy Mama)
We've seen so many tutorials for flower pot crafts from kids,  but this one stands out because it not only looks fantastic, but any chance to play with nail polish would be big with my kids! Just uh, don't use the expensive stuff. Extra cool: Pair them with the handmade plant markers, above!

Free printable DIY Mother's Day booklet (Free download and instructions at Carrie Elle)
Whether they love her smile, her bedtime stories, or when she lets them stay up extra late on Friday nights, she'll love flipping through this little booklet. In fact, you might want to take it back from her after Mother's Day and frame it, it's that special. Find this and even more fun freebies in our post about free Mother's Day printables,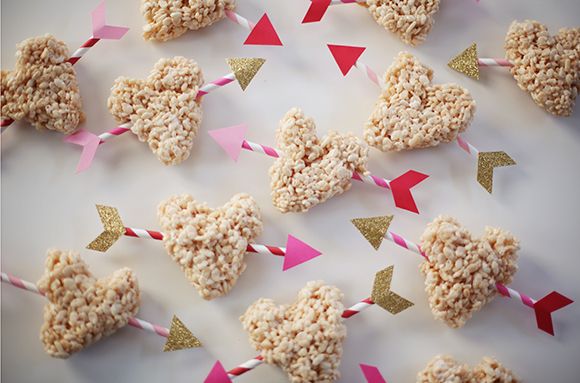 Tin of heart-shaped Rice Krispy treats in hand-decorated cookie tin (Tutorial at Pink Sugarland)
Last year's post on 18 cool homemade Mother's Day gifts from the kids featured this wonderful idea that we want to make every year. Because then we can eat them every year! Of course they won't last as keepsakes, which is why you'll want to grab a plain white cookie tin (this one $3.29+ at our affiliate the Container Store) and have the kids paint it, for a sweet gift that lasts.
Related: 9 gorgeous homemade food gifts for moms on Mother's Day
Handmade fingerprint flower craft for Mother's Day (tutorial at Crafts by Amanda)
Fingerprint art is a godsend to those of us with little ones who want to participate in Mother's Day crafting but can't necessarily use an X-Acto blade just yet. Check out the instructions on Crafts by Amanda for some really smart ideas. I'd love a whole bouquet of these!
Related: Fabulous indie Mother's Day gifts from women makers + shops
Handprint keychain (tutorial at Grey House Harbor)
This is one of my favorite handmade Mother's Day gift from kids because it's so do-able (yay, Shrinky Dinks!) and such a cool keepsake. In fact, we included it among our favorite DIY holiday gifts from the kids where you'll find a ton more inspiration.
In fact, go ahead and make one of these every year and watch those tiny hands grow. If you can handle it.