What no one tells you about becoming a parent is the total and complete lack of sleep you'll suffer. Sure, we all know it's rough when they're new babies. But, spoiler alert: It lasts way beyond the infant years.
We know moms who can't fall asleep because they're worrying about their massive to-do lists, moms who can't stay asleep because their hormones are totally whack post-baby, and moms who get woken up all hours of the night by their kids.
And hey, dads aren't immune from this either.
While we can't come by your house and force your child to stay in bed, we can offer some tips that have made it easier for us to get a better night's sleep. Try these out and see if they don't help you too!
CMP is an rstyle affiliate
Related: 3 of our favorite meditation apps to help you keep your chill
1. Set your alarm…for bedtime.
It's so tempting to stay up after the kids go to bed, trying to cram in all the things I couldn't get done with them up during the day. Let alone trying to squeeze in just one more episode of whatever series I'm currently binge watching. But during the summer, with sunlight lasting longer and no school to get up for, my kids' bedtime gets pushed later (and later). That means I'm going to bed after midnight most nights.
Not ideal when my toddler wakes up around 5:30 am.
So, I'm using a tip I caught on Gretchen Rubin's Happier podcast, and setting an alarm to let me know in no uncertain terms that it's time to go to bed. Because I'm way better on 7–8 hours of sleep than I am on 5–6 hours.
2. Create a bedtime routine you can enjoy.
In her book The Sleep Revolution, Arianna Huffington describes making your bedtime routine something you really enjoy. To be honest, the premise kind of blew my mind.
Like a lot of you I'm sure, I  tend to fall into bed at the end of the day, play some Stack or 1010 on my phone, then crash. Instead, Arianna suggests that when your routine is one you can really look forward to, you'll stick to your bedtime more often, helping you get a better night's sleep.
Soak in the tub with some essential oils, read the next chapter of your book (or start one if it's been awhile!), enjoy a glass of wine, steep some chamomile tea to sip. Whatever activity is calming — and ideally screen-free — make a commitment to it, embrace it, and you'll be more likely to stick to it.
3. Make your bed luxurious.
With four kids at home, my house can be a mess at times, but I'm adamant that my room stay the calm oasis from the storm on the other side of the door. To keep your bedroom the place you look forward to retreating at day's end, consider splurging on high-end linens. (If you need a reco, I recently received a press sample of sheets from Crane & Canopy that are sooooo nice.) A cushy comforter and really great pillows make your bed even more of a sacred space.
Also, I know it's painful — because they aren't cheap — but your mattress should ideally be replaced every eight years. My husband and I were waking up all night long with back pain, due to the lumpy old mattress we were too cheap to replace. But, once we switched to a new Helix mattress, we instantly started getting better sleep. Other parents give high marks to Leesa mattresses, Caspar, Sleep Number and Tempur-Pedic mattresses, but whatever works for you.
Because yeah, your mattress matters.
Related: Dr. Harvey Karp answers parents' biggest sleep questions. Because you can't sleep if your kid can't sleep!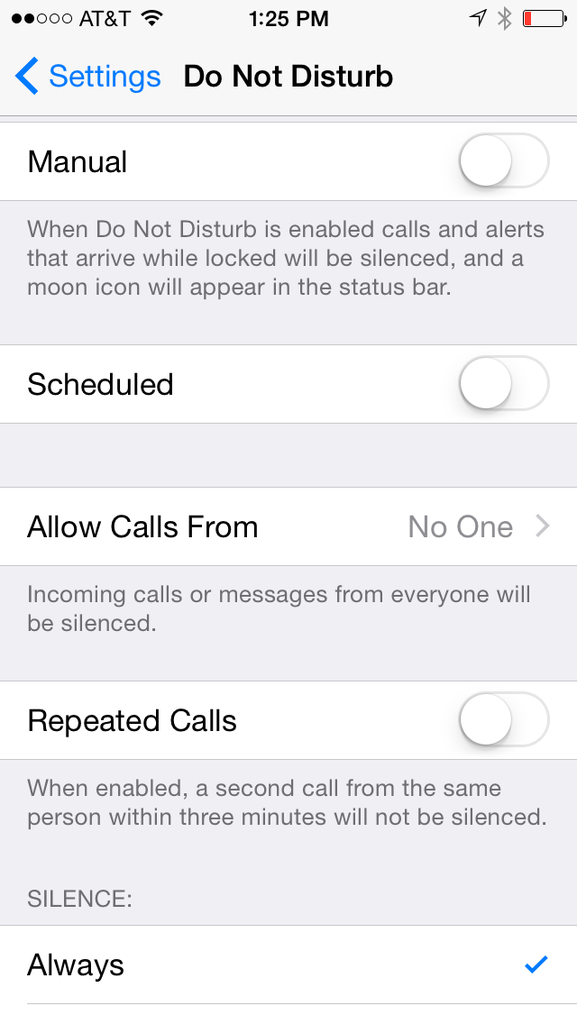 4. Turn off the tech!
It's so annoying to be nearly asleep, only to be jolted awake by a late-night texter. Or, to wake up 4 am, when my bank sends out an account balance alert. I mean, that's info I want, just not at 4 am. So, I started snoozing all social media notifications on my apps, and set my phone to Do Not Disturb mode from 10 pm to 7 am, and I'm sleeping so much better.
Also, if you can turn off all tech 30 minutes before you go to sleep, you'll sleep more soundly; research has demonstrated for years now that the blue light emanating from electronics can keep the pineal gland from releasing melatonin. So it's literally messing with your brain!
Instead, read a book, do an old-fashioned crossword puzzle — on paper, in ink — or (ahem) enjoy some alone time with your partner or spouse. Whatever it takes to unplug and relax.
5. Try a weighted blanket.
Kristen and I have both been really impressed by the benefits of weighted blankets for our kids…and ourselves. How does it work? When your body feels the added weight, it increases production of serotonin in your brain…making you happier and more relaxed. Voila! Magic!
My son tried out a weighted blanket sent to us by The Magic Blanket and he really did sleep noticeably better the very first night he started using it.
That said, these blankets are pricey. So I created a fairly simple DIY tutorial to make your own weighted blanket and save yourself about $100. (The savings may help you sleep better too, ha.)
Related: 5 ways to use tech to help your tweens and teens get better sleep
6. Use a sleep tracker, or…don't.
Fitness and sleep trackers are a massive trend, but I've never been 100% sold. I tried out a Misfit Phase activity tracker that I've enjoyed as a fitness tracker and watch, but wearing it at night wasn't comfortable for me…at all.
That said, having the data on my sleep patterns was eye-opening (no pun intended) so I can see why a lot of friends love theirs.
If you're really trying to reset your sleep routine, try one of these sleep tracking apps on your phone. As for wearables, popular choices include the Fitbit Charge 2, and the Apple Watch lookalike Fitbit Blaze. Perhaps try wearing a tracker for a few weeks to see if it's right for you, comfy 24/7, and not actually hindering your sleep.
7. Exercise!
Of course, the best tip for getting a good night's sleep is to be sure you're tired at bedtime. And while doing the dishes, racing to meetings, shuttling kids to and from activities, and saying no a million times a day is exhausting, it's not the same kind of tired you'll get when you're out really pushing your body.
I'm in a exercise slump right now, and one of the reasons it impacts me is that I wake up a few times each night; something that doesn't happen when I've got a steady fitness routine.
Kristen's a big fan of Barre workouts, and Liz likes the Yoga by Adrienne YouTube videos, which she can squeeze in at home. But you can just schedule in daily walks around the neighborhood (with or without stroller), a family walk or scooter ride after dinner, or a few trips a week to the pool with the kids — where you actually get in and swim.
I find if your kids hold you accountable, it's a great way to be sure you're sticking to some fitness activities!
Related: How to get started with yoga when you feel like the last person to try it.
8. Try some expert sleep tricks.
Before you go the sleeping pill route, experts recommend trying simple, repetitive, non-screen activities like knitting or not-too-hard crossword puzzles on paper. They help your brain slow down and focus on the task at hand, rather than racing through the mental to-do list that keeps you awake.
Also, taking deep "lion breaths" has worked like magic for my kids and myself: draw in a deep, slow breath for 4 counts, hold it for 7 counts, then exhale through your mouth for 8 counts. We're usually asleep within 2–3 minutes.
Not bad at all.
Photo at top by Elizabeth Lies  for Unsplash