My family loves coloring eggs, egg hunts, Easter baskets, and brunch — so do I! — but I wouldn't be sad if doing all that was about 50% easier. That's where free Easter printables can be a huge help. Anything that can eliminate another trip to the store, cut down on assembly time, or ensure the kids have enough fun activities on Easter morning is a win in my book.
So I poked around the web to put together some of the coolest Easter printables that can help with everything from making your brunch table instantly prettier, to giving sugar-crazed kids something fun to do — besides swallow yet another chocolate bunny.
Related: 8 simply gorgeous, no-dye ways to decorate your Easter eggs this year.
PRINTABLE EASTER COLORING PAGES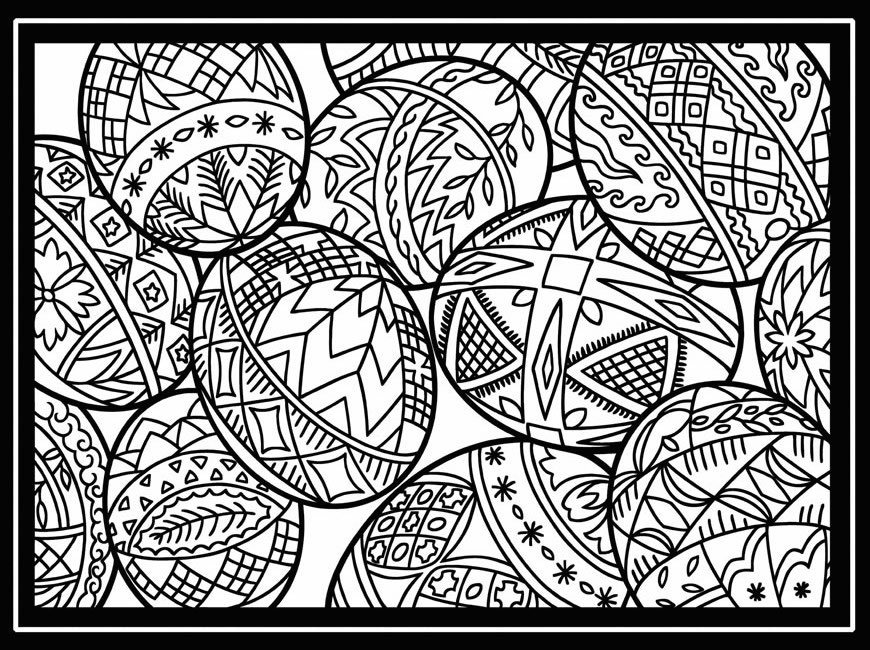 You can't go wrong with coloring pages — especially these gorgeous free printable Easter coloring pages for kids that we found a few years ago and are still hugely popular! So many great options at that post! I love that these printable coloring pages are a little more complex than cutesy color-in-the-bunnies, making them great for big kids too.
(Although if you do want a color-in-the-bunnies page? The cutest one we've ever seen can be found in this Easter printables post, from HaleGrafx.)
Related: 15 more of the cutest and free-est Easter printables!
PRINTABLE EASTER TREAT CONES
Here's a parenting tip: These free printable Easter treat cones (also at top) that we found a while back from We are Scout are not only super cute and easy to assemble, but they actually help limit the sugary treats just a bit. Do you know how many of those mini chocolate eggs fit in a basket? Yeah, a lot!
PRINTABLE EASTER TABLE PLACE CARDS


Our Easter table isn't usually big enough to require place cards, but these sweet, hand-painted, free printable Easter name cards by Sustain My Craft Habit make me want to invite the whole neighborhood. Aren't they pretty? And so easy! Just subscribe to her newsletter and she'll send you the template.
PRINTABLE EASTER BUNNY GARLAND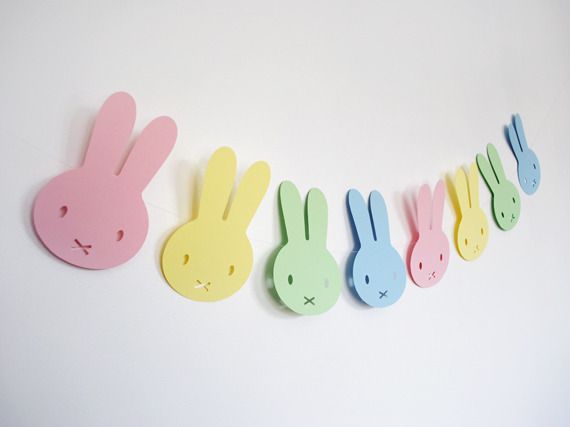 A long-time favorite of ours, this adorable free printable Easter bunny garland from the UK's MinieCo will be a hit with everyone at Easter — though Miffy fans perhaps will love it most of all. The best part is that you can print the bunnies out on card stock of any color you'd like — why not go black and white or primary colors, if you're feeling a pastel overload.
PRINTABLE EASTER ACTIVITY PLACEMATS
I think this printable Easter activity placemat for kids by Somewhat Simple makes an awesome addition to the brunch or dinner table. It's adorable and springy, and the activities on the placemats are sure to keep kids' attention. I mean, c'mon — I want to learn how to draw my own bunny too!
Related: The ultimate last-minute guide to Easter activities, recipes, gifts, and more
PRINTABLE EASTER EGG HUNT SIGNS
If your kids are anything like mine, they require a little redirection during their egg hunting (e.g., "No, I'm sure the Easter Bunny didn't hide any eggs in the cats' litter box"). So that's where I think these free printable Easter egg hunt signs from TinyMe could be super-helpful — the cute markers will keep kids on the right path to egg-finding success.
PRINTABLE EASTER EGG SCAVENGER HUNT CARDS
When the kids tire of looking for eggs (it can happen!), that doesn't mean the hunt is over. Print out these printable Easter scavenger hunt cards by DIY Inspired, which already have the clues figured out. Now, you don't have to spend time or brainpower doing anything but popping the perfectly-rhymed cards into plastic eggs and hiding them where they're supposed to go.
PRINTABLE EASTER BUNNY GREETING CARDS
There's a space in everybunny's (heh) basket for a good card, and this free printable Hoppy Easter card by Lia Griffith works perfectly. Its cute-as-a-button-meets-modern design (that's a thing, right?) appeals to kids and grownups alike, so you don't have to spend any time searching out junior/senior cards.
Related: 17 cool bunny crafts for kids we can't resist
PRINTABLE EASTER EGG HOLDERS
The paper egg holders that come with those grocery store egg-dyeing packs are utilitarian at best, which is why these free printable Easter egg holders by A Subtle Revelry that we featured last year in our awesome Easter printables round-up are still my favorites. Aren't they dapper? They dress up (heh) your Easter table, and pull double-duty as an activity, because kids can get creative decorating the eggs' faces.
Want more like this? We've got a whole post of printable Easter egg decorations including Star Wars characters, superheroes, and yes…very cute bunnies.
PRINTABLE EASTER BASKET GRASS
Add this to the "why didn't I think of that?" file: Printable fake grass for Easter baskets. Thank goodness Delia Creates did think of that, because it's totally brilliant to replace a million individual teensy fake grass blades (which get everywhere) with just a page or two of fake grass blades (which don't).
Related: 23 cool ideas for non-candy Easter basket gifts, all under $15!
PRINTABLE EASTER PINWHEEL CENTERPIECES

I love these paper pinwheel printables by Kami at No Biggie. They're perfect to use as centerpieces, or pop into the kids' Easter baskets — or both! And they're adorable enough before you learn that those words printed on them are the lyrics to Pharrell Williams' Happy. Happy Easter, indeed!