Every year, I browse the Environmental Working Group's report on the best safe sunscreens for kids and babies. This list measures popular brands against the EWG's standards, including everything from worrisome ingredients to false marketing claims.
But even though we want the safest possible products for our kids, we don't necessarily think parents need to spend $40 for tiny tube of sunscreen, right? So, I've compared the winners' price per ounce, and put together  the 10 most affordable safe sunscreens for kids, based on the top performers in the EWG list.
These are all products that earned a score of 1 (the least risk of toxic ingredients) and have the words baby or kids in the name of the product, and all of them can be widely found online at shops like Amazon or Drugstore.com, or in your local pharmacy.
CMP is an rstyle and Amazon affiliate
Related: Common mistakes parents make when applying sunscreen on kids and how to fix them.
That said, don't panic if you have a favorite safe sunscreen that's not on this list. It might be ranked a still-incredibly-safe 2 or 3, or it might not be specifically made and marketed as a safe sunscreen for kids.
Plus, we always remind our readers that you have to take some of the EWG factors with a grain of salt; they consider factors that may be less important to you in a safe sunscreen, like packaging waste or high-SPF sunscreens that don't add more protection; and they ding spray sunscreens products automatically for being an inhalant risk — something that older kids (and adults) can navigate well.
You can read more of on our disclaimers about EWG recommendations on our 2016 comparison of thesafest sunscreens for kids.
Since you should apply roughly one full ounce of sunscreen to your kids each time for best protection, we've linked to larger sizes or value packs where available. And always remember, an effective but lower-ranked sunscreen in your budget it definitely better than no sunscreen at all.
So lather up, and enjoy the sun with enough cash left in your pocket to buy snacks at the pool.
10. BurnOut KIDS Sunscreen, SPF 35
$14.79 for 3.4 oz | price per ounce: $4.35
9. Bare Republic Baby Mineral Sunscreen Lotion, SPF 50
$14.30 for 3.4 oz | price per ounce: $4.20
8. Goddess Garden Organics Kids Sport Natural Sunscreen Lotion, SPF 30
$12.96 for 3.4 oz | price per ounce: $3.81
7. TruKid Sunny Days Sport Sunscreen, SPF 30
$13.07 for 3.5 oz | price per ounce: $3.73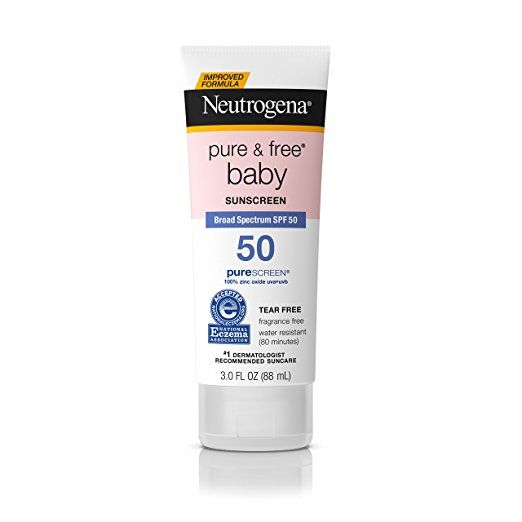 6. Neutrogena Pure & Free Baby Sunscreen, SPF 50
$32.91 for 3-pack of 3 oz bottles | price per ounce: $3.65
5. thinksport Kids Sunscreen, SPF 50+
$19.98 for 6 oz | price per ounce: $3.33
Related: The best bug sprays for Zika virus protection, and how to apply them safely.

4. COOLA Suncare Baby Mineral Sunscreen Stick, SPF 50
$24.70 for 8.2 oz | price per ounce: $3.01
(Shown in photo at top)
3. thinkbaby Sunscreen, SPF 50+
$35.99 for 12 oz | price per ounce: $2.99
2. Blue Lizard Australian Sunscreen Baby, SPF 30+
$24.99 for 8.75 oz | price per ounce: $2.85
1. Equate Baby Zinc Sunscreen Mineral Lotion, SPF 50
$4.98 for 3 oz | price per ounce: $1.66
Yay!
Visit the EWG list of Best Kids' Sunscreens for 2018 for more information about the product details and criteria for how they were selected. For more on kid- and baby-specific sunscreens, check out the complete EWG 11th Annual Guide to Sunscreen, which also includes outstanding products rated in the 1–3 range.
Please note: These product prices are based on current Amazon Prime pricing or the best prices we could find online at time of publishing. Prices may, and will, fluctuate. Shipping costs may not be factored in. And of course you may be able to find any of tese products for a little more — or a little less — through other retailers including your local drugstore. Keep an eye out for sales or discounts for buying in bulk!