This Father's Day, if you're shopping for a dad who loves the outdoors — and struggling a little — I feel you! My husband would rather take my kids hiking and camping than pretty much anything else, and I love that so much. And yet it can be expensive. And tastes vary wildly.
So I've put together gifts in every price range, for all kinds of outdoors-loving dads.
There's just something about getting out on the water, in the woods, or on a hiking trail in a National Park or a trail near your home that helps you connect with your kids, making it a doubly special gift. (Unless he wants to just get out and bike with his buddies — that's okay too!)
So for those of you with grandpas who love to fish, dads who love to hike, or stepdads who can't wait to go camping with the whole family, I hope you love these Father's Day gifts for dads who love the outdoors.
CMP is an rstyle affiliate
Related: 8 camping essentials to help you get started with the kids, and how to find them affordably
A new Pelican waterproof phone case | $69.99 and up, Pelican
The Peak Finder app for iOS | iTunes store, $5

We swear by Pelican's protective cases for iPhone and Android, especially the Waterproof Marine case (iPhone 8 version shown here). Help him suit up his phone — and add a little treat in the Peak Finder app, so he'll know what he's looking out while he's out hiking.
The Lost Art of Reading Nature's Signs by Tristan Gooley | $12, Amazon
For the dad who loves the outdoors and also loves to learn cool stuff, this book is packed with fascinating info.
Related: 10 incredibly special Father's Day gifts for new dads
Stanley French-Press Coffee Maker | $59.80 on sale, Amazon
Just because you're roughing it doesn't mean you have to drink bad coffee.
Tentsile tree-top tent | $350 and up, Tentsile
Because, come on, these are so cool. And they have some great sales now, including gently pre-owned tents.
Binotek Binoculars with Smartphone Adapter and Mount | $39.50 on sale, Amazon
These top-rated, affordable 12×42 binoculars are perfect for spotting wild birds, animals…or the occasional kid who's wandered to the far edges of your campsite. Plus he can hook it up to nearly any smartphone and grab amazing shots.
A once-in-a-lifetime Outward Bound trip for adults | Prices vary, Outward Bound
If it's the trip he always wishes he'd gone on as a kid, it's not too late. They offer adults-only trips for 30+ or 45+ from Maine Coast sailing to Yosemite backpacking to a 6-day sea kayaking trip through the Everglades.
Igloo Trailmate Cooler | $199 on sale, Amazon
It's easy to haul over leaves and branches, and will keep ice frozen for four days. Impressive, and a great deal while it lasts.
A National Park Tee that gives back | $28+, Parks Project
Because the US National Parks need our support. Also, it's cool.
Related: Cool apparel and gift ideas that support the US National Parks
Custom Leather Journal | $28 on sale, Portland Leather (50% off for a limited time)
A great Father's Day gift to let him record all his outdoor adventures…and dream adventures.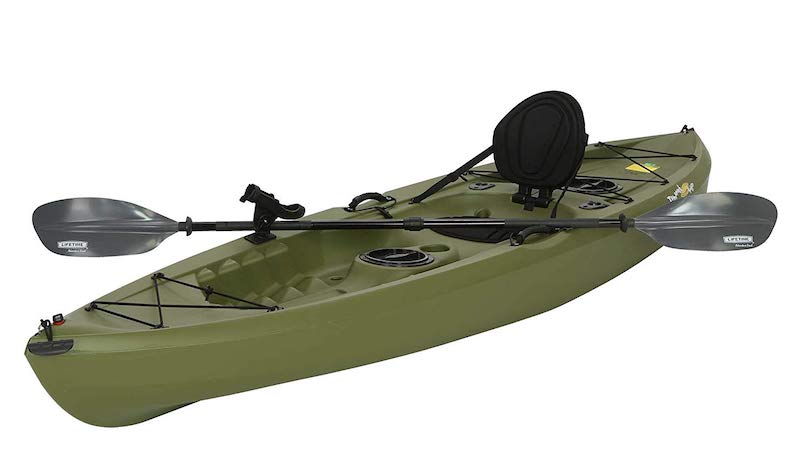 120″ Sit-on-Top Kayak | $354 on sale, Amazon 
This highly rated Tamarack Angler kayak by Lifetime is a generous Father's Day gift, letting him skip the crowds at the sports rental shops for his next river run.
Related: 13 awesome Father's Day gifts for dads who love camping
LifeStraw Self-Purifying Water Bottle | $36.84 on sale, Amazon
My husband takes this one on every backpacking trip and he swears by it!
Family movie night at home to stream Free Solo | $3.99, Amazon
Then make the kids promise this is something they will never, ever attempt.
A rocking camp chair | $179.95, REI (join the REI co-op for $20 off)
The rocking chair upgrade is an amazing gift, for hanging by the campfire or sitting on the sidelines at the kids' soccer games. Plus it folds up to the size of a 23″ umbrella
A Top-Rated MIPS Road Bike Helmet | $99, Trek Bikes
Cycling Weekly calls this Bontrager Starvos helmet one of 10 best road bike helmets for 2019 at one of the best prices. Plus the seven colors are fantastic.
"Don't Die in the Woods" emergency survival tent | $19.95 on sale, exclusive to Amazon
For dads who like to really rough it, this could literally be a life saver.  And the message will come across loud and clear.
(Plus, 50% of this company's profits goes to environmental charities, yay!)
Related: 23 great Father's Day gifts all $20 and under – that don't feel like it
Phil & Ted's Parade backpack carrier | $139, Target
A great Father's Day gift for the new dad who loves the outdoors — let him hike more comfortably, with a top-rated carrier that beats competitive brands on price by a longshot.
Donation in his name to the Nature Conservancy
If he values conservation efforts, consider popping this into a special card.
A family camping trip through HipCamp or Outdoorsy RV rentals | HipCamp or Outdoorsy, price varies
Find a great destination away from the crowds to pop a tent or park an RV for a long weekend together. For lots of dads, just time with all of you — outdoors — will be the perfect Father's Day gift you've been looking for.