She believed she could so she did.
My very favorite inspirational quote.
The first time I saw it, not long after I had graduated college, it was printed on a funky wooden brooch by an artist at a craft fair. I pinned it to a jacket, and wore it for ages. From then on, it was like…it was mine. I claim it! (Even though I've been told it was penned by R.S. Grey, from her book, Scoring Wilder.)
Now, I repeat it to myself like a mantra, whenever I need a little boost.
Hey, maybe that's your favorite too. Maybe there's another. Maybe you just haven't found the one that calls out to you yet. I'm hoping to help with this roundup of wonderful inspirational quote art, perfect for a home office. Especially now that some of us decided to commit to our home offices, and not returning to a not-at-home office so soon.
So, I've scoured Etsy for some of my other favorite inspirational quote posters, all lovingly designed by a variety of different artists.
You can definitely tell that I have a thing for simple design, though I'm not afraid of a bit of color. And my favorite quotes tend to be quick and pointed, rather than rhyme-y and cute.
But hey, you know? Whatever it is that works for you to get you to take action, snap out of a rut, or break out of your comfort zone and try something entirely new in your life — well, that's the one that's perfect for you.
Some of the options are even downloadable and ready to print. Nice to know inspiration can be affordable too!
CMP is an rstyle affiliate | This post has been updated for 2021
Related: 15 perfect home office gifts for moms who may be working from home…forever?
Inspirational Quote Art for Your Home Office
It's never too late to be what you might have been | Happy Thought Shop
George Eliot's quote is perfect for those of us in the process of reinvention ourselves, and I love the way the friendly typography here keeps the quote feeling less like a command, and more like a girlfriend giving you a supportive nudge.
Michelle Obama: Putting ourselves higher on our own to-do lists  | KH Creative Shop
From one of the most inspirational women in my lifetime, there are so many quotes that would be perfect for a home office but oof, does this one hit hard. It's exactly what I spoke about with author and entrepreneur Nina Restieri on a recent episode of Spawned, and it reminds me that when I sit down to work, it's okay to be there. It's good to be there! I'm prioritizing myself and my work.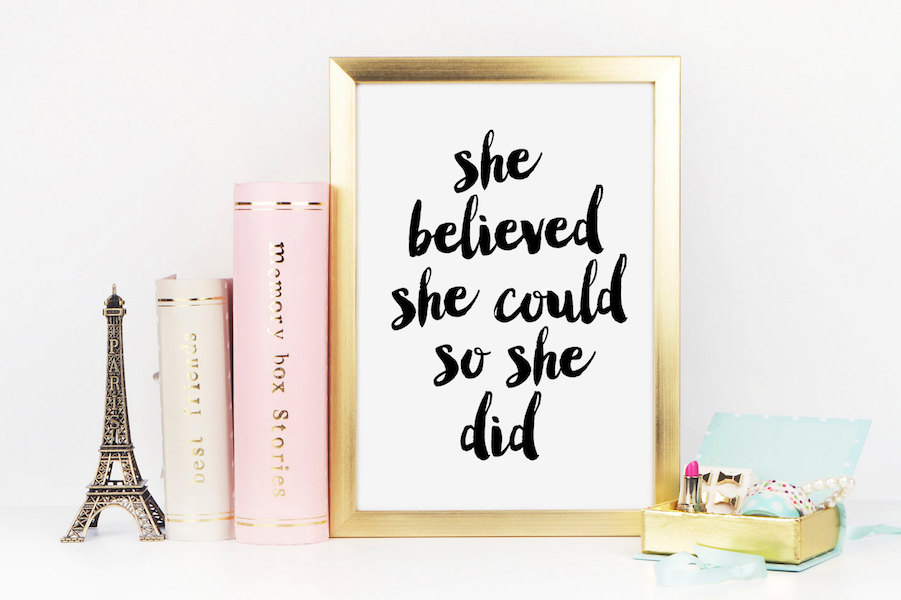 She believed she could so she did | Rain City Design Co
It's not the exact one hanging in my own room, but I love this artist's simple style, and the personality of the lowercase script.
Wonder Woman Print | Patrician Prints
How amazing is this! It's not just typography, it's wonderful artwork that pops off that faded dictionary page so perfectly. Note the genius of the word "Amazon" at the very top. As in, warrior queen, not online mall.
(Please note a variation of this print is now available in the shop)
Related: Artwork honoring the diverse women whose shoulders we all stand on.
Do one thing every day that scares you | Le Marigny
This is a case where color absolutely brings Eleanor Roosevelt's notorious inspirational quote to life in the perfect way — and how perfect are these green variants? She offers it in other shades too. Even multi-color (in case that doesn't scare you, ha).
You did not wake up to be mediocre | Buy Now B*tches
Say it loud and say it with all caps typography for the win! PS, I love everything in this shop, which isn't entirely SFW — unless of course it's your home office. In which case anything goes. One of the many benefits of a home office!
Related: Feminist gifts for a woman who already owns a "Nevertheless She Persisted" shirt
Dreams don't work unless you do  | Design Minimalism
How stunning is this simple, perfectly typeset quote? I really dig how it's designed so that the words DREAMS and WORK pop out to me first.
Do what you love, love what you do | Girl Friday Paper Arts
Sometimes the simplest statements are the ones that really grab you most. Do you love what you do? If not, maybe it's time to make that happen. And grab the print that inspired you, while you're at it.
Related: The Design Mom book: How to live with kids and still love your home.
We can do hard things poster | Autumn Rain Prints
This is another case where the strong, simple typography feels right. Just believe it…and go.
Believe you can and you're halfway there | Print Happy Studio
Belief in yourself is something I think a lot of women find challenging, no matter how much evidence there is to support that you can and you should. So this kind of quote requires a little more oomph… typography that feels more like a firm hand on your shoulder than a whisper in your ear. Perfection.
You got this | California Daydream
I know I'm not the only one who repeats this to myself. All of the time. In fact, the artist created this for herself originally, and I love that she reproduced it for her shop to share with all of us. And that slightest tint of color in the background? Love.
Related: One brilliant, simple thing you can do right now to help end working mom guilt
Our deepest fear is not that we are inadequate… | Rain City Prints
A lot of people know the first line of this Marianne Williamson quote but misattribute it to Nelson Mandela. Amazing man, but not the author o of this quote. And I'm so happy to find this fantastic artwork that displays it in its entirety. Especially because that last line is so powerful — you can tell the artist sees that too. (Also note they've updated the typography since we first found this in 2017 and it's even cooler now.)
Do something today that your future self will thank you for | Curly Bracket Design
This is another smart, motivating way to try something new and break out of a daily rut. And the simplicity of the typography almost feels meditative to me. So classic and clean and calming.
Your dream is so worth it | Buy Now B*tches
Boom. What else is there to say? And hey — even if your job isn't the dream, maybe it's what's going to get you there.
Keep on keeping on, mamas.