Finding all of these free sight word printables for kindergarten instantly brings me back to those sweet early days of school, sniff.
I have teens now, but I remember how scary it could be to send your kid off to kindergarten, hoping that their reading and writing skills were on track with the other kids. So I wanted to spend a little extra time finding some helpful free sight word printables and worksheets for you kindergarten parents — or those of you with preschoolers who are already starting to read.
My only advice: Don't let it stress you out. Please.
Whether you're worried about your slower reader, or bragging about your kindergartener's interest in War & Peace (as if), it all more or less evens out eventually. Hang in there.
See our other help back to school guide articles for parents with younger kids :

11 favorite school supply organization hacks and tips
15 of the coolest backpacks for preschool and kindergarten
The coolest lunch box accessories, water bottles, and other goodies
7 great kindergarten printables of all kinds
27 very cool backpacks for grade schoo
The calendar that's helping busy families stay organized during the school year
Free printables for kindergarten: Sight word help, 12 different ways.
(Mostly free!)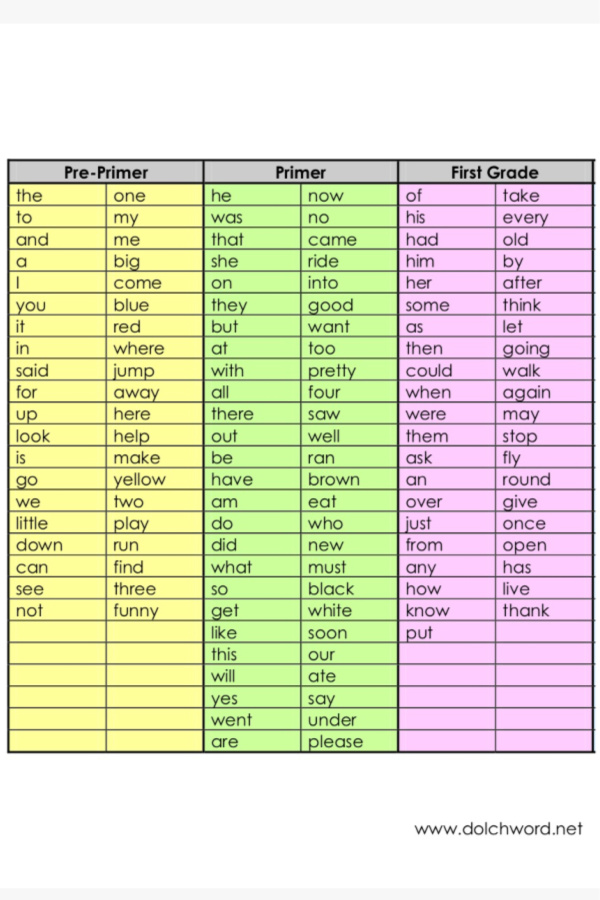 Free printable Dolch word lists by grade | DolchWord.net
A great place to start if you're teaching sight words: This comprehensive if simple printable list of all the Dolch words, sorted by grade. I like that they appear in frequency order, not alphabetically.
Printable kindergarten sight word worksheets | Sight Words Game
Print out these solid, smart, free worksheets for sight word practice in sequential order. There are two sets of 25 each to help kids get lots of good writing practice too.
Related: Ways to get kids excited about reading: 8 expert, research-backed tips

Free printable sight word practice sheets | Simply Kinder
If your kids are more visual learners, these are outstanding practice sheets. You'll get 40 full pages of free sight word printables just by signing up with your email.
220 printable kindergarten sight word flash cards |. Kindergarten Mom
I love how colorful these cards are, making them more interesting than basic flash cards. They're not free, but just $3 for the entire set from Kindergarten Mom, through Ed Zone Publishing is worth it.
Free printable kindergarten sight word practice cards | Teaching Mama
While they aren't flash cards per se, these 40 cards we included in our roundup of 7 helpful kindergarten printables are nicely designed and offer lots of fun for kids in practice mode.
18 free printable sight word games | SightWords.com
There are a full 18 printable games here for kindergartners, including bingo (above), snakes and ladders, and go fish. Hey, whatever keeps learning fun!
220 Printable Sight Word Play Dough Mats | Kindergarten Mom
If you have kids who need something to do with those fidgety hands, play dough mats could be the perfect sight word activity for you. Kindergartenn mom offers all 220 Dolch words for just $3.
Free color-by-word sight word printables | Education.com
This free printable sight word worksheet uses the color-by-number format kids love..only with words. So smart, I bet you could even create your own with free coloring sheets of all kinds.
Related: Celebrate World Read Aloud Day with these resources, free printables, author videos, children's book recos and more
Printable Sight Word Flip Chart | Totschooling
This learn-to-read sight word flip chart will take a little assembling on your part, but what a clever way to help kids understand the basic construction of early sight words.
40 free dab n dot Dolch sight words sheets | Kindergarten Mom
If you haven't noticed yet, I love so much of what's available at Kindergarten mom to help kids with reading. Here, you can find 40 dab n dot printable worksheets that include the first Dolch pre-primer sight words; download them individually to keep it free. She also offers a paid 40 week program worth checking out.
Free sight word memory match game printable | Education.com
I like how these printables blend the fun of a memory game with the functionality of flash cards. In fact, you can use them for both.
Mailbox printable word family game | Totschooling
Half craft project, half reading practice, I'm giving this one an A for creativity! She describes it as allowing children to "deliver mail" by matching word endings to their particular family (-ig, -an, -ot, –og, -at), one for each of five mailboxes. So fun.