When we put together our picks for the coolest backpacks for preschool and kindergarten each year, we think about how exciting it is for little ones to pick what may likely be their very first school gear ever. They seriously geek out over all their  school supplies of course, but there's something extra-special about that backpack — the one piece of gear that really epitomizes "I'm a big kid now."
For those kids who are headed to preschool or kindergarten for the first time this year, their first backpack is really special. So we've worked hard to put together more than a dozen of the coolest backpacks for preschool and kindergarten  — all small in size, but big on the wow factor.
Related: 20 cool backpacks for teens and big kids in 2023
15 cool backpacks for preschool and kindergarten that we love
This post contains affiliate links, which means we may receive a small commission from certain purchases to help support the work we do at no additional cost to you.
Barbie Dreamhouse Mini Backpack ($54.90, Hot Topic)
Well it wouldn't be 2023 if we weren't recommending a Barbie backpack for preschool and kindergarten — even if our little ones are too young to have seen Greta Gerwig's movie yet. Love this backpack that looks like a dream house even to us. (Maybe it's because there's probably no laundry inside that needs washing.)
Astronaut backpack for preschool or grade school ($39-44 on soyoung)
Soyoung is long one of our favorite back-to-school brands for making sturdy, incredibly well-made, beautifully designed coated canvas bags and backpacks, I love the astronaut print but you'll find so many more in both preschool backpacks and grade school backpack sizes. (PS you can find a selection of SoYoung lunchboxes right on Amazon — we've named them one our 5 most durable lunchbox brandsof all time.)
Mini Kane Kids backpack from recycled materials ($95, State Bags)
Also shown up top
I wasted way too much time clicking through the 50 cool backpack partners for kids at State and couldn't choose just one. For parents who will spend for style, these are well-designed and built to last. The mismatched straps are just so fun and I love that it's made from 90% recycled materials (45% for the metallics or puffer styles). Be sure to poke around the site for dinosaurs, tie-dye, rainbow hearts and more.
Dabbawalla neoprene backpacks ($42-46, Maisonette, some styles 50% off right now!)
Dabbawalla makes some of our favorite backpacks for preschool and kindergarten — they're one of our top rated brands of all the backpacks and lunch boxes we try each year. The size is perfect, and the neoprene can take a beating and then clean up beautifully in the wash. They have lots of fun styles beyond what's here — and some of the "outlet" backpacks are only $23 each!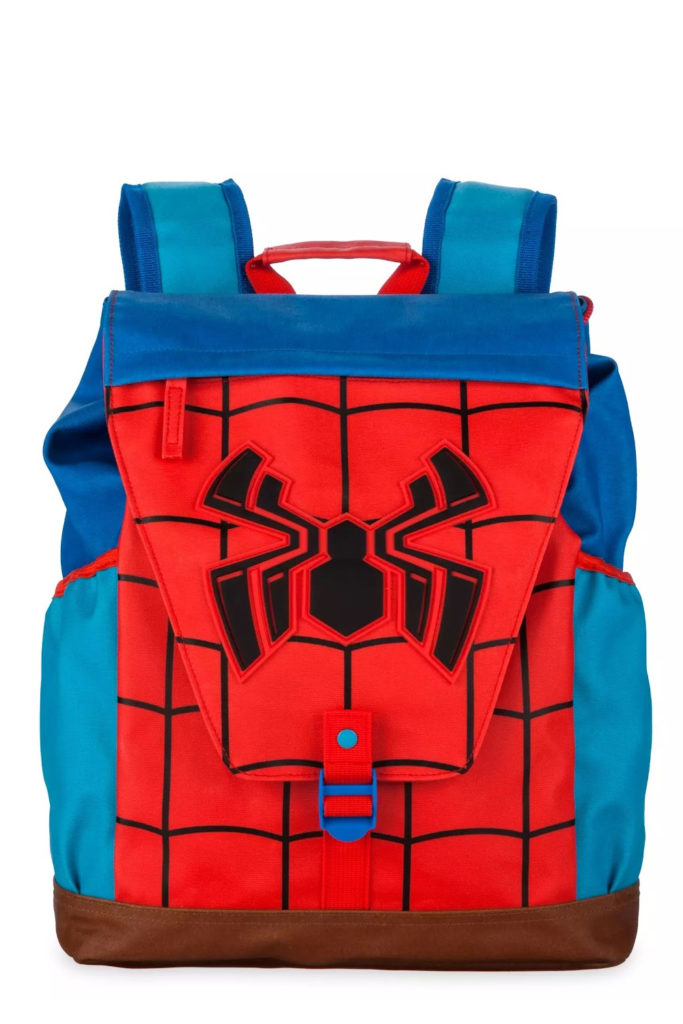 Official Spiderman Backpack ($29, The Disney Store, but on sale for a limited time)
The newest addition to the Disney Store back to school collection is also one of the hottest backpacks for little kids because c'mon, Spiderman! We wonder who will play him (or her) by the time our kindergarteners are old enough to be buying tickets to the 6th gen reboot, ha.
Studio Ghibli Totoro backpack ($52.90, Hot Topic)
If your kids are more into Ghibli characters than Marvel or DC, this is a brand new style, and I secretly (or not so secretly) want this cute Totoro backpack for myself. It's 16″ tall and actually has a laptop pocket, so this kindergarten backpack can become a useful grade school backpack if they take good care of it.
Related: The coolest birthday gifts for 4 year olds

Quince Recycled Backpacks for Little Kids ($49.90, Quince — 50% off!)
I think I've found the perfect bag that blends classic styling, modern colors and practical design–all at a great price. Quince's brand new small backpacks (just under 15″ tall) come in four cool colors, are made of water-resistant recycled poly, and you can even grab a lunch bag to match.
Small reflective gray camo backpack  ($54.50+, Pottery Barn Kids but $43 for a limited time)
Another pick for durability plus coolness, the small backpacks from PBK are perfect for kids who need to bring a small lunch, water bottle, maybe a change of shorts. As long as they can find it each morning. (Ha, get it? It's camouflage!) Add personalization or initials if you'd like.
Related: 12 smart ways to use personalized labels to save your sanity during  back to school season
Fjallraven Kanken Backpack ($90, Nordstrom)
Yes, it's expensive but hear me out — if you want a backpack that the kids won't get tired of, won't outgrow as they grow, and won't reflect last year's popular character when this year's is something completely different, the Kanken is a terrific investment. They will be able to wear it for years, especially if you get a darker color.
(Tip: Don't be lured in by their "mini" backpack; I mean it's super cute and costs a little less, but you can't fit much more than a lunch bag in there.)
Star Wars Comic Art Backpack ($34.24, Amazon)
We've seen our share of Star Wars backpacks for little kids over the year, but I think Little Jedis are perfectly suited to this comic art Star Wars backpack for preschool, kindergarten and early grades. Even Darth Vader seems…kind of supportive?
Related: Free printables for kindergarten to help them get started on site words
Disney Encanto x CAMP Canvas Backpack($45, CAMP)
If you've ever spent some time in one of CAMP's fun little stores, you know how great their products are — and how much our kids love them. This brand new collar with Disney makes their durable canvas backpack even more fun. Plus you can customize with an embroidered name and your choice of patches.
Official Wakanda Forever Black Panther backpack ($20 on sale, Disney Store)
We first shared this backpack when it was released last year, and it's still a hot ticket. You want a legit one instead of a knock-off? I'd say grab this stat while they're on sale, and still available.
Nike Kids Mini Brasilia Backpack ($32,  Nordstrom)
If you want backpacks for preschool or kindergarten to suit a sporty kid, it doesn't have to be boring. This cool Nike backpack for little kids is the perfect size and designed so beautifully right down to the "Just Do It" on the pull tag. As in "just clean your room…just eat one carrot for lunch…just take a nap…"
Related: 7 great books to help your child transition to kindergarten
Skip*Hop Koala Big Kid Backpack ($23, Amazon)
We have loved the teensy Skip Hop preschool backpacks for years, but it can be hard to fit in the notebooks and worksheets a kindergartener may need to carry. This "big kid" version is the perfect size for smaller kids who bringing more than just a tiny water bottle and bag of goldfish to school each day.
Hawlander Little Kids Color Block Backpacks ($25 Amazon)
In 8 fun mix-and-match color combos — and another 15 combos here in the "girls" section (though of course no color belongs to any gender, sigh)  these 12″ and 15″ backpacks offer great, versatile style at a very nice price, especially if you're holding off on the licensed characters. Does it look like a knock-off of the much pricier State bags? Shhh…