Trending right now. As in, this second.
You are listening to our podcast, right?
We've had a slew of amazing guests on our Spawned podcast recently, who have offered helpful advice on how to raise our kids. This week, we add another one to the list: Dr. Madeline Levine, a New York Times bestselling author, whose book Ready or Not: Preparing Our...
With everything going on in the world right now, kids are extra-stressed, they're extra-restless, they're extra-anxious, and, if they have siblings, they're fighting. Yay! So what's a parent to do to help manage it all? After a few listeners asked us to take on this...
By now, you know that we're pretty big book fans here at Cool Mom Picks, so we always jump at the chance to talk about them, and to their authors. This time, we're so thrilled to chat with an author of books for older kids like ours, and ones that have such an amazing...
So much coolness. Where to start…
So far, we've loved what's happening with The We Time Project that we introduced last month: In order to help you connect more with far away friends and family around shared experiences,  we've been offering our readers 30 days worth of unlimited free online courses...
Oh hi, it's me, your handbag-obsessed friend in NYC, now looking for cute backpacks for summer. As I virtually window shop my way across the internet I'm seeing lots of cute, colorful backpacks that are on trend for 2021 and my "add to cart" finger is getting itchy....
So, how about 2021, parents? It's been a pretty rough year (which we know, understatement of the century), and well, let's just say, we could use a laugh. We could also use a few other things too (cough hugging friends cough), but for now, a good hearty laugh will do....
After such a long winter, it's finally bike-riding season: Hooray! And, whoa are you all getting on those bikes! I've seen so many kids riding bikes in our neighborhood, that my son's mountain bike team has doubled in size since last year. Bike shops and bike...
We certainly couldn't forget to include cool gifts for stepmothers in our Mother's Day Gift Guide this year. After all, for a lot of us, Mother's Day is a chance to give thanks to all the nurturing women in our lives who have helped make us who we are -- and that...
For years, we've gotten plenty of pitches from publishers for countless children's books about holidays. And by holidays I mean, generally Christmas. But that's starting to change, and we're so thrilled to see more representation of all kinds of families, and all...
For years, Jessica Lahey has been one of our favorite parenting columnists and authors. So we were honored she joined us to offer her wise advice on talking with our kids about drug use, abuse, and addiction, all of which you can find in her essential new book, The...
Oversized handbags are trending and well, hallelujah, the world has finally caught up with New York City! See, we don't have cars (or trunks or gloves compartments) in which to stash our daily lives, so we just carry our entire lives with with us at all times in...
As someone who didn't grow up around animals, I've learned a lot raising kids who love them, especially my youngest who is an avid horseback rider. When she first asked to take riding lessons, I thought it might be a passing phase, especially considering she had tried...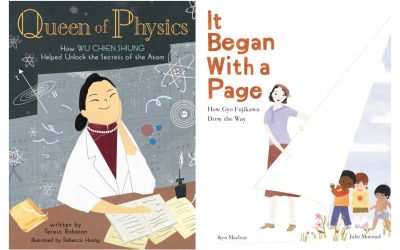 When it comes to creating empathy and developing a commitment of justice and respect in my children, I tend to turn toward good children's books. In fact, we've shared some of our favorite children's books about important African American figures, great kids books...
If you know anything about me and my family, you might have guessed that we'd be marking our calendars for the launch of My Little Golden Book About Dolly Parton, which will be added to the Little Golden Book library this coming September. As a Nashville-native, I've...
While we love all of our Spawned guests, there are some interviews that truly reshape our views on parenting. That's just how we feel about this chat with global education expert Jordan Shapiro. He changed our views on kids and technology thanks to his...
This is a sponsored message on behalf of Star Stable Entertainment What do you get when you combine magic, friendship, and horses? The answer is... Soul Riders, the popular trilogy from Star Stable Entertainment, the makers of the popular Star Stable Online that my...
If you had'n't noticed, houseplants are having a real moment right now. I'm cracking up over friends who are naming their plants and calling themselves "plant parents."  It's a serious obsession and considering the year we've had, I get the need to fix up your home in...
For more than a decade now, so many of our writers have searched the web to compile the most creative Easter egg decorating ideas, from simple to wow, from traditional to modern, from designs for toddlers to designs for teens -- and everything in between. And so, all...
It means nothing. Absolutely nothing in 2021. &$#*# April Fool's Day! I mean, can't we just have one day when we are not terrified about something -- real or otherwise? So my April Fool's Day proposal is we just get rid of it. And that's not a meta April Fool's...
What is the "Janet Jackson rule" exactly? Let's just say it could really help you succeed in your career (and has nothing to do with wardrobe malfunctions that were entirely the fault of a guy but that's another story). If you're a working woman -- or a man, frankly...
We have all been just devastated by the increase in hate crimes against the AAPI community. Even if you've avoided the horrific videos, from Atlanta to San Francisco to NYC, surely by now you've seen the #StopAsianHate social media posts and hashtags. In 2020 alone,...
The world is a little overwhelming these days (understatement of the year, right?) and sometimes we just need to kick back, chill out, and as a wise songwriter once sang, forget about life for a while. Oh, and laugh. More laughing please! PLEASE. One way to do all of...
It's a clear, gorgeous 65-degree day here today, and it's the perfect opportunity for me to send my 10-year-old to the back porch with a copy of The Extraordinary Book that Eats Itself -- along with permission to do any of the fun eco-friendly activities in this book...
With Easter around the corner, I'm thinking about how I'm going to fill three Easter baskets and dozens of plastic eggs safely and finding Easter gifts from the drugstore is a smart way to do it. First off, we love ordering Easter gifts from Etsy that helps support...