I'm a sucker for new food trends, but I usually wait to see what sticks–and what I really like, of course–before spreading the word. Let's face it, not every new food product is worth reporting (looking at you, green ketchup). Sometimes, though, not-to-miss food trends emerge from the fray. I recently caught on to four that I think parents should know about, just in time for back to school snacks.
Some of these brand new foods may be hard to find in your local supermarket, but everything listed here–with one exception that I just couldn't resist–is available online and seriously worth your consideration. I know, because my kids and I tried every one. Sharing these food trends means healthier, tastier snack options for our families and supporting the indie companies that make them, so this time I'm jumping on the bandwagon and bringing you with me.
HEALTHIER CHIP ALTERNATIVES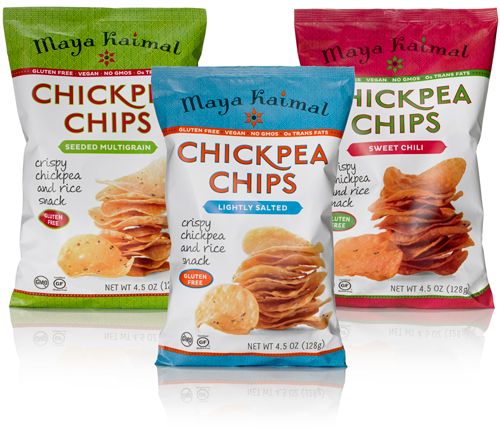 Maya Kaimal Chickpea Chips
There are so many good things about these new chickpea chips that it's hard to know where to start. I guess telling you how delicious they are is as good a place as any, and these are scrumptious. My family and I are going through bags like they are going out of style. Given that they are gluten-free, kosher, vegan, and free of trans fats and GMOs, I don't mind. Or it's possible that I'm just addicted. The Lightly Salted chips have 11 totally recognizable ingredients. The Seeded Multigrain and Sweet Chili have slightly longer ingredients lists, but just as natural. And all are made primarily with chickpea flour which is loaded with protein and fiber, not to mention flavor. So much flavor!
You can find out where to buy Maya Kaimal Chickpea Chips at a store near you or buy them online through the Maya Kaimal website.
Rhythm Super Food Chips
I found these crispy chips while searching for high-protein snacks, but Rhythm Super Food Chips offer so much more thanks to ingredients like pea protein, quinoa, sweet potato and even broccoli. Don't worry: these snacks don't taste like veggies. Like a cross between a wheat thin and a tortilla chip, these crispy, salty treats hit the spot like any veggie-free chip. No one will be the wiser.
You can find out where to buy Rhythm Food Chips at a store near you or buy them online on the Rhythm Super Foods website.
Simply 7 Quinoa Chips
These chips, which fall between a potato and tortilla chip, are also protein powered thanks to eight to nine grams of the stuff per one-ounce serving. Quinoa's no joke! More than being good for you, though, they are surprisingly tasty and, like a traditional chip, satisfyingly salty with a great crunch. Plus, they are gluten-free and free of GMOs, preservatives, artificial color, flavors and trans fat. Even Liz, who is reluctant to eat "chip-like things" said it was one of her top picks from the Fancy Food Show this year.
You can find out where to buy Simply 7 Quinoa Chips using their store locator or order them online through the Simply 7 website.
PEANUT BUTTER ALTERNATIVES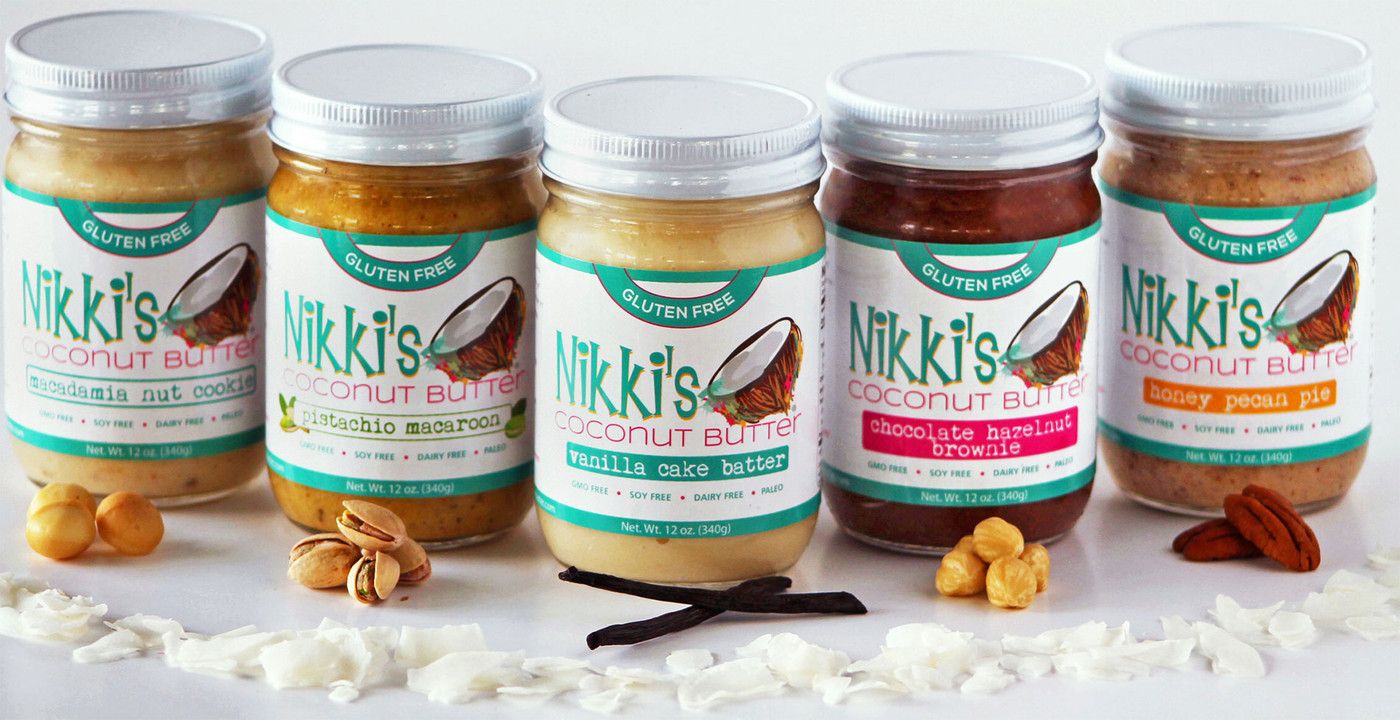 Nikki's Coconut Butter
Coconut butter is a magical spread made by pureeing the meat of a coconut in the same way you'd puree peanuts or almonds to make nut butter. Though not quite as creamy, coconut butter is just as snackable and, if you like coconut as much as I do, even more delicious. Nikki's Coconut Butters are made with organic coconut and sweeteners. They are also all-natural, gluten-, soy- and dairy-free. The plain is delectable, but I wouldn't kick the other five flavors out of bed. Think Honey Pecan Pie and Chocolate Hazelnut Brownie.
You can buy Nikki's Coconut Butter at a store near you or buy some online at the Nikki's Coconut Butter website.
Nuttzo Seven Nut & Seed Butter
There has been such a focus on nut-free peanut butter alternatives that it's nice to also see a brand embrace the nutrition of tree nuts and seeds. The original Nuttzo is a peanut butter-like super spread that combines the health power of peanuts, hazelnuts, brazil nuts, sunflower seeds, almonds, cashews, and flax seeds, offering seven grams of protein per serving. There is also a Power Fuel flavor made with a different combination of seven nuts and seeds that's packed with omega 3s and an out-of-this-world Dark Chocolate variety. All three come crunchy or smooth and, more importantly, have a rich nutty flavor with just a touch of natural sweetness.
You can buy Nuttzo Seven Nut & Seed Butters at a store near you or buy some online at the Nuttzo website.
Soom Sesame Butters
Soom Sesame Butter is a creamy se