There are always so many of the coolest kids' toys from small companies for us to discover each year and 2013 was no exception. In our Editors' Best of 2013 series, we offer you our very favorites of the year, each of which was chosen for its originality, craftsmanship, great design, and low wear-out factor.
They're not all the toys you'll find in the big stores, and that's in part what we love about them.
The Rainbow Loom
As our editor Liz said on CNN this year, 2013 was the year of the Rainbow Loom! Girls and boys love this brilliantly simple craft kit which can keep them inspired, happy, and playing for hours. Just two caveats: Keep the Rainbow Loom bands organized or you will be vacuuming them up until 2016. Also, be prepared to own at least 50 new bracelets that you'll be expected to wear daily.
Stack N Scare wooden blocks
No matter what technology brings us, our kids' favorite toys continue to include basic blocks. So we're always happy to discover new building options, like these monster themed blocks, which make an easy transition from building to imaginative play
Lottie Dolls 
For parents looking for a more wholesome, less…bodacious poseable doll than the category favorite, it's great to see Lottie and her friends make their way to our shores from the UK. They have all the clothes and accessories that make them fun, but with little girl bodies and interests as diverse as martial arts, lighthouse keeping, and robot-building.
Bold Maid
The more we think about "Old Maid" the more we realize that it's a concept well past its prime. Kudos to illustrator Jane Burns who realized it first though; she reinvented the game with a cool "bold maid"–whomever ends up with her at the end, wins.
Zipfy Sled
While we're still fans of the classic Radio Flyers from our own days of yore, for bigger kids, we are so taken with this steerable sled-luge hybrid. Bring on the snow. And a steep incline.
French Village Playset
With incredible handpainted detail, this kids' playset from Australian company Red Loves Green is a fabulous toy, but doubles as gorgeous decor when it's put away. If ever.
Goose Grease DIY Wooden Craft Sets
We were so happy to discover the launch of Brooklyn Makers this year, a wonderful resource for all sorts of handmade goodness from (you guessed it) Brooklyn. They also have a great assortment of kids' toys like this fair trade wooden family craft kit, so kids can make their own peg dolls. It doesn't even matter that your kids' dolls won't look a thing like the photo–they're still perfect in every way.
Oots Baby Rattles
We've liked Dutch company Oots for a while now, for their quirky, creative design that looks like nothing else in the baby aisle. Including their new collection of rattles and stroller toys. We can't say we've ever seen a fly rattle until now, but we'd like a wee baby to give one to.
Yarn Zombies
We generally steer clear of stuffed animals, but we decided these yarn zombies are just too adorably weird to pass up. Besides: Zombies.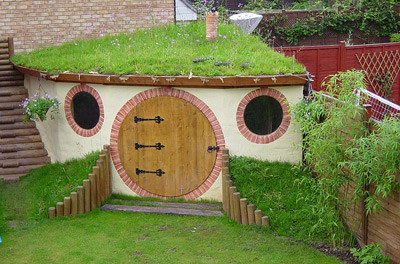 Hobbit Playhouse
Oh, like you don't want it for yourself.
Check more of our Editors' Picks of 2013 to see all of our top picks of the year, and follow on Twitter at #CoolMomBestof2013