What's black and white and chic all over? Your baby's future nursery, of course!
If you're looking for something other than the traditional blues, pinks and yellows, we've got you covered. I'm a huge fan of this gender-neutral nursery trend because it's modern and sleek, but easily softened up with the comfy pillows, textured rugs, cozy blankets and other ideas we've rounded up for you.
Related: 17 of the coolest black and white baby gifts for sophisticated babes.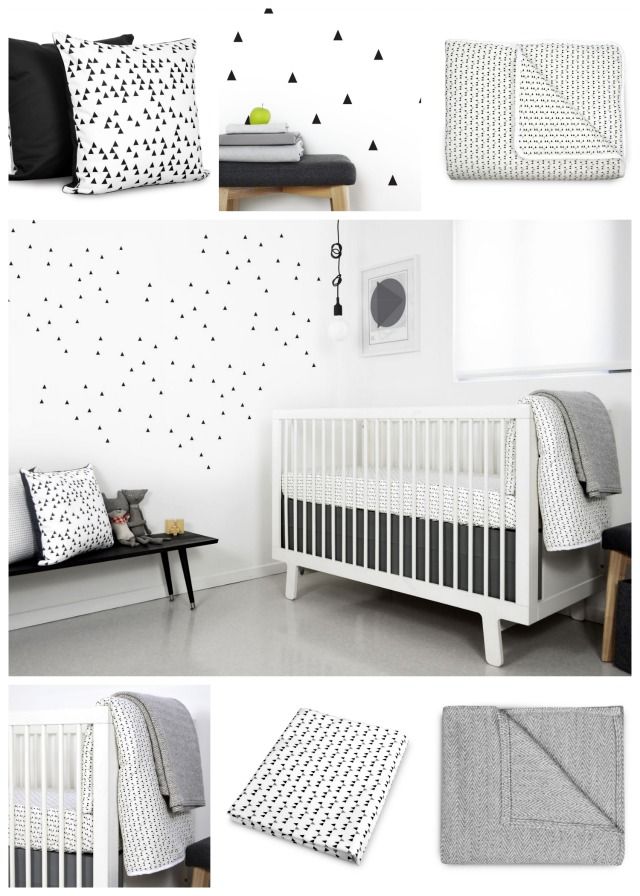 If you're into not-too-cutesy gender-neutral nursery offerings, the new line from the British design duo at Olli + Lime has pretty much everything you might need for a very coordinated black and white nursery. From crib bedding to pillows, blankets and even black and white changing pad covers, you can't go wrong by mixing and matching their stylish geometric patterns.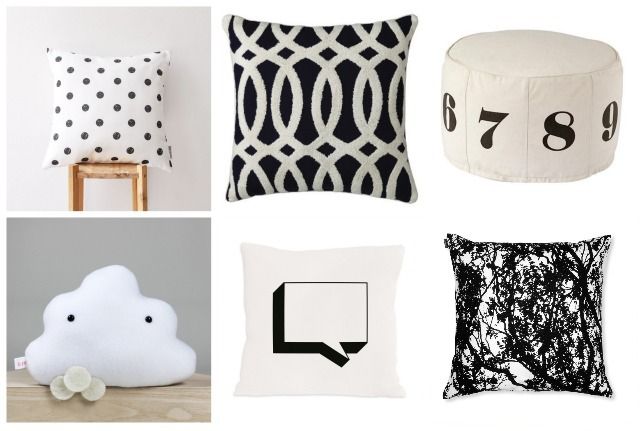 Of course, no nursery is complete without a cushy pillow or six, whether they adorn your rocker or your floor.
From left to right, starting at top:  black polka-dot pillow | embroidered throw pillow | numbers floor pouf | snow cloud pillow | conversation pieces pillow | marimekko tuuli pillow sham
These picks from the Cool Mom Picks indie shop are simple but high-impact, from a black and white rug made of 100% New Zealand wool to a luxe black or white Icelandic sheepskin you can throw anywhere in a nursery (or your living room or bedroom for that matter). And I'll admit it's a bit spendy for an elephant, but the iconic Eames Elephant in white would be perfect for a minimalist nursery.
Related: 10 of the cutest Valentine's Day gift for those babies we're in love with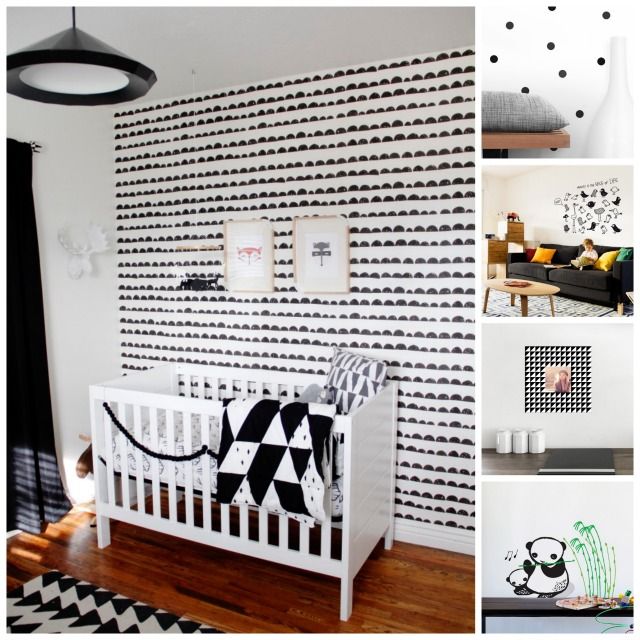 If you're a sucker for wall candy like yours truly, these wall decals and wallpaper are guaranteed to instantly transform any nursery from plain to sophisticated (or playful)!
Clockwise from left to right:  ferm half-moon wallpaper | black dot wall decals | bumoon variety is the spice of life wall decal | custom photo fashion frame wall decal | panda wall decal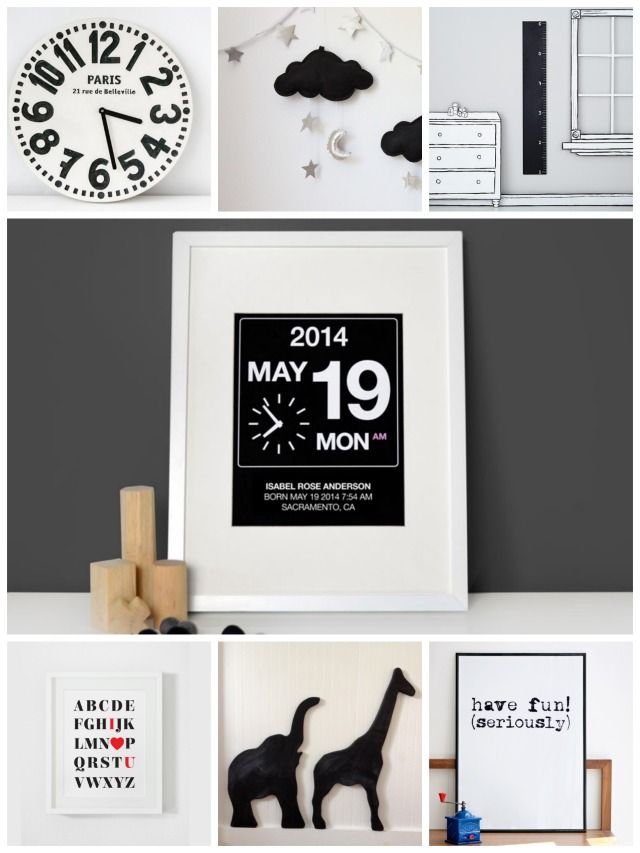 These ideas for wall decor are a cinch to display and keep things fun in the nursery (seriously)!
From left to right, starting at top:  black and white Paris birch clock |silver moon and star black cloud | inch-by-inch chalkboard growth chart | birth date custom wall art | alphabet I love you print | elephant and giraffe-shaped chalkboards | have fun! seriously art print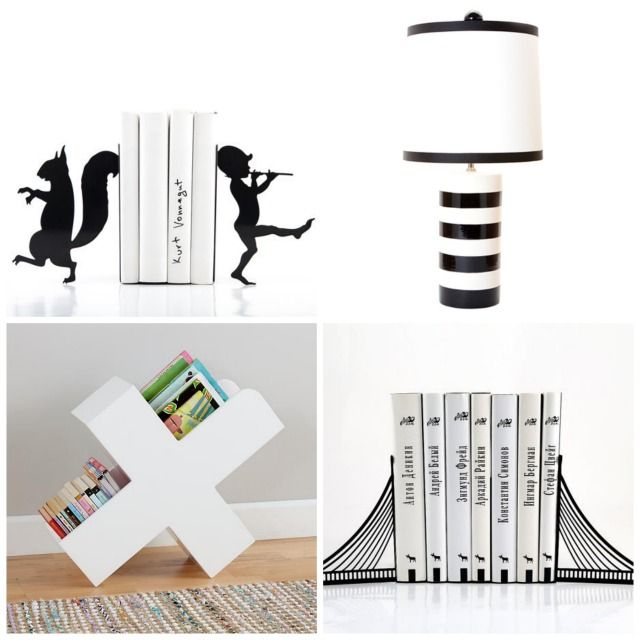 One of my one-year-old's favorite activities is "reading" and we certainly have no shortage of book suggestions around here. But where to store all those books? I love this white X-shaped book caddy from The Land of Nod that would blend perfectly into a black and white nursery. Pair that with an adorable bookend from Etsy and a black-and-white striped lamp from our indie shop and baby's first library is ready to go.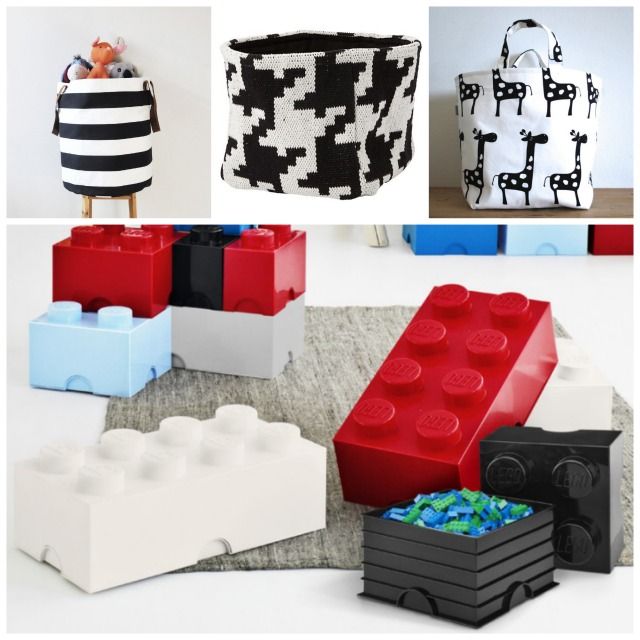 If you can never have enough of one thing in your nursery (besides bibs and burp cloths), it has to be storage. These black and white options (I know the LEGO storage bricks come in other colors, too, I promise I'm not color-blind) have both style and capacity.
Clockwise from top:  black and white striped storage basket | baskerville floor bin | black and white giraffe bin | black and white LEGO storage bricks
These wooden Kokeshi dolls from our indie shop would make an adorable addition to a black and white nursery–or let's be real, any nursery! After all, how can you resist a wooden doll in a cow costume with blushing cheeks?
This minimalist black crib is not only chic, it's made from FSC-certified maple so it's eco-friendly, too. Not to mention it allows you to convert it to a toddler bed when baby's all grown-up.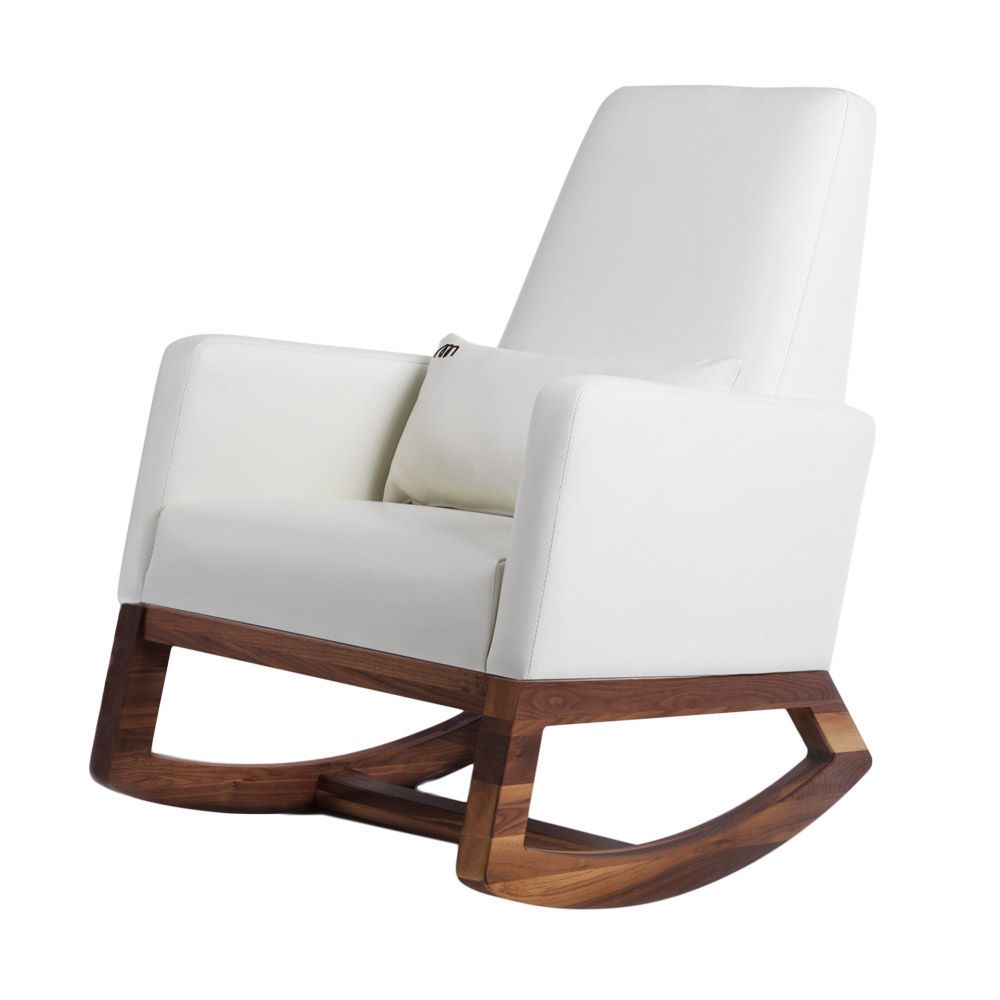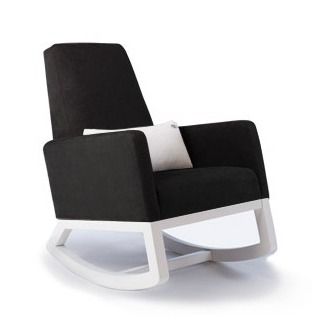 This super sleek rocker, available in black or white, would fit right into a contemporary black and white nursery. As my editor kindly reminded me however, if you buy a white rocker–and we both did–you're probably asking for trouble in the stain department. Case in point:  I keep mine clean by, um, hardly ever using it …but it's just so pretty. Either rocker is a definite splurge (the white is available in leather), but this is something both parents will come to appreciate (just ask my rocker-resistant-turned-convert husband) and can use well beyond the nursery years.
Need more nursery decor inspiration? Our archives have you covered!