Valentine's Day doesn't have to be all about sugary sweets, of course. Though kids do clamor for those conversation hearts and pink jelly beans, they may get enough of them elsewhere this week. So I've put together ideas for non-candy Valentine's Day treats that make a sweet surprise for your little ones without the sugar of candy—and hopefully without a major letdown. I think they're all deliciously cute. In other words, your kids will definitely feel the love, just not the massive sugar rush.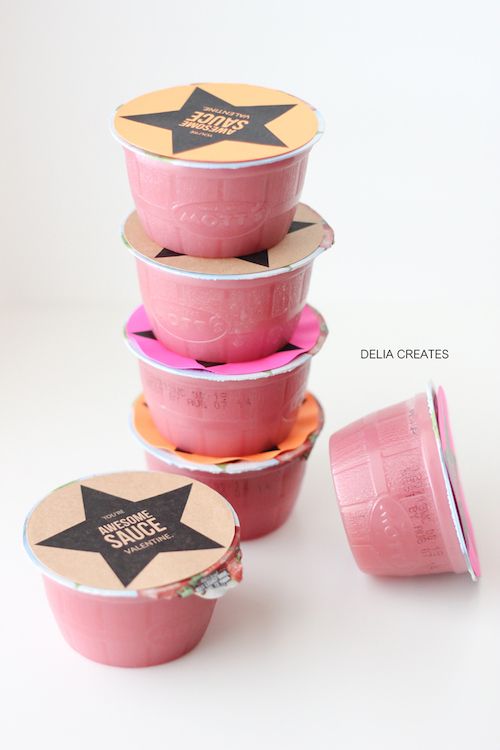 Serve up the color of the day with this naturally pink Strawberry Applesauce spied on Lemon Tree Dwelling. This easy recipe is festive and made with only 5 natural ingredients in 15 minutes. Plus, you can top it off with the free Valentine's Day apple sauce printable by Delia Creates that we recently shared. Awesomesauce. As the kids say.
Related: 6 Valentine's lunch box ideas made with extra love
Turn this Berrylicious Rainbow Smoothie that I found on Heather Cristo's site into a love potion. With all those beautiful colors and tasty berries, this drink is a nice way to start Valentine's morning before kids start begging to eat the gummies they got in class.

I wish someone would make these ombre Valentine's Day Pancakes by This Mama Loves, just for me. What a treat, right? Instead, I'll probably do the cooking and use natural food color. If you'd rather skip the color all together, check out our other recipes for yummy Valentine's Day pancakes.
Warning: one of the recipes verges on candy. Look for the one with chocolate. You'll know it when you see it.
Related: 6 simple and sweet Valentine's Day breakfast recipes
The natural sugar in a simple whole fruit snack gets a Valentine's Day upgrade with these free Valentine's Day lunch printables from The Dating Divas. These are part of a Love Lunch set, which comes with many more printables, but the fruit themed stickers are my favorite. The truth is, you could stick these in your child's lunch box any day at all. I'm kind of going bananas over them. Ha.
Nothing says I love you like all-natural pink milk, at least in my house. We found this recipe on Classic Play where it was included as part of a flavored milk bar for kids–a fun Valentine's Day treat in itself. If youyourre valentine would prefer banana, chocolate, or vanilla milk to the more obvious pink, there are recipes for those flavors, too. And, no, chocolate milk doesn't count as candy.
Who says that veggies are no fun? You might be surprised at how quickly your kid gobbles down these Cherry Tomato Hearts from Eye Candy. (A more detailed how-to at Recipe by Photo.) As parents know, presentation makes all the difference. Even without the delicate arrow's tail, should you not have all the time in the world, this simple idea is such a hit, especially for those kids who pop cherry tomatoes like they're candy.
Related: 8 easy homemade Valentine's food gifts
Write your little valentine love messages and wrap them in Fruit Roll-Up Fortune Cookies like these found on Mommy Musings and adapted from a recipe at SheKnows. You can use store bought fruit roll-ups (we're fans of the brand Stretch Island since their fruit leather is made without added sugar or anything artificial) or go homemade with this fruit roll-up recipe that we found at Just a Taste. As written, it gives you a gorgeous bright yellow (the color of friendship), but substitute strawberries for mango if you want red instead.
Just know that I have a few challenges about the recipe. Be sure not to make them too far in advance so they don't harden, use parchment for the fortunes so they don't stick together, and if the final result does get smushy?  Worse comes to worst, your kids get to eat fruit roll-ups, which mine tend to enjoy in any shape at all.