If you're trying to figure out the very best strollers for your family at this moment, it's easy to feel overwhelmed. There are hundreds of models from dozens of brands, and it can be hard to tell which ones are worth heftier price tags — and which aren't. Over the years, our staff of writers have tested everything from budget-friendly travel systems to high-end luxury strollers, and yes, there really is a noticeable difference between the two.
We've talked to experts, we've talked to stroller makers, and most importantly we've talked to tons and tons of parents. We've been sent a lot of strollers and loaners to review over the years, and we've taken a ton of test runs at trade shows or press events. Because we're not officially a stroller blog, in the end, we feature only those we truly love on this site. Most don't make the cut, not because they're "bad strollers" per se, but perhaps they're  not particularly noteworthy or different.
What we do have here however is a tight list of the best strollers informed by various perspectives, and defined as as those we actually go back to use ourselves, when it's time to take our kids for a jog or out shopping. We really hope they help you find the best stroller for you. Even if it's just a starting point.
CMP is an rstyle and amazon affiliate; or find these at your local baby boutique where they're great about letting you give a new stroller a spin around the floor before you choose.
My everyday stroller is a city stroller, and a good one should be compact, lightweight, and easy to navigate through crowded streets or shops. Space is important, but so is comfort for our kids (and room to stash bags or toys while we're out).  For those of us with a more modest budget, our favorite city stroller is the Mamas & Papas Armadillo City.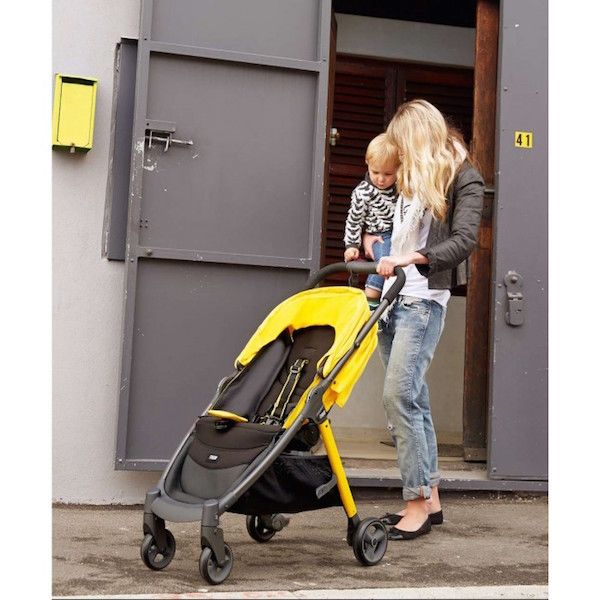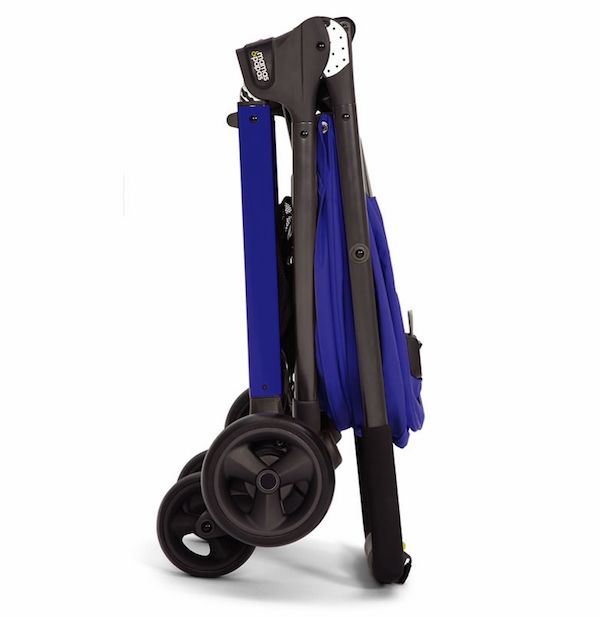 Britain's #1 brand hopped over to the US a few years ago, and we're so glad they did. The Armadillo could easily pass for a much more expensive stroller with its sleek design, but it has great function too. We like its fully reclining seat so babies can nap, adjustable foot rests that grow with your child, the big basket underneath with lots of space for storage, and its quick and easy fold design. And, you guys, it's just 17 pounds.
In terms of accessories, the Armadillo comes with the rain cover included, something much pricier brands don't even do. You will have to add the optional stroller cup holder and car seat adaptor if you want those features. Still, with prices for the stroller starting just under $250, this is a really terrific buy.
We also love the fun pops of color and design you can add using   Mamas & Papas stroller liners. Browse through designs from mod patterns to cars and dolls, and you won't just have something that reflects your style, you'll have an affordable way to protect your stroller so you can use it longer.
Splurging on a second stroller just for exercise may feel extravagant, but I like to think of it as the same price as a months at the gym. Both joggers and all-terrain strollers have large, rugged wheels (and often spring shocks) that can handle rough terrain, the main difference is that the jogger's front wheel is locked in place so to keep you moving straight ahead and helping you avoid tipping over when you turn while the all-terrain's has the option to swivel. Stability, room for storage, and the proper height on the handlebar are our most important factors here.
With all that said, our favorite in this category is the Burley Solstice.

Burley knows a thing or two about letting parents exercise with their kids; they started out in the bike trailer market, and their love for the outdoors is clear in the Burley Solstice's design too. Inflatable wheels and high body give you plenty of room to move over debris on a trail or a city curb, while its S.I.T. harness that never tangles is genius.
Now let's talk about that seriously huge basket; maybe it's not clear from the photos, but wow. It's not just about having a ton of room for storage at all. There's so much room to access it in the first place, that I can grab books or toys or snacks from below to keep my child entertained, all without breaking my stride. Likewise, I can easily toss in whatever she's gotten tired of without having to stop because it bounced out. Hey, the longer my kid is happy, the longer I can stay out on the trail.
Of course, all that space is really handy when I'm out shopping too, and the swivel wheel up front gives you good agility in crowded spaces so this is definitely not a jogging trail-only jogger.I'd say if you're pretty active and on a budget, the Solstice could actually be a perfect all-the-time stroller for you.
Related: The 5 best slings and baby carriers in honor of National Babywearing Week. 
For you new parents, be aware that as your family grows, your stroller needs will change more than you think. So we like modular systems which allow you to switch parts out as you go, avoiding the need to buy a whole new stroller for each phase of your child's growth. Replace a bassinet with a stroller seat, or add an attachment to make a single stroller into a double.
The Orbit Baby Travel System is our strong recommendation for the best stroller in this category. It's not cheap by any means at about $1000 for the Orbit Baby G3 Starter Kit, but it's going to last beautifully and give you a ton of flexibility.
It's most known for its ergonomic features; this the stroller system that allows you to click your car seat (or stroller seat) into the base with your child facing you, and then swivel it into position, saving your lower back from that lean-and-twist move. But I love the way it's grown with my family.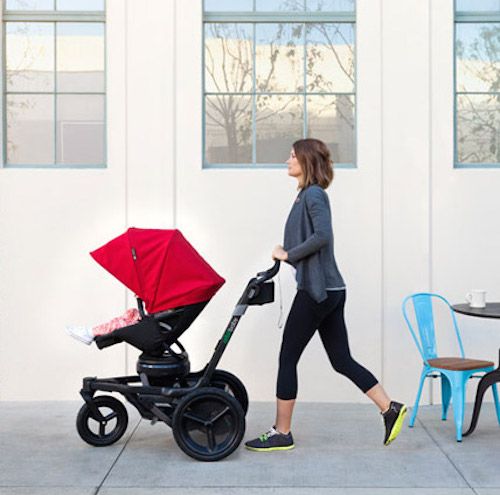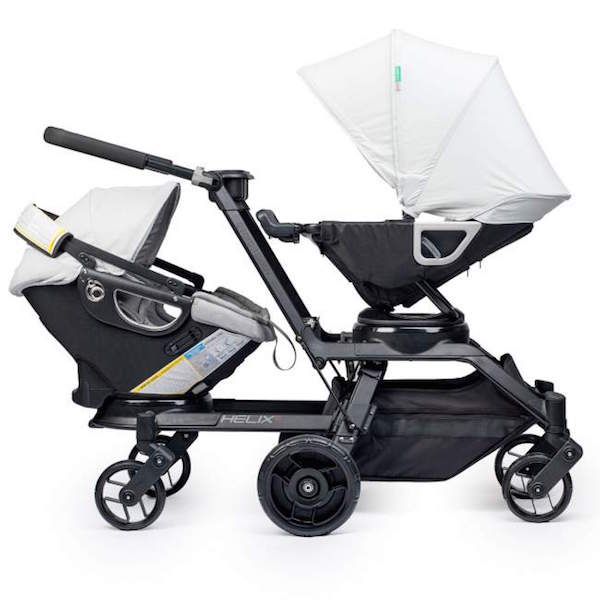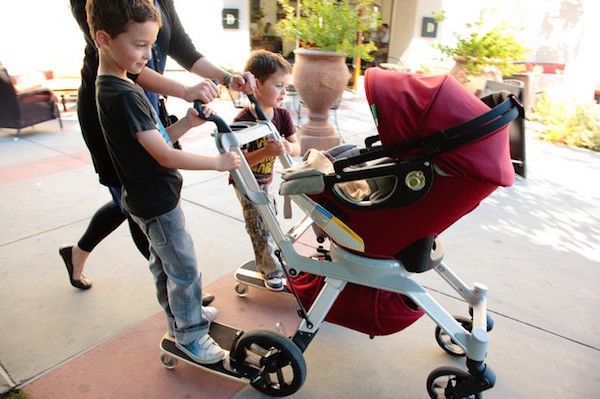 I recommend you start with the foundational pieces — the G3 Stroller Base and the Infant Car Seat and Base if you're a suburban parent who drives a lot; or the stroller seat, which is better for a city family that doesn't spend a lot of time in the car.
If a second baby comes along, add the double-stroller attachment to tote both kids in multiple configurations. When your oldest doesn't need to be strapped into the stroller any longer, stash the attachment in then attic and go back to a single stroller with your younger child. Smart, because we all hate being stuck with an unwieldy double stroller that only one kid uses.
We even like the sidekick stroller board attachment for older toddlers and preschoolers, which looks like a skateboard — not at all babyish. Your child stands to the side, not between you and the stroller, like some other models, which makes it easier to maneuver. And the boards flip up when not in use. Hey, you can even put one on each wheel to let two kids ride behind. More power to you, mama.
Other options, like the O2 jogging base with both high and low seating positions (it's high in the picture above), and a bassinet cradle give you even more flexibility.
The only downside to the Orbit Baby system is that the seat is removed before folding, so you have 2 pieces to keep track of. But out of the 5 strollers I currently have in my garage — from budget joggers to high-end city strollers — the Orbit Baby system is the one I keep going back to.
Just note that you should never look at a stroller as an investment per se; while you can get more back if you sell it in good condition, it does decrease in value significantly.  You're often better off donating it if it's in good shape and taking a tax deduction, or just paying it forward by handing it down to a friend.
Okay so there's one other downside to the Orbit Baby system which is the price. If you're hoping for something less than an Orbit, but a little more than a budget brand which will still run you around $200 for the whole system, we really do recommend splurging  more on the front end so you'll have stroller that's going to last you 4 to 5 years — or longer, if plan (or don't plan, ha) on having more kids, like some of us. That's where we're really liking the GB Evoq.
It feels like a higher end stroller, though it starts at just around $400 — and that even includes the infant seat, something luxury brands generally offer as just an add-on. In fact, there's no extra snap-in stroller needed for a newborn, no extra ride-on board needed for a big-kid — it's all part of this one affordable system.
We love features like the excellent brake, the large stroller canopy, and an easy fold, though do expect a large, fairly heavy stroller here when folded. Plus the modern, simple look will make you feel right at home with the Bugaboo and Stokke moms — should you care about such things.
If you have twins or kids who are really close in age, a double stroller will almost be a necessity. That said, they are a lot harder to maneuver than a single stroller and we know it's really hard to make a choice int his category: With an inline stroller, you save on space but lose a little on handling, however with a side-by-side, you have more room to breathe and better steering but you may struggle to get through doorways — and don't even get us started on crowds.
Fortunately, there are some terrific double stroller options for those of you who do need to keep two children buckled up together.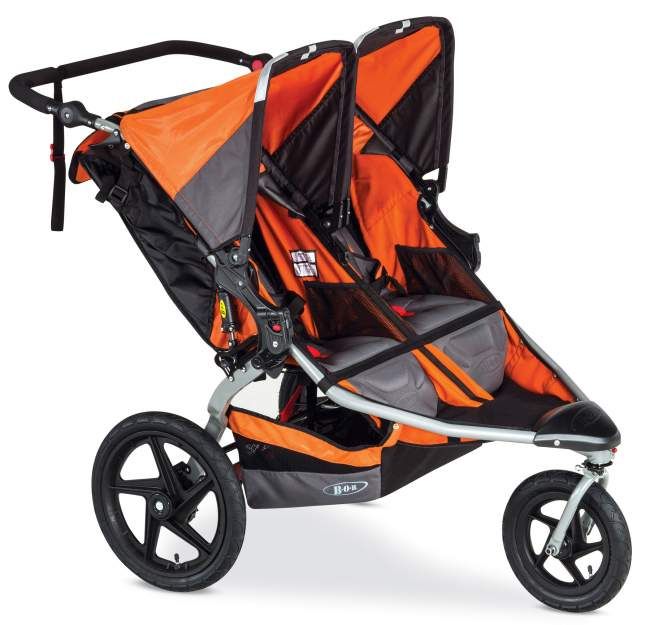 Personally, I prefer to only use a double for exercise, and side by side is best in that sense. The one that has worked the best for me is the BOB Revolution Flex Duallie. It's sporty, turns easily and will last you ten years. Really! However it's definitely heavy — climbing hills with two kids in this isn't easy. (Climbing hills with this empty isn't easy.) Then again, you're working out for a reason so that's not such a terrible thing. Also, know that if you have a smaller car or home, the BOB Revolution Flex Duallie takes up a lot of space when it's folded up.
In my experience, you're definitely going to want to add a stroller organizer to make it easy to get to what you need quickly, especially when you're toting two kids around who want their pacifiers, toys, and sippy cups. It's only about $24, but factor that into your total cost.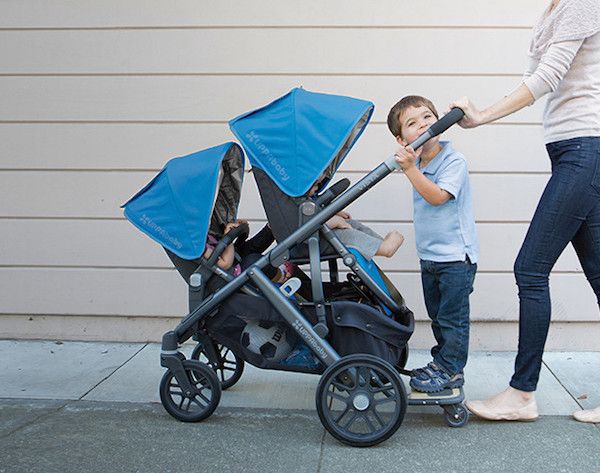 For a second luxury option, I'm totally in the Uppababy Vista 2015 camp, which is an impressive inline double stroller for those of you who can afford it. (The basic Uppababy Vista system is $839-879 on Amazon right now.) You can even ride up to three children on it, from infant to preschooler, in a really compact space.
I like the flexible configuration, allowing both kids to face you or face out, with any mix of stroller seat, car seat, or bassinet. And it's pretty awesome that their bassinet has been approved for overnight sleeping, so you can just detach it and set it on the coordinating stand if your baby falls asleep — and you want to keep her sleeping. (Why, yes we do!)
But maybe the best thing about this system is that it is built by attaching the second seat to their single stroller, so when you're out and about with just one kid you it's super easy to take it back down to a single stroller.
In my experience, kids are happiest when they're facing opposite directions side-by-side, or both facing out. When they're configured like the picture here, that child underneath doesn't have much to keep her stimulated. Good for napping, but not so much for toddlers who are awake and wanting to see what's going on outside the stroller. Then again, Liz claims that when her girls were younger and they used a Phil & Ted's double stroller, they would debate about who got the bottom. Somehow it felt like a superhero ride to them.
In other words, every family and every child is different. Our best suggestion — try out these strollers before you determine which are the best strollers for you.
Also, consider using a baby wrap for a brand new baby or trying out a stroller board for the oldest child to see if you even need to make that big double stroller purchase in the first place.
Related: The 5 best double strollers from our favorite baby gear pros. (And a sneak peek at the newest ones coming out!)
Umbrella strollers are extremely lightweight and great for travel because they fold up to the size of — wait for it  — an umbrella. They generally don't have lots of storage areas, cup holders or other fancy features, but they're budget friendly and easy to handle in tight spaces.
That said, on many models, the handles are so low that you'll need a trip to the chiropractor when you get back home. Clearly, not all umbrella strollers are made the same, but we've found one we actually love. And admittedly it's not easy to love an umbrella stroller.
A few years ago I purchased a Kolcraft Cloud umbrella stroller on an impulse at a theme park gift shop, and it was the best purchase I made the whole week. (Yes, even better than the Dole Whip.)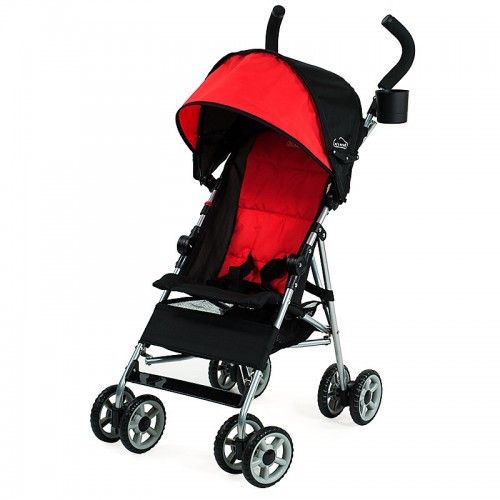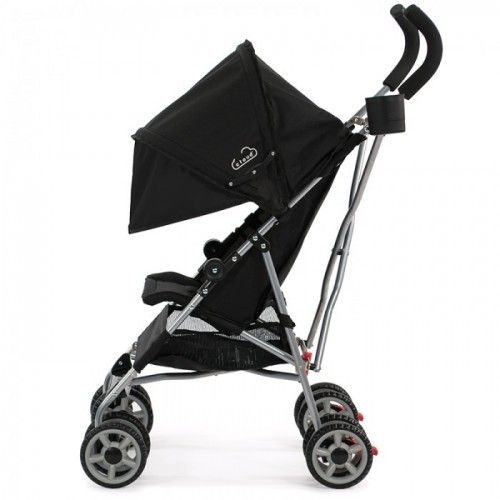 I admit that Kolcraft isn't a brand I had really considered before. It was always known as being a "cheaper" brand which makes me think that it's somewhat disposable and not long-lasting, but I was definitely wrong in that sense.
The Kolcraft Cloud is in fact inexpensive — some colors start at just $39 on Amazon which is pretty Amazing, but it's the features that sold me. It's small enough to easily jet through the big crowds at an amusement park, or on a busy city street. The storage basket underneath — it actually has one! — isn't huge, but it is big enough to hold a small bag or your child's lovey and those essential snacks.  But the best part is this stroller's tall, padded handles , which are kind of a luxury in the umbrella stroller world.
I think it would be very helpful to add a stroller organizer like this one from Skip*Hop to the back so you have room to grab what you need quickly, since getting bags in and out of the storage basket isn't as convenient as it could be. But just remember, any umbrella stroller is very lightweight, so don't load it up too much or hang shopping bags over the handles or you'll flip it, You do not want to do that, especially when your kiddo is still sitting in there!
If you're one of the lucky new parents with a budget in the "what's a budget?" range, the Bugaboo Chameleon³ special edition strollers are where you need to start — and possibly end — your stroller shopping. They are just, whoa.
I want to joke that they're perfect for the baby who's skiing in Aspen this winter, then shopping in Paris later in the spring, but honestly, it's regular parents in San Francisco and Brooklyn who adore them, swearing by the air tires and independent suspension to take on cobblestone streets, irregular sidewalks, and subway steps with relative ease.
Besides, when your stroller is your car, what's $1000 more or less?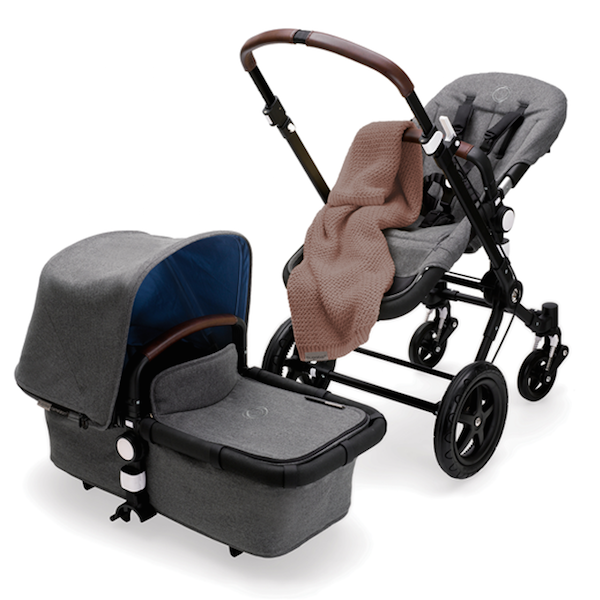 The Bugaboo Chameleon³ Blend is the ultimate in refined style, from the incredibly soft brushed tweed fabric (made from polyester, though it looks like wool) to the eco-friendly leather-look wrap on the handles. And, of course, it has all that incredible, Danish-designed function that makes any Bugaboo stroller so incredible too.
There are also fantastic accessories to help extend its lifespan, including a wheeled board for older children, a runner chassis to turn it into a jogger, rough terrain wheels for extra-extra-cobblestoned streets, and a Bugaboo footmuff (i.e. sleeping bag) that's so cozy and well made, we've even purchased that separately to use with other strollers.
(Budget tip: Splurge on the footmuff, save on the stroller?)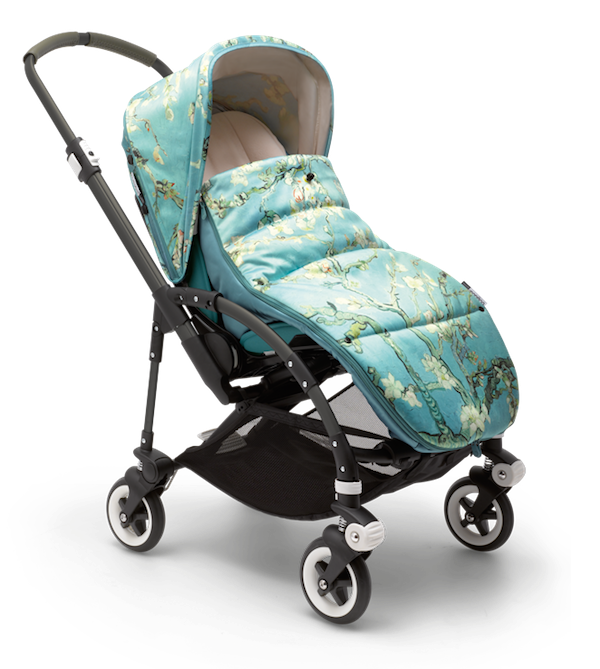 Then there's the Van Gogh special edition Bugaboo Bee stroller, which I fell in love with earlier this year. It made our coolest baby gear of 2015 list, and its gorgeous attention to detail is still wowing me.
The frame matches the color of the almond blossom branches in the painting, and the fabric on the sunshade looks like silk and shows every brushstroke, while still being highly durable, water and oil-repellent, and offering UPF 50+.  And of course you get all the great features of the Bugaboo Bee that urban parents love, like a lightweight frame, a four-step adjustable backrest, and a one-piece easy fold. Plus there's that extendable handlebar to make sure taller spouses, sitters and grandparents can take the wheels easily too.
These may seem like strollers you're buying just for their looks, but Bugaboo has truly built in brilliant functionality and maneuverability all in a truly modular system that allows all their strollers to grow with your child. At this price point we wouldn't expect anything less.
And . . . the stroller that's cooler than we'll ever be:
Quinny Longboard

Mamas, this is for real: Quinny's longboard stroller which will officially make you the coolest parent ever.
Developed in collaboration with skate experts from the likes of TRacker and ABEC11, it's sadly currently only shipping to families in the European Union. The website even states it's "only intended for use in Europe" though that is definitely a legal CYA disclaimer, and not anything more.
More red tape for Stateside government approval perhaps? Less agile parents in the US?  People at the CPSC who are no fun at all? We can't say for sure, especially considering Europe tends to have even more stringent safety regulations around baby products than we do.
Nevertheless, if you're the adventurous type, you might be inclined to ask a friend across the Atlantic to help you get your hands on one. It does look like a whole lot of fun, and that's one word we really don't use when describing strollers, ever.