Ready for Easter? We weren't either until we started searching the web for ideas, and got excited when we found so many totally adorable bunny gifts for Easter out there! And there's no chocolate, Peeps, or jelly beans in this bunch — not that there's anything wrong with those. We just thought it would be fun to find some cool, non-candy gifts for Easter baskets, for babies all the way up to our not-too-old-for-Easter-gift tweens and teens.
CMP is an rstyle affiliate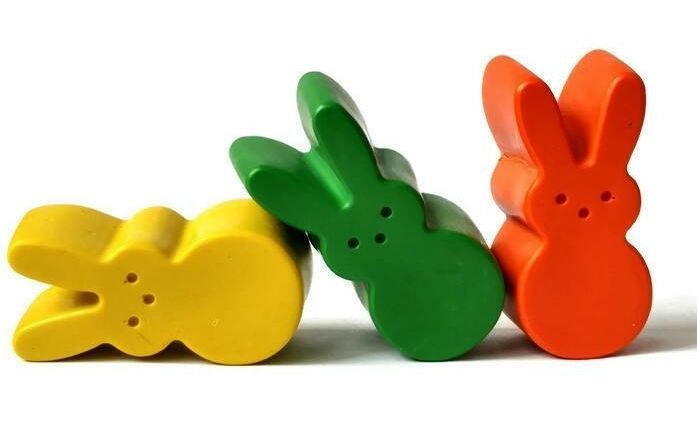 Shaped like those iconic Peeps candies we can't stop eating despite ourselves, these Easter bunny crayons from Custom Crayons by Sara may not be edible, but they sure are sweet. The pack of three is the perfect size for itty bitty hands.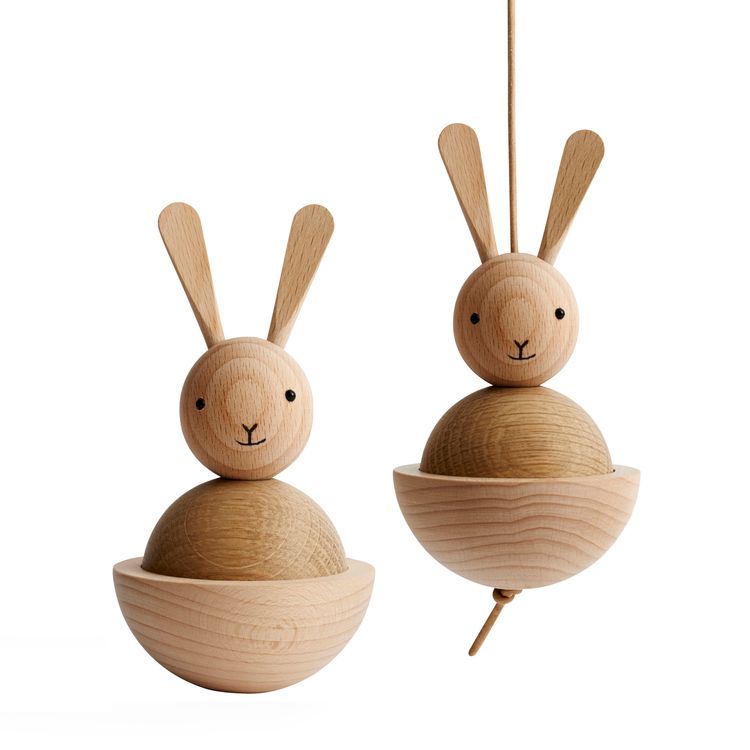 This beautifully made wooden bunny toy by OYOY can either wobble or hang. It will also look great just sitting on top of a dresser when not in play. Available at Design Life Kids.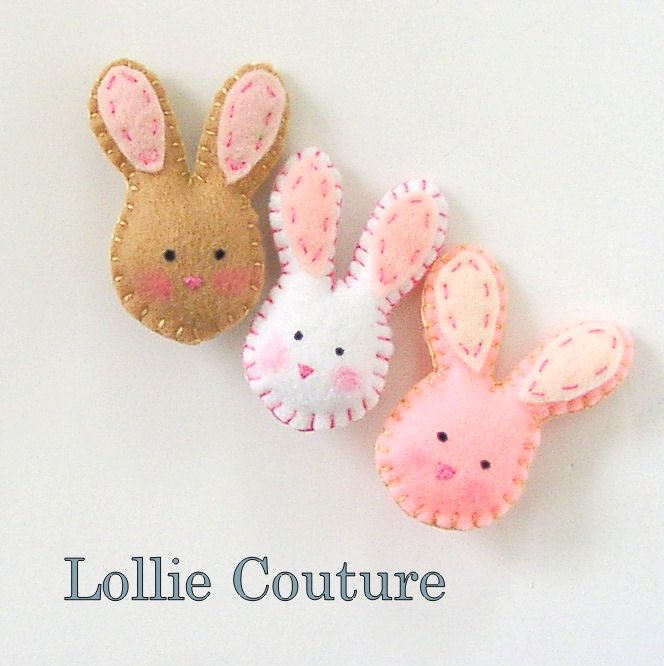 I adore this handmade felt bunny brooch from Lollie Couture on Etsy, which might become your kid's favorite accessory long after Easter is over. Lollie Couture can customize color, say you've got a preference for blue over brown.
This pair of bunny-and-floral notebooks from Gingiber is ideal for springtime journaling or story writing. Each notebook includes 30 lined pages for kids to pen their thoughts or just doodle. Such a nice addition to an older child's Easter basket.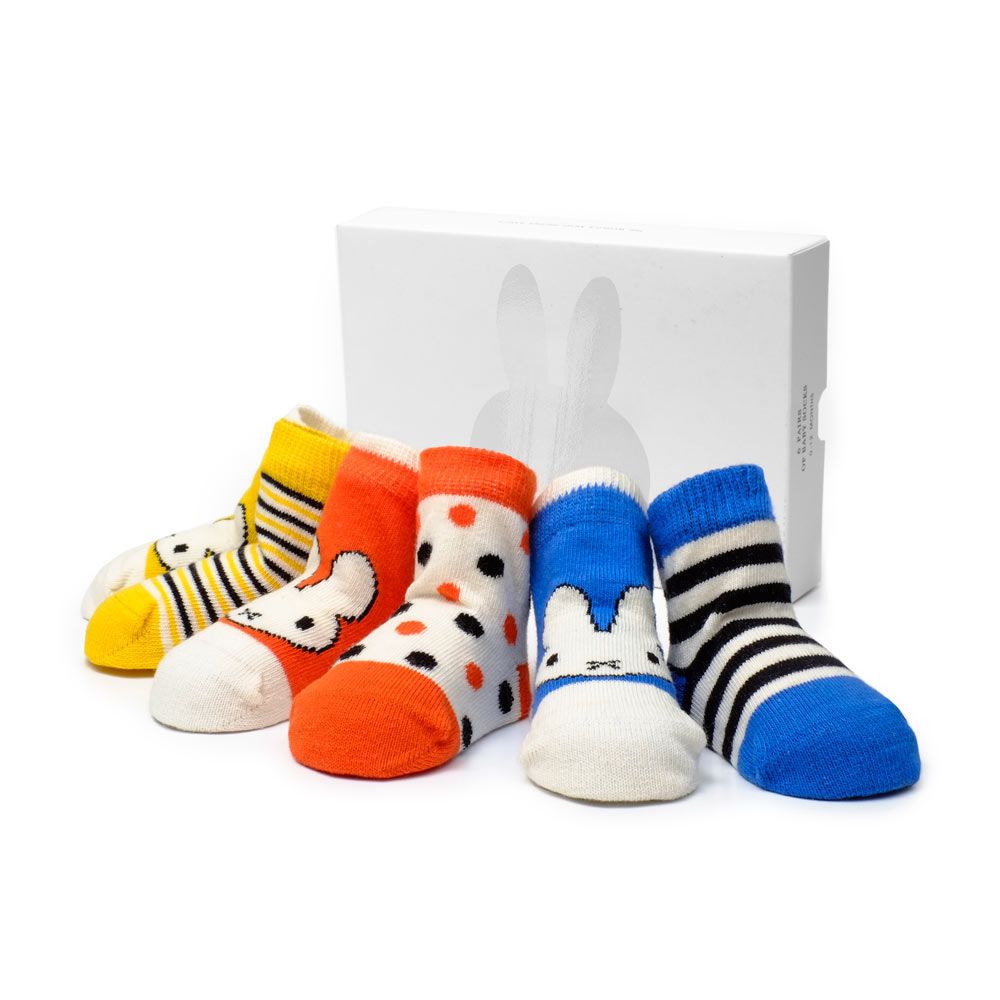 We'd roll up these soft Miffy bunny socks from Etiquette Clothiers into plastic Easter eggs and…surprise! Don't you love the bright, gender-neutral colors? They'll look cute on all little feet.
Leslie Patricelli has authored some of our kids favorite board books for years, and last year she introduced Hop! Hop!, which will charm our pre-readers with this Easter story that's really a lesson about colors.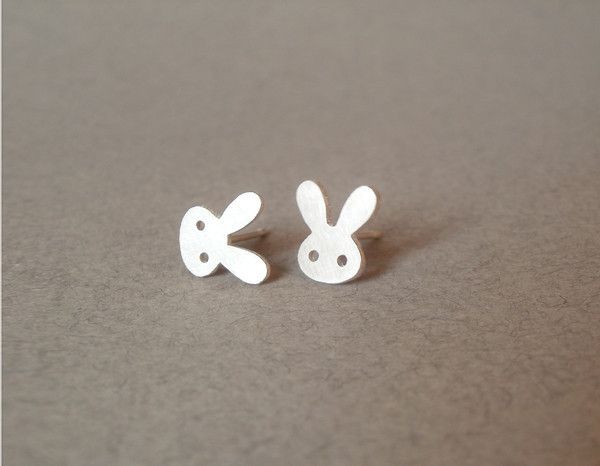 The sterling silver bunny earrings from designer Huiyi Tan is such a special gift for your tween. Tuck into a golden plastic egg and your daughter will love you forever.
We didn't think the gorgeous custom superhero dolls from La Loba Studio, a top toy pick for 2015, could get much better, but this is undeniably a standout. Just keep in mind that these handmade Bunny Superhero Dolls are hopping over here from overseas, so order them soon!
Related: 19 very (very) special non-candy Easter basket gifts kids will love.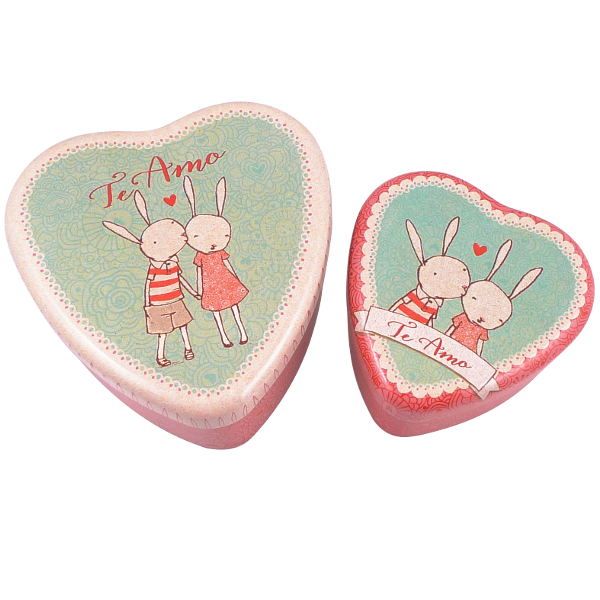 This metal heart bunny storage tins duo from Maileg is the perfect size for a few jellybeans or chocolate eggs. And when Easter is over, tuck them in with your Valentine's Day decorations because they'll be perfect for that holiday too.
A cool gift for a kid who's outgrown the cute bunny stage, this pink, punk felt pirate bunny from Ginny Penny is full of attitude. This bunny is for display, not play, but that won't stop our older kids from thinking it's the raddest rabbit in town.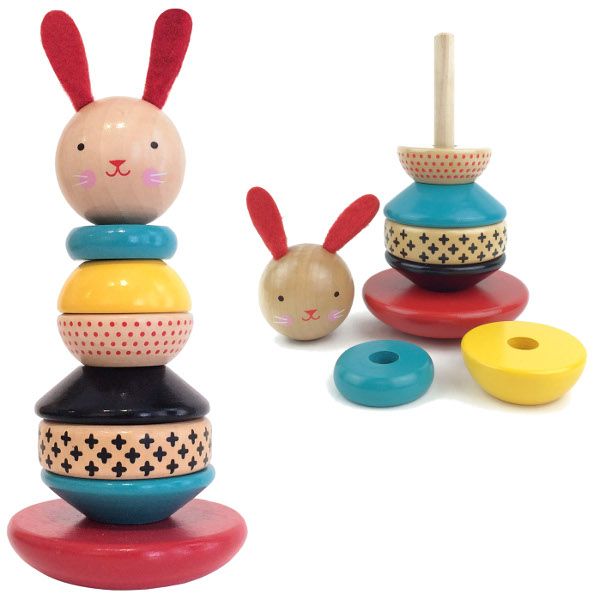 One of our favorite picks in our 2016 Ultimate Baby Shower Gift Guide is this beautiful wooden bunny stacking toy by Petit Collage — a perfect Easter gift for toddlers.
A bright amigarumi crochet bunny rattle from B. Boutiques Beauties will give babies something fun to play with when the older kids go off to hunt for eggs.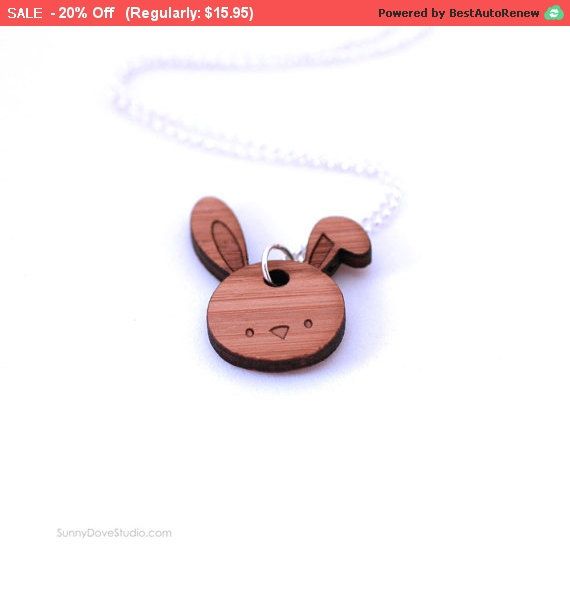 We liked this sweet little laser-cut chocolate-brown wood bunny pendant from Sunny Dove Studio before we knew it was 20% off. Hey, more money to spend on real chocolate bunnies.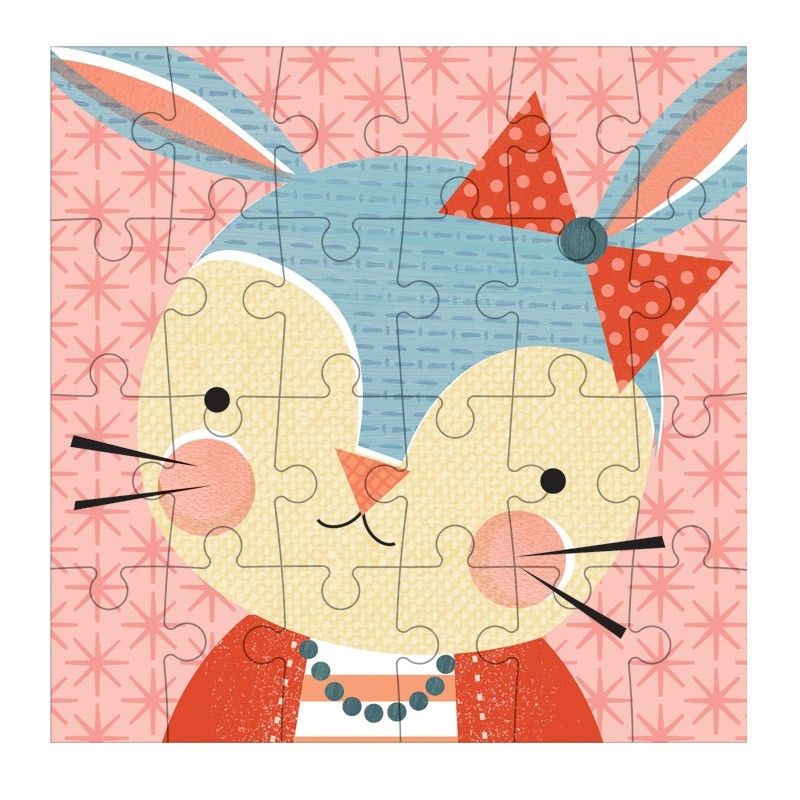 Small enough to tuck into any Easter basket, this 24-piece bunny puzzle by Petit Collage will give younger kids something fun to do once the jelly beans have all been eaten. (By whom…we won't say.)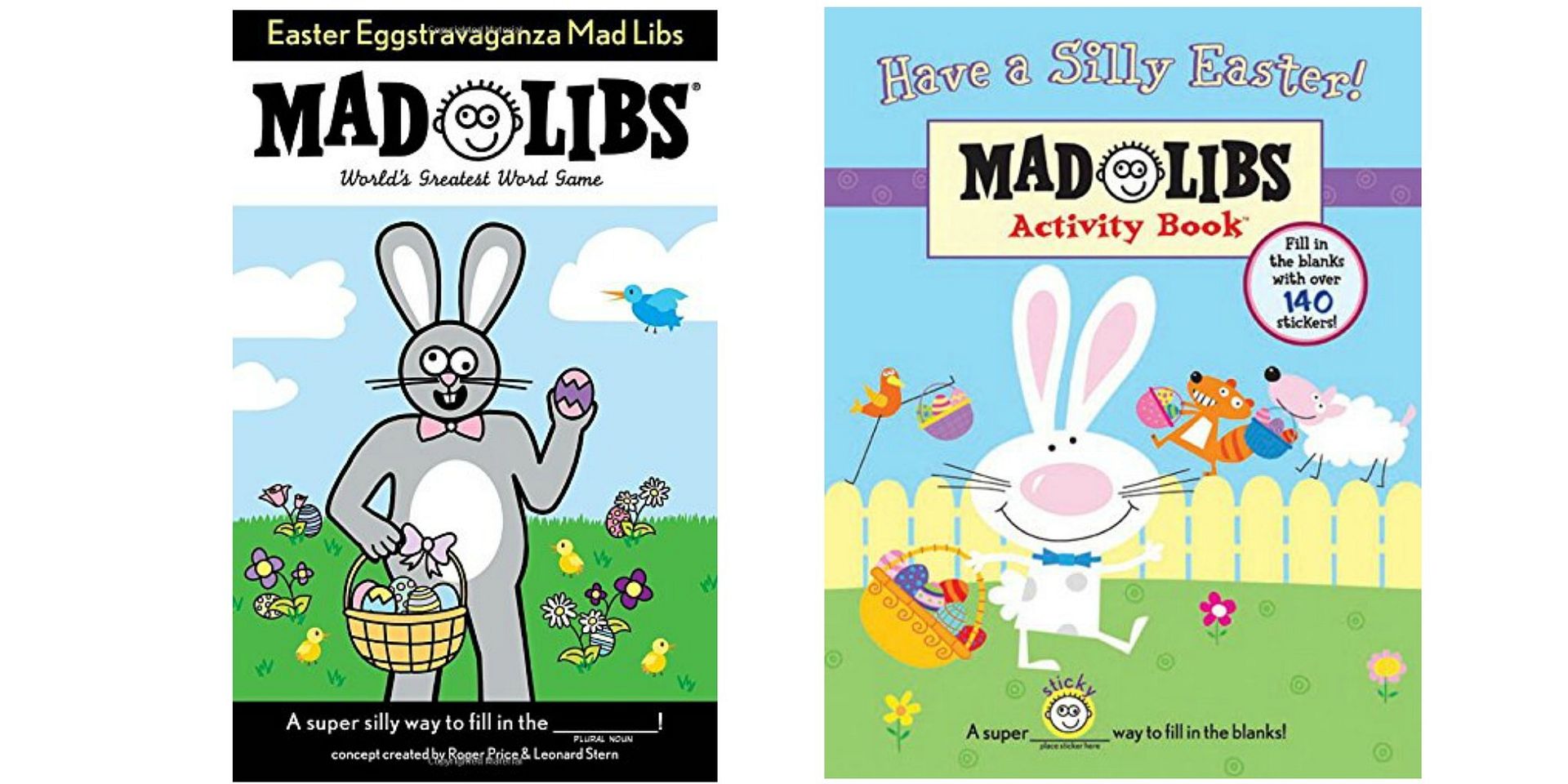 Mad Libs are always a go-to gift for any occasion, and we think the Mad Libs' Easter Eggstravaganza puzzles and the Mad Libs Easter sticker-and-coloring activity book offer something fun for any age.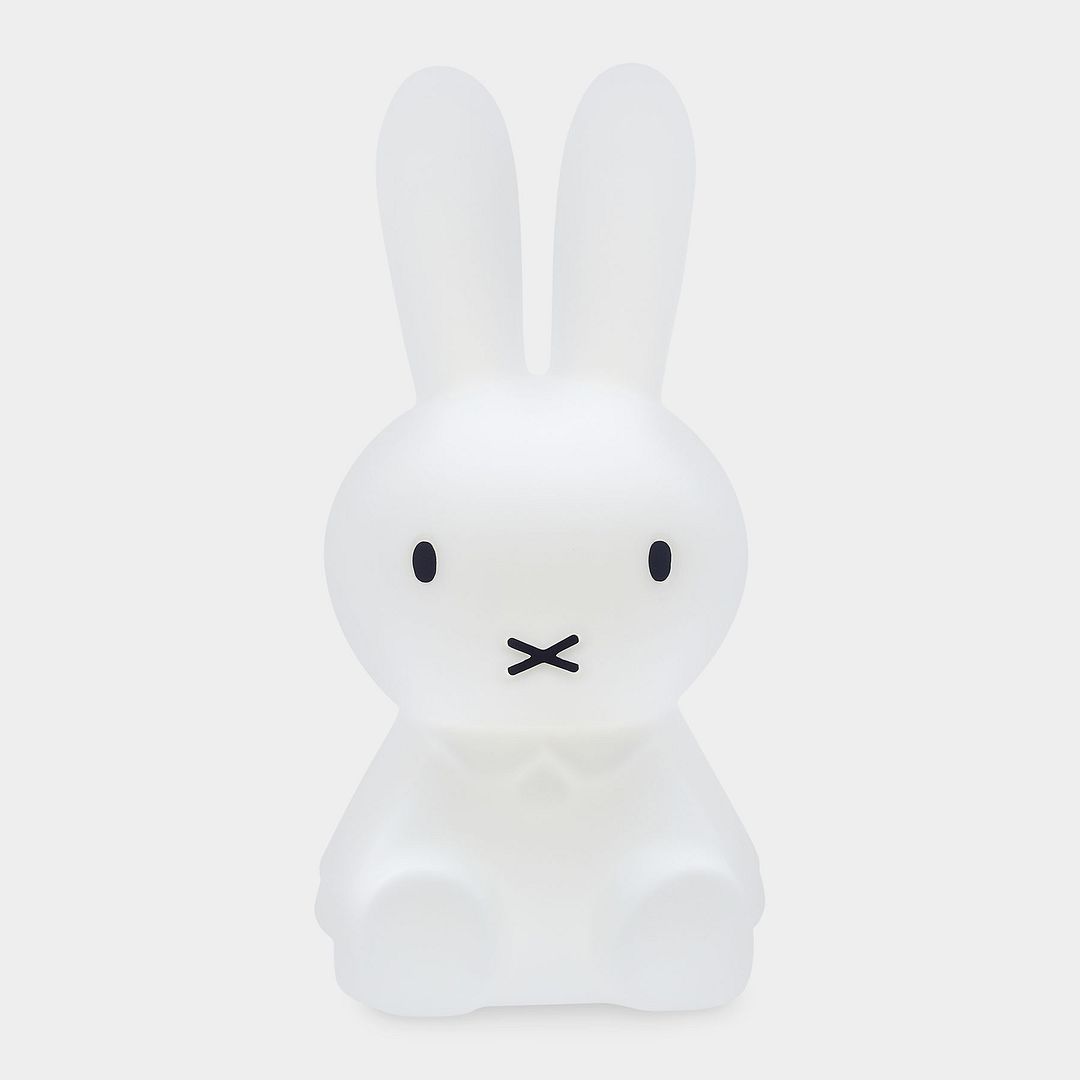 Want to make a really big impact on Easter morning? The super-cute, oversized (and splurgy) Miffy bunny lamp won't fit in an Easter basket, but it will really light up the room.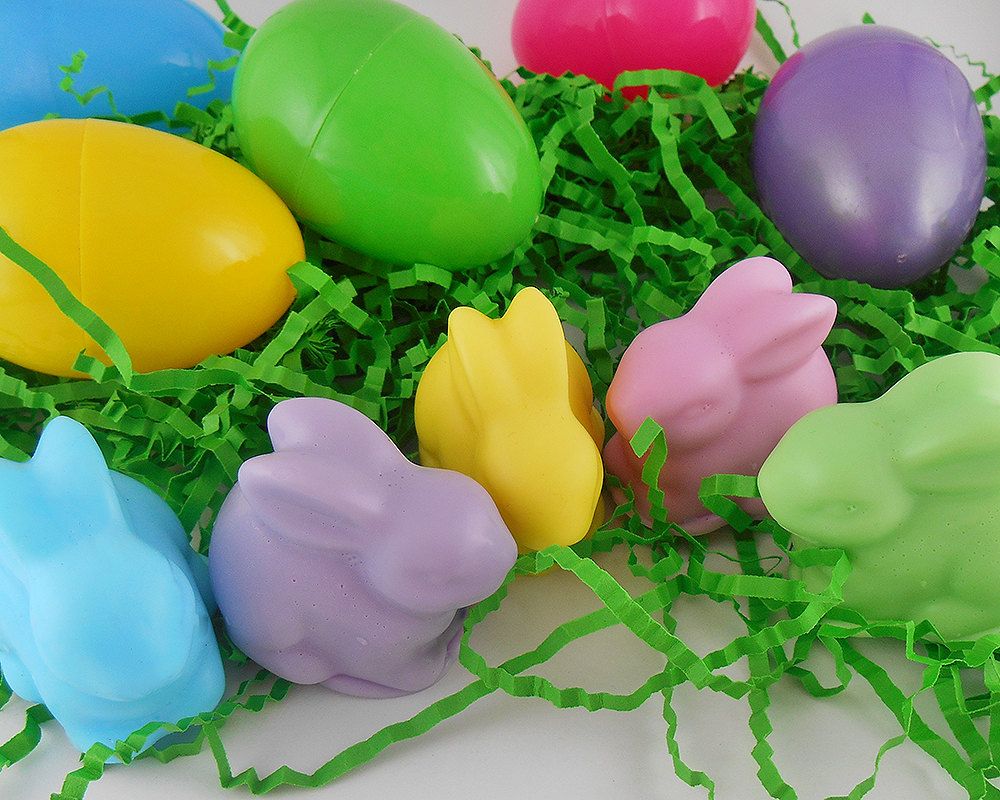 They look cute enough to eat, but the bunny soaps from Snows Cut Soaps are better used for washing hands. Also check out their Peeps Bunny soaps that we featured last year.
Way easier to care for than a pet bunny, this cute Kid O Pull-and-Hop Bunny on sale at Amazon can still follow our kids around all day long.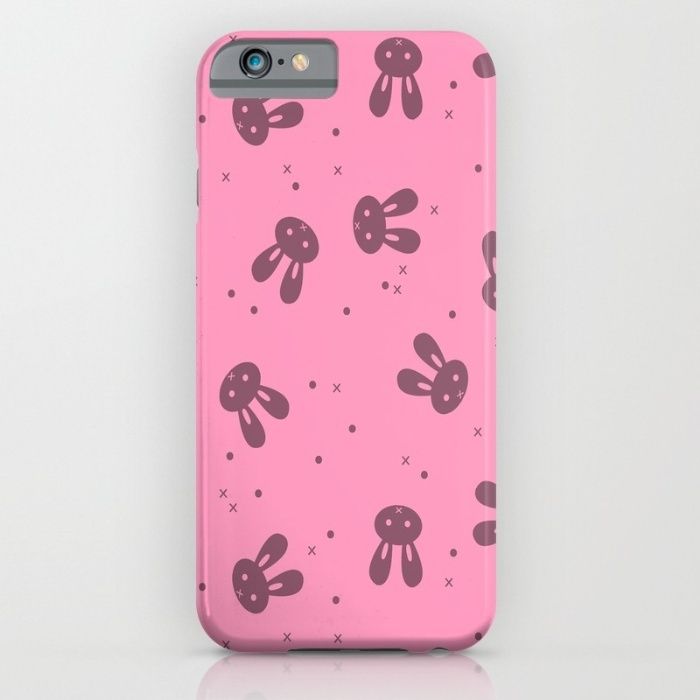 For older kids, we love the design on this bunny iPhone case from Holy Spoof at Society 6. While the rabbits look sweet, the case itself is really tough, which is just what any kid needs.
Easter Jenga anyone? The wooden Stack the Carrots Game is the perfect all-family activity to play after Easter brunch.
Kids may be wearing their Easter best for much of the holiday, but we're sure they'll be ready to slip into the soft hipster Easter bunny raglan tee from Our 5 Loves as soon as possible.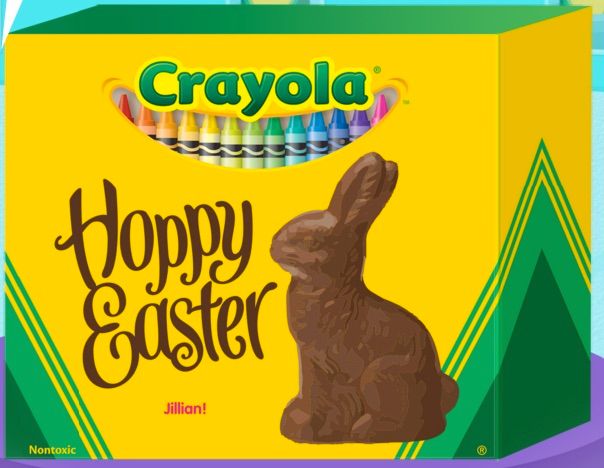 We recently raved about the brand new Crayola My Way custom crayon boxes, and their Easter designs make this a great basket stuffer. Since you can pick the design, the message on the front of the box, and the crayon colors inside, this can become a very personal gift without spending a lot of money.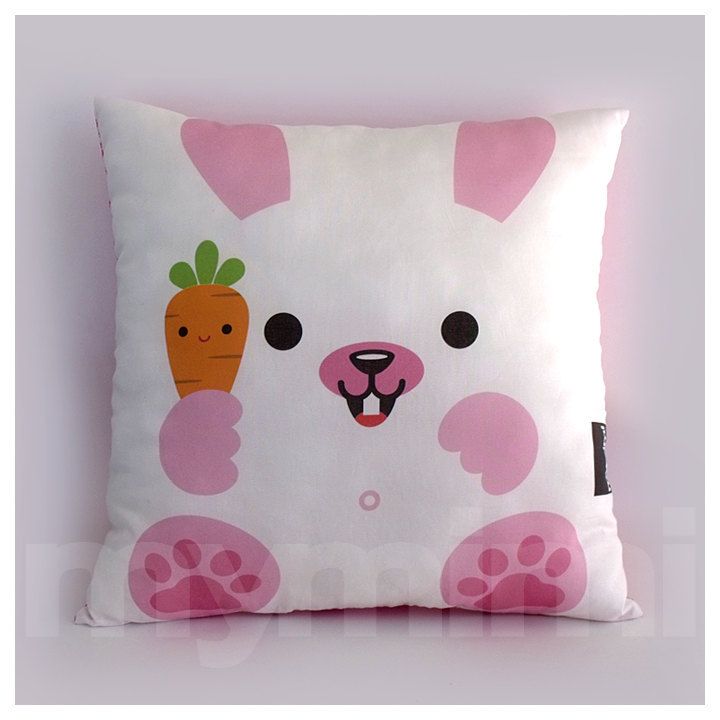 A soft and sweet kawaii bunny pillow from My Mimi is a cuddly alternative to a traditional stuffed rabbit. And we're pretty confident this gift will go straight from the Easter basket to our kids' beds — which might be just what's called for after that Easter basket sugar crash.